Betty Hutton Estate Website
This is the web destination authorized and maintained by Miss Hutton's estate. It is the site where you can find some very unique items pertaining to Betty and her career. It is also the site where individuals, organizations, and businesses can make inquiries into the use of Miss Hutton's name and/or likeness for special projects and in advertising. For instance, her estate is the place where you will need to secure final permission to use her songs in movie and ad projects after having checked first with the applicable record company for song availability.
Please direct all E-mail inquiries to:
BettyHuttonEstate@gmail.com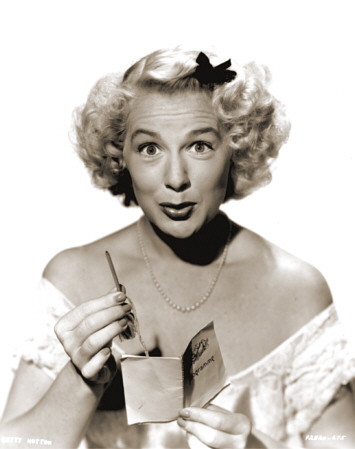 This site was first published to the internet on March 1, 2010. We wanted the site up and ready on Betty's birthday, Feb. 26, but we were unable to meet that symbolic deadline. As time goes on, we will be adding much more information about the woman, her life, and her career, so you will want to check back often. In addition, if anyone has anything unique pertaining to Betty and her career that you would personally like to share with our viewers, please E-mail us and tell us about it. As always, we always welcome your questions and comments. We hope you enjoy this, the official site, of actress, Betty Hutton!


You can also always send mail to us at our physical mailing address:
The Betty Hutton Estate
P.O. Box 3124, Palm Springs, CA. 92263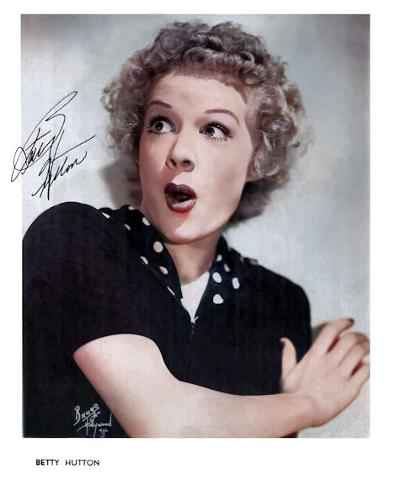 v
ery early publicity photo of Betty Hutton taken shortly after her arrival in Hollywood. Autographed too!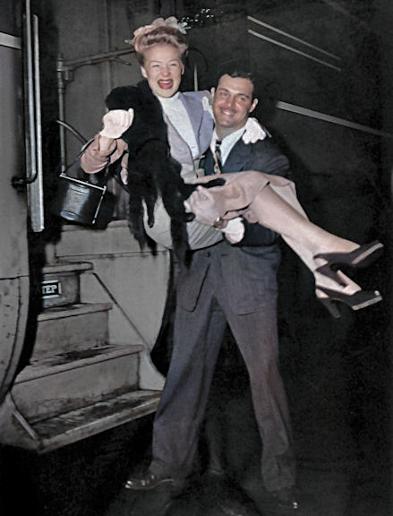 A
very nice photo of Mr. and Mrs. Ted Briskin.
Betty Hutton and Ted were married on September 2, 1945 in Chicago, Illinois in the Camellia house of the famous Drake hotel.They are seen here departing for their honeymoon to Florida. Betty was 24 and Ted was 27 when they tied the knot.
When introducing Ted to friends in Hollywood she cooed,
"Isn't he handsome? Isn't he rugged? I could never find anything like that in Hollywood. I had to go to Chicago... Great town, Chicago. Say you ought to try this married life. It's the only way to live."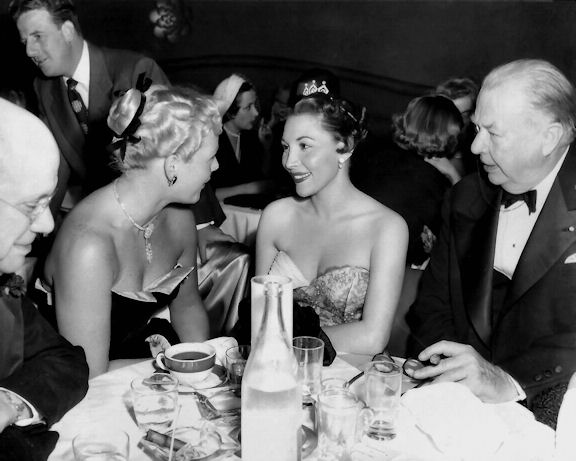 I
am sure you movie buffs will remember the talented Charles Coburn! He is seen here with Betty Hutton as she congratulates singer Toni Arden on a successful opening on Nov. 3, 1950 at The Mocambo in Hollywood. In years past I had always simply assumed that Coburn was a regal English actor who was somehow transplanted to Hollywood. No such thing... He was born in Macon, Georgia in 1887 and after a long and successful career, died in New York City in 1961. If you happen to be out of the room when he appears and speaks on screen, you can't help but rush in, take a seat and watch! Thank goodness we can still hear his wonderfully distinctive voice when watching a vast array of his fine movie performances.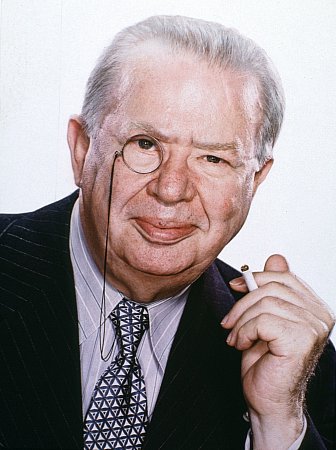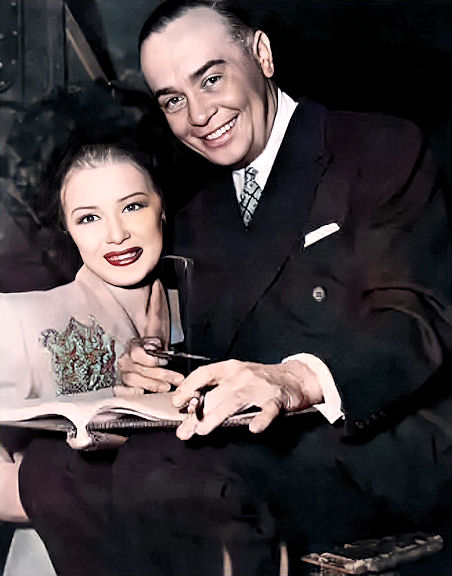 A
beautiful Betty Hutton with her friend and mentor, Buddy DeSylva in 1945. Unfortunately, Buddy died 5 years later in 1950. Without his constant guidance and approval, Betty's film career spiraled into a very swift decline.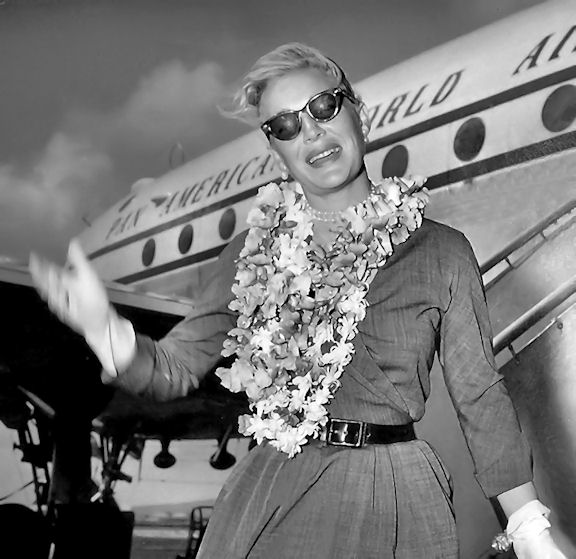 W
e came across this wonderful photo of Betty Hutton the other day as we were going through an unmarked box of some of her miscellaneous personal effects. There are no makings on the photo to indicate a date, but there is no doubt she was visiting Hawaii. She looks so very relaxed that it is quite possible this photo was taken as she was departing the Islands for the mainland.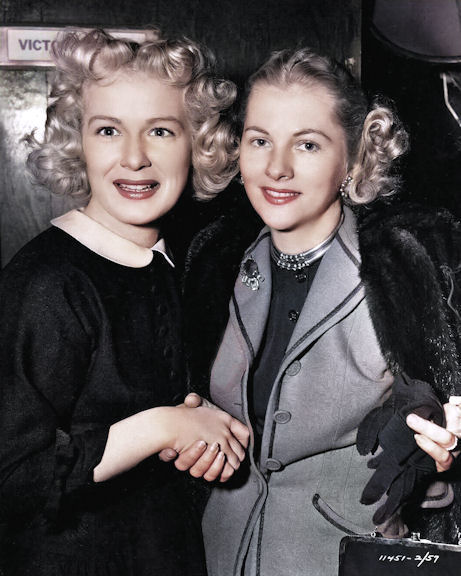 A
ctress Joan Fontaine stops by the set of
Red, Hot and Blue
in 1949 to pay a visit with her friend, Betty Hutton.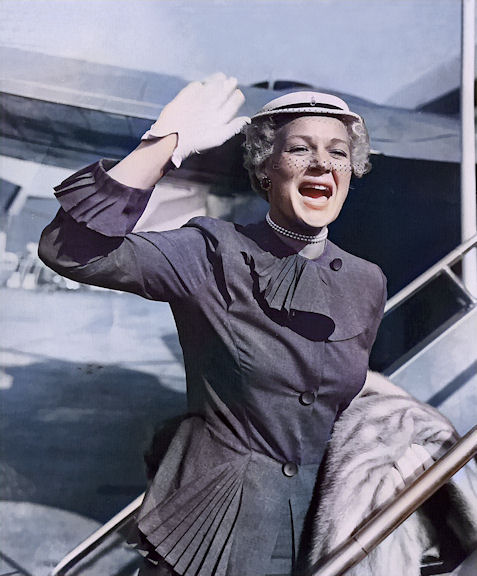 B
etty Hutton arrives by air in London for a three week run at
The London Palladium
- Sept. 20, 1952.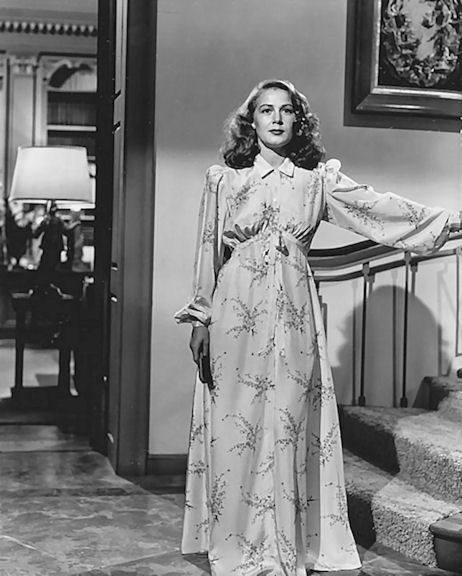 Betty Hutton looking simply fantastic in this wardrobe/lighting test for the Paramount movie, Dream Girl 1948.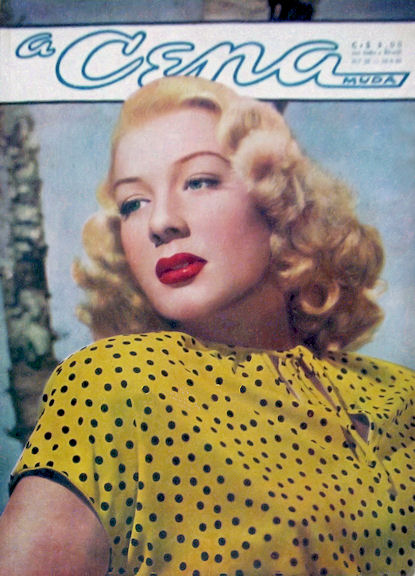 A be
autiful Betty Hutton graces the July 1948 cover of Brazilian movie magazine, A Cena Muda.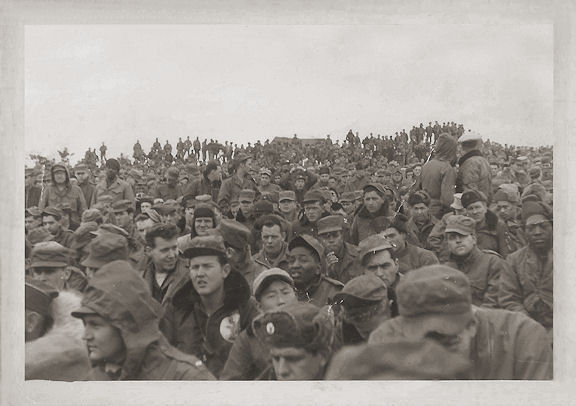 Waiting for the Betty Hutton Show to begin!
O
ver this past weekend we received a very special email from a man by the name of Eric Hanson. Eric's Dad, John H. Hanson, was in the 136th Fighter Squadron of the United States Air Force, stationed in South Korea. Although this posting is a bit late, we will still consider it our Memorial Day posting in honor of all those who served and continue to serve our country today around the world.
Hanson had initially been in the Texas Air National Guard which was activated for federal service in Oct. 1950 and sent to Korea a few short months later. Sgt. John H. Hanson was stationed in Taegu, in southeastern South Korea. During his stint in South Korea, Sgt. Hanson became one of the fortunate service men to experience a live performance by Betty Hutton who came to entertain the troops near Taegu. At the time, Hanson managed to take a series of photographs during the show, and those photos have fortunately survived the years. Sgt. Hanson's son Eric was kind to contact us and has been very generous in forwarding those same photos to us. We have included several of them here for you to enjoy.
It is very important to state that Betty constantly told us that of everything she did during her career, her interactions with and the joy she was able to impart to our stationed troops was the MOST important and rewarding thing that she ever did! We thank you, Sgt. John H. Hanson and Miss Betty Hutton for your service…
Incidentally, today, Taegu, also spelled Daegu, is a metropolitan city of over two and one half million people, making it one of South Korea's largest urban areas.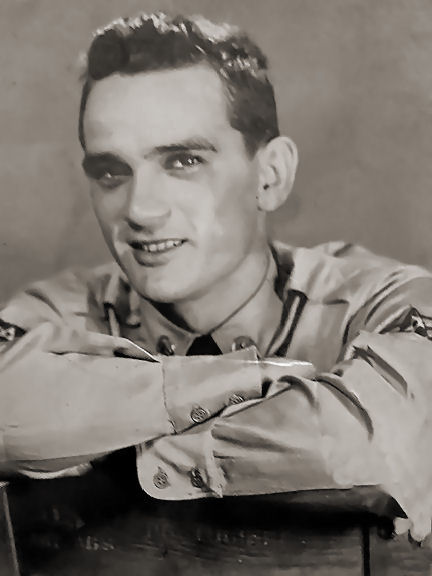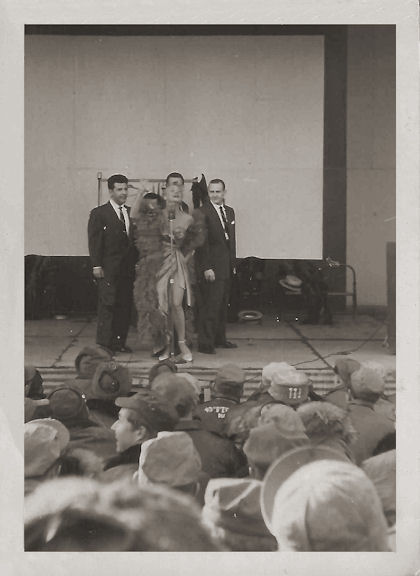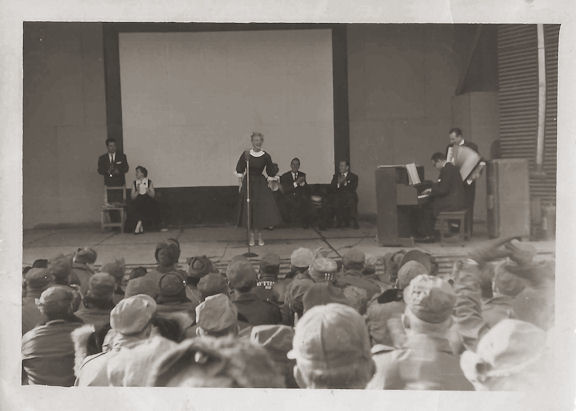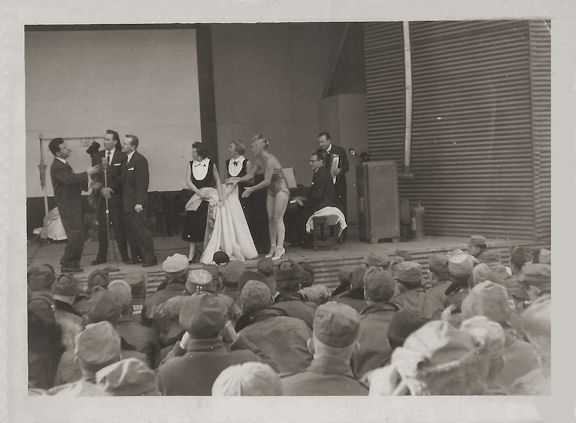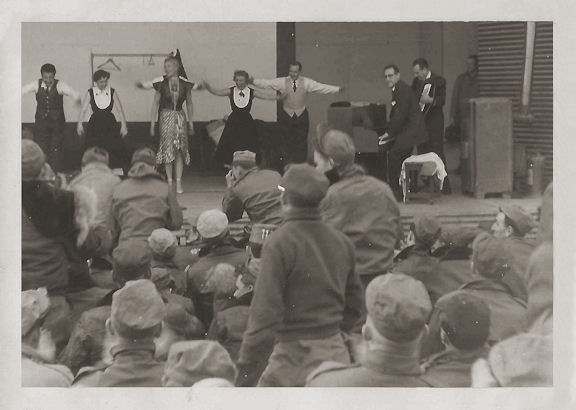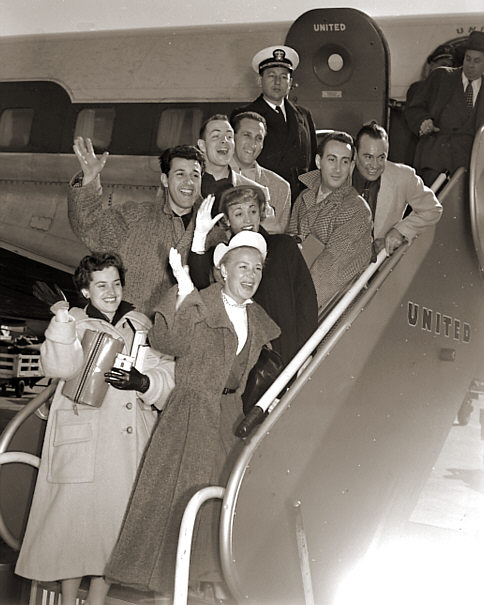 Estate photo of Betty and The Sklarks leaving for Korea, 1952.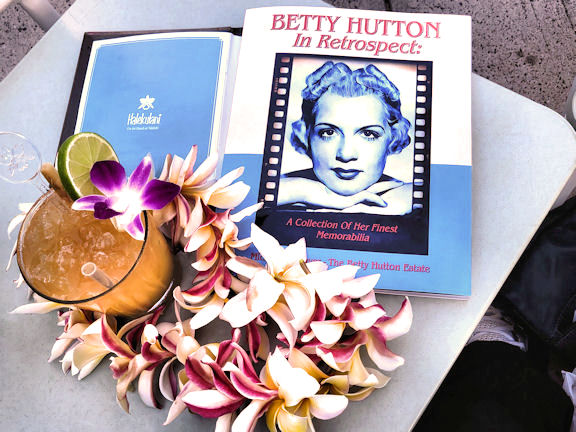 T
he Betty Hutton Estate recently made contact with a new friend and Betty fan by the name of Gail Yamamoto. Gail is a great friend to have, not only because she likes
Betty Hutton, but also because she happens to live in
Honolulu on the island of Oahu. (Undoubtedly Gail has a sofa in her home that has had the occasion to host stray friends visiting the expensive city from the US Mainland...)
Gail purchased a copy of Betty Hutton in Retrospect: A Collection Of Her Finest Memorabilia from us here on the website a few weeks back. At that time I told Gail what a special place Betty thought Hawaii was and also how particularly fond she had been of the Halekulani hotel on the beach in Waikiki. Betty's favorite part about the hotel was sitting (incognito) on the lanai overlooking the ocean at sunset and enjoying a Mai-Tai. Gail promised that she would try her best to get to the hotel within the coming days, book in hand and enjoy for herself a Mai-Tai on the lanai in Betty's honor.

Our great thanks to Gail for taking three very special photos for us to post and share here on the Betty Hutton Estate website. Little did we realize that the main color of the book is exactly the same color as the Halekulani drink menu (see above photo). The drink looks simply amazing and the flower lei adds that perfect Hawaiian touch! The next round of drinks is on us, Gail... so please keep that sofa open and ready!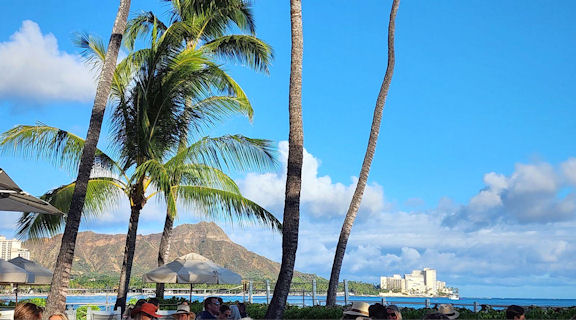 Gail's photo of people enjoying drinks on the Halekulani lanai with Diamond Head in the background.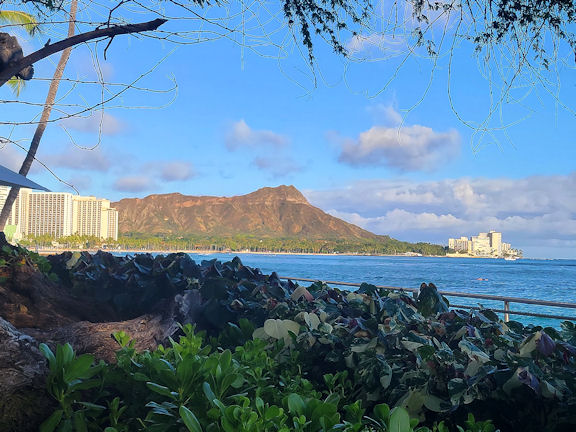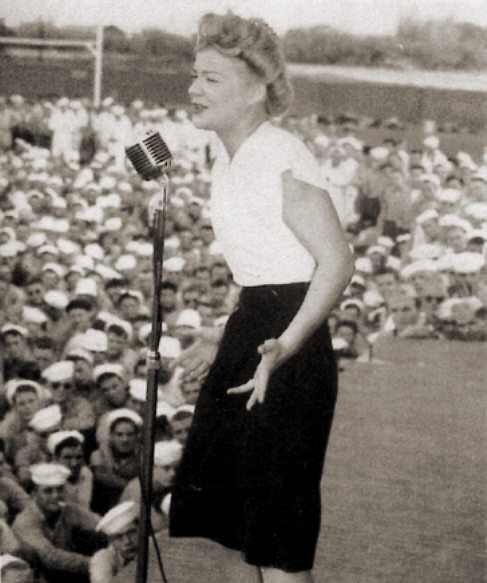 Betty Hutton performs for sailors at Naval Air Station Kaneohe, Oahu.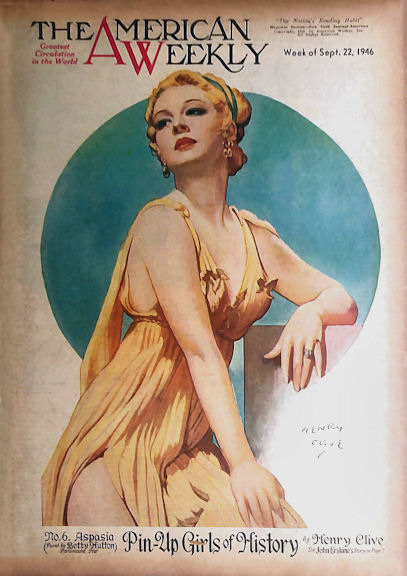 The American Weekly Sunday newspaper supplement with "pin-up" girl, Betty Hutton gracing its cover from the week of Sept. 22, 1946. Betty's image is No.6 in an obvious continuing series of Greek themed Pin-Up Girls of History for the periodical, as seen through the eyes of artist Henry Clive. Clive came to Hollywood in the early 1920's and began painting Ziegfeld Girls, then big stars such as Gloria Swanson and Pola Negri for promotional campaigns. He was also art director for Charlie Chaplin productions and even played a villain in the Chaplin masterpiece, City Lights. So, although this cover seems rather dated for 1946, one needs to remember Clive's early beginnings in Hollywood and the way movie art was perceived in those early days. Nevertheless, by 1946 Betty was well on in her career, already on her 11th major movie by this time, and had already become a major talent at Paramount and recognized as such in all Hollywood circles.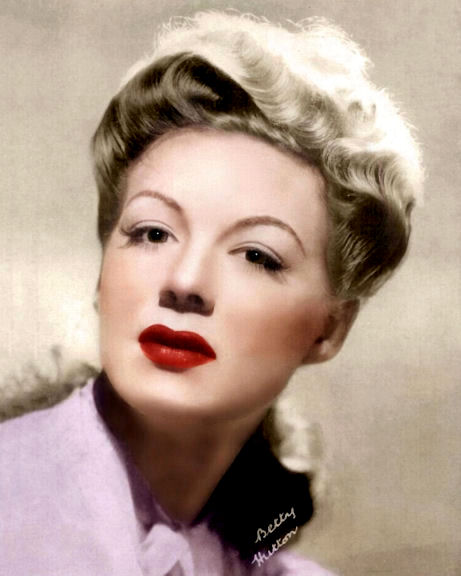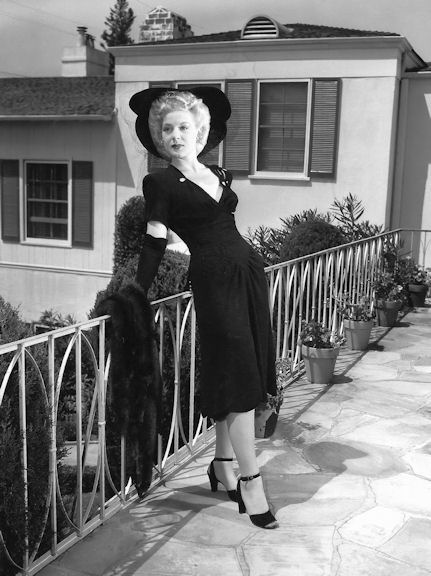 S
orry to report that I have no specifics on this beautiful publicity photo of a young and glamourous looking Betty Hutton. I do know one thing for sure, that she more than likely had many of these photo shoots early on in her career with
Paramount
! The photo was left as part of Betty's extensive collection of personal memorabilia.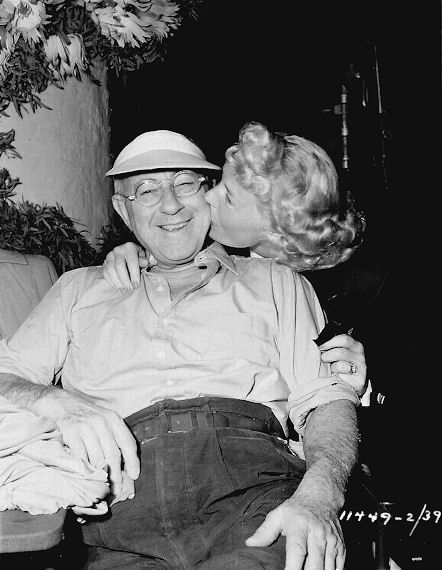 B
etty managed to develop a wonderful and close friendship with C. B. De Mille before, during and after her appearance in his
Oscar
winning movie,
The Greatest Show On Earth
, 1952. Here Betty visits with DeMille on the set of his movie epic,
Samson and Delilah
, 1949 with a kiss on the cheek.
I
t's really so much fun to receive phone messages from multiple celebrities in one day! (not that it happens very often...) So, have a listen to the audio clip below to hear our phone messages from both Betty and Kaye Ballard. Sorry, the year is a bit fuzzy, but it appears that it was between Christmas and New Year sometime after the year 2000, but naturally, pre-Covid.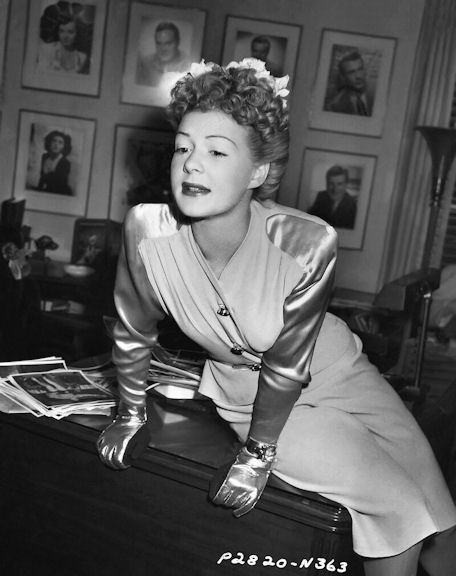 Betty Hutton poses for a publicity photo in the Paramount studio office of friend and mentor, A. C. Lyles, c.1940s.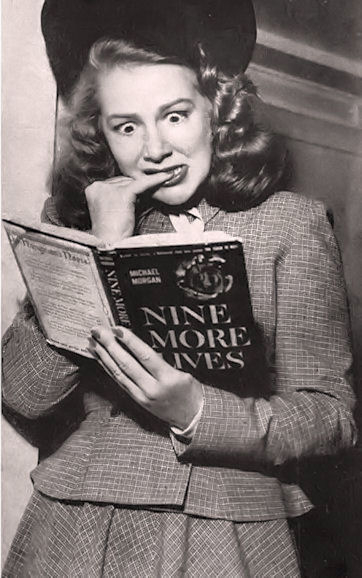 This photo, found in a c.1940s Hollywood star magazine, has the appropriate caption, "Betty registers typical Hutton enthusiam as she races through a mystery story..." Cost of magazine: 15 cents. Betty Hutton expression: PRICELESS!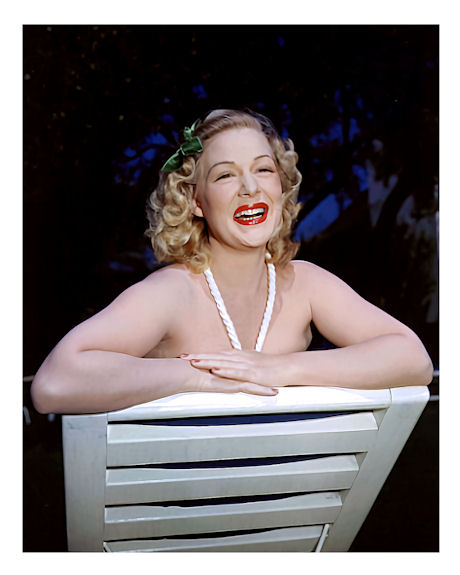 A person really has no other option but to smile when seeing a beautiful photo of a bubbly Betty Hutton!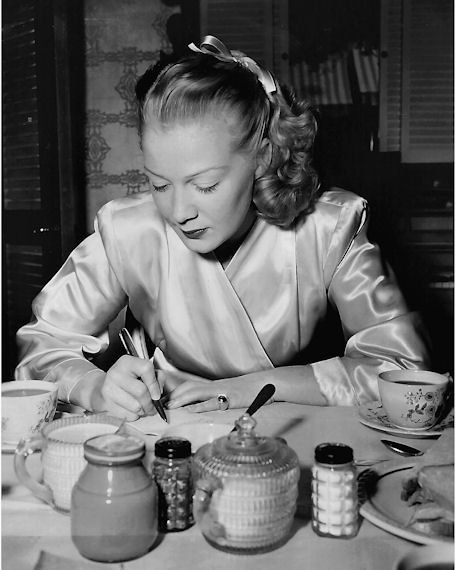 Could it be possible that Betty's photo was taken here while she was busy working on a personal list of New Year's resolutions??? Whatever the case, she sure was looking great in the process!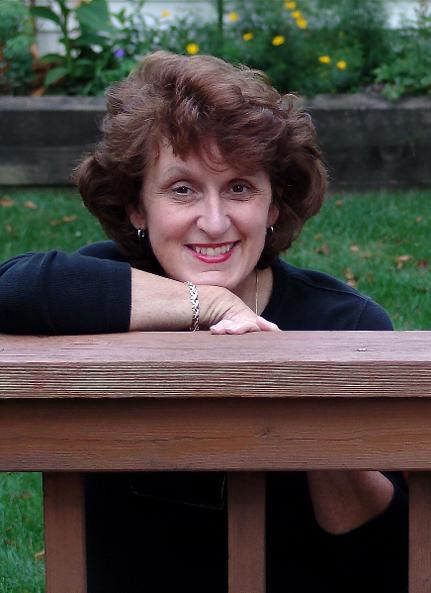 It is with great sadness and a heavy heart that I disclose the death of my lovely sister, Patricia Mayer. Betty and "Trish" became fast friends during Betty's final years here in Palm Springs, both speaking weekly on the phone as many times as possible, in addition to Trish's frequent visits to see us all here in California. In the beginning it crossed my mind about the possibility of some sort of a clash between the two women, mainly because of Betty's rather volatile nature at times. Nevertheless, they developed a fast mutual respect for each other and had a surprising amount in common. Betty obviously picked up rather quickly on my sister's kind nature and wholesome Mid-Western values. It became the backbone of their friendship...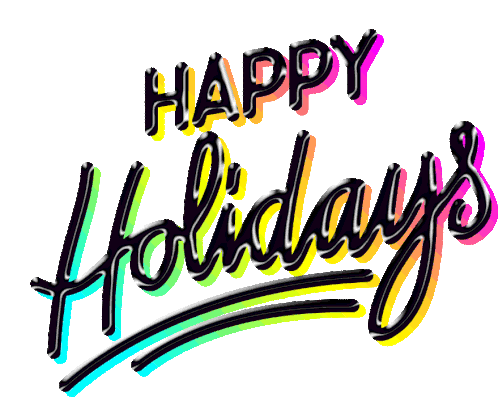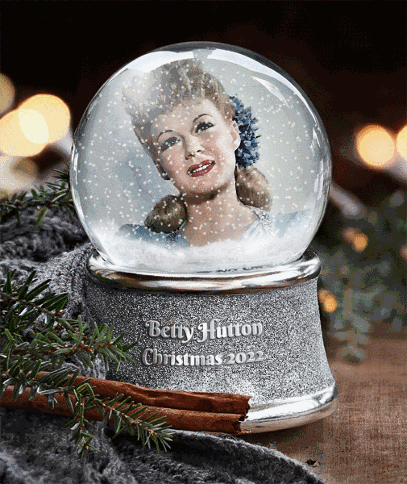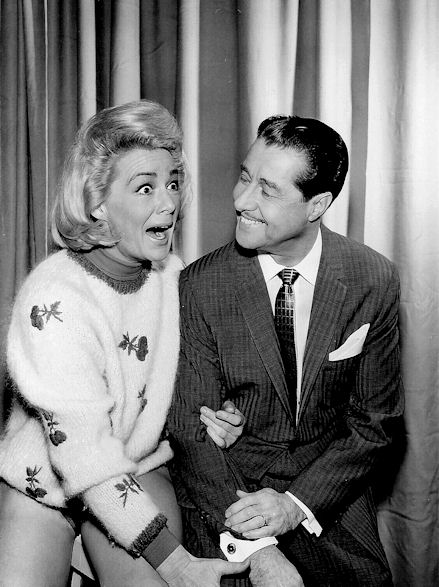 Betty Hutton seen here with Don Ameche on the March 31, 1964 episode of The Greatest Show on Earth television program. GSOE was an American drama TV series about the American circus which starred Jack Palance and featured different weekly guest stars. The series aired on ABC from Sept. 17, 1963, to April 28, 1964, and was produced by Desilu.The Greatest Show on Earth faced stiff competition from two comedy programs on CBS: Petticoat Junction and the long-running The Jack Benny Program. NBC aired The Richard Boone Show at the same 9 p.m. Tuesday slot. The Greatest Show on Earth series was canceled after only one season.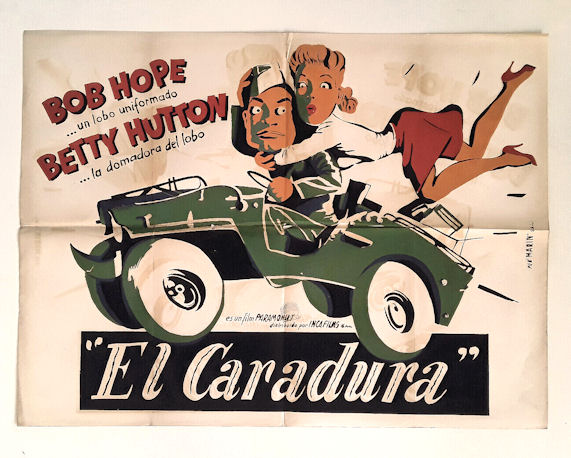 W
e always get manage a good chuckle from foreign posters or lobby cards that attempt to summarize one of Betty's movies in a few words, especially since they typically seem to be a million miles off... In this instance, a small poster from Argentina for the 1943 movie
Let's Face It
with Betty and Bob Hope. They have oddly translated the name of the film to
El Caradura
- someone quite shameless or with no respect! Bob Hope is listed as,
un lobo uniformado
, - the uninformed wolf. Betty is granted the title of,
la domadora del lobo
, - the wolf tamer! To be fair, I guess we would need to watch the entire movie in order to decipher where they meant to go with all of this. But for now, I think I'll stick with the original English intention!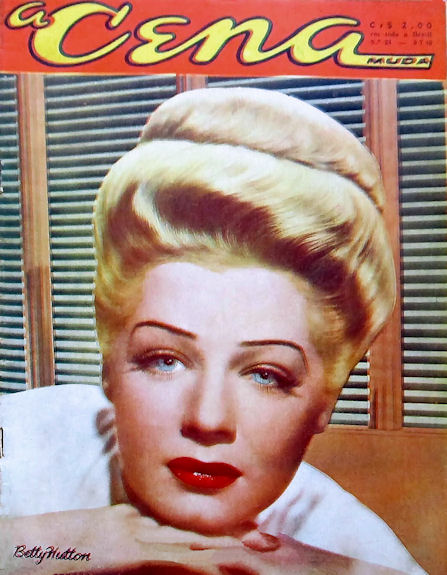 B
razilian magazine,
A Cena Muda
(
The Scene Changes
) with Betty Hutton gracing its cover. Issue No. 28, September 7, 1946. The magazine was published from 1921 - 1955.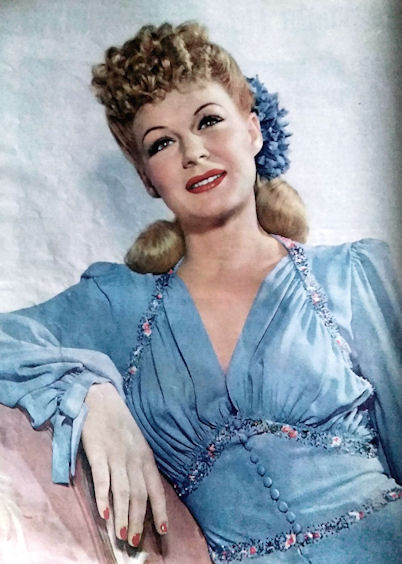 B
eautiful and vibrant Betty Hutton seen here at the prime of her career as a major Hollywood movie star.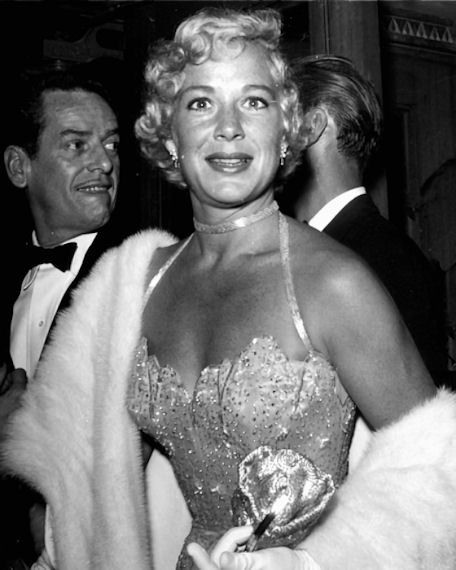 A
beautiful looking Betty Hutton seen here at an unknown function with
choreographer
husband, Charles O'Curran (on left). Betty was married to Charlie for nearly four years before they divorced in 1955. It was husband Charlie that Betty had wanted to to become involved in directing a new film,
Topsy and Eva
, for her at Paramount. When the studio top brass refused to allow O'Curran to direct the film, Betty walked out on her contract.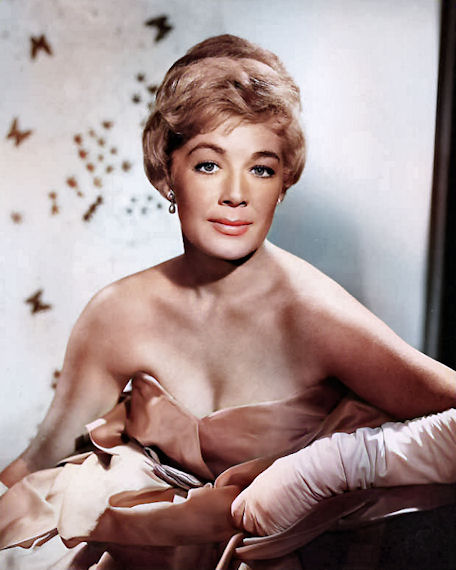 This photo of Betty has a definite 1950s vibe to it, and was actually a publicity photo for Betty's upcoming TV series, The Betty Hutton Show, 1959. Betty certainly looked stunning and all grown up with her revealing low-cut dress and long gloves.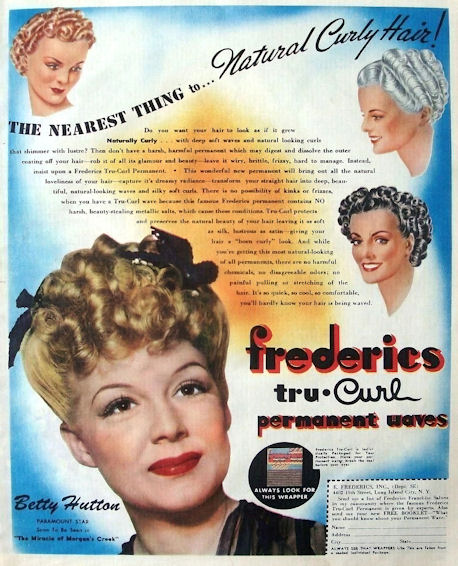 A
nice, colorful magazine ad of Betty Hutton for Frederics Tru-Curl Permanent Wave kits,
"The nearest thing to natural curly hair"
... The Ad includes a large photo of Betty, as seen in The Miracle Of Morgan's Creek, indicating the advertisement is from the same year as the movie, 1944.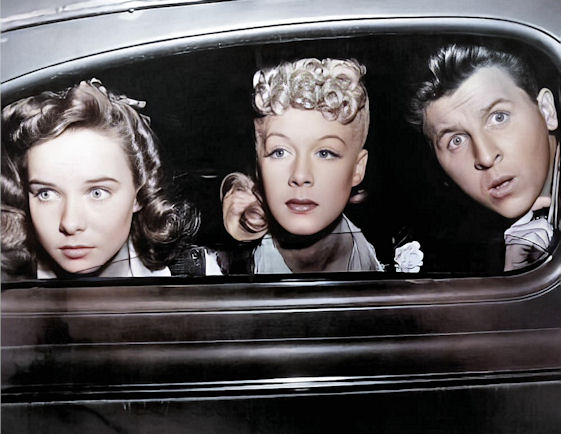 A
n impressive photo still from
The Miracle of Morgan's Creek
, 1944. Diana Lynn, Betty Hutton, and Eddie Bracken costar in this Preston Sturges screwball comedy great!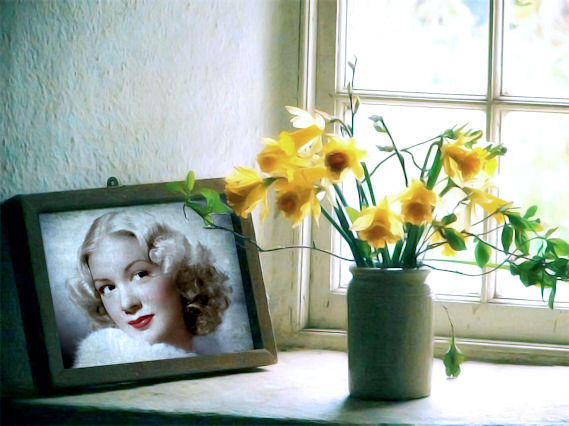 T
hese are just a few of the hundreds of delightfully animated facial expressions Betty Hutton revealed to the audience while singing, "Murder, He Says" during the taping of Command Performance: Strictly GI in 1943. Command Performance was a weekly radio show that answered requests from American servicemen and was then piped overseas to our troops during WWII. This particular episode was a special
filmed
broadcast of a Command Performance episode. In this one, Betty Hutton sings "Murder, He Says" and Judy Garland does "Somewhere over the Rainbow." Also, Lana Turner cooks a sizzling three inch Porterhouse steak on stage, all for the boys! Bob Hope is the delightful host of this episode from Camp Roberts, CA.
Watch the full video program below...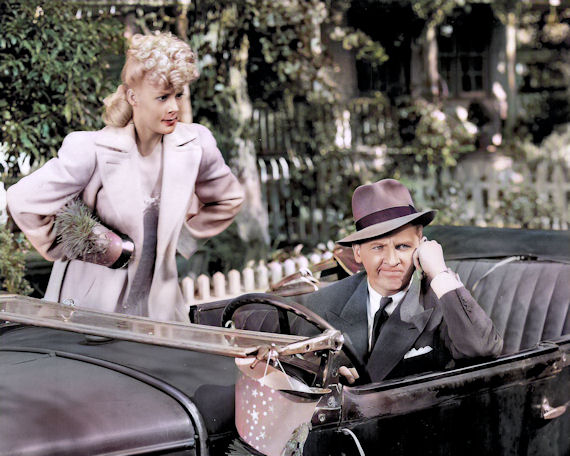 W
e can't help but feel that this scene from the 1944 movie,
The Miracle of Morgan's Creek,
written and directed by the great
Preston Sturges
, has to rate as a favorite for a large number of Betty Hutton fans! It sure rates high on our list... Speaking of lists, the film ranks #54 on the American Film Institute's 100 Years... 100 Laughs list of the top 100 funniest films in movie history. Also, in 2001, Morgan's Creek was selected for preservation in the United States National Film Registry by the Library Of Congress as being "culturally, historically, or aesthetically significant."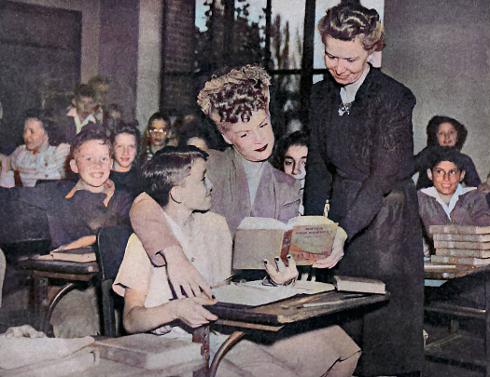 D
uring Betty's return to Michigan in 1950 for the opening of her film,
"Let's Dance"
with Fred Astaire, she made a special stop at her old school, Foch Intermediate, to pay a visit to her favorite teacher, Mrs. Deborah Jones. In this photo, Betty is seen "studying" with a very pleased student in Mrs. Jones' 7-B Arithmetic class as Mrs. Jones looks on. Read more about Betty's eventful trip back home to Michigan in,
Backstage, You Can Have
, Betty's autobiography available at
Amazon
.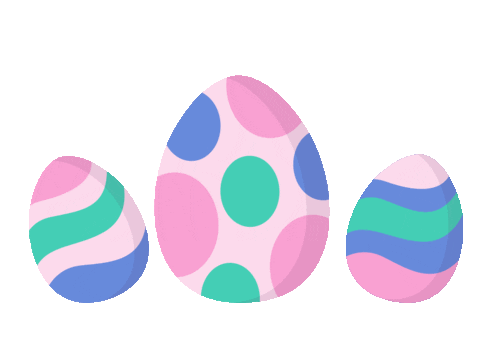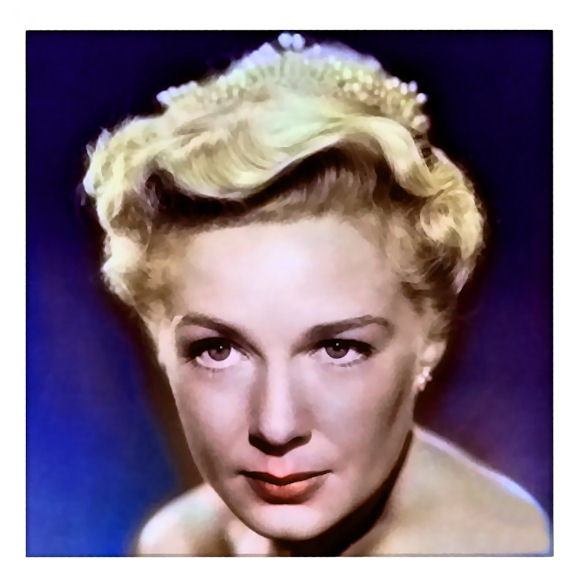 H
appy Birthday, Dear Betty! You are missed so very much on this special day...
A
n entry in the May 1946 edition of
Screenland
magazine's
Here's Hollywood
gossip column by Weston East (gotta love that name!) stated:
"Too bad Betty Hutton and her new husband, Ted Briskin, couldn't have settled their first quarrel without reporters and most of Hollywood sitting in. But the bombastic Betty lost no time in letting everyone know. Twenty-four hours later all was sweetness and light again. A difference of opinion regarding the demands of Betty's career seemed to be the basic reason."
To put even more attention on the spat, Betty was featured on the cover of that month's Screenland edition with the blurb attached, Betty Hutton now starring in the new Paramount film, Cross My Heart. Photo of cover below...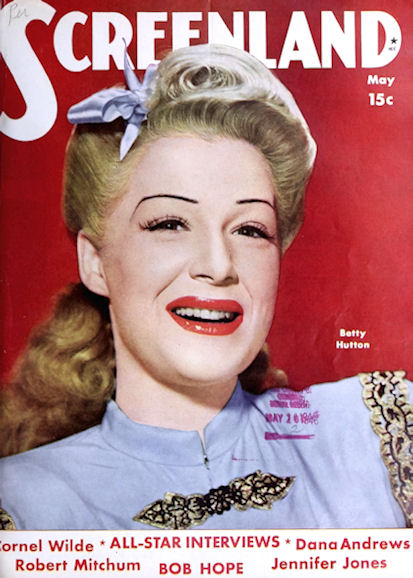 O
ne short month later, in the very same gossip column of the June 1946 issue of Screenland, readers were entertained with this entry:
"Such devotion between Betty Hutton and Ted Briskin, now that they've buried the hatchet. He's showering her with presents, flat silver, jewelry and furs. They're also drawing up plans to make their house larger. On the blue prints opposite one designated spot, Betty wrote with her eyebrow pencil, 'Either bedroom or nursery.' As it turns out, it'll be the nursery, and Betty couldn't be happier."

Now, I ask you, could anything be more important for small-town America to have reported to them from Hollywood?
In all seriousness, Ted Briskin was justifiably not pleased with the time that Betty's work took away from their home life, but Betty had absolutely no intention of giving up that career of hers. In the end, Betty's career won out and the marriage unfortunately ended in divorce in 1951, as did three more consecutive Hutton marriages yet to come, and all for much the same reason. Betty did mention to us on several occasions that she deeply regretted her split from Teddy, because as she fondly stated, "He was the one..."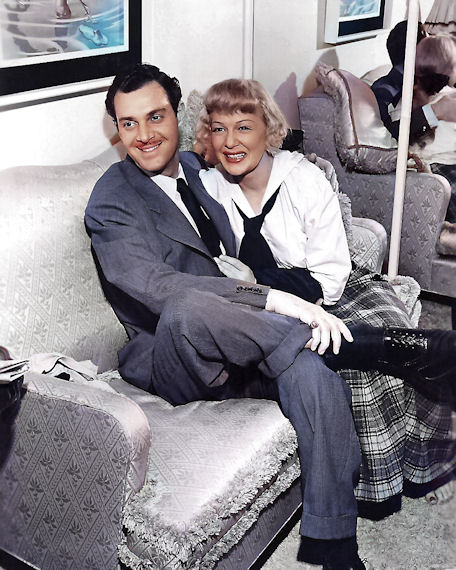 Betty Hutton and husband, Ted Briskin.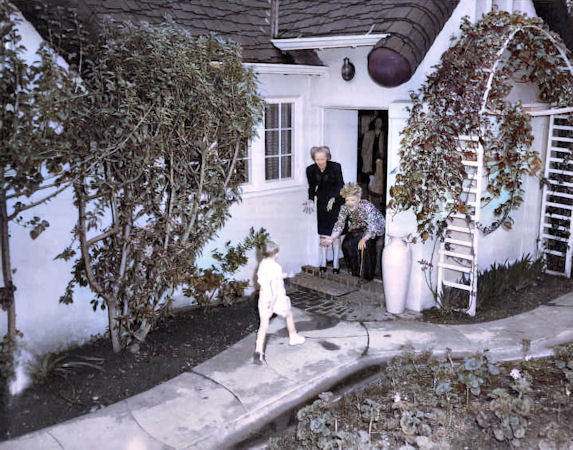 C
aption supplied with this photo: Betty Hutton, Paramount's blonde star who will soon be seen in
Incendiary Blonde
, lives in a hillside home in Hollywoodland with her mother, Mrs. Mable Hutton. For the past six months her four year old nephew, John Philbin, son of her sister Marion, has been staying with them while his parents have been on a Vaudeville tour. From the roadside the house looks like a small bungalow, but don't let that fool you --- it extends down the side of the hill for three floors.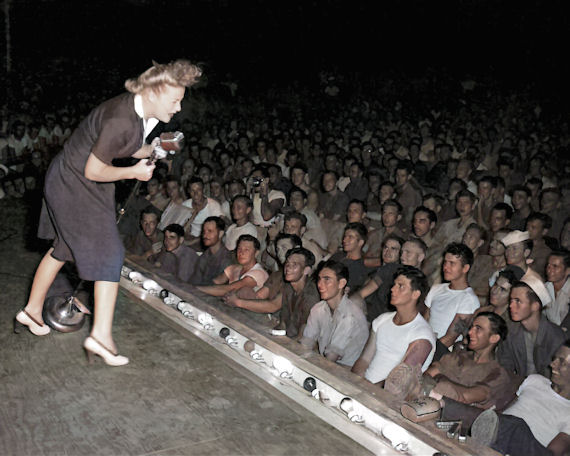 T
his photo is, in my estimation, shear Hutton perfection! Betty, doing what she did best, performing at a USO show during WW2. If you take a good look at the faces of the guys watching her, you will know exactly why what she did was so meaningful to her!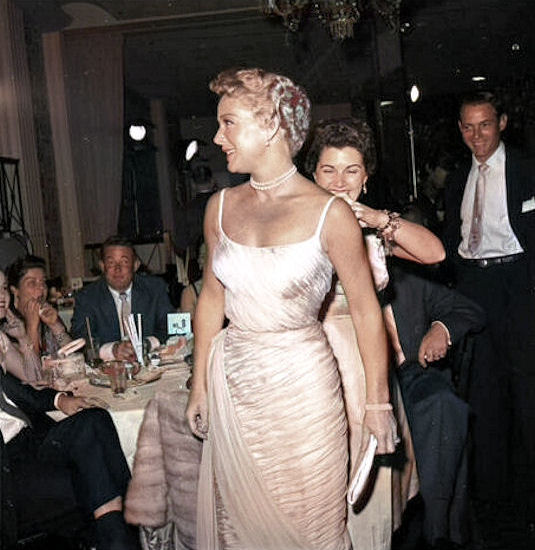 I
magine if you can, just for a moment, what it would be like to walk into a room and instantly be the center of attention with all eyes upon you; each and every person scrutinizing your every word and movement. Sounds rather enticing to be in such a position, but also a bit scary, right? Some are born ready and up for the challenge, others are not. Betty was one of those who found the limelight simply suffocating. She told us often in her older age how she wished people could just accept her as Betty, with no preconceived ideas or expectations of Betty Hutton the Hollywood star. She gave it her best shot in the business and did really well, but in the end Betty paid a heavy price for attempting to go along with something that she just really had no desire for... stardom.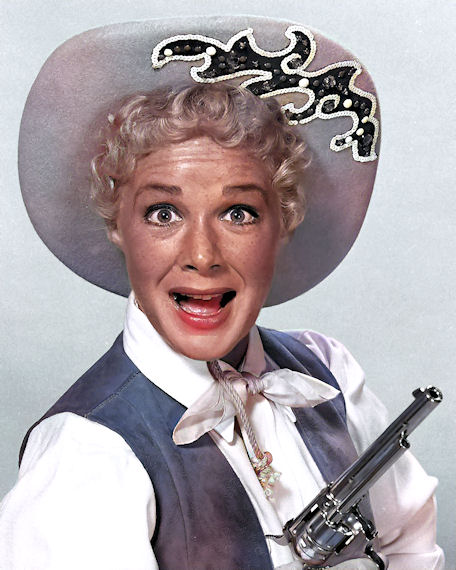 B
etty Hutton in a rather nice publicity photo from her television "spectacular",
Satins and Spurs
for NBC.
Satins and Spurs,
was a 90 min. musical comedy which debuted on Sep. 12, 1954. Betty's was the very first in a series of these so called, spectaculars for NBC which were to be broadcast in full color, regardless of the fact that few American households had a color TV set in 1954. Betty played a rodeo queen who falls for a magazine writer, played by Kevin McCarthy.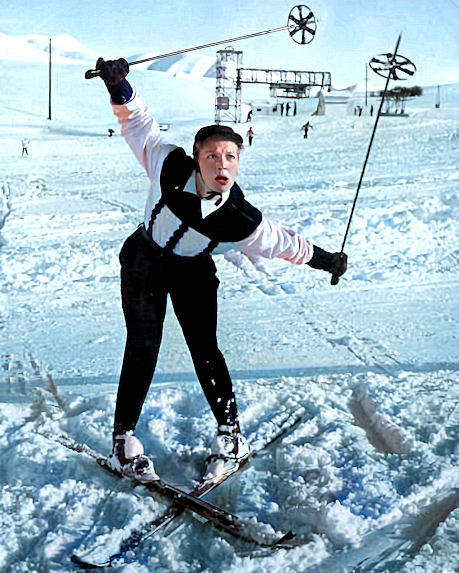 B
etty Hutton is seen here social distancing on the ski slopes, not because of Covid 19, but because she is such a hazard on the slopes! Everyone please have a safe and enjoyable Holiday Season... The Betty Hutton Estate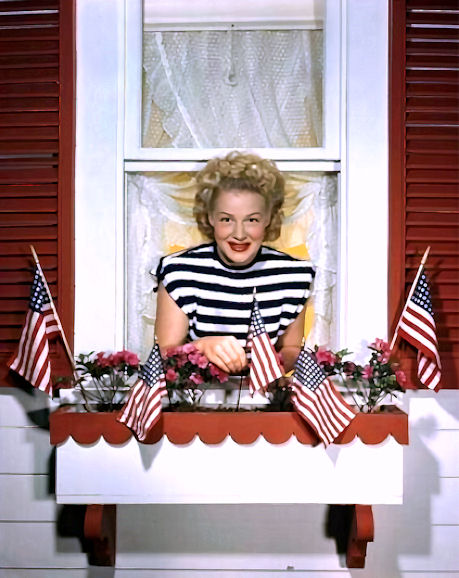 H
ere is a really nice publicity photo of Betty Hutton leaning out of a window that has a flower box adorned with American flags. Posting this photo would probably be more appropriate in July than it is only a week before Christmas, nevertheless, this is a photo we were not ever familiar with! It makes us wonder just how many thousands of Betty Hutton photos are circulating out there that none of us have seen before... Happy July 4th, Santa!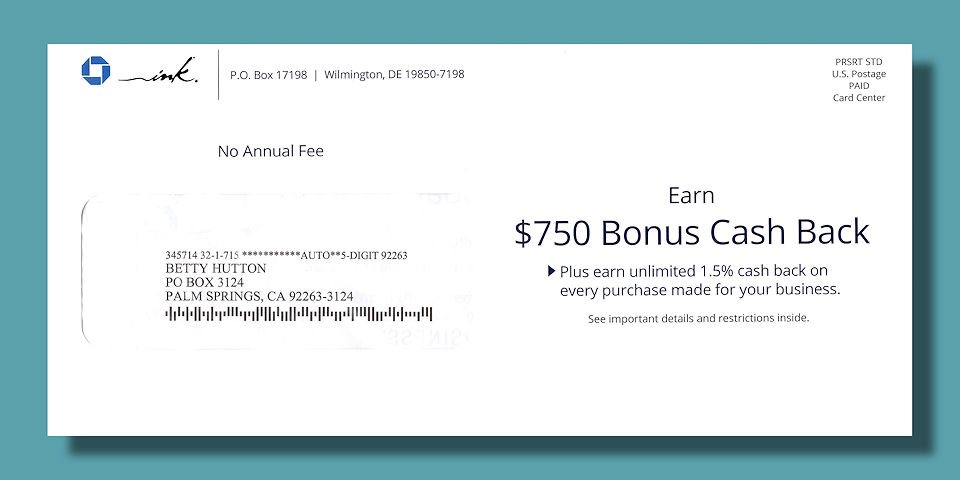 W
hile Betty was still alive, she attempted to keep the address of her personal residence here in Palm Springs as private as possible. She therefore felt rather safe in using our post office box for fan mail and the like as a substitute for providing the real thing. Well, in today's mail in the box at the post office, Betty received an "invitation" for a new credit card! Is it possible that she applied for one, all those many years ago, and is just receiving the application? I know the mail has gotten horribly slow... but this seems rather crazy, don't you think?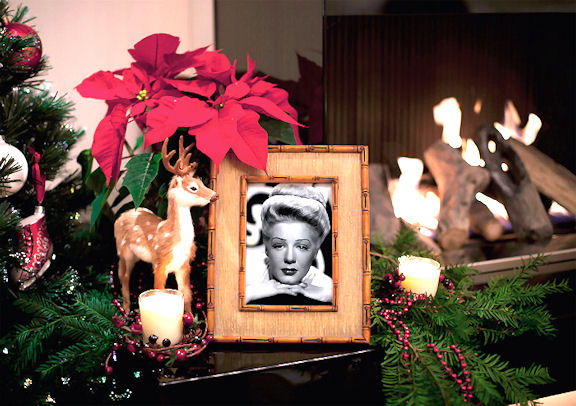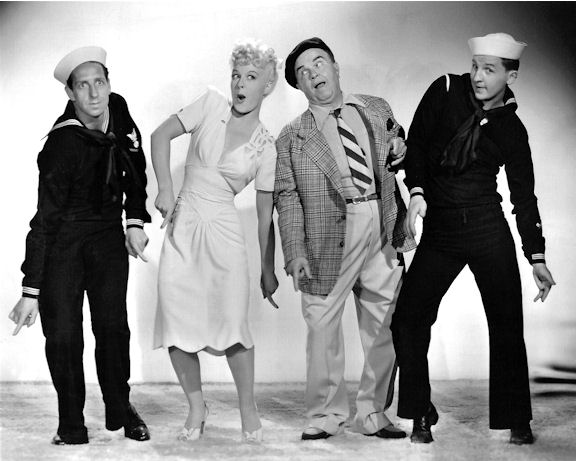 A
n unusually creative publicity still from Betty's second movie,
Star Spangled Rhythm
, 1942. By her second movie, a World War II morale booster, Betty was already an undeniable and major presence on the
Paramount
big screen! From left to right, Gil Lamb, Betty Hutton, Victor Moore and Eddie Bracken. Star Spangled Rhythm was also the first film released by Paramount to be shown for 8 weeks.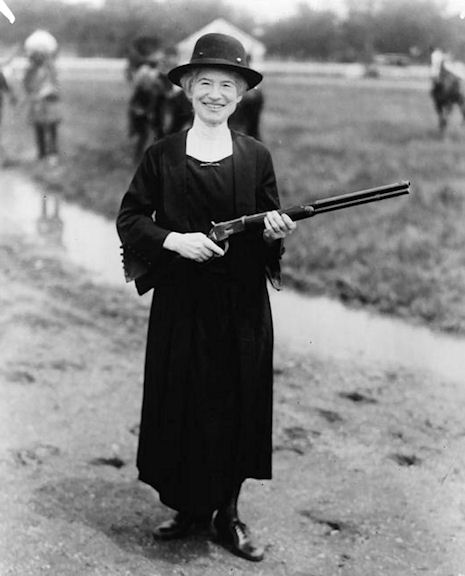 N
o, this is not a photo of Betty Hutton after having joined the NRA late in life... This is actually a photo of the honest to goodness, real life
Annie Oakley
. She is seen here in 1922 with a rifle that had been given to her by, none other than, Buffalo Bill! Annie Oakley was born in 1860, making her about 62 years of age when this photo was taken. She died 4 years later in 1926 at the age of 66. The additional photo below depicts Annie Oakley and her husband, Frank Butler... Yes,
the
Frank Butler, second best sharpshooter in the world (after Annie)!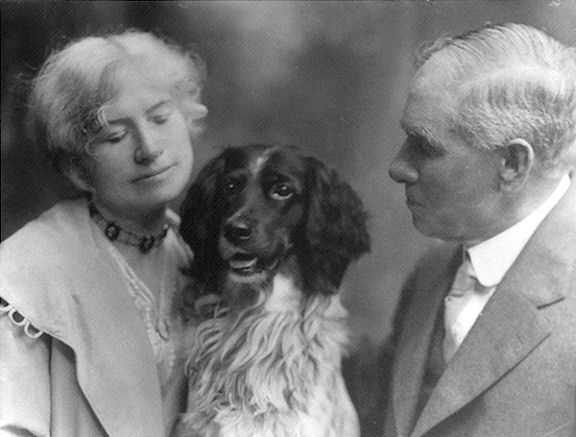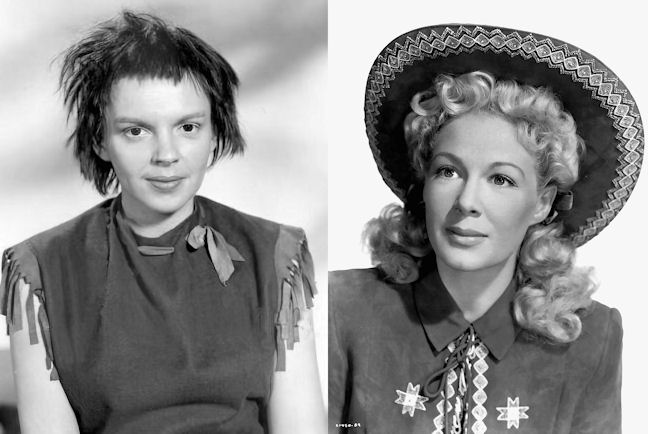 Y
ears have passed... and after all is said and done, we are still left wondering just how things might have played out had Judy Garland indeed fulfilled her role as Annie Oakley in the 1950 movie,
Annie Get Your Gun
. Personally, we couldn't be more pleased with the way things turned out! Then again, we also find it nearly unimaginable to think of anyone but Judy Garland playing Esther Smith in,
Meet Me In St. Louis
. Somehow things usually have a way of turning out as they are meant to...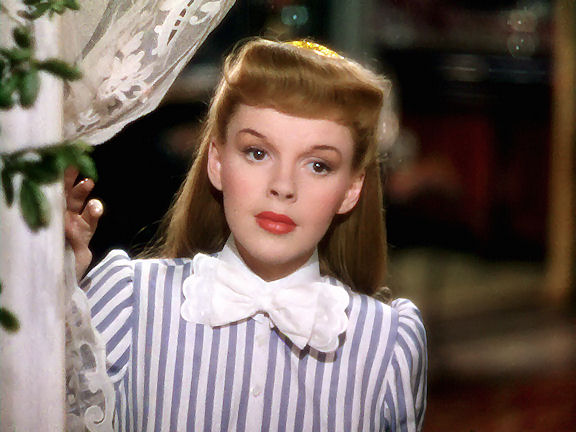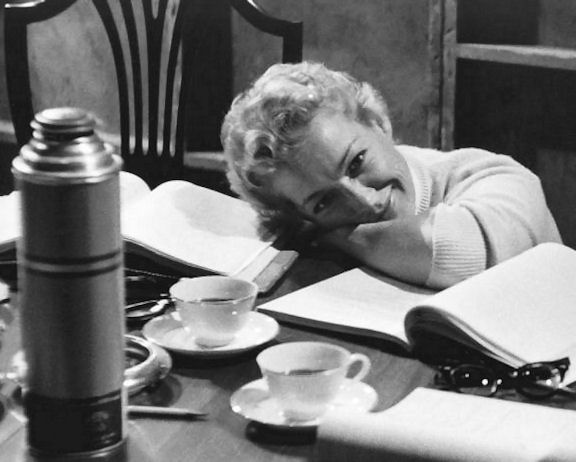 A
rare view of Betty Hutton, taking a coffee break during script reading rehearsals for her 1957 movie,
Spring Reunion
. Spring Reunion turned out to be Betty's final movie... Photo from Betty's private photo collection...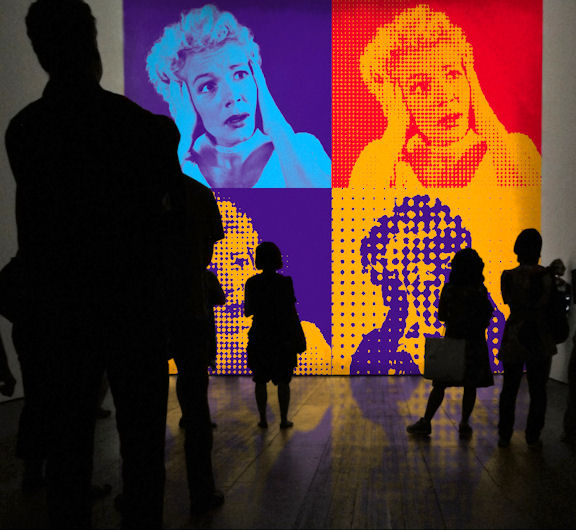 B
etty Hutton, still making the same kind of waves in the 2020s and she did in the mid 1940s...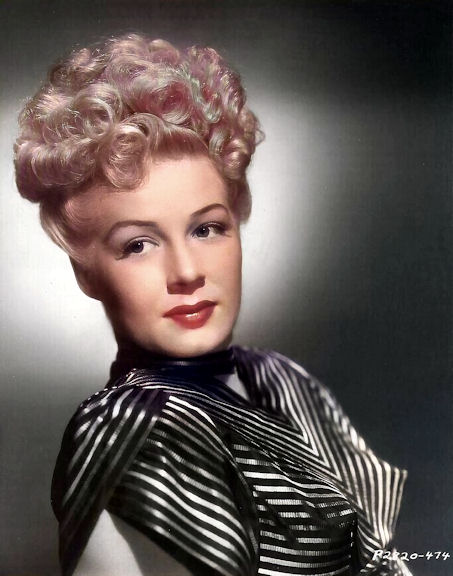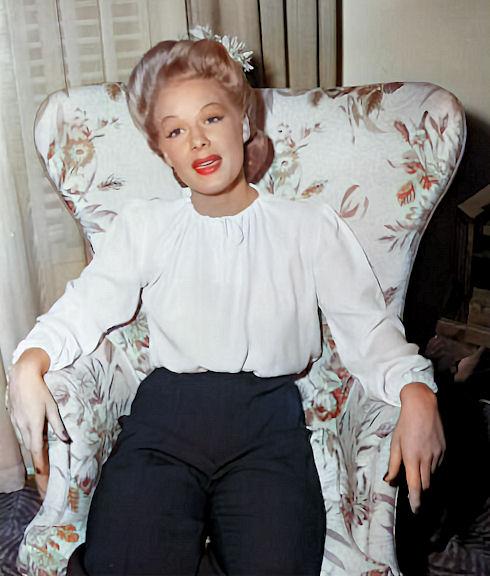 A
really beautiful photo of a youthful Betty Hutton, one we have not seen before, found recently on an internet search...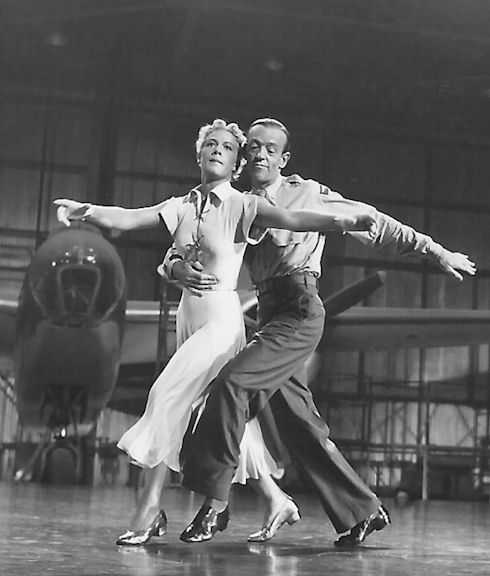 S
till photo from the 1950 movie,
Let's Dance
, starring Betty Hutton and Fred Astaire.The 5 minute dance number shown in this photo was completed in one take and without any stops. Mr. Astaire told Betty that this had been the only instance in his long and storied dance film career that such an event had been filmed in one take!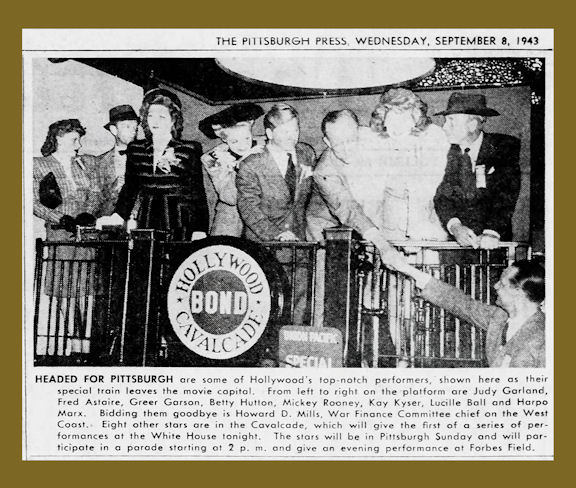 Wonderful photo from The Pittsburgh Press, dated Sept.8, 1943 of members of the Hollywood Bond Cavalcade, including Betty Hutton, as they leave Los Angeles on the first leg of their War Bond Tour to raise funds for the war effort.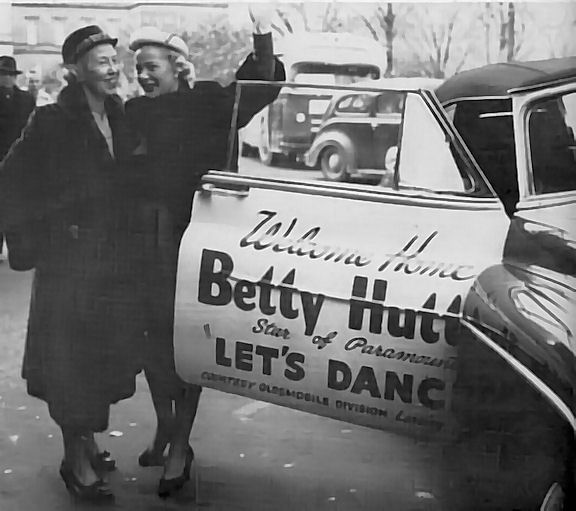 I
n 1950, Betty returned home to her native Michigan for the premiere of her 15th Paramount film,
Let's Dance
, with Fred Astaire. It was also a grand affair for Betty and her mother, Mabel to reconnect with the people and place that they literally had to escape from because the Feds, at the time, were hot on Mabel's trail with bootlegging charges. This photo is from the Dec. 1950 issue of The Oldsmobile Newsletter. The caption for the photo reads as follows: Betty Hutton, screen star, recently came home to Lansing on "Betty Hutton Day" with her mother, Mrs. Mabel Thornburg who worked in the Oldsmobile plant from 1925-1928. What a triumphant return for a radiant looking 29 year old Betty, not to mention a very proud mother Mabel...
F
acebook has a new ad out focusing on their Group platform, a place where people of common interests can gather and share that interest. This ad is for a group of deaf basketball players (the Deafhoops group) and uses Betty Hutton's,
It's Oh So Quiet
song to assist in getting their message across. Please watch the video above...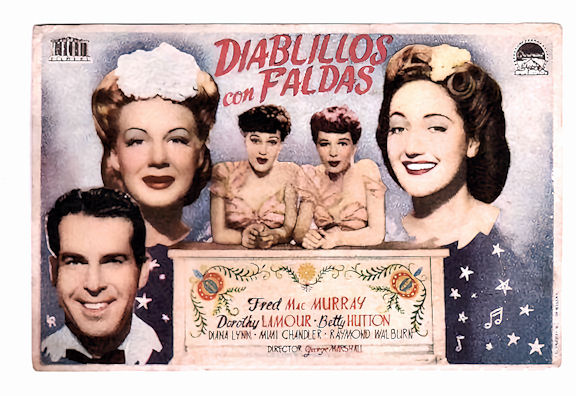 I
have to admit, I had a great laugh after finding this hidden little gem! This is a small Spanish lobby card for Betty's American-made movie,
The Angel's Sing
1944. The funny part is that the movie had been renamed to something that can loosely be translated to,
Demons In Skirts...
I suppose that's one surefire way to attract a new sort of crowd to a film originally intended for a totally different audience!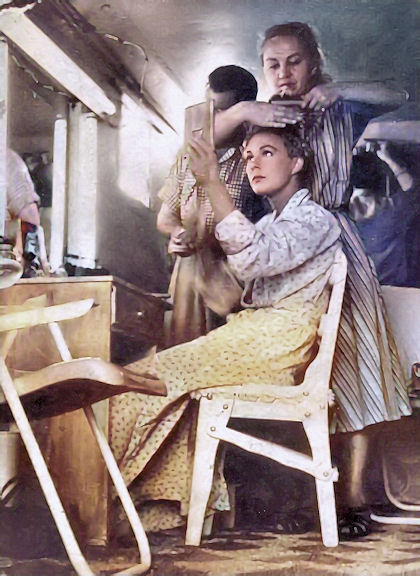 B
etty Hutton in hair and makeup, getting ready for another performance... I know this photo, but can't place the location, event, or time at present (possible effects from Covid 19 vaccine???). Anyone with information about this photo, please help!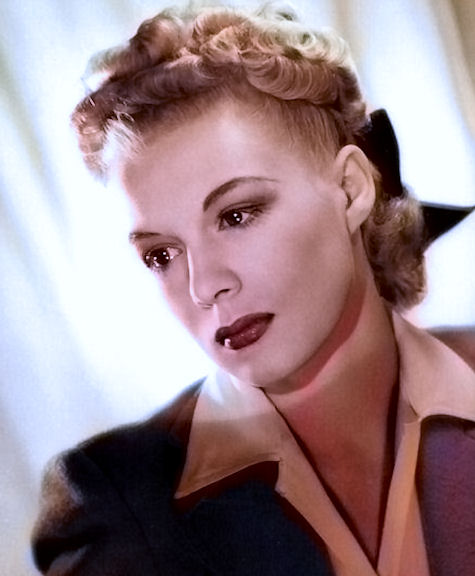 A
beautiful and very young Betty Hutton...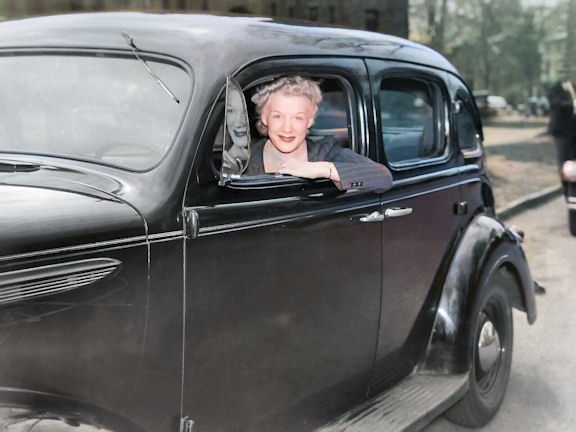 A
wonderfully historic photo of a very young Betty Hutton, in New York City during her Vincent Lopez Suave Swing Band days, probably c.1939. Betty would have been all of 18 years of age...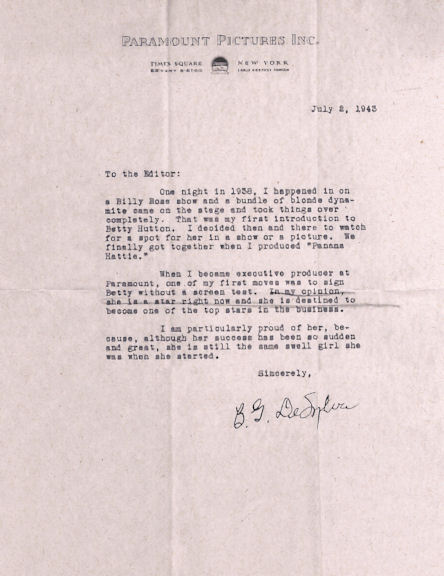 T
his promises to be a real treat for those of you who count yourselves among our growing league of hard-core Hutton fans... a 1943 letter to the editor of (a) magazine in which Betty's mentor, Buddy DeSylva talks about bringing Betty to Hollywood and her potential stardom. A true slice of Hutton history! Please
click here
for a larger view...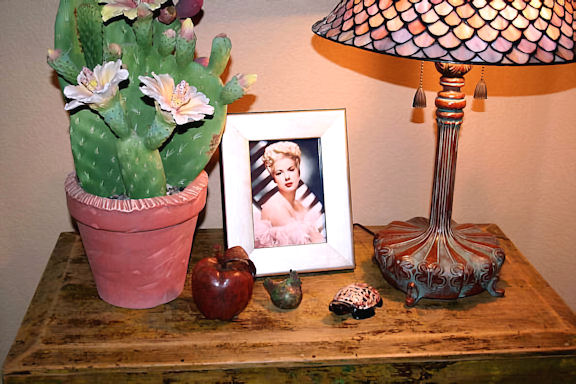 R
emembering Betty in our home, today and every day!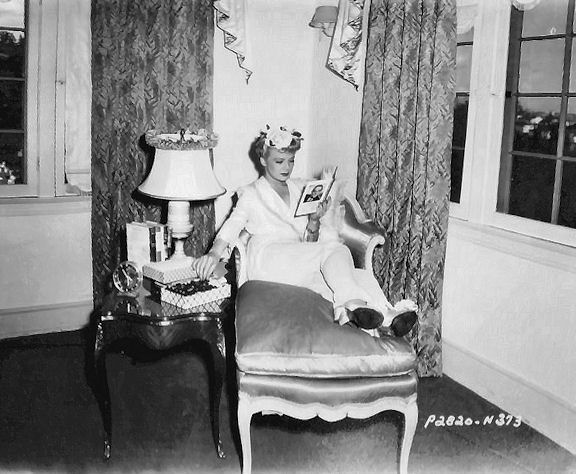 A
fter a long day at Hollywood's
Paramount
studios, Betty Hutton relaxes at home with a good book and a box of chocolates... it strikes me that in a strange way, Betty's life was sort of like a box of chocolates!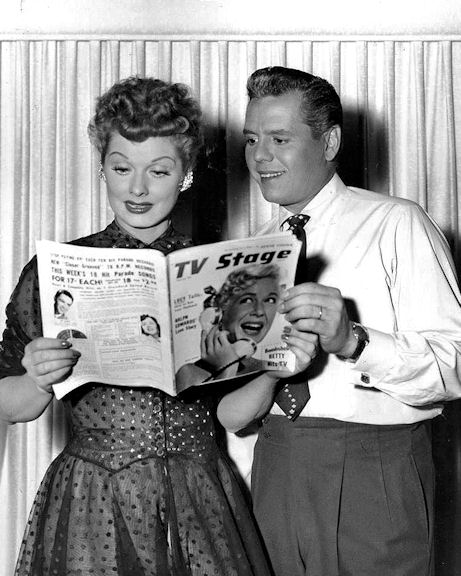 L
ook who seems to be enjoying a copy of TV/Stage Magazine with our favorite, Betty Hutton on its cover!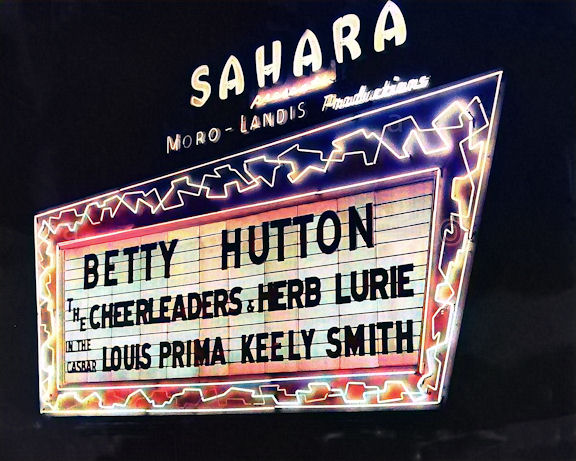 T
he
Sahara
marquee announcing one of Betty Hutton's many Las Vegas shows!
Wishing everyone a more kind and gentle 2021!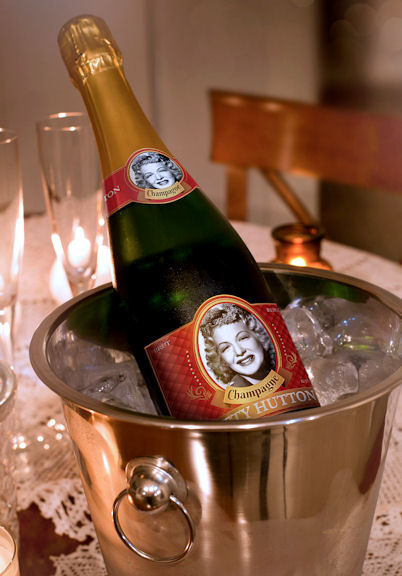 F
un movie stills of Betty Hutton along with fellow cast members, Diana Lynn, Mimi Chandler, Dorothy Lamour and Raymond Walburn from the delightfully entertaining 1944 movie,
And The Angels Sing
.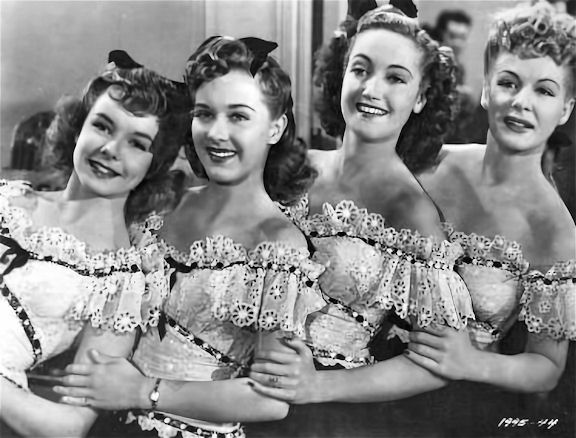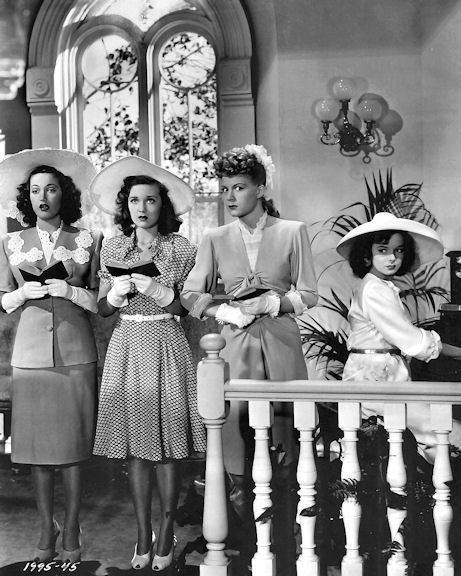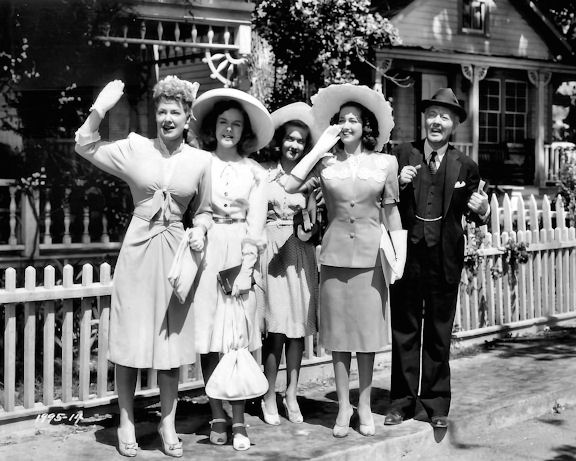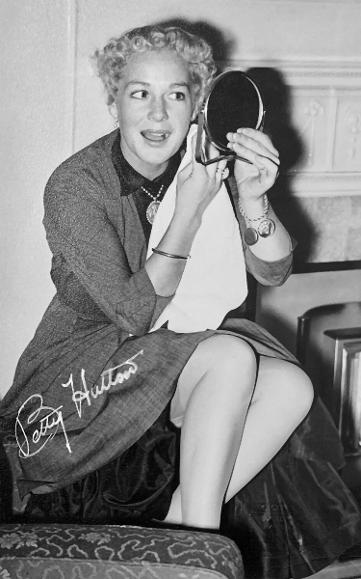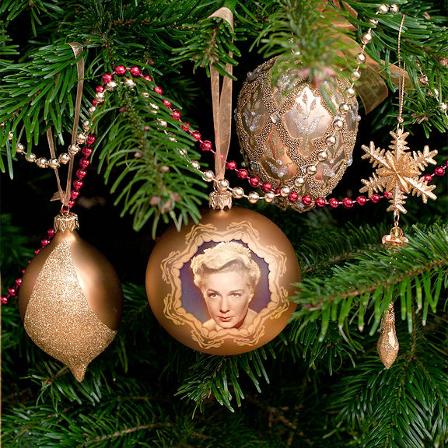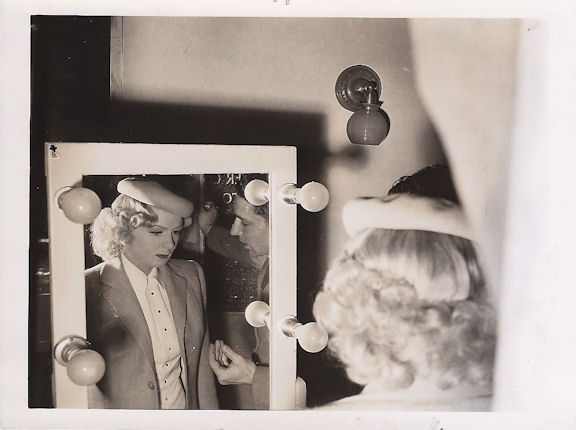 T
his is a really wonderful vintage photo from Betty's private collection that was shot while on the set filming
Cross My Heart
, 1946. Betty is seen here as a mirror reflection and is receiving some sort of direction from an unknown crew member.
Cross My Heart
remains my personal all-time favorite Betty Hutton movie, but is also the most difficult film of Betty's to come by!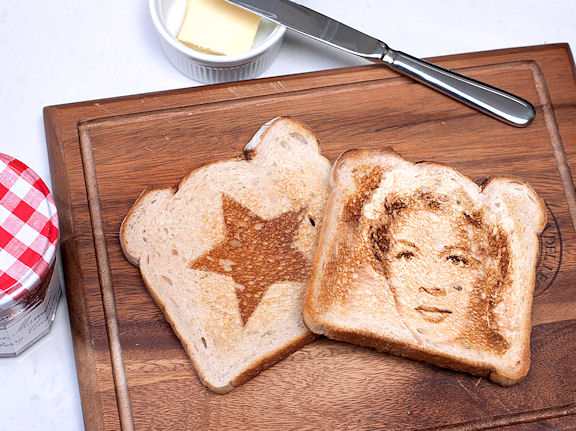 I
t was clear to me by early this morning that today was not going to be just another ordinary day in lock-down at our house... Do something to make your day a special one and
please
wear a mask!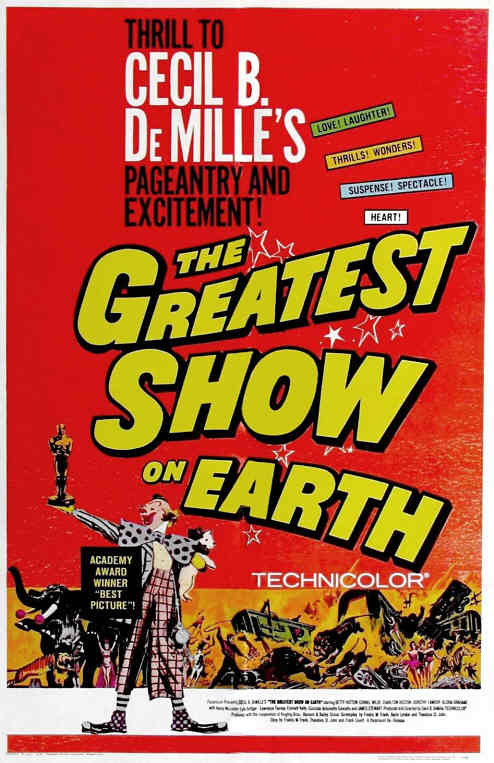 The Greatest Show On Earth 1952. Tonight on TCM! Check your local listings...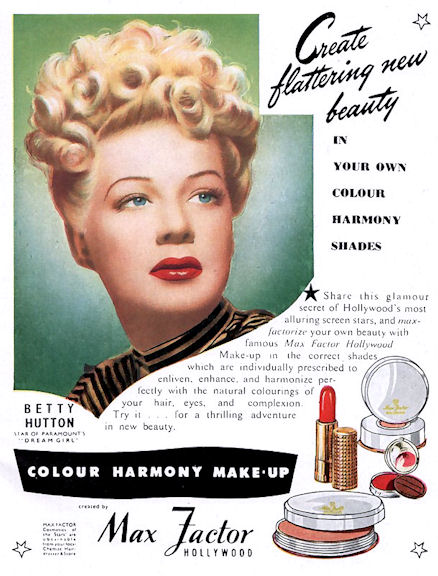 V
ery nice 1940s
Max Factor
ad, featuring Betty Hutton!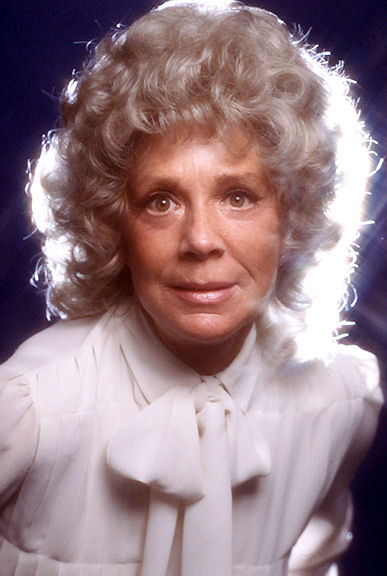 V
ery nice posed publicity photo of Betty Hutton taken at the time of her short 3 week stint as Miss Hannigan on Broadway in
the musical
"Annie"
, Sept.1980.
S
everal fun and interesting photos of Betty Hutton and fellow actors (Berry Fitzgerald, Don DeFore)
taken behind the scenes or off-camera during the filming of The Stork Club, 1945.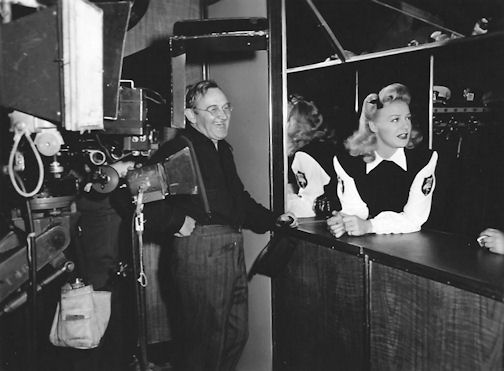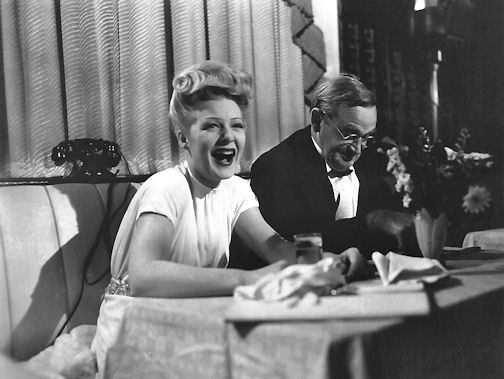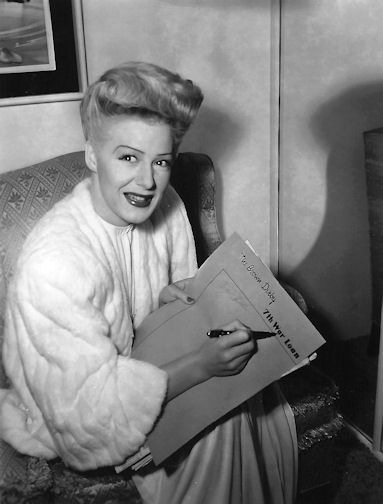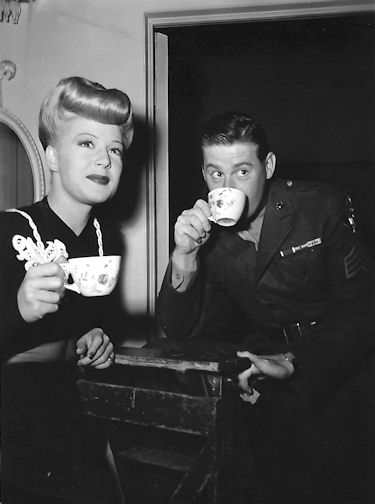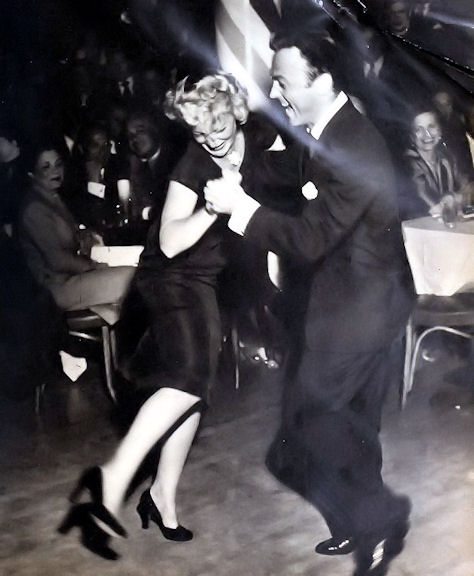 Betty Hutton entertains the crowd at The Mocambo Nightclub on Sunset in West Hollywood while dancing with in-house dance instructor, Bill Daniels. 1940s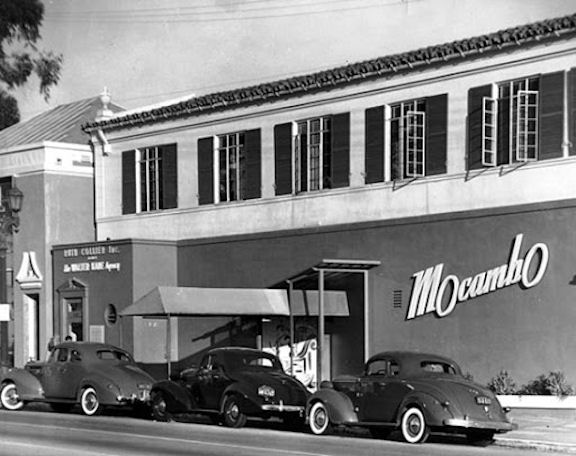 T
he Mocambo, with its Latin American themed decor, was an immediate success upon opening on Jan. 3, 1941. Along the interior walls were glass cages holding live cockatoos, macaws, parrots and various other birds. With big band music, the club became one of the most popular dance-till-dawn spots in town. On any given night, the room would be filled with leading men and women from the Hollywood motion picture world. Early in 1957, club operator and co-owner Charlie Morrison died at his home in Beverly Hills, and signaled the eventual end of an era. The Mocambo remained in business for one final year, before closing its doors for good on June 30, 1958. (photo, 1941)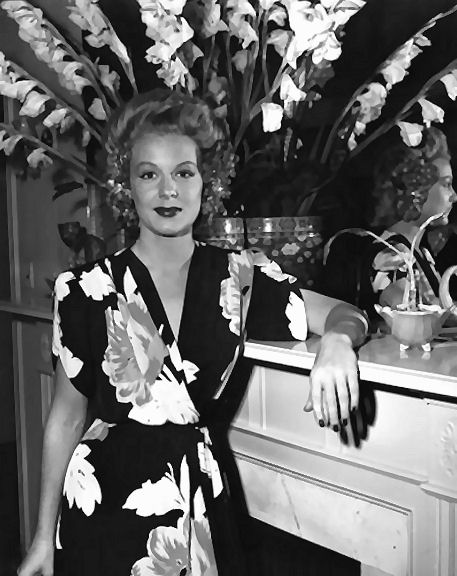 Yet another stunning photo of the beautiful Betty Hutton!
T
wo great examples of ephemera from Betty Hutton's performing days in Las Vegas are shown below... The first is an ad for Betty performing at the
Sahara's Congo Room
with co-stars from her TV series,
The Betty Hutton Show
. The second is the inside content of the program from Betty's engagement at
The Painted Room
at Wilbur Clark's
Desert Inn. Click Here
to see a larger version of The Desert Inn program!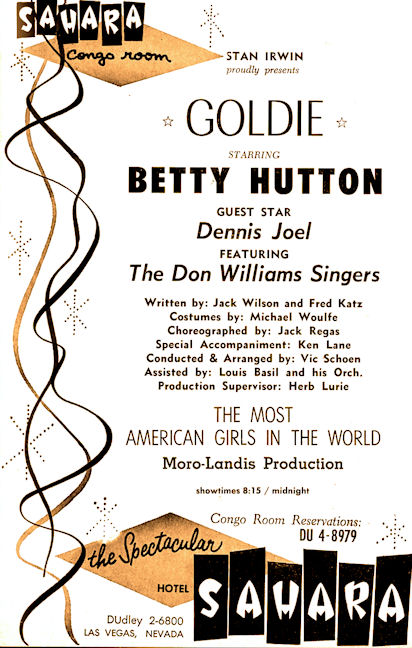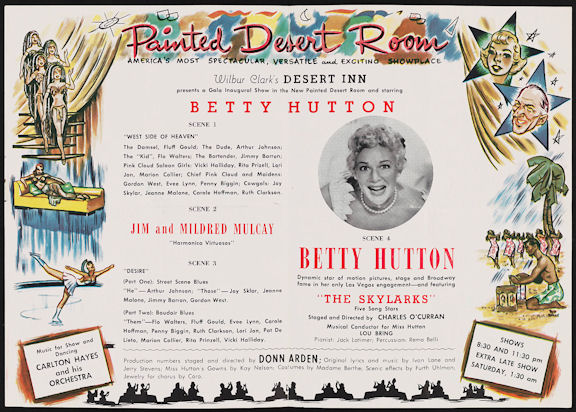 O
pening night, Oct. 14, 1953 of
Betty Hutton and Her All-Star International Show
at the
RKO Palace
at Broadway and 47th St. in Manhattan. Trio Charlival was a Parisian male dance group, making their American Theatre debut, courtesy of Lou Walter's Latin Quarter. Los Chavales were The Kids From Spain, a singing and instrumental group of 11 young men.
Betty came on
during the second part of the show, along with The Skylarks, and
the show ran from Oct. 14 thru Nov. 10th, 1953.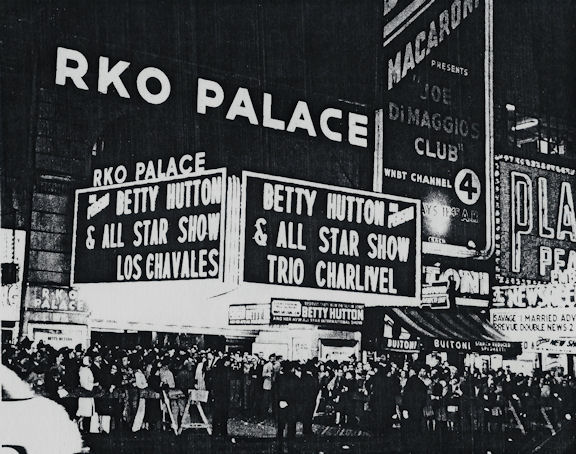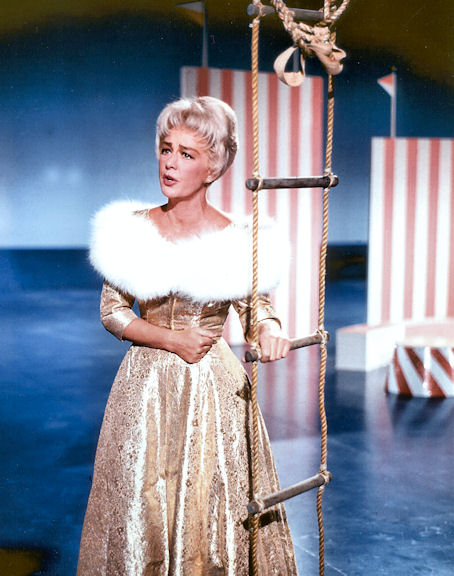 B
etty participated in a televised 90 minute tribute to DeMille,
The World's Greatest Showman: The Legend of Cecil B. DeMille,
which aired on Dec. 1, 1963. A visibly older Betty took to the trapeze for the first time since
The Greatest Show on Earth
to recreate a scene from the movie as a part of the DeMille tribute.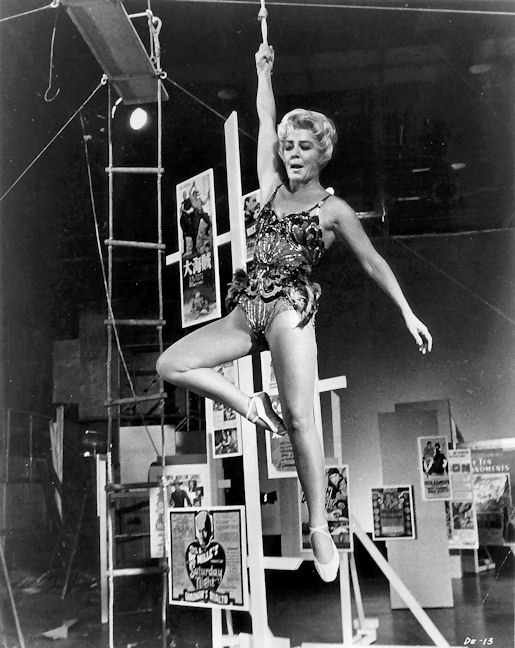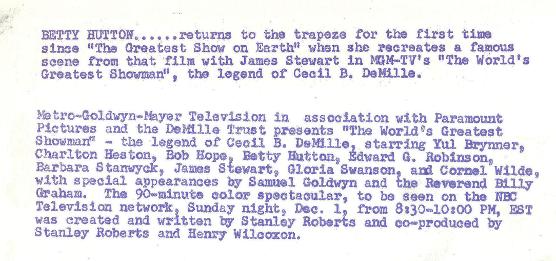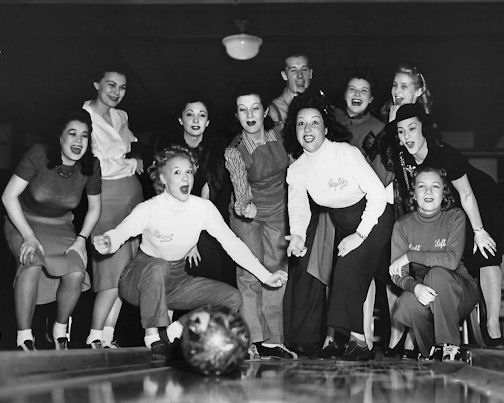 W
ith all the speculation concerning Betty's "bad deal" by having her best onstage Cole Porter number in
Panama Hattie
(1940) pulled by Ethel Merman during the show's stint on Broadway, it seems slightly weird that Betty was also part of Merman's Panama Hattie cast bowling league! Here is Betty and Merman putting on their very best for the camera... and it appears to me that Betty wins, hands down!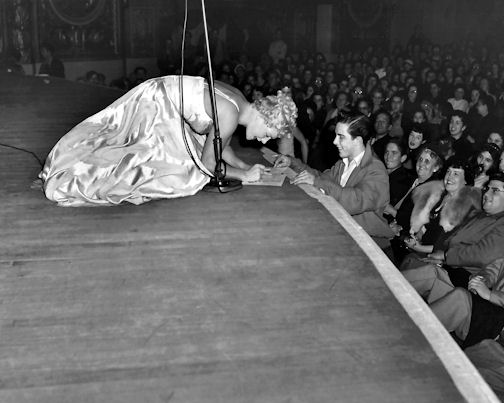 Y
ears later, Betty stops her performance, to the delight of the audience, to sign an autograph for an adorning young fan at the edge of the stage! One more reason to love Betty...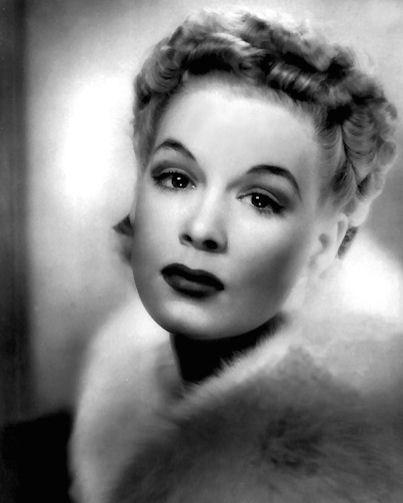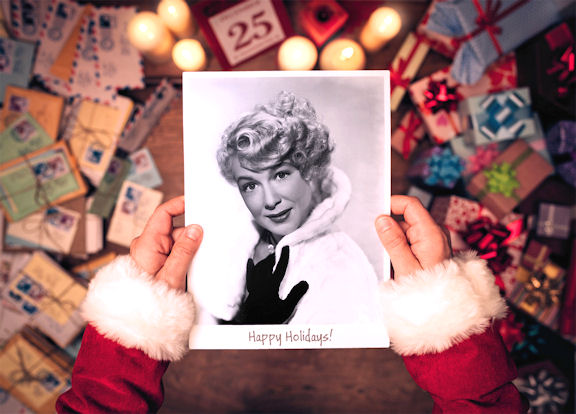 I
t looks as if Santa got what he wanted for Christmas! We hope that you do too! Happy Holidays to everyone...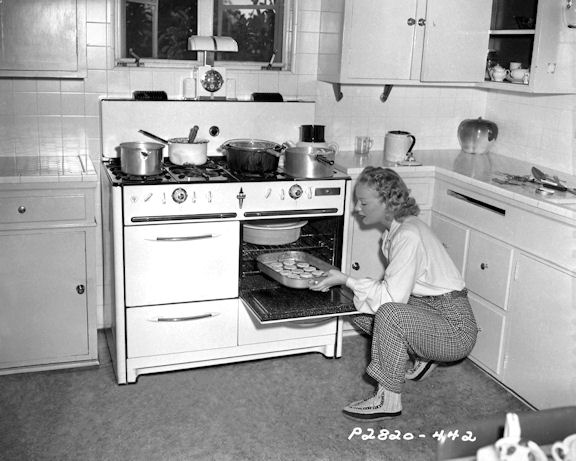 O
n behalf of Betty, The Betty Hutton Estate would like to wish everyone a
Happy Thanksgiving
! Now, get in that kitchen and rattle some pots and pans...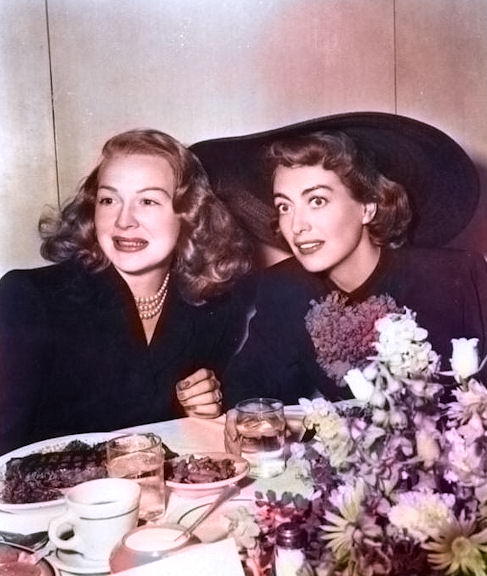 Betty having lunch in a swanky Los Angeles eatery with her friend and Brentwood neighbor, Joan Crawford. (Date and location unknown)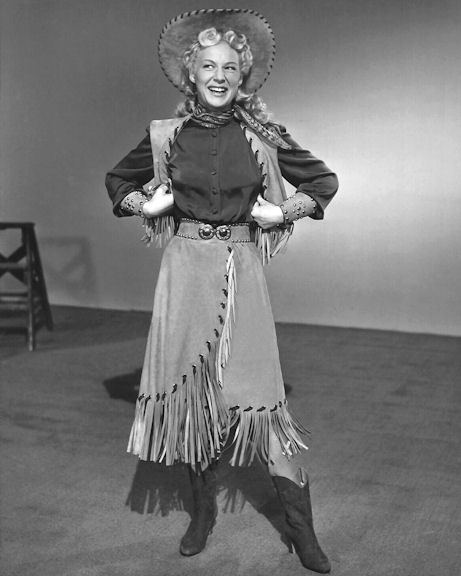 Wardrobe screen-test photo of Betty Hutton for the 1950 movie, Annie Get Your Gun.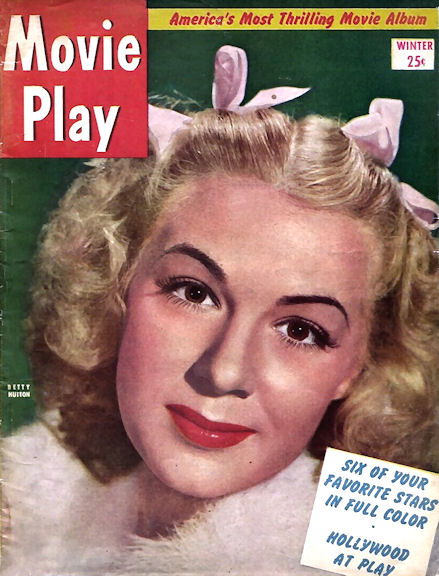 Cover of the 1946 Winter edition of Movie Play magazine, featuring Betty Hutton! Only 25 cents...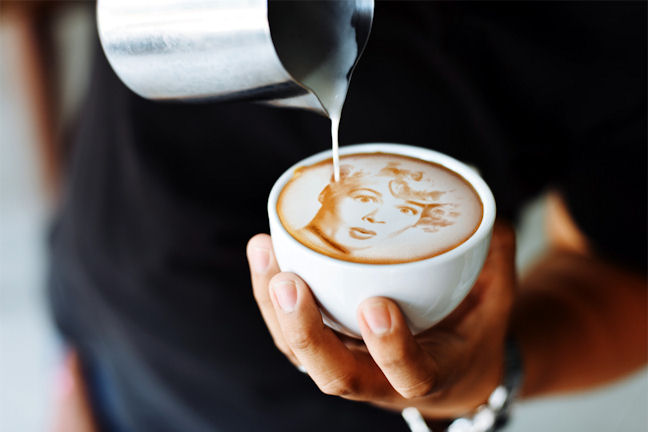 Look who showed up along with my morning coffee... Looks like it's going to be one of those Betty Hutton Wednesdays!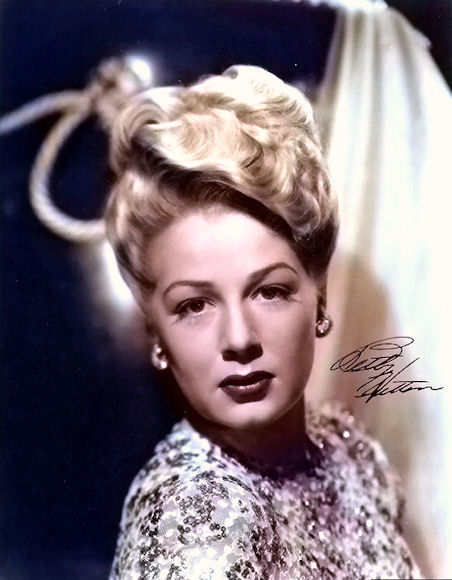 A breathtakingly beautiful photo of Betty Hutton...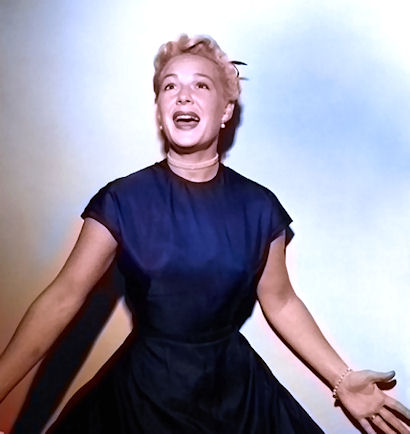 Bubbling Betty Hutton in the process of cutting another track to vinyl in the recording studio, early 1950s.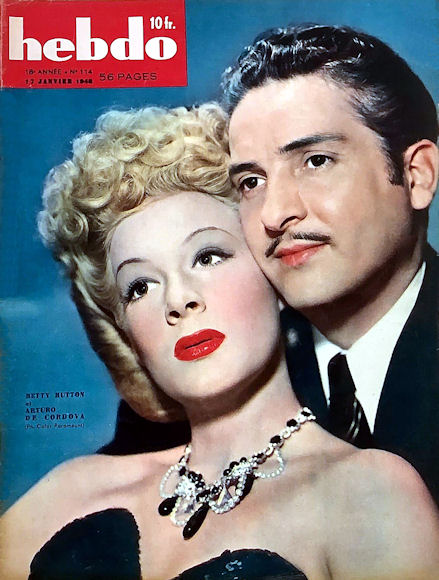 The January 1948 issue of Belgian Hebdo Magazine, featuring Betty Hutton along with leading-man, Arturo De Cordova in Paramount's Incendiary Blonde.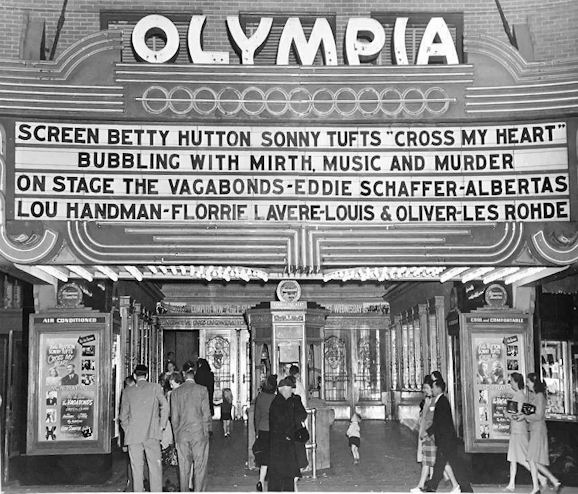 A nice candid photo of the front of an Olympia Theater showing a screening of Betty Hutton's newest film for 1946, Cross My Heart, bubbling with mirth, music and MURDER! The city location for this particular theater is unknown, due to the fact that several Olympia Theaters exist throughout the United States. It would be much too easy to simply claim that this is Olympia, Washington!

Cross My Heart was a wonderful "sleeper" of a Betty Hutton movie, and happens to be among my very favorites! If you have not seen this little gem of a movie, make sure you do...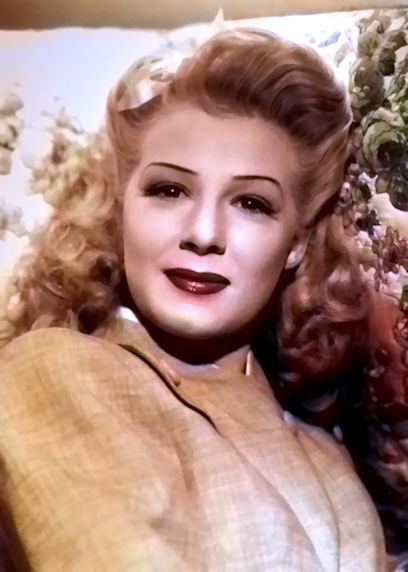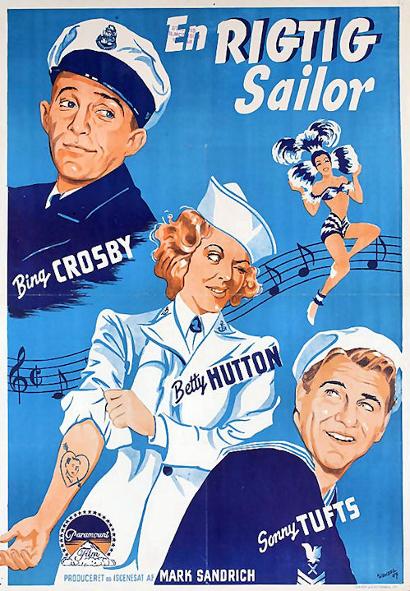 Simple and clean Danish movie poster for the Betty Hutton, Bing Crosby, and Sonny Tufts feature film, Here Come The Waves. The movie was released in the USA in 1944, but this poster was from 1947, indicating that it obviously took a few years after WWII to be released in Europe.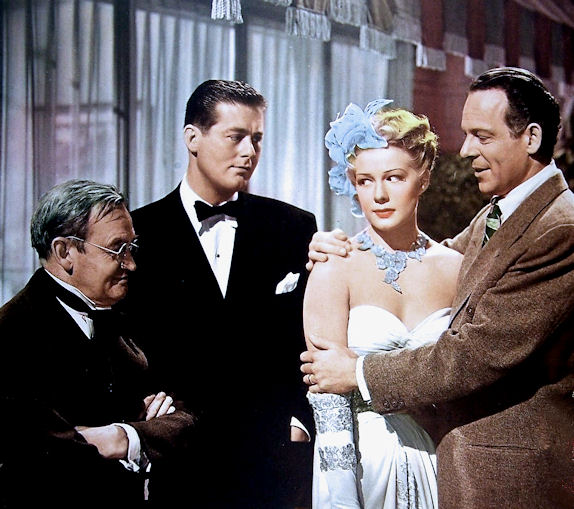 Scene from the 1945 movie, The Stork Club with, (from left to right) Barry Fitzgerald, Don DeFore, Betty Hutton, and Bill Goodwin. Betty Hutton plays a hat-check girl at the Stork Club who saves the life of a drowning man (Fitzgerald). A wealthy man, he decides to repay her by anonymously giving her a bank account, a luxury apartment and a charge account at a department store. When her boyfriend (DeFore) returns from overseas, he thinks she is a kept woman. Bill Goodwin plays Sherman Billingsley, real-life owner of the Stork Club. More than 700 photographs of the real Stork Club, then at 3 East 53rd St.in Manhattan, were taken to help the set designers at Paramount recreate the club to perfection on their Hollywood back-lot, just for the movie!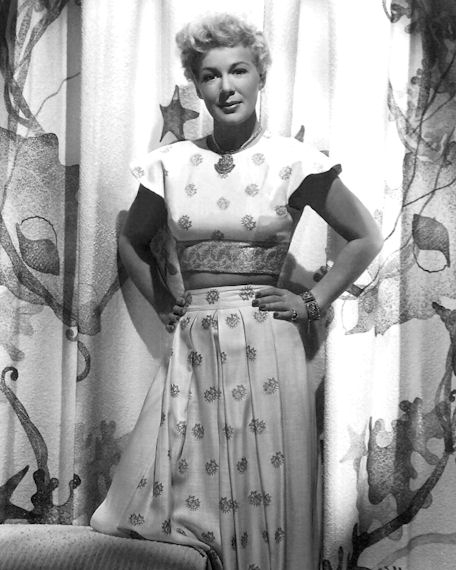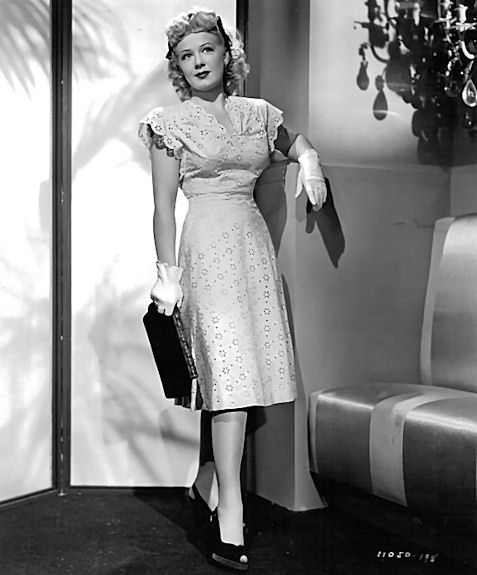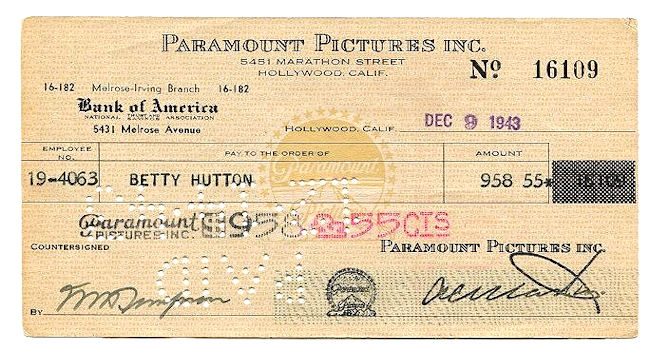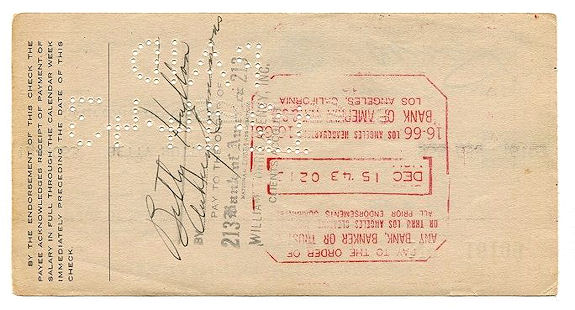 Paramount Pictures Inc. payroll check made out to Betty Hutton, dated December 9, 1943 in the amount of $958.55 If this was a monthly check, it was
an outrageously large sum of money

in 1943. If it was a bi-weekly or weekly check, it was a small fortune! Betty's first house in Brentwood, overlooking the polo field, cost her $64,000 dollars around that time. She outbid her good friend, Cary Grant for the purchase of the house. Grant backed out after refusing to pay such an "exorbitant" price! It really was an expensive home for the time, as the median home value in California then was around $3,500. Those same Brentwood homes, yes some are still standing today, are now in the millions!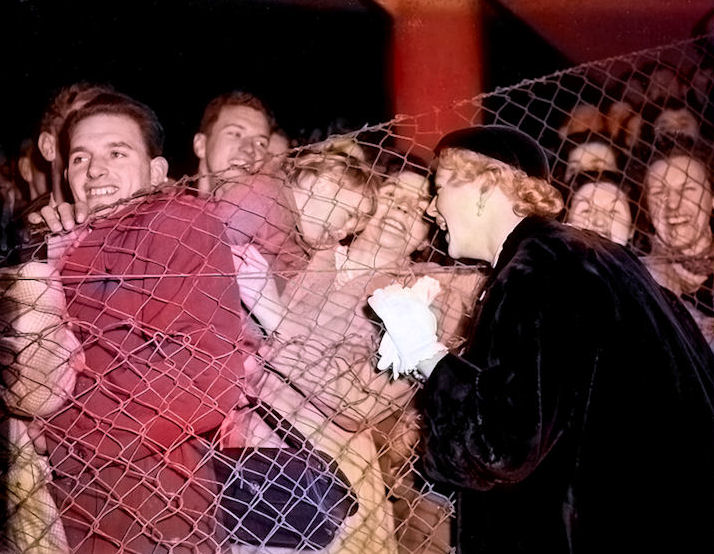 Betty Hutton greets adoring fans upon her arrival at Dublin's
Collinstown Airport
during a brief promotional tour of Ireland in 1952

. The film "Sailor Beware", in which she had a cameo role, was running in Dublin theaters at the time.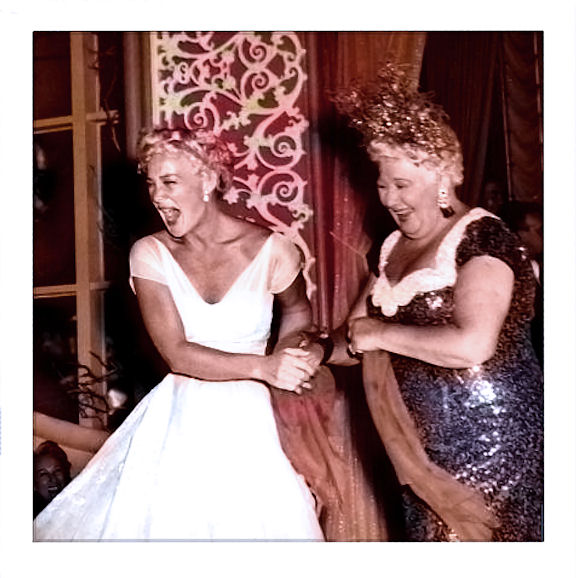 A great candid photo taken by a member of the audience of Betty Hutton being called up on stage during a performance by Sophie Tucker. Location and date uncertain... (possibly Miami in 1952, but no way of confirming this)

Have a look at the newly released Official Promo Video for the second season of the smash hit BBC America series, Killing Eve using Betty Hutton's song, It's Oh So Quiet (Blow A Fuse). Released on March 8, 2019. The new season begins April 7th.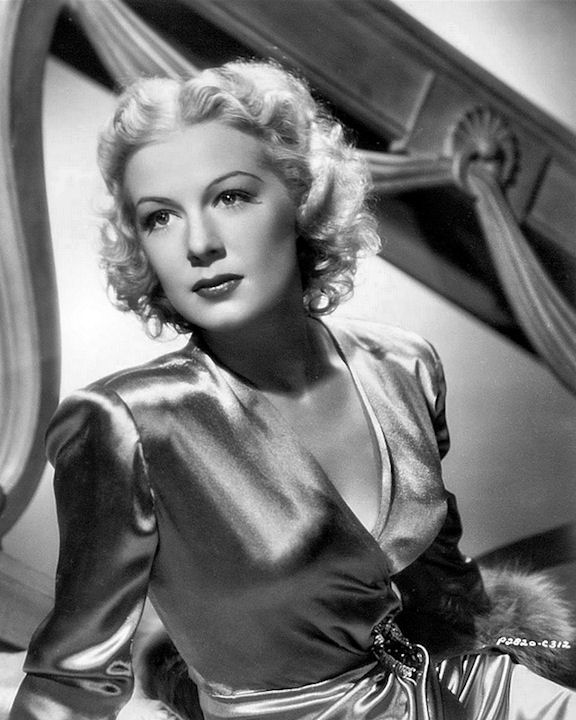 Breathtakingly Beautiful Betty! On a scale of 1 to 10,

The Betty Hutton Estate gives this photo of Betty a 15+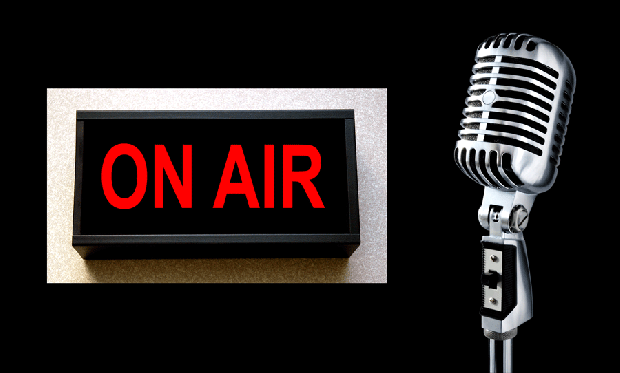 We were going through a box of old Hutton memorabilia which included various cassette tapes (remember those?), and stumbled across a taped radio program that Betty participated in during August of 1988. The program is called, The Great Sounds, and is hosted by longtime radioman, Ray Otis. Betty talks about her life and career, and several of her most popular songs are played throughout the program. We edited and enhanced the audio tracks, which happen to be both entertaining and informative, so please enjoy! (2 tracks, approximately 50 minutes)

The Great Sounds Radio Program - Featuring, Betty Hutton, with host Ray Otis, Aug. 20, 1988 - Track 01.mp3
The Great Sounds Radio Program - Featuring, Betty Hutton, with host Ray Otis, Aug. 20, 1988 - Track 02.mp3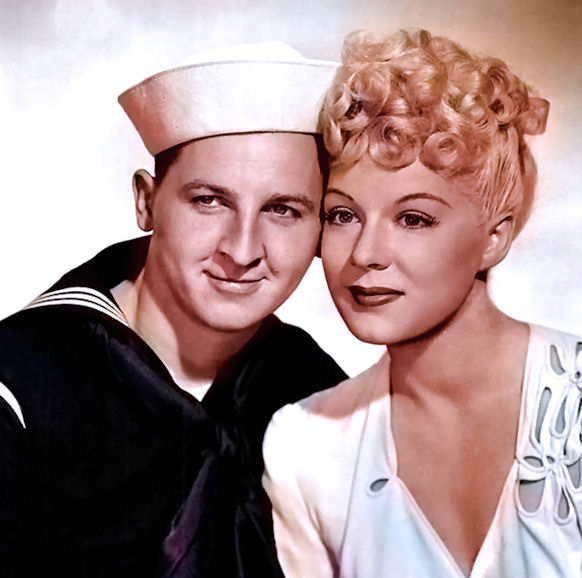 Nice promotional photo of Paramount's most lucrative comedy duo during the 1940s, Betty Hutton and Eddie Bracken.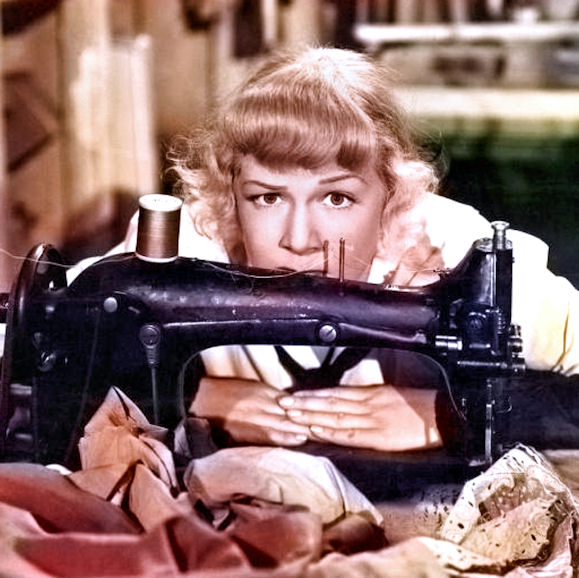 Photo of Betty Hutton taken during the "Sewing Machine" segment from the 1947 movie, The Perils Of Pauline.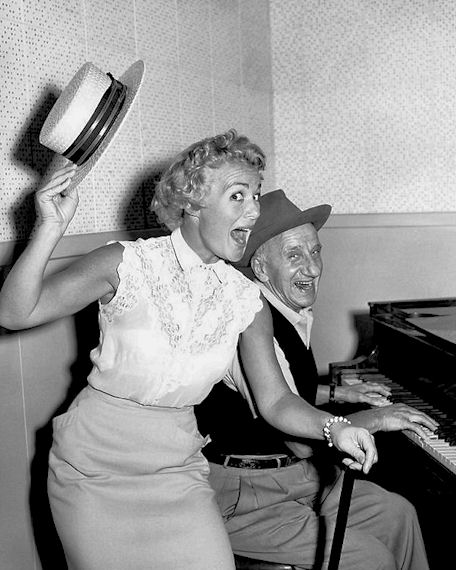 A wonderful photo of Betty Hutton with entertainer, Jimmy Durante from the 1950s. Two entertainers who certainly gave everything for their craft.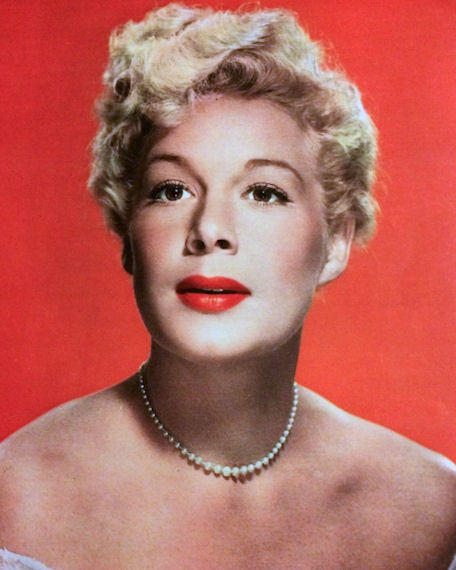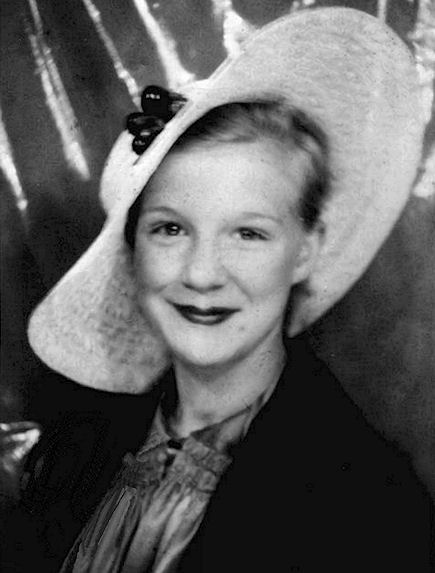 Baby faced seventeen year old Betty Hutton, as she appeared while traveling with the Vincent Lopez orchestra as girl singer, 1938.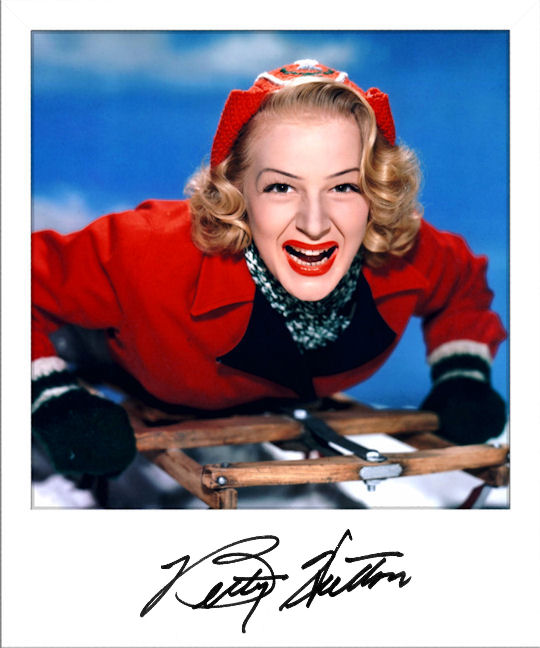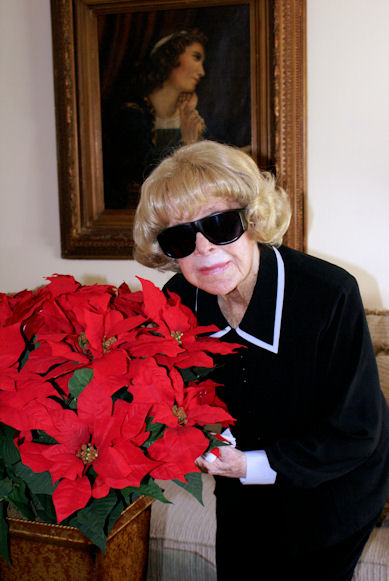 Betty Hutton celebrates Christmas in Palm Springs, 2006.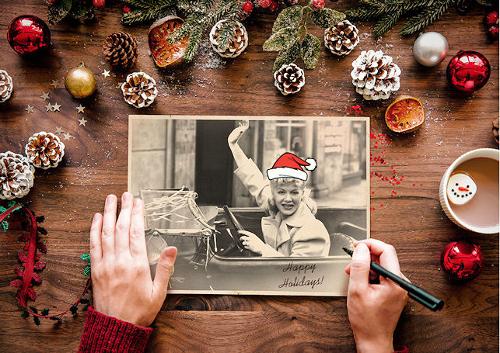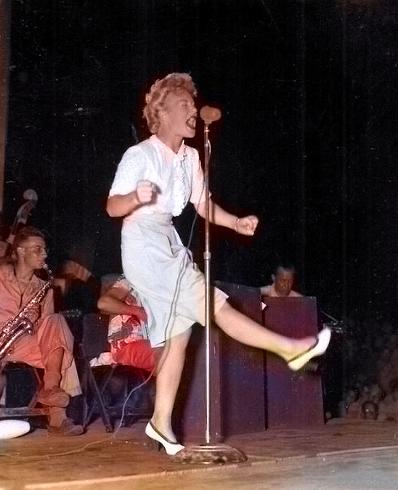 Was there ever anyone who could entertain the troops like Betty Hutton?

Betty Hutton, once again, entertaining her beloved troops!
Betty Hutton, once again, entertaining her beloved troops!
Betty is seen here doing what she enjoyed doing BEST ...
entertaining
! In this photo, Betty thrilled thousands of applauding sailors when she went into her song and dance; only one of the many acts presented as part of her USO Camp Show #370 at the U.S. Naval Air Station, Pearl Harbor, Oct. 24, 1944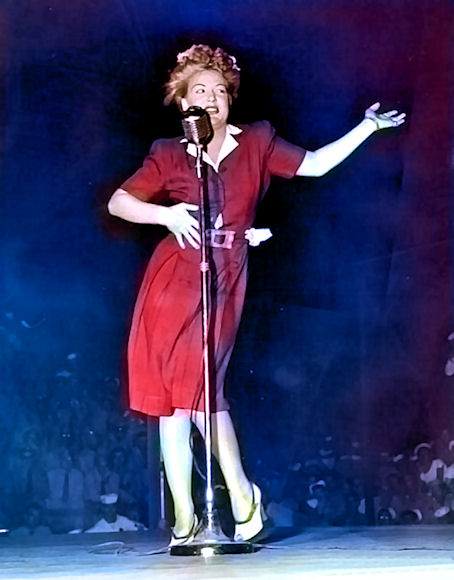 S
ome wonderful photos from Betty Hutton's private collection of her being hauled aloft in a clam shell crane bucket to kick off the 2nd Liberty Loan Bond Drive during World War 2. The buildings in the background appear, to the best of my knowledge, to be on the Paramount Studio grounds in Hollywood. I believe that this was Paramount's advertising ploy to show their support for the drive, and for Betty's part in it. Anyone who might have more information on this particular event, we would greatly appreciate your input. Some wonderful pictures of Betty Hutton in her early 20s!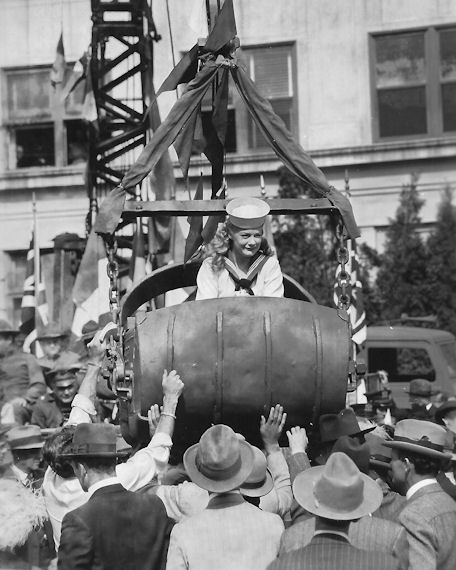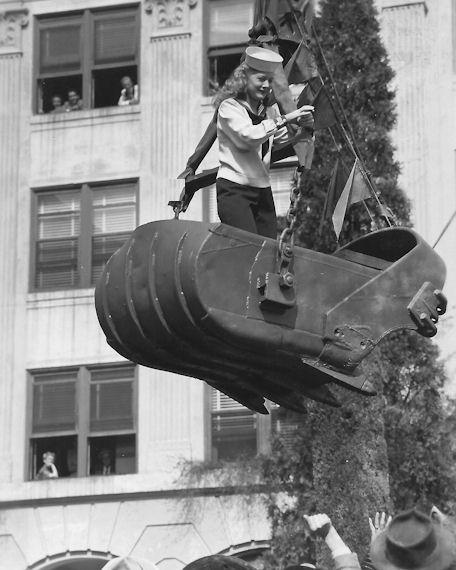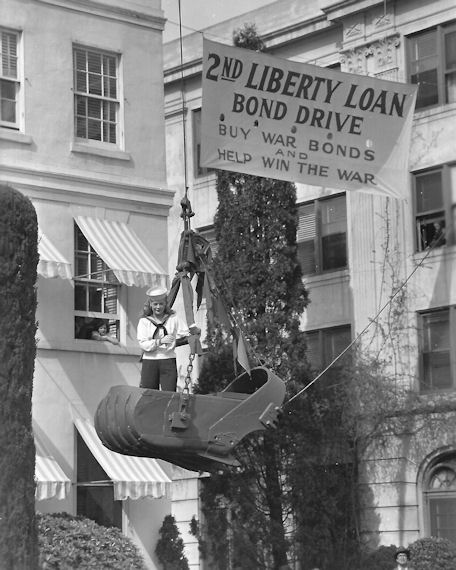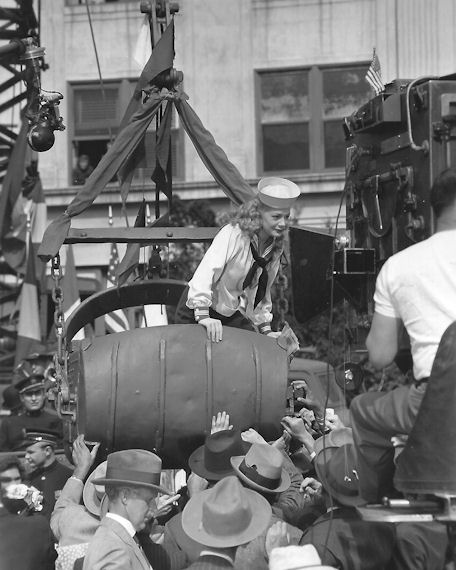 W
atch this wonderful video clip of Betty and Billy De Wolfe interacting on a train...
from the 1947 movie,
The Perils of Pauline
, a fictionalized Hollywood account of silent film star,
Pearl White's

rise to fame.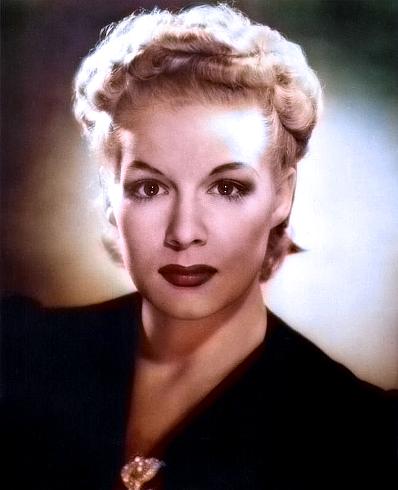 Betty Hutton, young and beautiful, early 1940s.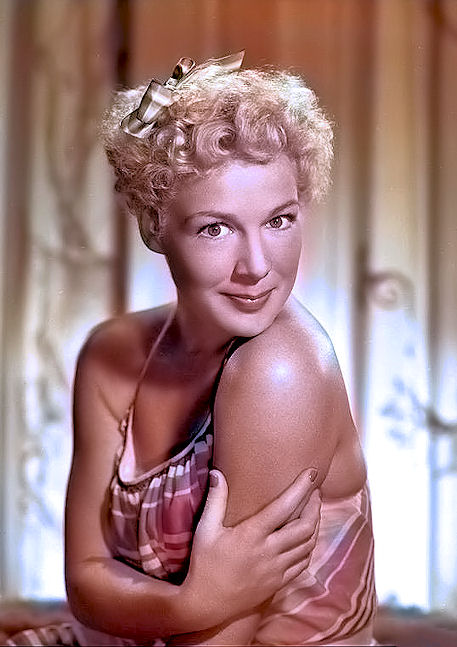 P
hoto still from the 1943 movie, Let's Face It, starring Bob Hope and Betty Hutton. This was the one and only movie project that the two worked on together. After the movie wrapped, Bob Hope told Betty that she was simply too good at comedy for the two of them to work together again. Bob was used to getting all the laughs, so it was probably a bit disconcerting for him to handle such comedic competition comfortably. Betty told us this story, but added, they continued as lifelong friends, in spite of the hold put on what could have been an enormously successful working relationship.

This scene had to produce one of the funniest lines from a comedy movie, EVER... As Betty continues to twist the scarf around Bob's neck, Bob yells out, "Someone catch my eyes!"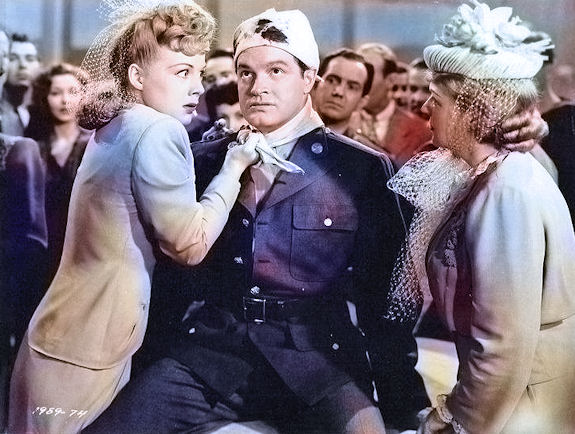 A
nice fan photo shot at the premier festivities for Betty Hutton's movie, Somebody Loves Me in New York City on Sept. 24, 1952. Betty played vaudevillian, Blossom Seeley in the movie.The photo below shows Betty with the real Blossom Seeley, along with her husband and show partner, Benny Fields.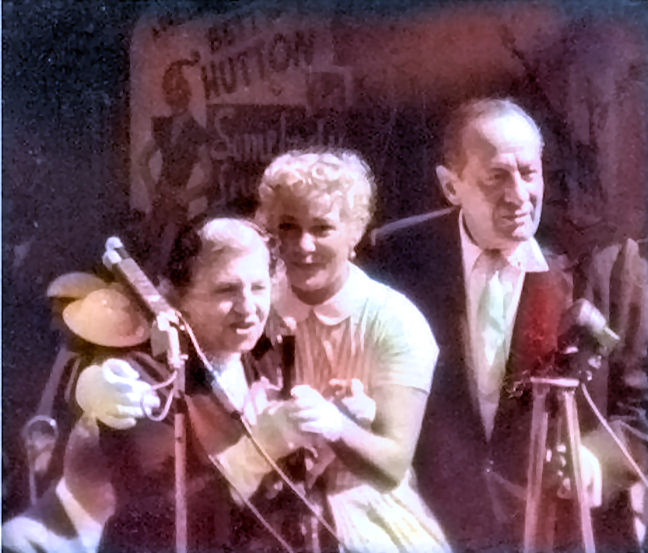 A
wonderful video clip that we snagged from Betty Hutton's 1957 guest performance on the Nat King Cole Show. Betty sings her beautiful, (Where Are You?) Now That I Need You song for the television audience.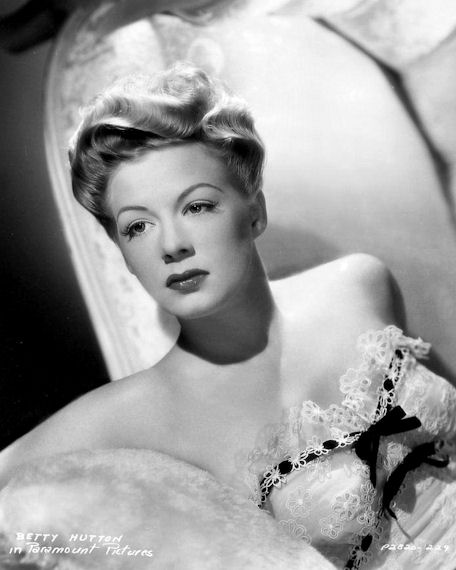 B
etty Hutton, looking particularly stunning in this c.1940s Paramount publicity photo.
P
ublicity/Hollywood gossip photo showing Betty

Hutton dining with comedian, Phil Silvers, in 1949. It was not a romantic liaison, but rather, more than likely, a meetings of two great comedic minds...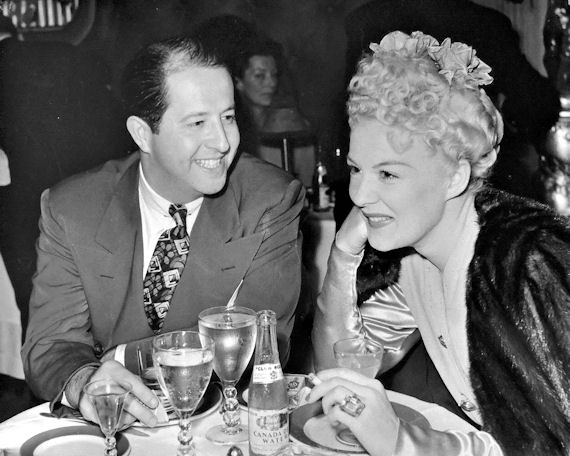 w

e trust everyone is enjoying watching Betty in this afternoon's screening of Annie Get Your Gun on TCM (Turner Classic Movies).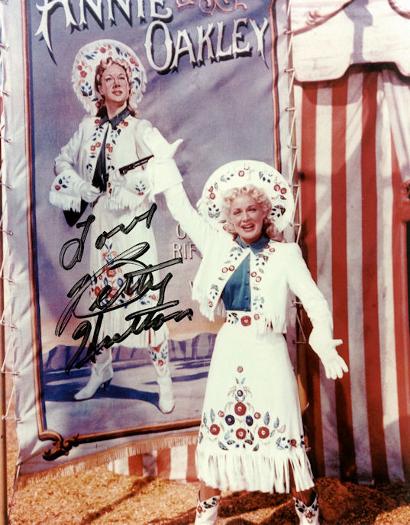 N

ice poster with some hints of classic mid-century design for Let's Dance, the 1950 movie starring Betty Hutton and Fred Astaire. The two black and white photos are stills from the movie.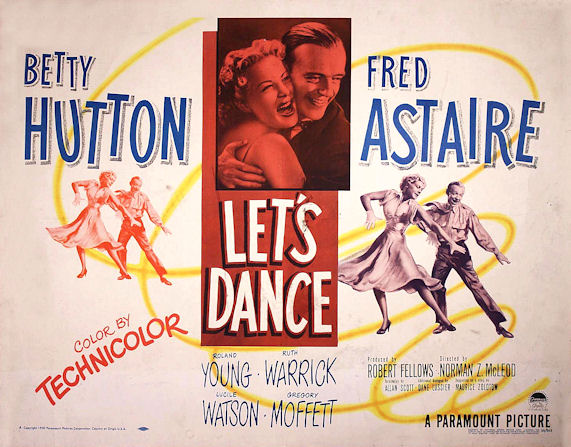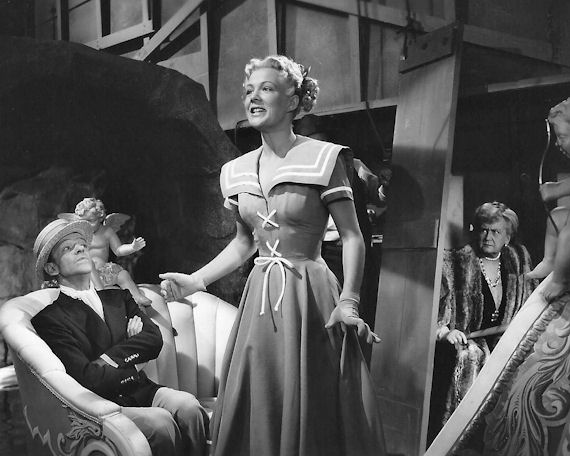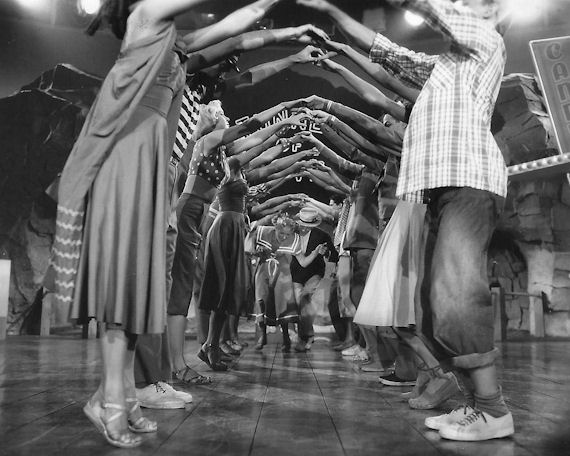 W

atch the latest promo for the new season 4 of AMC's Fear The Walking Dead, featuring Betty Hutton's It's Oh So Quiet song! Beware, this is not for the faint of heart... Like the subject matter or not, you must admit, it is a unique use of one of Betty's most popular songs used in promotional advertising !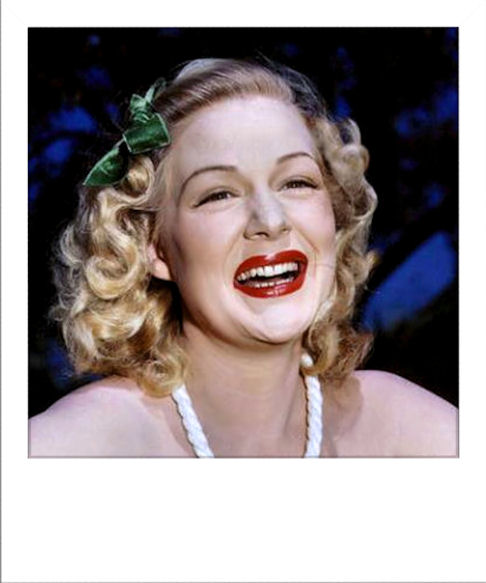 W

onderful early fashion/publicity photo of Betty Hutton, more than likely taken shortly after her arrival in Hollywood at Paramount.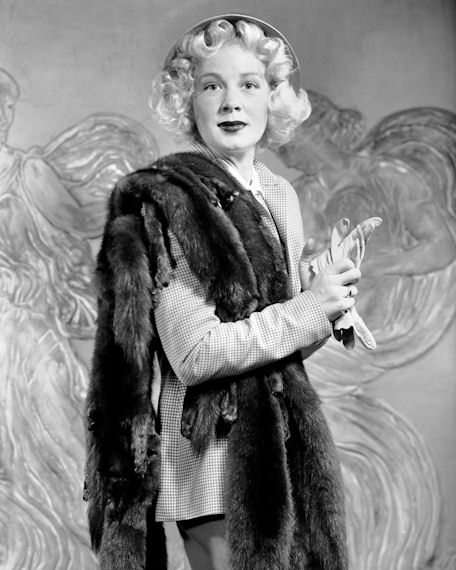 B

etty Hutton holds up an award of achievement that she received from Emerson College in Boston for contributing with distinction to the field of musical theater, 1985.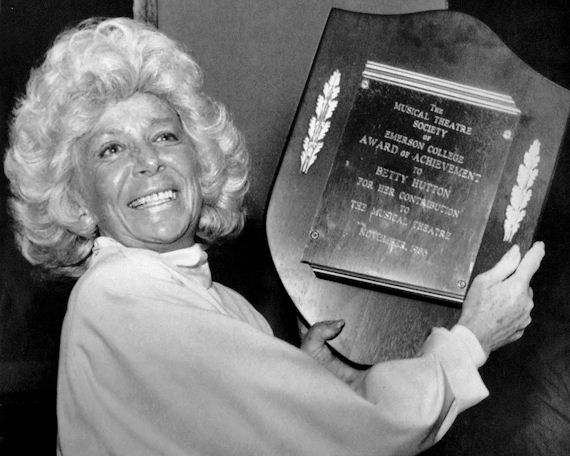 W

e are so pleased to present our new find, this rare film of Betty Hutton entertaining the troops in Korea in 1952. In this 5 minute film, you have the unusual opportunity to experience Betty still on camera, but not in a scripted movie. Watch Betty doing what she loved best of all, entertaining! Enjoy... (no sound)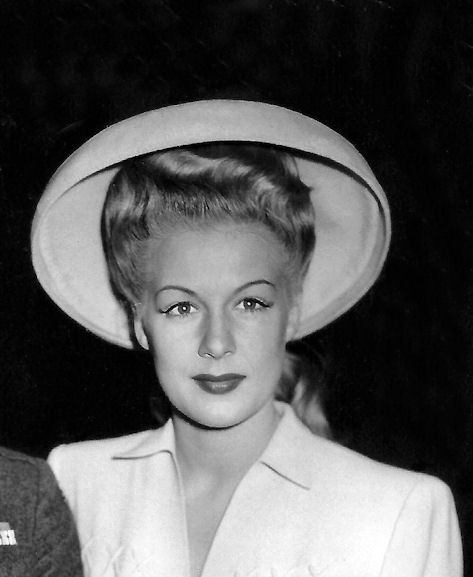 B

etty Hutton looking like a million bucks during the 1940s...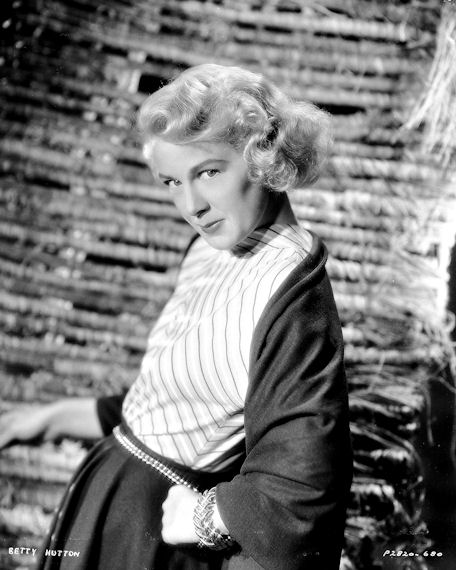 B

etty appearing rather pensive in this promotional still...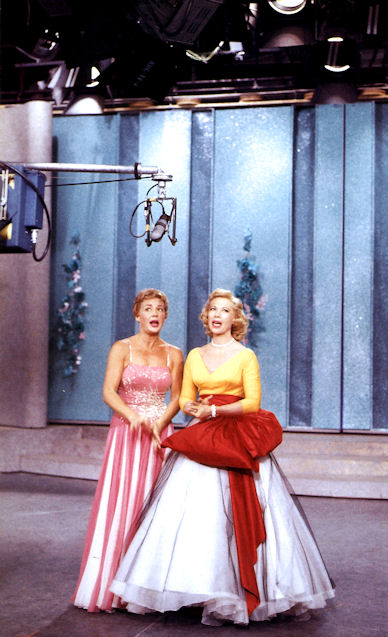 B

etty Hutton performs with Dinah Shore on The Dinah Shore Chevy Show for NBC. Original color photo from May 17, 1957.
Watch a video segment from The Dinah Shore Chevy Show that corresponds to the color photograph of Betty and Dinah above. It's great to watch, but it makes you truly wish that the video was in wonderful vivid color too, doesn't it?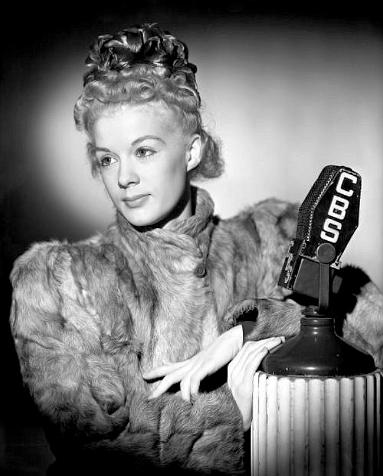 B

etty is seen in the above photograph
during a singing program on CBS Radio in Hollywood

, shortly after arriving on the West Coast from the Broadway stage in New York City, May 1,1940. This was prior to Betty becoming a true Paramount star, and in truth,
she appeared a bit rough around the edges.

..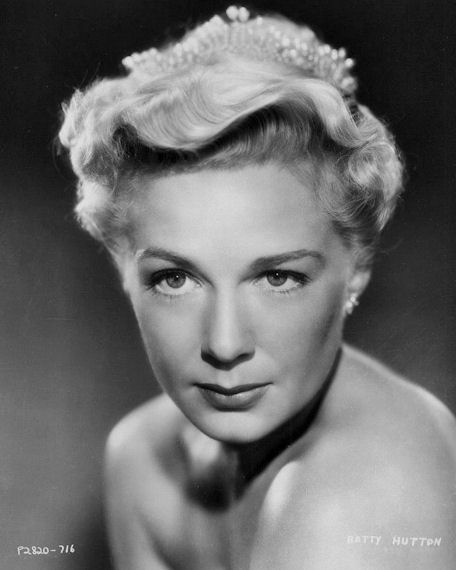 B

etty as she appeared at the height of her movie career with Paramount; a true Hollywood beauty!

Photo of an apparently happy Betty Hutton, along with her 4th and final husband, Pete Candoli, performing together in London on April 22, 1961.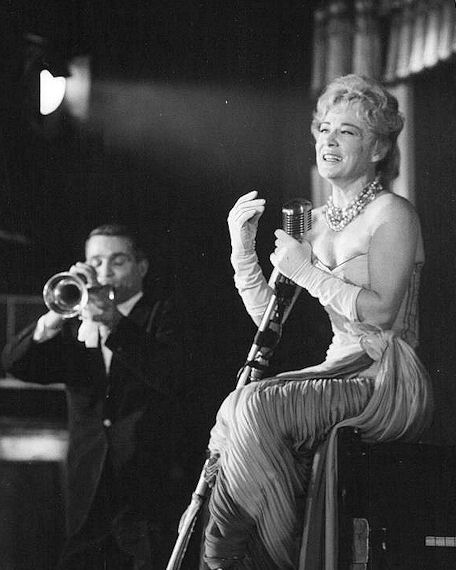 S
ix short years later, Betty's life took a turn for the worse as it slumped into major turmoil. On New Year's Eve, 1962, Betty's Mother was burned to death in a fire in her Los Angeles apartment, started by a burning cigarette while Mable lay intoxicated. Then in November of 1966, Betty was watching the Rona Barrett gossip show on television, only to learn that her husband, Pete Candoli, was secretly engaged to singer Edie Adams. (Adams had spilled the beans to Dinah Shore...) Subsequently, Betty attempted suicide, sought psychiatric help, filed for bankruptcy, was divorced for the 4th time, and continued to spiral downward in a life of prescription drug abuse. Within a short period of time, Betty was homeless. In 1970, Betty met Carl Bruno and Gene Arnaiz who took her in to their home and nursed her back to health. By 1974, Betty was touring back East in a show when she relapsed and ended up in a rehab center. There, Betty met Father Peter Maguire, the man she credits with saving her life...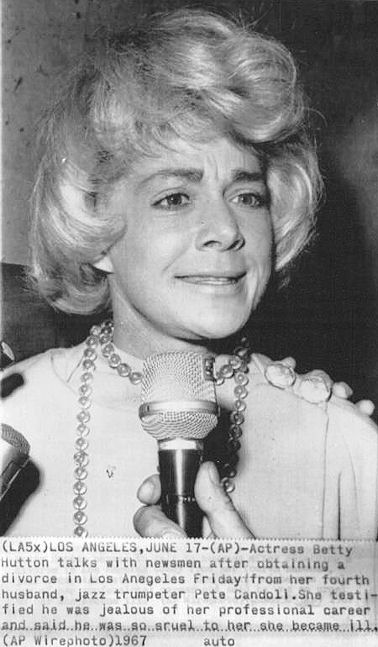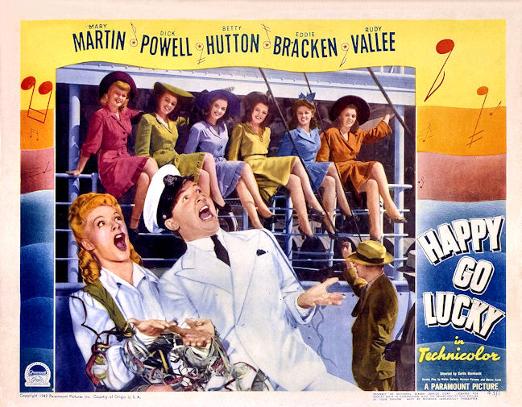 Wonderful color Lobby Card from The Fleet's In, 1942. The Fleet's In was Betty's very first major motion picture!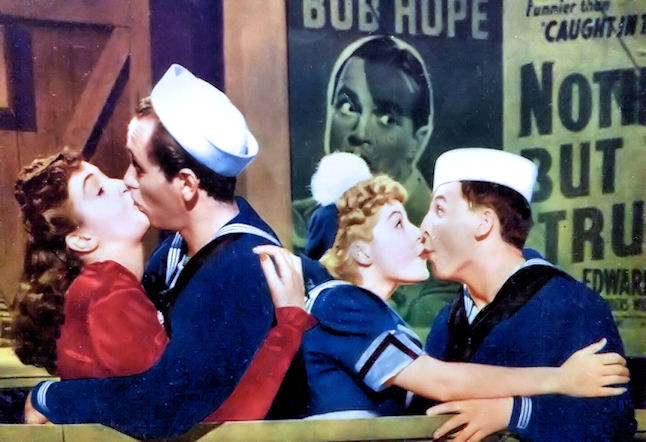 Betty wasn't the star of her very first major motion picture for Paramount, The Fleet's In, 1942, but people certainly did stand up and take notice of Betty as a "star in the making". Betty is seen here along with Dorothy Lamour, William Holden, and Eddie Bracken. The Fleet's In was one of those feel-good wartime movies, made to help lighten up the severity of America's role in WW2.

Photo of a very young Betty Hutton in May of 1940 in Los Angeles, California.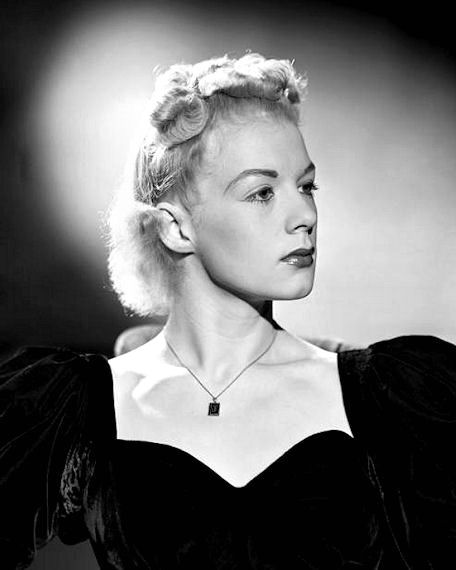 Excellent color promotional photograph taken while Betty was filling in for several weeks in September 1980 as Miss Hannigan, the hard drinking orphanage matron, in the Broadway musical, Annie.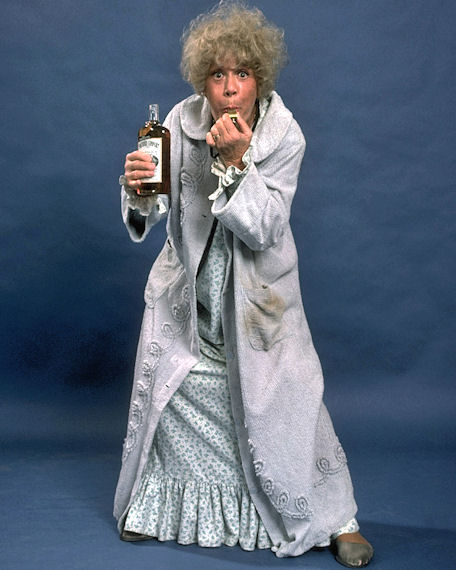 Beautiful B&W promotional photo of Betty Hutton, 1949!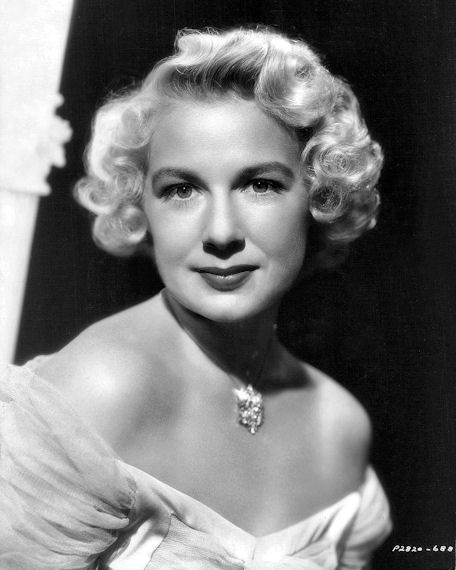 Monday, February 26th will be Betty Hutton's Birthday! Betty would have been 97 this year... We miss and love you, dear Betty!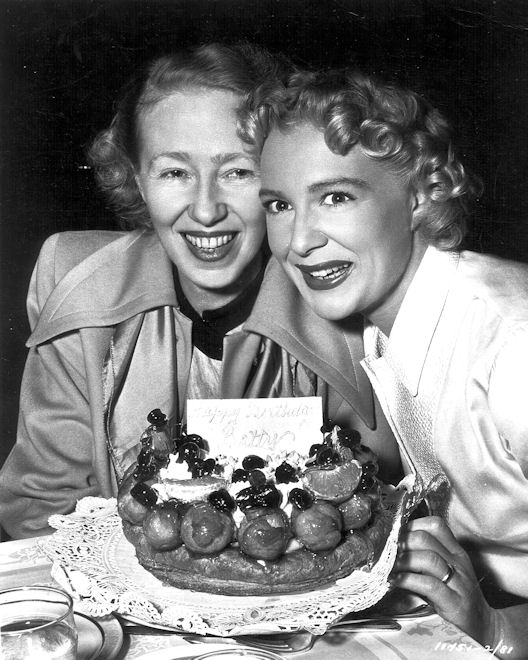 Betty's mother, Mabel Hutton, presents Betty with a Birthday cake. Year uncertain, but from all signs, this appears to be from the late 1940s.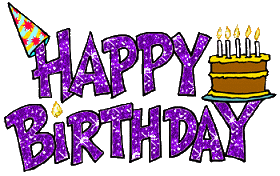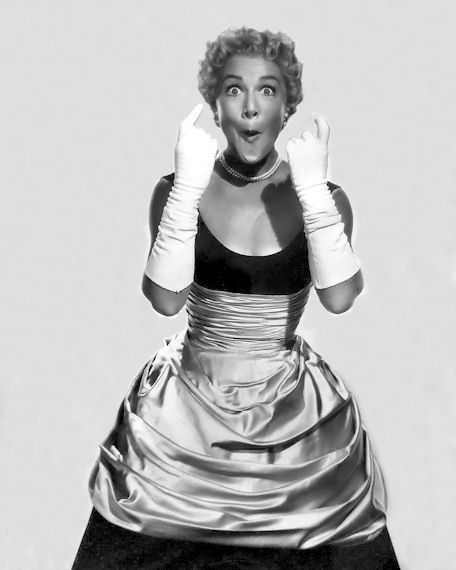 The quintessential Betty Hutton!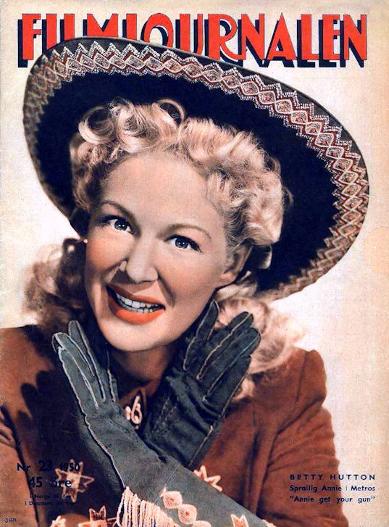 Swedish Filmjournalen magazine (FILM JOURNAL), June,1950 issue with Betty Hutton's photo on the front cover touting her newest film, Annie Get Your Gun.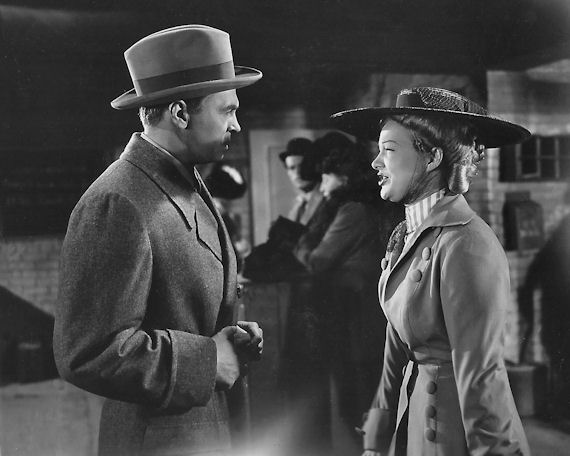 A lovesick Betty Hutton as silent film star, Pearl White, in the 1947 movie, The Perils Of Pauline. Betty is seen in this beautiful movie still with her co-star, and object of her affections, John Lund.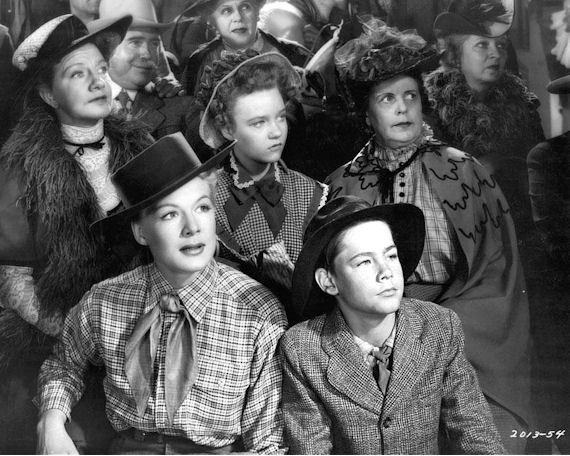 Wonderful still photograph of Betty Hutton shot during the filming of her 1945 movie, Incendiary Blond.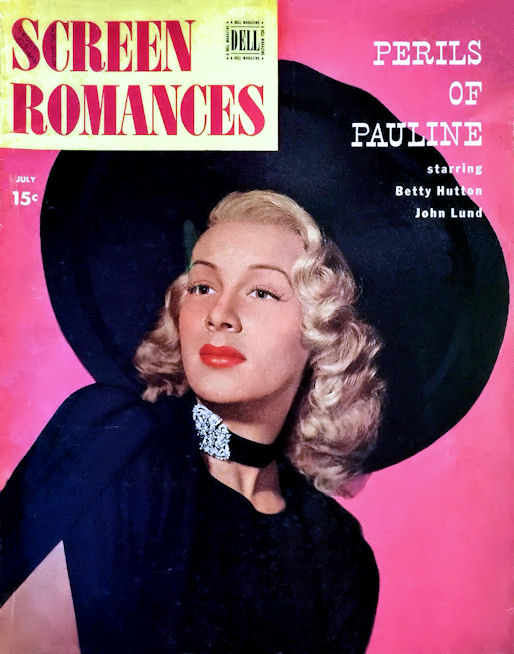 We have always thought this to be a very special magazine cover image of Betty Hutton because of its great glamor factor! This particular cover is from the July 1947 issue of Screen Romances magazine which details Betty's new film, The Perils Of Pauline.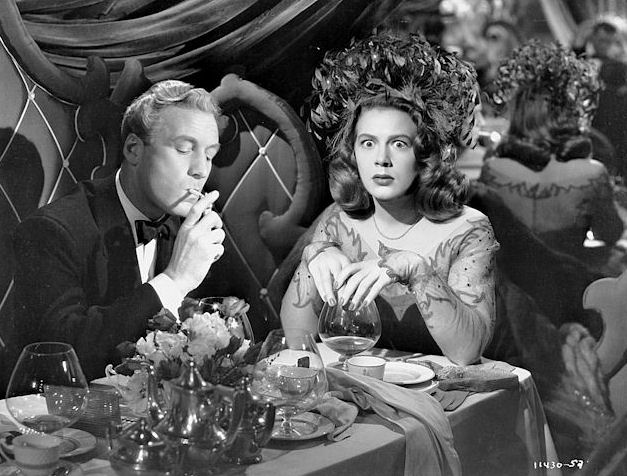 One of the few good things to come out of the 1948 Betty Hutton movie, Dream Girl, was this look on Betty's face as captured in a photo still. Don't worry, and we are not being disloyal, Betty thought the movie was a real stinker as well! See Betty's thoughts on the making of Dream Girl, as well as how she felt about all her other movies, in her autobiography, Backstage You Can Have.

May all your Holiday wishes come true...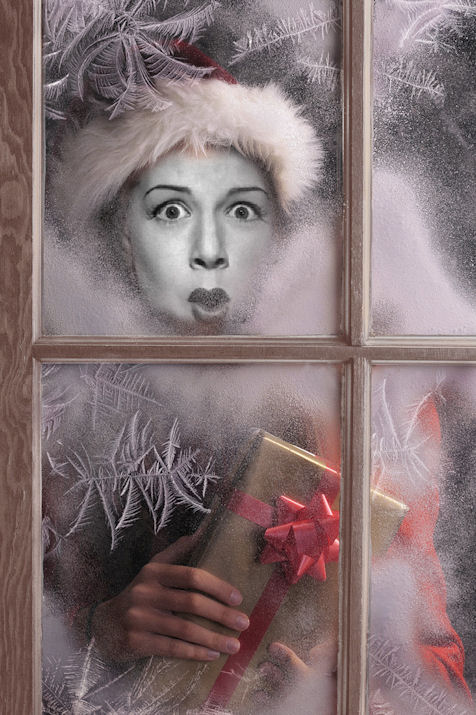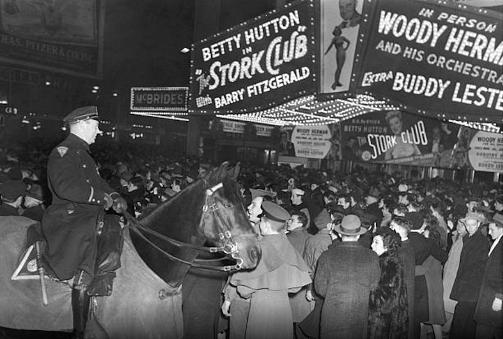 Crowds gather under a marquee advertising Betty Hutton's movie, The Stork Club, directed Hal Walker on New Year's Eve, 1946. Broadway in Times Square, New York City.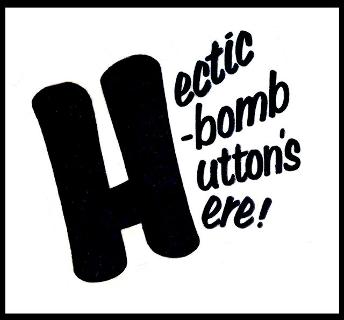 A Rise To Stardom

The Making of Hollywood's
"Blonde Bombshell"
There are plenty female stars from Hollywood's Golden Age who can be given top rankings for being superb beauties and memorable actresses; but there were only a few great entertainers who were in the same league with Betty Hutton. Betty had a dynamic energy that transferred well onto stage and screen and did much to calm and entertain war-weary audiences during the 1940's.

Betty is well remembered today for her assertive and humorous novelty tunes that showcased her explosive energy, still, her film roles endure as her most permanent legacy. Because of her high spirits, she became known as the "Blonde Bombshell". Her reign at the top of the film world was a brief 11 years (1942-1952). During that time, she made 20 major feature films. At her peak, she was viewed as a national treasure; one of the most beloved stars and biggest box office attractions on the silver screen. Moviegoers in 1950 named her the year's Best Actress in a Photoplay magazine poll. Variety even named her 1952's number one female box office attraction. Yet, one year later, her career in film was all but over. Due to a dispute with studio bosses over not allowing her second husband to direct her next film, Betty and Paramount abruptly ended their long and extremely prosperous relationship. Hutton continued to work in radio, appeared several times a year in Las Vegas nightclubs, and eventually tried her luck on the new medium of television; still her career never regained its momentum.
An original musical TV spectacular written especially for Betty, Satins and Spurs (1954), was not well received; despite being one of the first television programs televised nationally by NBC in color. In 1959, Betty took a chance by financially backing her own television sitcom, The Betty Hutton Show. The show lasted for only one season. Fortunately, her greatest performances are forever captured on film and continue to delight movie buffs throughout the world today.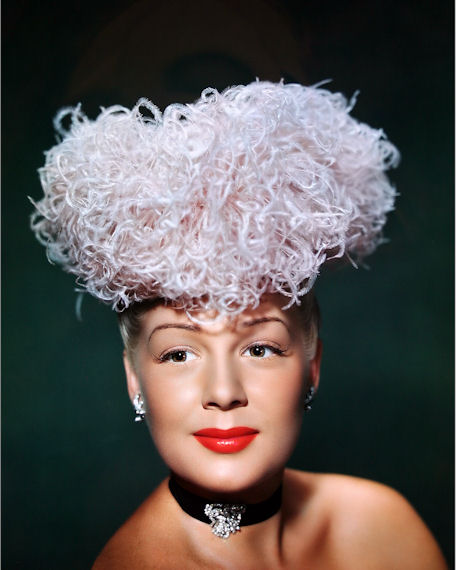 Betty was known as the "Blonde Bombshell" because of her bombastic style and personality. Betty Hutton died at home in Palm Springs, Ca. on March 11, 2007 at the age of 86.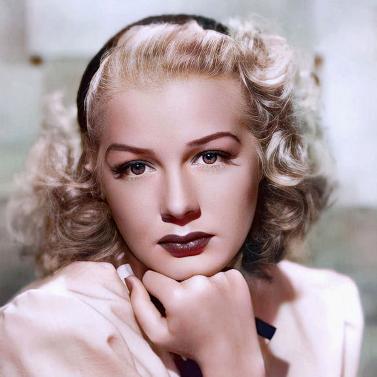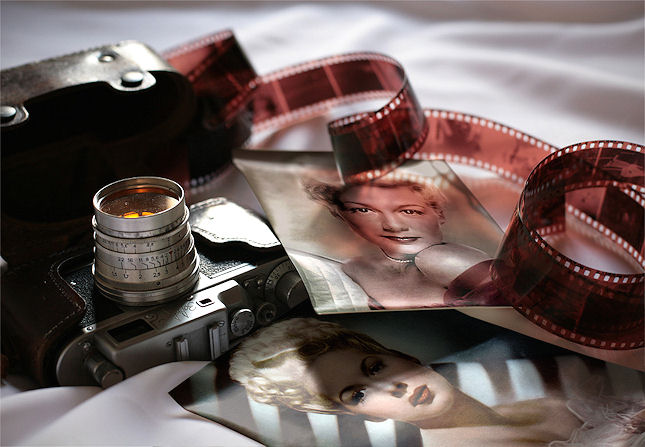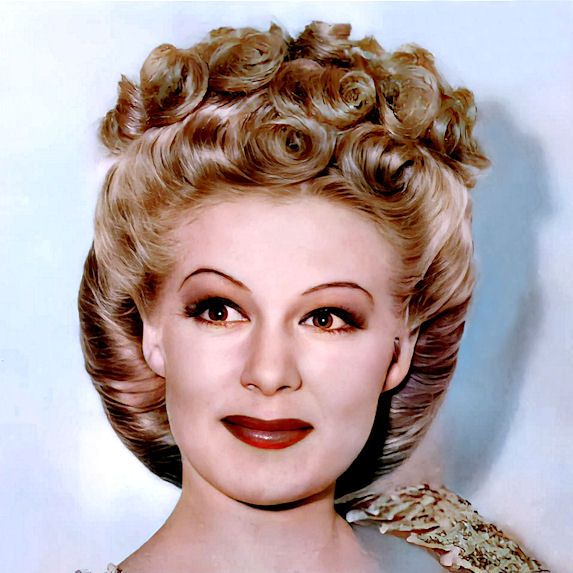 Betty was born Betty June Thornburg on February 26, 1921, in Battle Creek Michigan. Her father, a railroad worker, abandoned the family shortly after Betty was born. In order to support her two daughters, mother Mabel began to bootleg; running several successful speakeasies during the Prohibition Era. When she was only three, Betty and her older sister, Marion, began singing for the patrons. Their family situation was made even worse by the Great Depression and by Mabel's growing dependence on alcohol. Trouble with police kept the family on the move. Eventually they ended up in Detroit, virtually penniless, before Mrs. Thornburg became employed for a brief time at an auto assembly plant.
Hutton continued singing wherever she could to assist her family financially. By the age of 15, she decided it was time to go to New York and give the big city a try. Told that she'd never make it on the stage, she headed home. After returning to Detroit, at age 16, Betty finally got her big break. It appeared she was on her way to a successful career as a band vocalist when orchestra leader Vincent Lopez spotted the teenager singing in a Detroit nightclub and signed her for $65 a week.
Betty soon began making a name for herself in the entertainment world. During 1939, she appeared in several movie musical shorts and in 1940 she left Lopez for a role in the Broadway musical revue, Two For The Show. Soon after, producer B.G. DeSylva signed her for a part in his Broadway musical, Panama Hattie. When DeSylva took over the production reins at Paramount studios in late 1941, he promised to take Betty along to Hollywood. There she got her first featured role in the movie musical, The Fleet's In (1942), along with Dorothy Lamour, William Holden, and Eddie Bracken. With guidance from Buddy DeSylva, Betty was instantly on her way to a successful film career in Hollywood.


From the early 1940's to the mid 1950's, Betty Hutton was a true Hollywood movie star. Nevertheless, four failed marriages, an inability to manage money, and a reputation for being difficult to work with all eventually took their toll. The final straw for Betty's short but illustrious career in Hollywood was her disagreement with studio execs that led to walking out on her contract. An unfortunate addiction to prescription drugs quickly descended upon the fallen star.
In the 1970's, with the help of a Rhode Island priest, Betty managed to turn her unhappy personal life around. She went on to earn a college degree from Salve Regina, a Catholic college for women in Newport, Rhode Island. By the late 1980's she was teaching acting to students at Boston's Emerson College.
In 2000, Betty did an hour-long interview for Turner Classic Movies (TCM). Private Screenings: Betty Hutton was an intimate portrait, and marked Betty's first television interview in 20 years. The show seemed to have a magical effect on everyone who saw it; from her loyal fans to people who had never ever heard of Betty Hutton before. Until the time of her death in 2007, whenever Turner reran Betty's Private Screenings episode, fan mail poured in from around the country with notes of love and respect for the "Blonde Bombshell". Betty continued to live in quiet retirement in Palm Springs, California until her death on March 11, 2007 at the age of 86.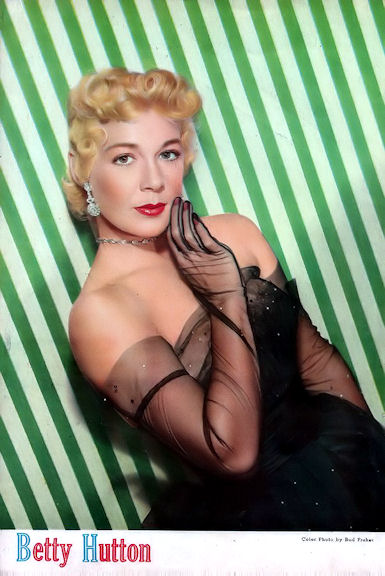 Betty at her glamorous best!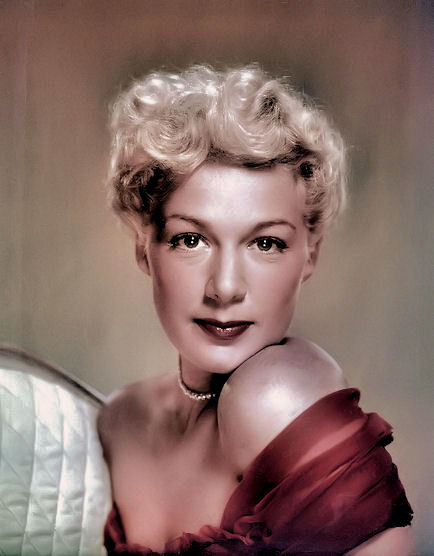 Betty Hutton is shown here in an MGM studio photo for Annie Get Your Gun, 1950. She was 29 years old.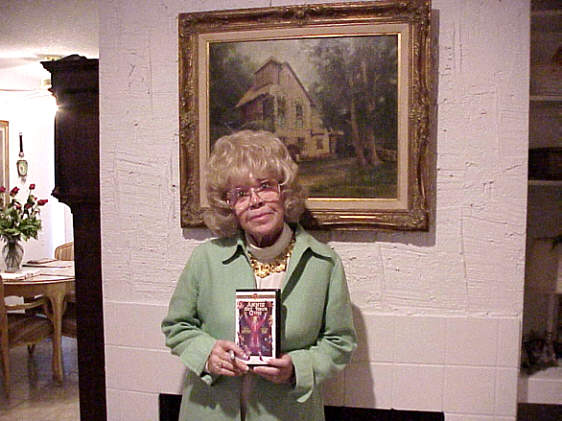 Betty shows off the newly released video tape of her movie, "Annie Get Your Gun" - April 4, 2001 at home in Palm Springs.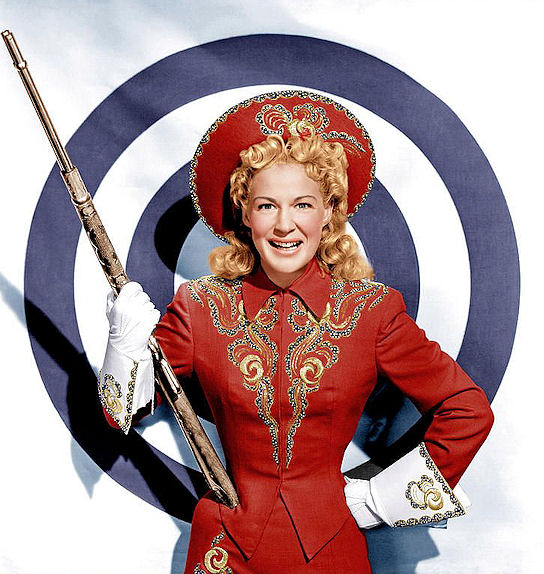 Betty seen here in a publicity photo for "Annie Get You Gun". 1950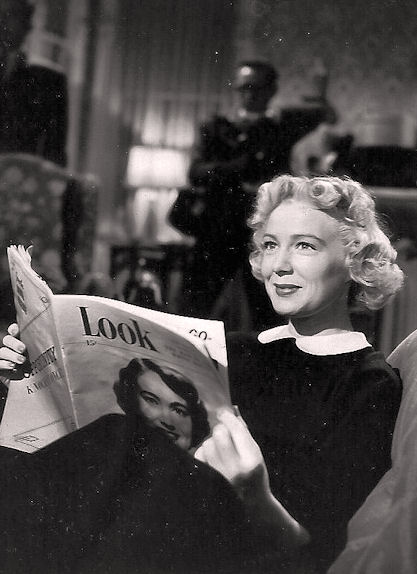 Betty's smile had a way of lighting up her entire face; something that transferred well onto film and made a theater audience instantly adore her.
Photo from on the set of
Red, Hot and Blue
, 1949.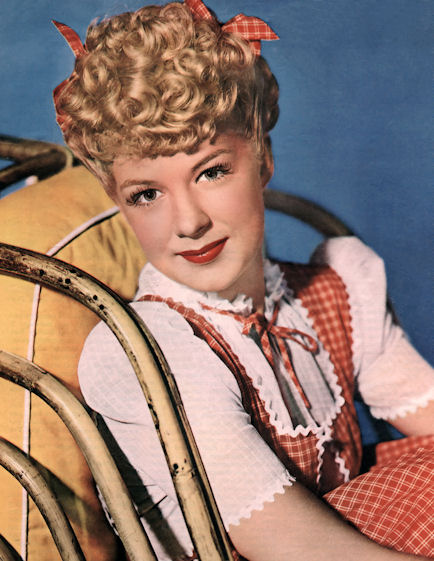 The lovely Betty we all remember!

Betty's Autobiography Is Finally Here

B
etty Hutton was the top
grossing female star at Paramount during much of the 1940s. At the top of her career, she was one of the most celebrated actresses in Hollywood, starring in such movies as "Annie Get Your Gun" and "The Greatest Show On Earth". Without warning, her career and world collapsed virtually overnight. Betty's tumultuous childhood came back to haunt her, and along with it, an addiction to prescription pills that almost ended her life. Betty disappeared from the public eye, until in 1974, when she was discovered living with and caring for priests in a Catholic rectory in Rhode Island. Interest in her and her life returned to the forefront. She began writing this book in 1970, as a means to explain the chain of events
that led to her downfall. Sadly, she never finished writing it. After her death in 2007, the Betty Hutton Estate picked up where she left off, and has finally completed her book. Almost 40 years after it was first started, Betty's real story is ready to be told! Includes 70 photos... The book is for sale exclusively online at Amazon.com.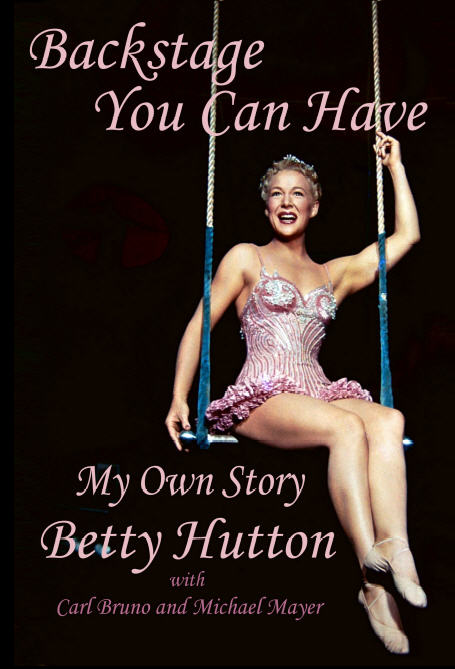 Cover of "Backstage You Can Have: My Own Story" by
Betty Hutton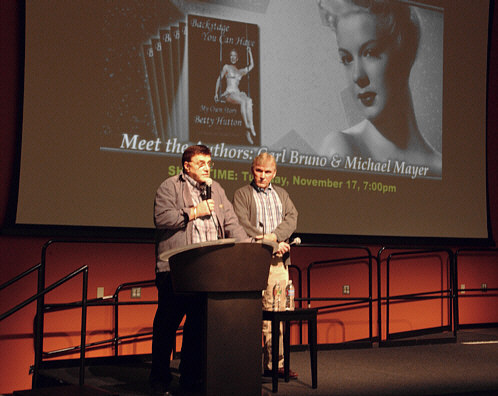 Executor, Carl Bruno (left), of the Betty Hutton Estate and co-author of "Backstage You Can Have" and co-author Michael Mayer speak at a book signing held at the Rancho Mirage, Ca. library on November 17, 2009.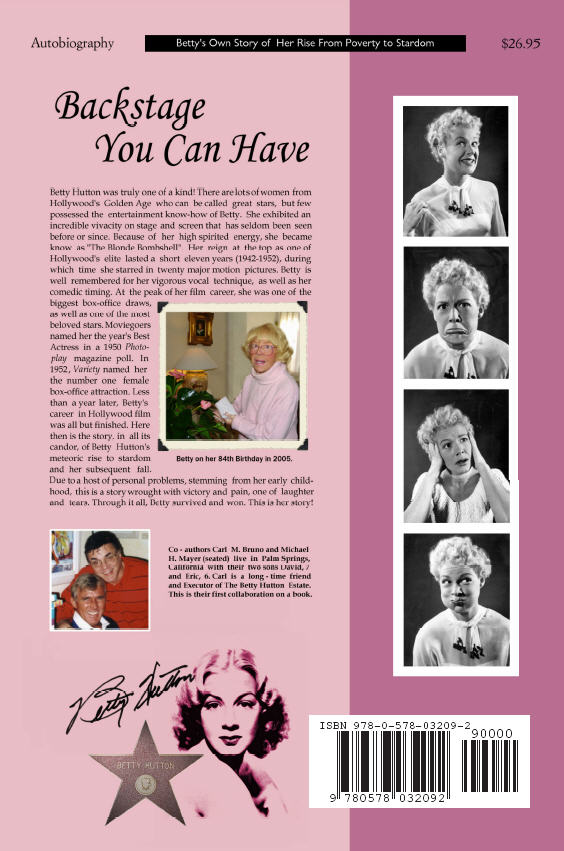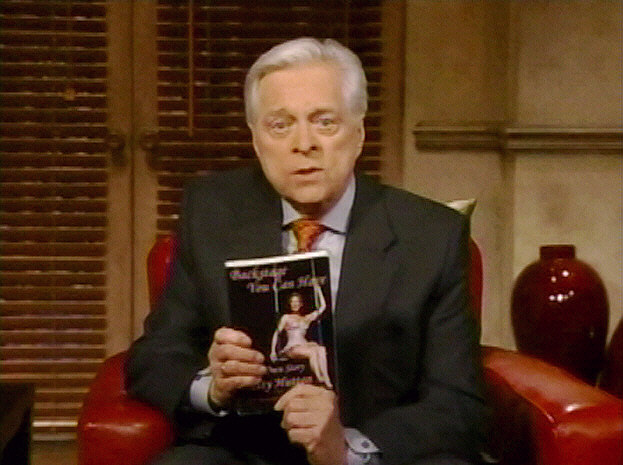 Turner Classic Movie's Robert Osborne introduces Betty's book on TCM after the showing of The Fleet's In.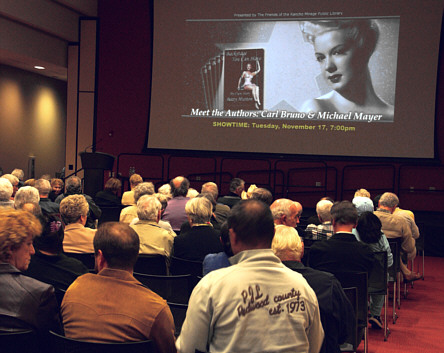 Executor, Carl Bruno (left), of the Betty Hutton Estate and co-author of "Backstage You Can Have" and co-author Michael Mayer speak at a book signing held at the Rancho Mirage, Ca. library on November 17, 2009.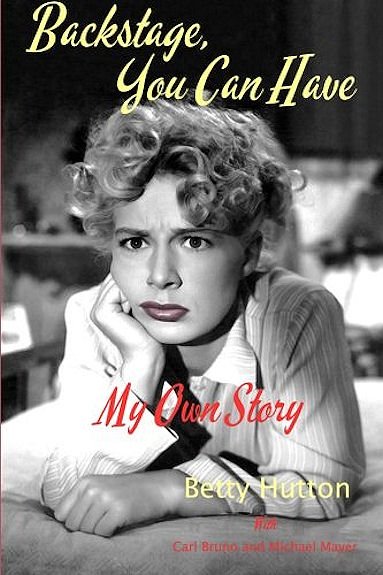 As of August 2014, there is a new,
Third Edition
of Betty Hutton's autobiography,
Backstage You Can Have.
This edition has a total of 142 photos, twice the number of photos of any previous edition of the book! Same great story, newly enhanced... Check the new edition out at
Amazon.com
.
W
e are very pleased to announce the release of a new photo book on Betty and her career, called,
The Betty Hutton Scrapbook: A Tribute To Hollywood's Blonde Bombshell
. The final draft of this 116 page book has been in the works for quite some time. The new picture book, which contains both color and B&W photos, is available currently only through Amazon.com. Please click here to go directly to the book's Amazon.com page!

The book is divided into sections that begin with Betty's rise to stardom,
the glamor shots, Betty on stage, Betty with other celebrities, her movies, and finally her post Hollywood days of obscurity. This new release is sure to please any Hutton fan! Many of the included photos are previously unreleased and are exclusively from Betty's estate. Below are pictures of the front and back covers of the book. We worked diligently with Amazon to create a photo book that would be of great quality at an affordable price...116 pages, soft glossy laminated cover, 8.5x8.5 inches, $31.95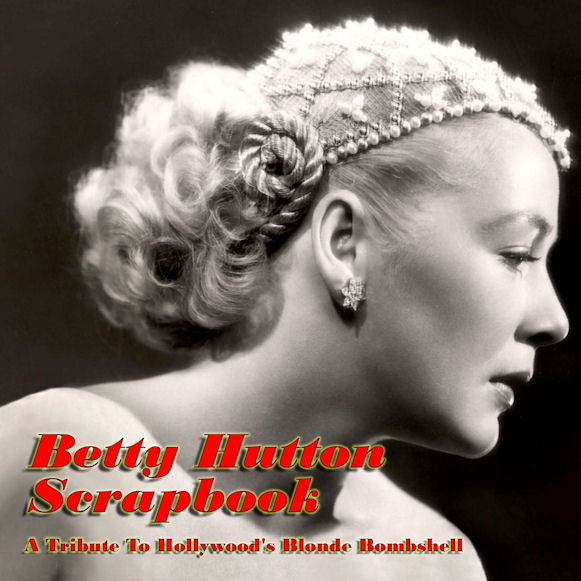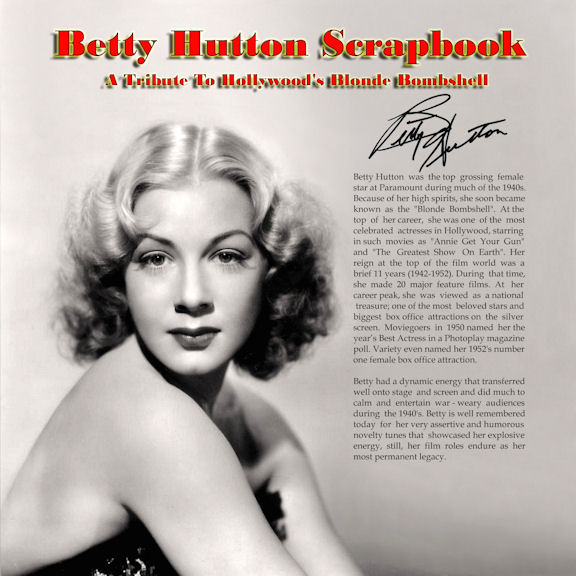 Betty's Triumphant Return To Michigan
One of the most interesting periods during Betty's Hollywood days has to be her return to Michigan in 1950 for the opening of her film,
"Let's Dance"
, with Fred Astaire. Why so interesting? Well, since Betty grew up in poverty in several cities within Michigan during the depression, her recollections of the place were not all that good. At one point, with two small children in tow, Betty's mother, a bootlegger, was chased out of Lansing with the police hot on her trail. Now, in 1950, Betty and her mother were arriving in Lansing as local heroes and celebrities! Kind of a Cinderella story... don't you think? For the full story, you will want to read Chapter 13 in Betty's autobiography,
"Backstage, You Can Have"
.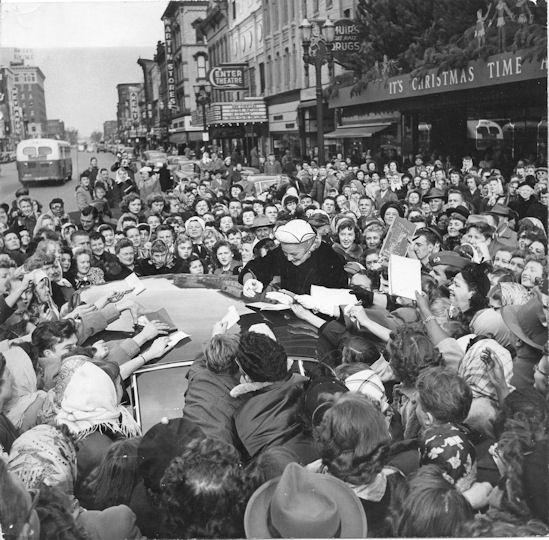 Amazing! Photos from Betty's career just don't get
much better than during this stop on the Michigan tour.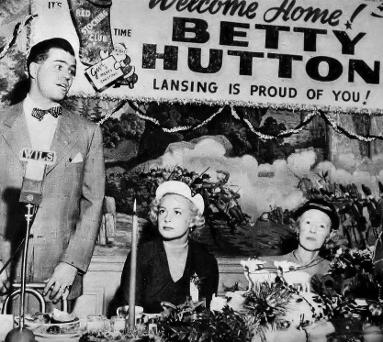 Betty and her Mother are introduced by Michigan Governor Williams at a lunchon given by, "The Red Stocking", a local charity in Lansing.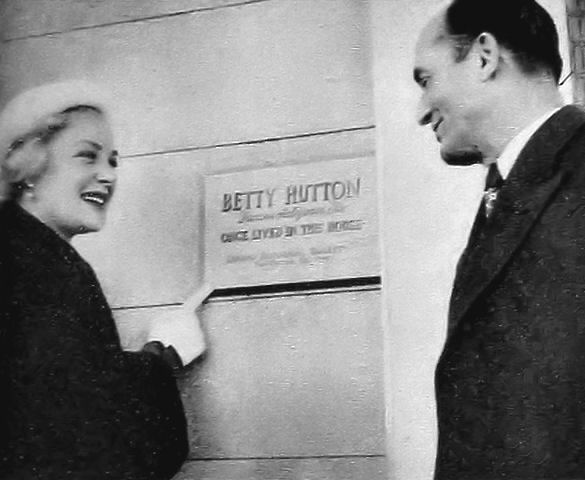 The Mayor of Lansing accompanied Betty to the house she lived in as a child, complete with a plaque placed by The Lansing Historical Society.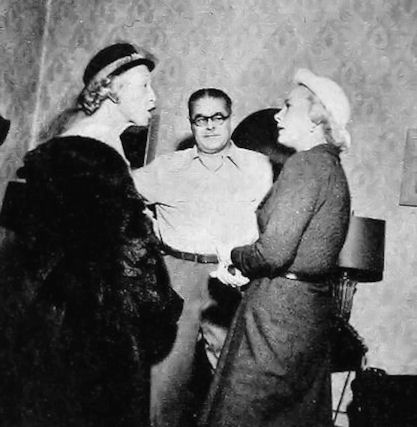 Betty and her Mother, Mabel, argue about where things used to be placed in their old Lansing home, while tenant Larry Maisel looks on in amusement (or quite possibly in amazement).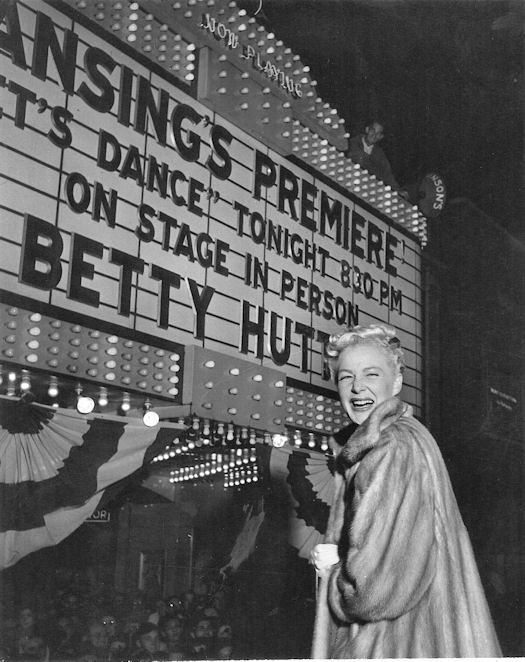 Betty is shown here in front of the theater in Lansing, Michigan where "Let's Dance" had its world premiere!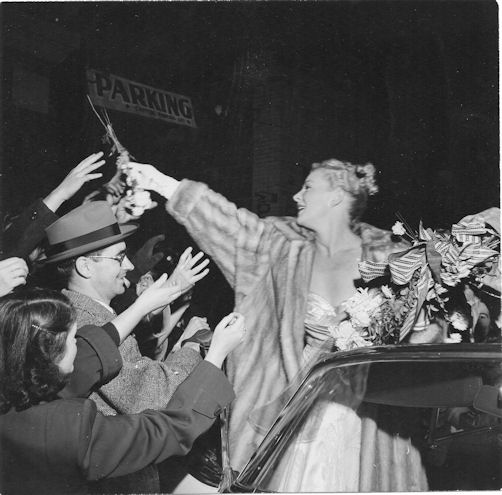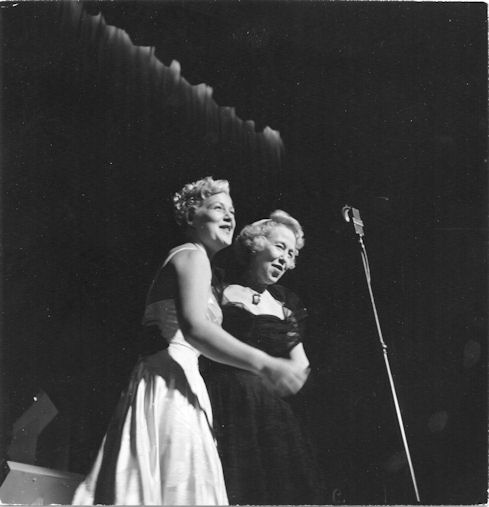 Warming up the audience... Betty and her mother, Mabel, on-stage in Lansing prior to the very first public
screening of, "Let's Dance".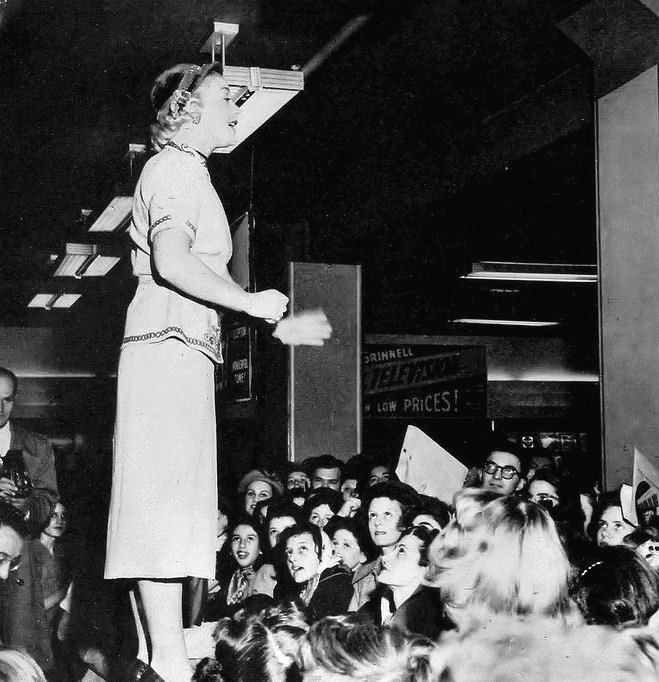 Hutton fans mobbed Detroit's, Grinnell Music Co. store where Betty went to sign autographs. She even staged an impromptu show for fans from a counter top!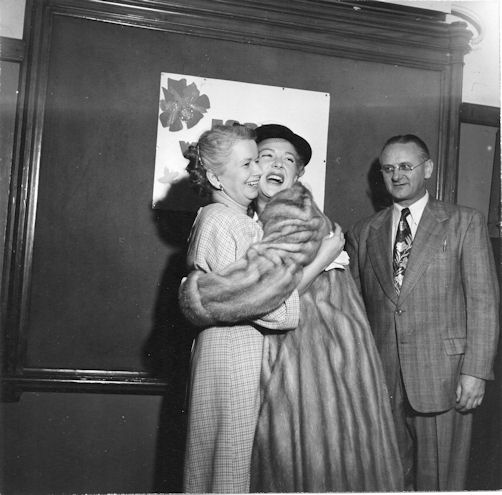 Betty saying hello to her Foch Intermediate school, (Detroit) math teacher, Mrs. Deborah Jones (Nov. 24, 1950).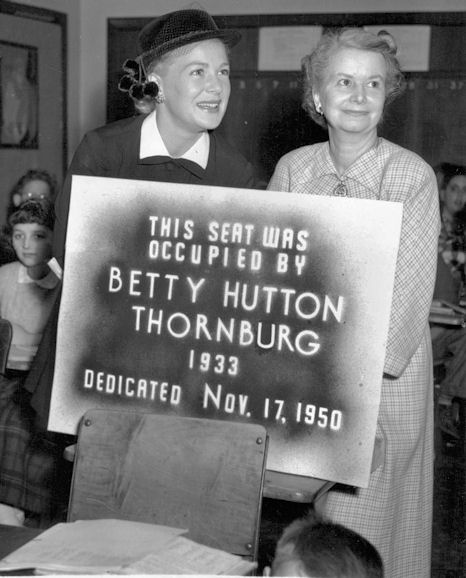 Betty's seat in the classroom of Mrs. Deborah Jones.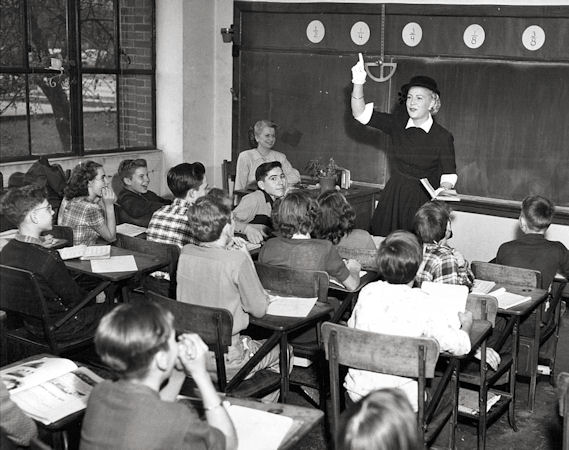 Betty giving some humorous words of wisdom, no doubt, to Mrs. Deborah Jone's class!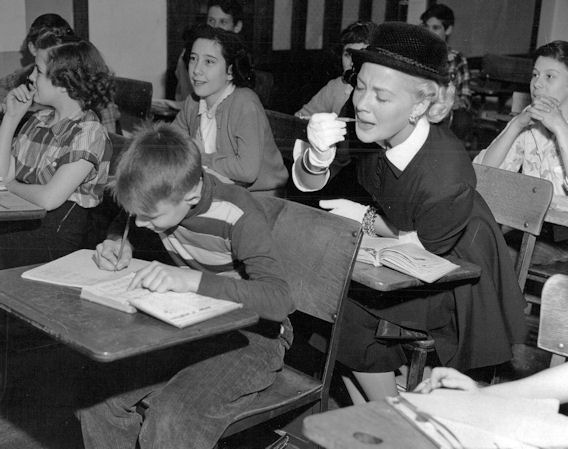 OK, Betty, cheating from the smart kid is NOT ALLOWED!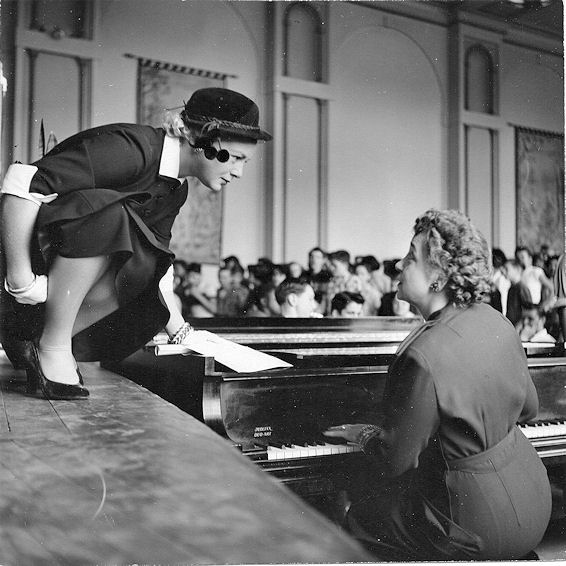 Betty gets ready to entertain the students at her Detroit school.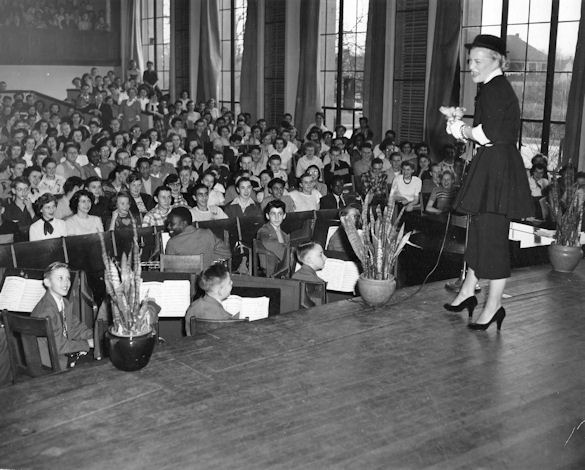 One of our very favorite photos of Betty here at BettyHuttonEstate.com,
Betty doing what she loved best for the students!

His Rocking Horse Is Solid Gold

Betty's song His Rocking Horse Ran Away was so successful, musical team Johnny Burke and Jimmy Van Heusen had a special jewelry pin created and presented it to Betty in appreciation. It is a rocking horse. From it a chain leads to a little boy who appears to be flying off of his horse. Both rocking horse and boy are pinned separately from each other to appear as if the boy is in flight after having been thrown from the horse. The pin is solid gold and both the horse and boy have diamond eyes.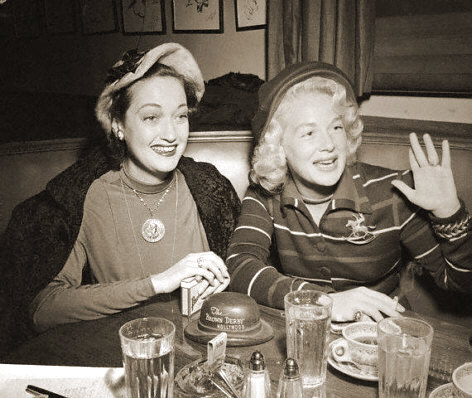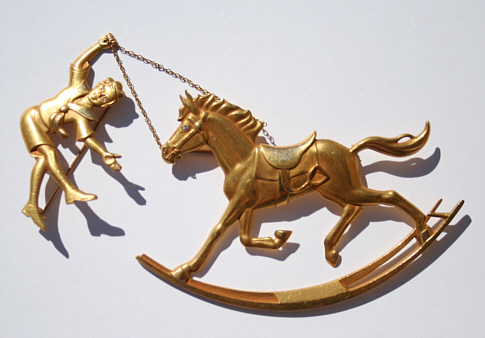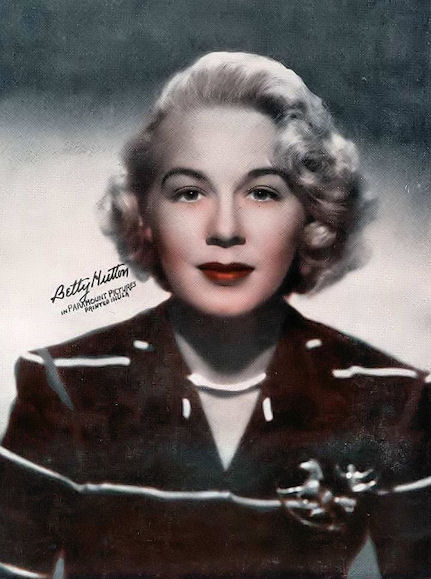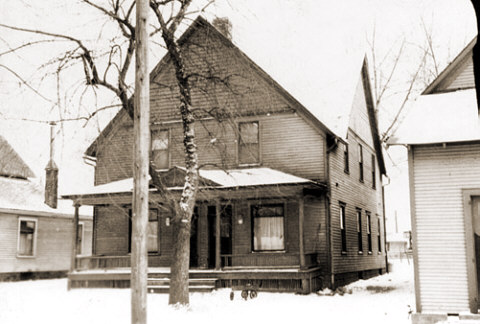 The house Betty Hutton was born in, No.12 Stone Avenue
Battle Creek, MI.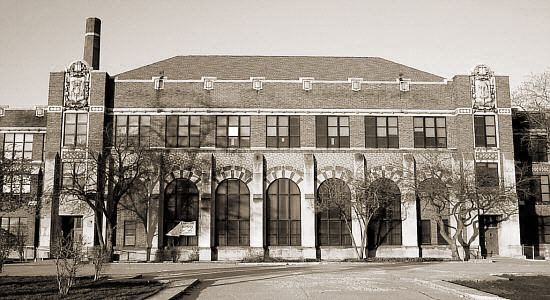 Foch Intermediate School in Detroit, Michigan where
Betty went to school.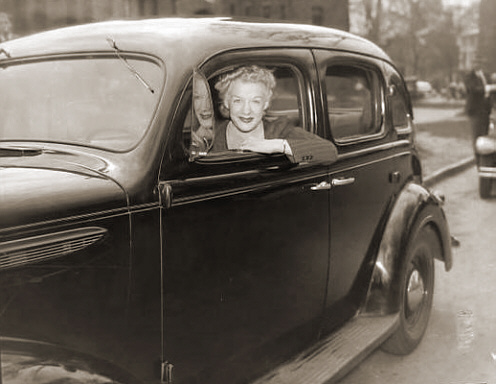 Betty in New York City, around 1939. (Vincent Lopez era).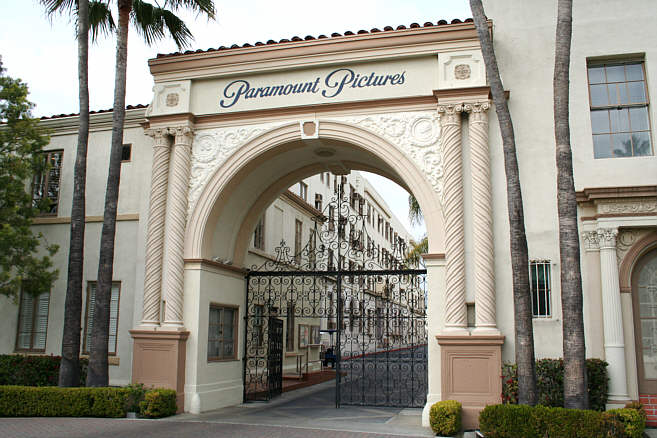 Where Betty's meteoric rise to fame all began... Paramount!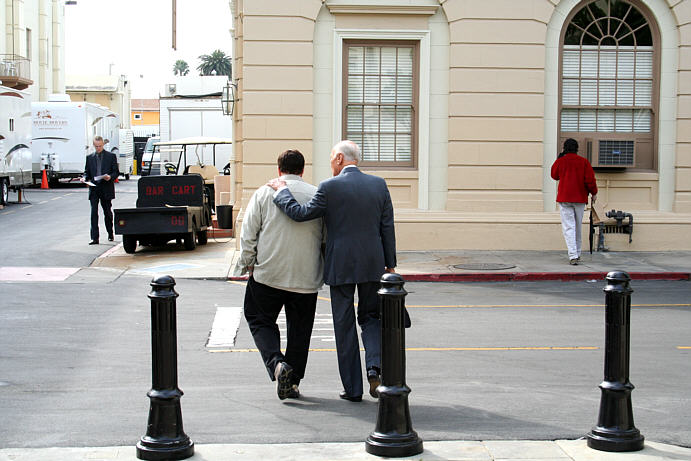 Carl Bruno, Executor of the Betty Hutton Estate, and A.C. Lyles of Paramount take a walk on the studio lot after enjoying lunch at the commissary.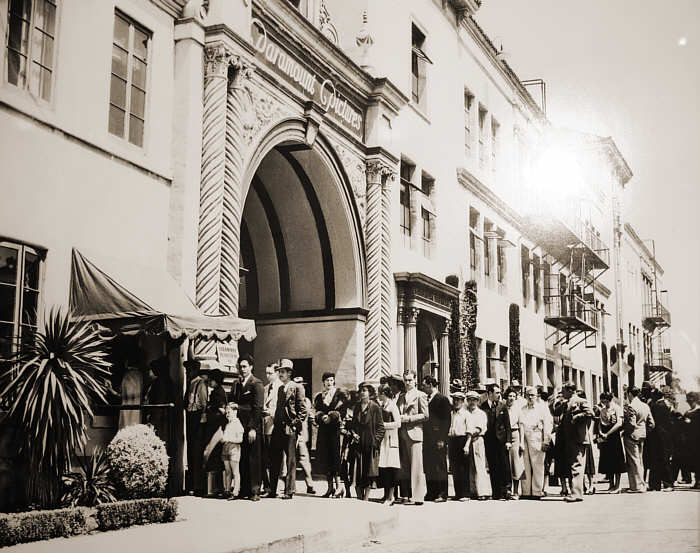 People lined up and waiting to be discovered at Paramount's main gate in the good old days of Hollywood's studio system.


Official Betty Hutton
- Commemorative Poster -

created by The Betty Hutton Estate following Betty's death in 2007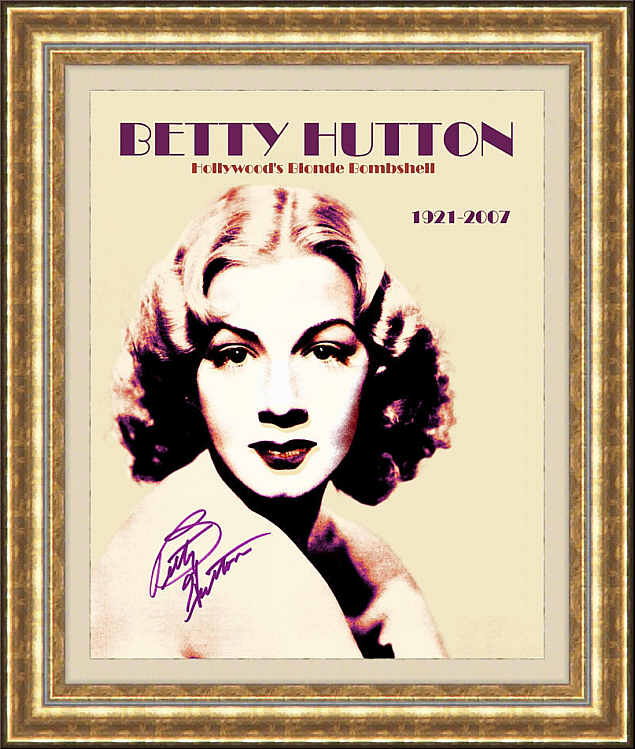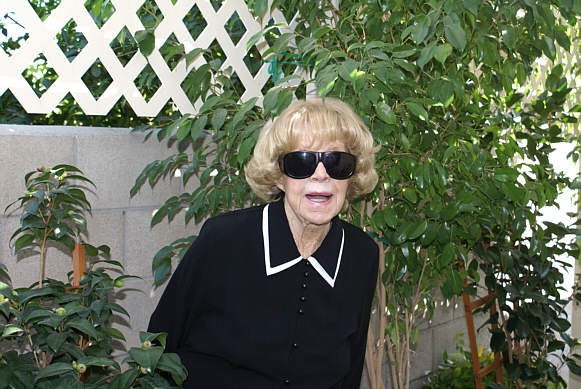 This is the last photo ever taken of Betty Hutton, January 2007.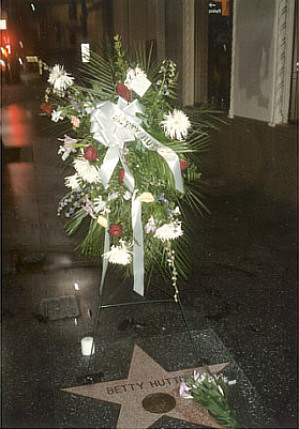 Flowers adorned Betty's Hollywood star hours after her death was officially announced by her estate.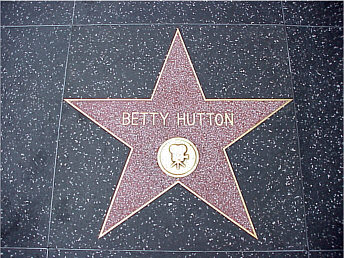 Betty's star, as it appears today on Hollywood Blvd. in LA.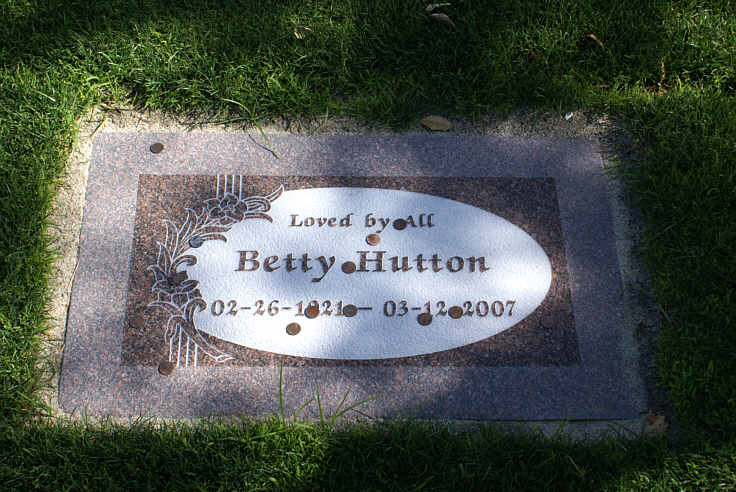 Headstone at Betty's grave-site, adorned with "pennies from heaven" left by adoring fans - Cathedral City, California

Betty At Home In Palm Springs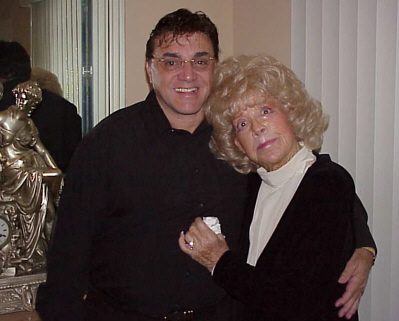 Betty at home in Palm Springs (early 2002) with Estate
Executor, Carl Bruno (middle photo) and Michael Mayer.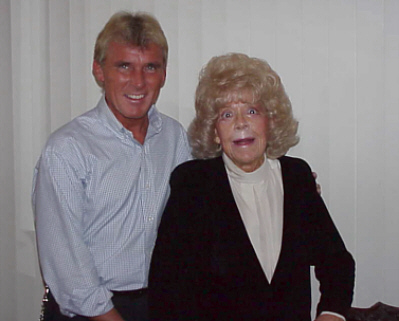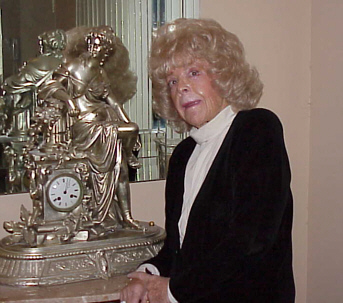 The following photos are from the Betty Hutton 1954 live NBC Color Spectacular, "Satins and Spurs". This was the first color SPECTACULAR for NBC and much hullabaloo surrounded the telecast. This program inaugurated NBC's Brooklyn Color Studio 1, a former Warner Brothers East Coast film sound stage.

Satins and Spurs was an original musical about Cindy Smathers (Hutton), a rodeo star who appears at Madison Square Garden in New York City and becomes the subject of a Life magazine photo essay about a country girl in the big city. The photographer at first makes her feel like such a rube but eventually they fall in love and the pictures land Cindy the lead in a Broadway musical. Songs by Ray Evans & Jay Livingston, all sung by Betty Hutton.

This production aired on September 12, 1954. It was the first full-scale musical comedy written especially for television, but was criticized by the media and not well received by the public.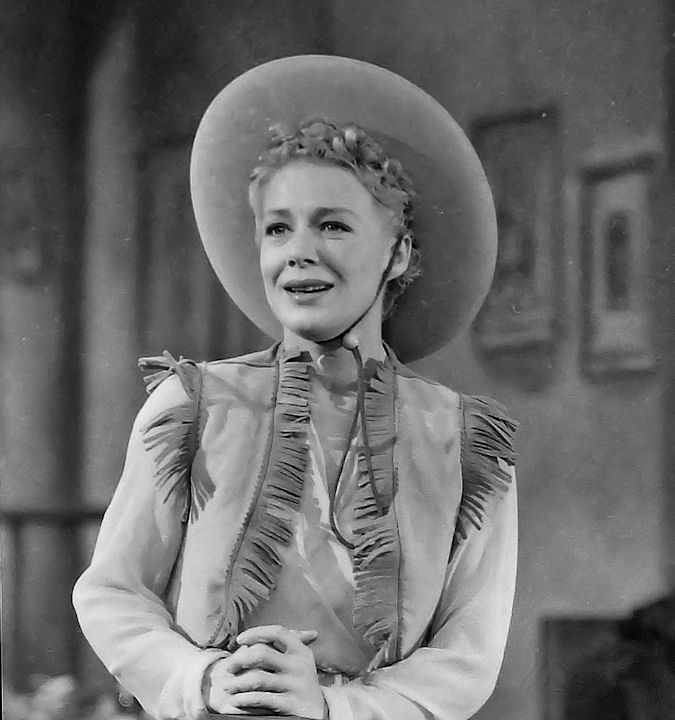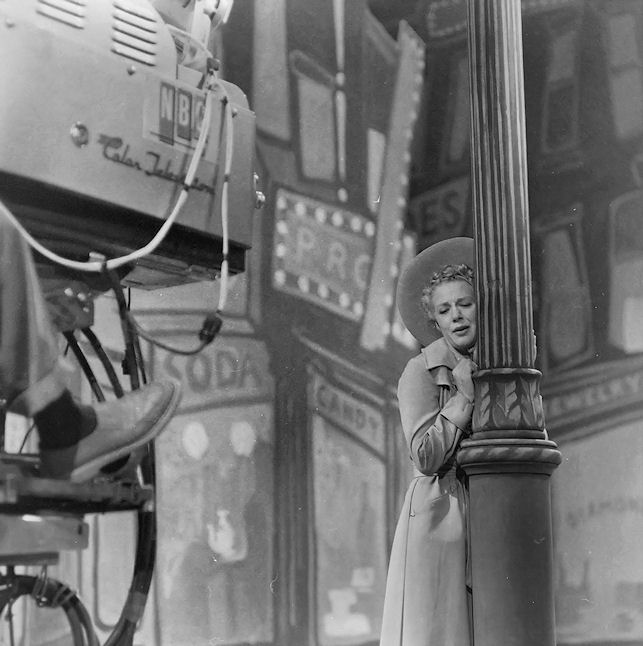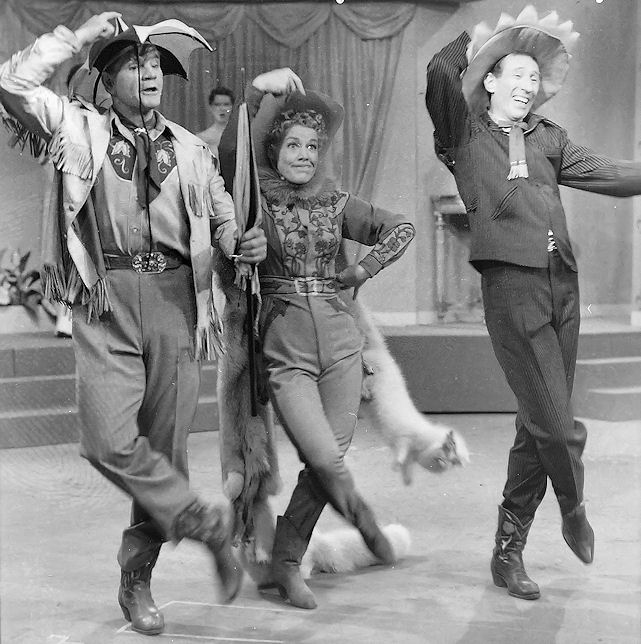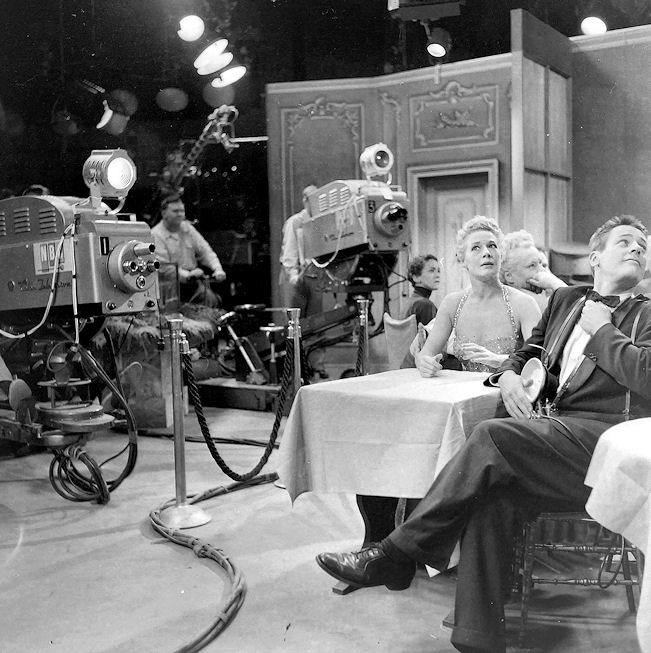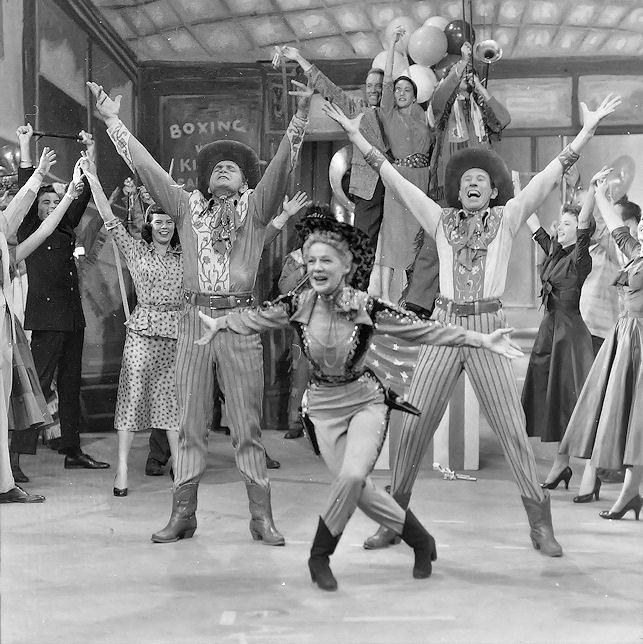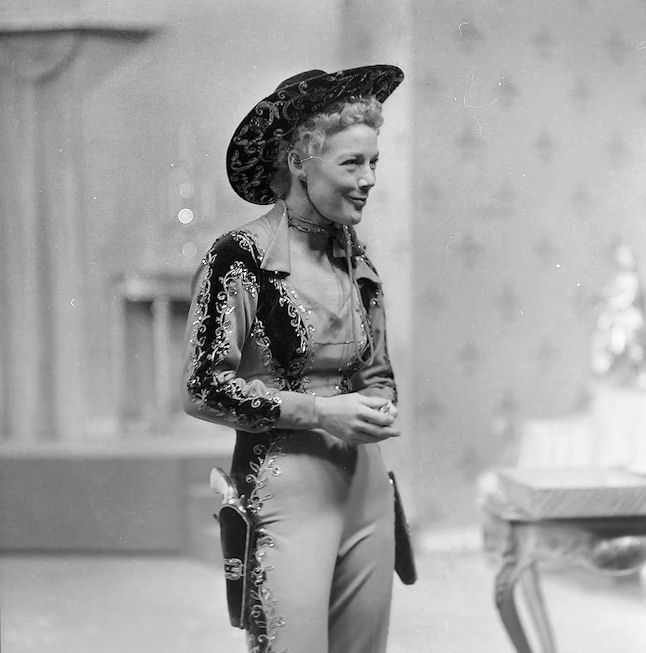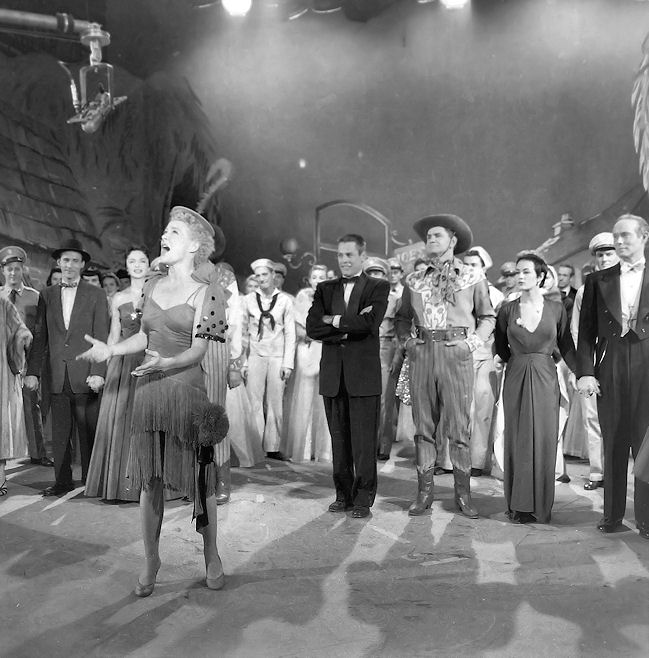 Rare Betty Images

from the 1949 movie,
Red, Hot and Blue!

Classic comedy images and a few production photos of Betty Hutton as Yum-Yum Collier in Red, Hot and Blue, 1949.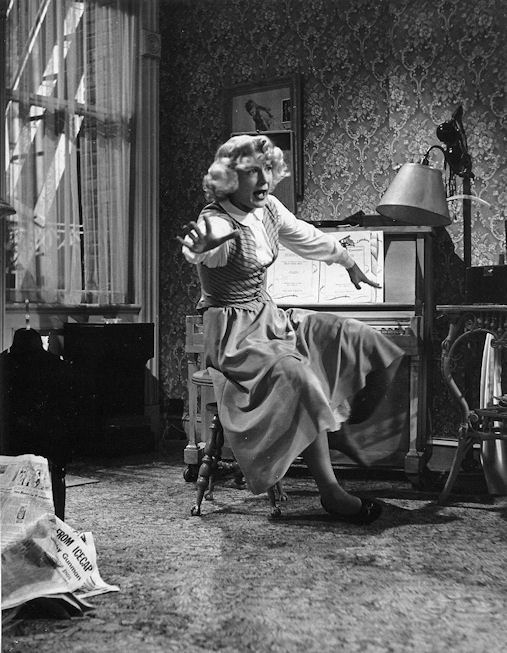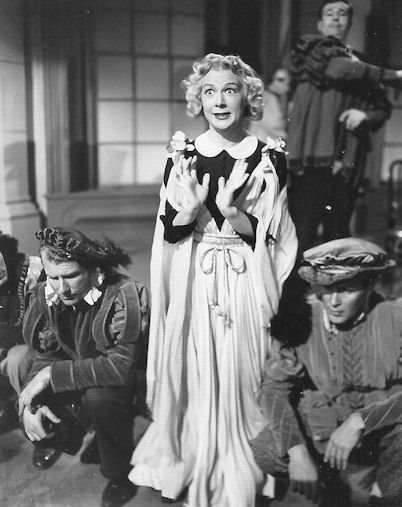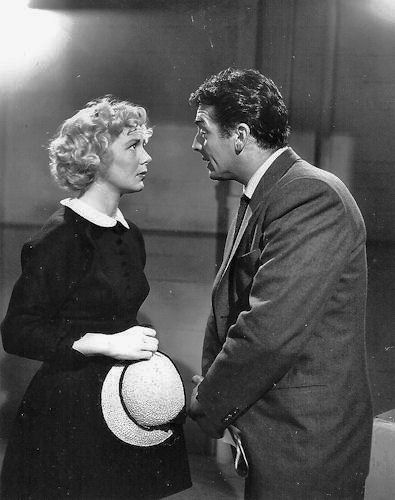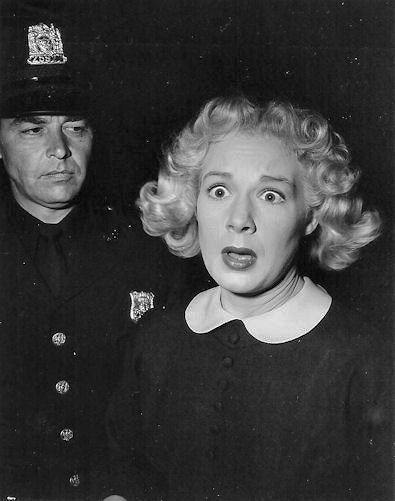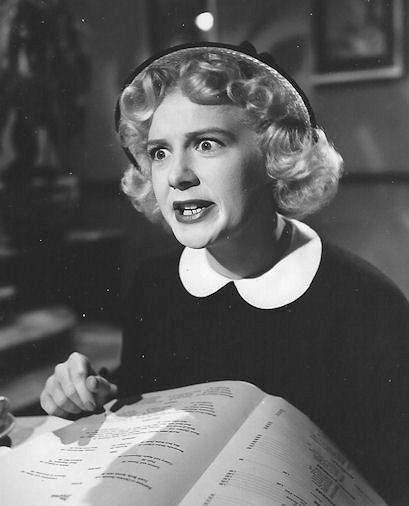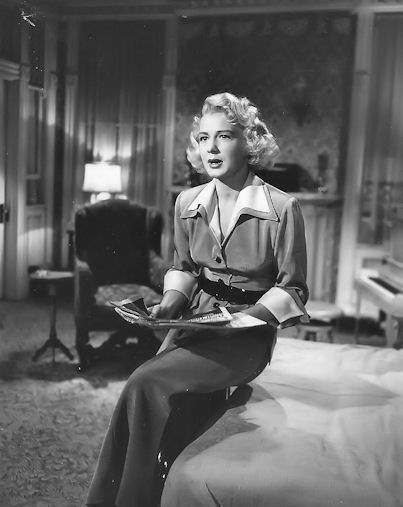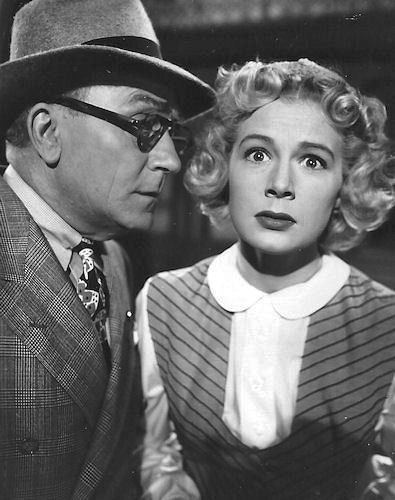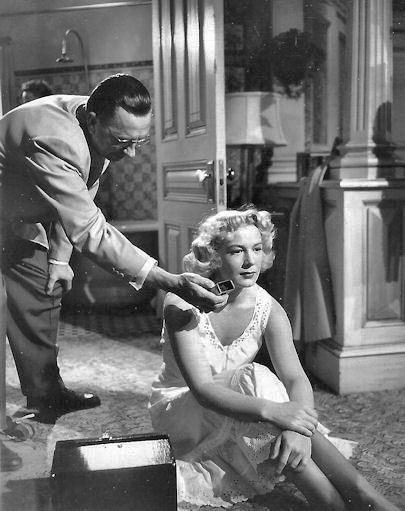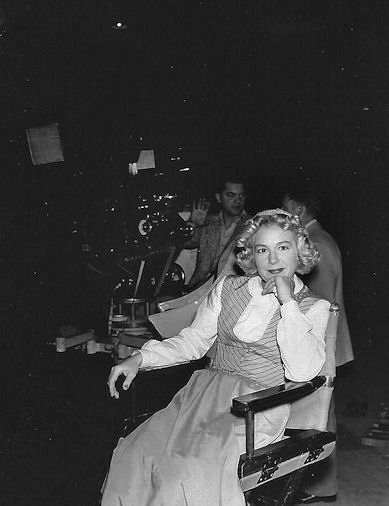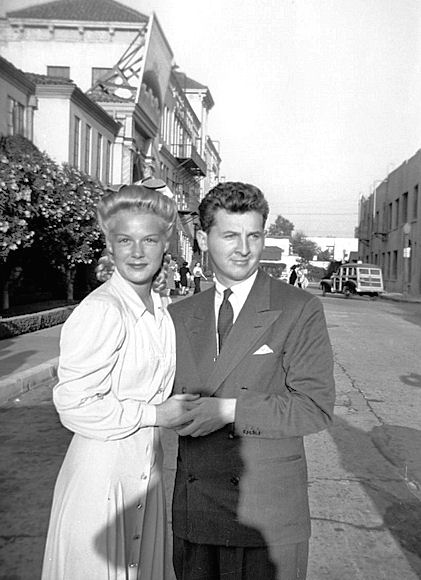 Betty Hutton and Eddie Bracken are shown here together in an early photo taken on the Paramount lot. Were they comedic friends or foes? Read about their relationship in Betty's autobiography, Backstage You Can Have!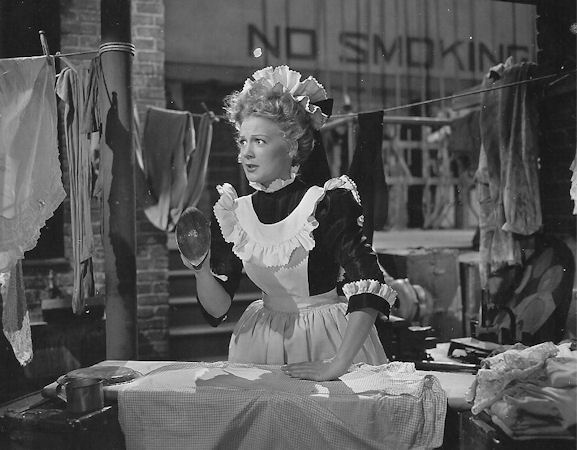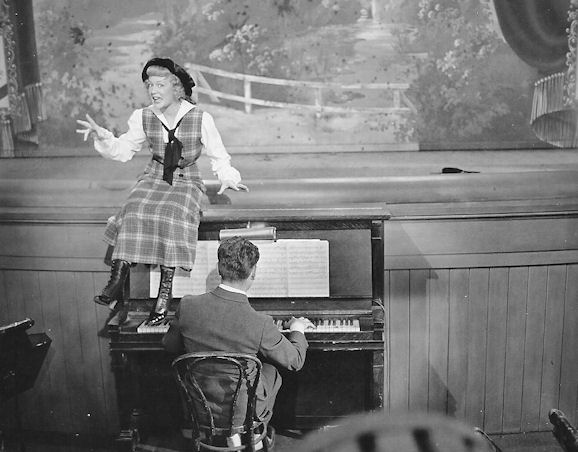 The next four Betty Hutton images from the 1947 film, The Perils of Pauline! show Betty with actor, John Lund, film director, George Marshall, and comic genius, Billy DeWolfe.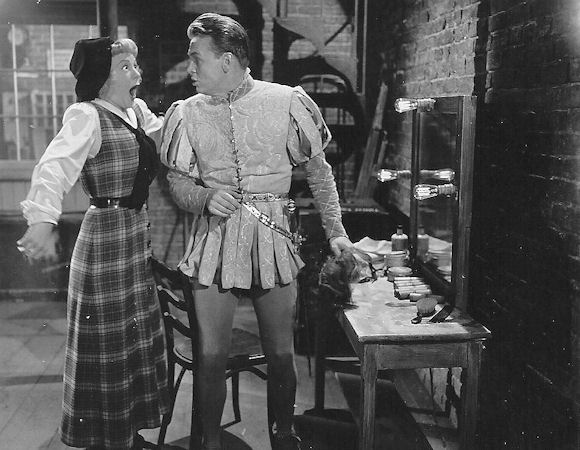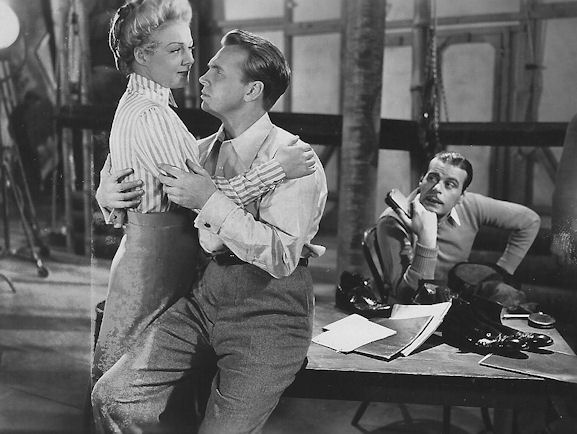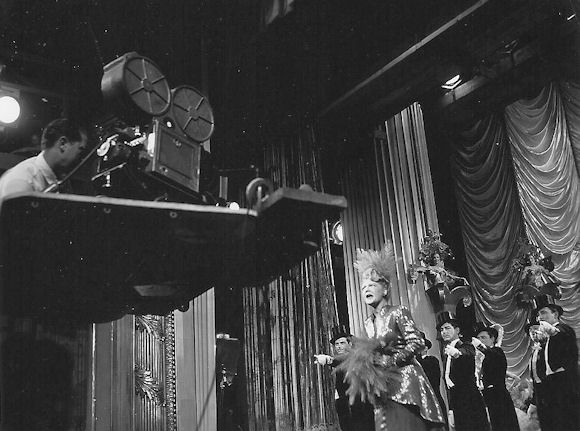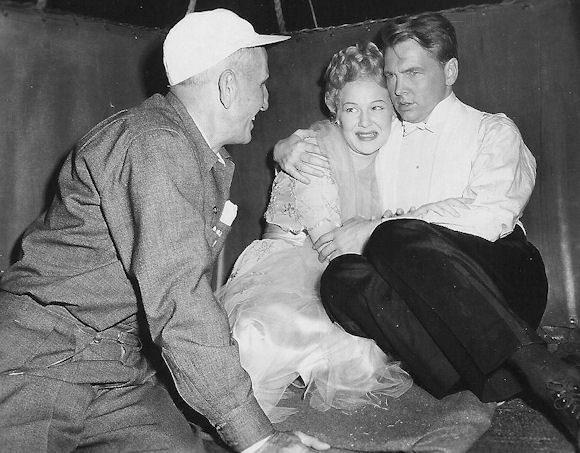 Betty at The Stage Door Canteen

The following photos are of Betty and service men at the Stage Door Canteen. We are assuming it is the New York establishment, due to the fact that the photos say "Stage Door" Canteen. The Canteen in Hollywood was called simply "Hollywood Canteen". All the photos are from 1944. If anyone has any identifying information so we can clarify the location, please write to us!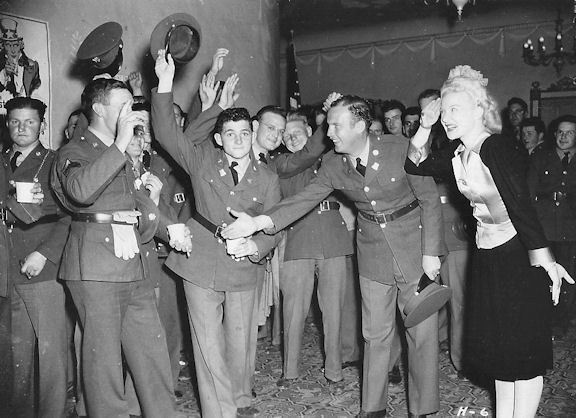 On March 2, 1942 the New York Stage Door Canteen opened its doors in the basement of the 44th Street Theater. Founded by the American Theatre Wing, the organization that hosts Broadway's Tony Awards, Stage Door Canteen was open nightly from 6 p.m. to midnight. Admission was free to all servicemen.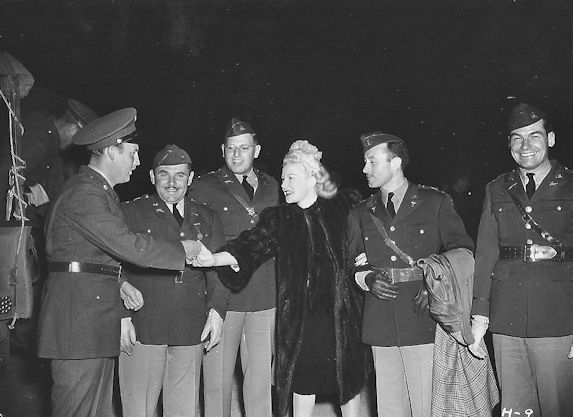 Two thousand men filled the tiny 40-foot by 80-foot room each night. The Stage Door Canteen provided a space for millions of Allied servicemen to receive star-treatment―top-notch entertainment, dinner and dancing.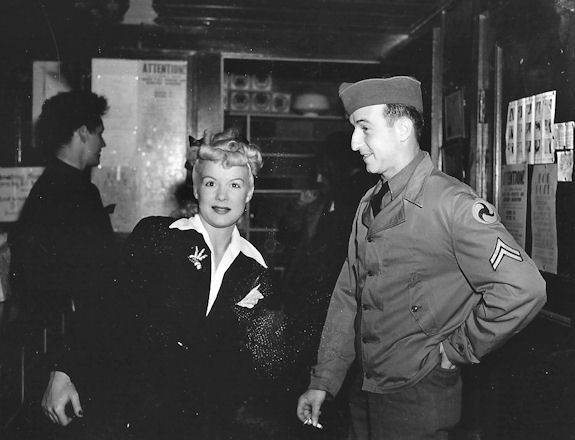 No alcohol was permitted, but on an average night the Canteen served: 2000 sandwiches, 3000 slices of cake or doughnuts, 1000 half pints of milk, 80 gallons of fruit juice and cider, 25 lbs. of candy, 6 crates of fruit and a whopping 5,000 cigarettes.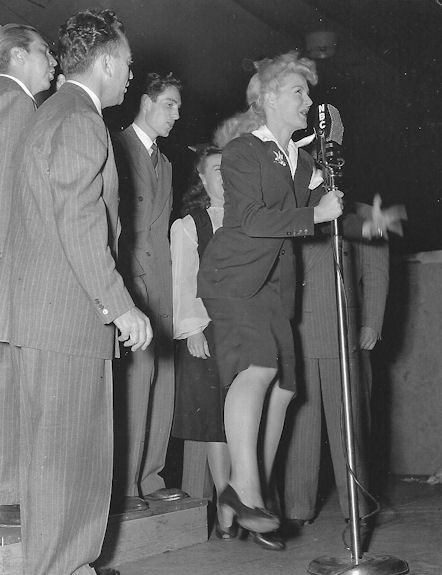 New York's Stage Door Canteen was followed by the opening of Stage Door Canteens in Boston, Newark, Philadelphia, Cleveland, San Francisco, and Washington, DC. The Hollywood Canteen opened as an American Theater Wing affiliate on October 3, 1942.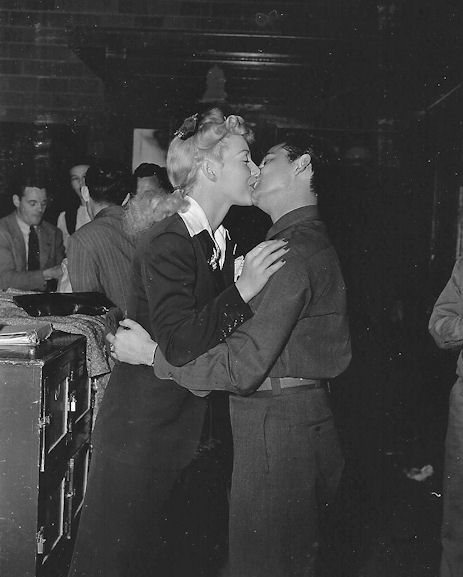 OK, we now understand the reason you went to the Stage Door Canteen, Betty! I guess you were just doing your job; entertaining the troops...
More Of Betty At War
In The Pacific!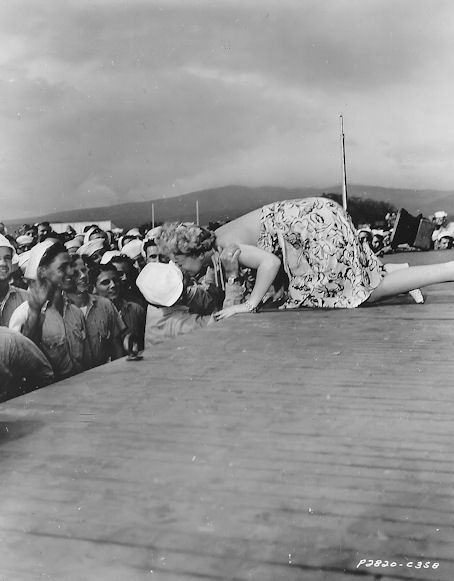 Betty loved being with and entertaining the troops!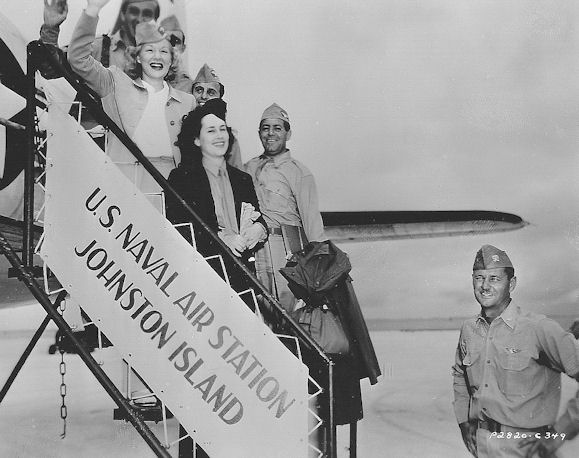 Johnston Atoll, a United States territory, is a remote group of islands covering 50 square miles. Chief among them is Johnston Island, with its now abandoned military base. In 1926, an executive order established Johnston Atoll as a federal bird refuge, but control was transferred to the U.S. Navy in 1934 and the impressive runway still seen today was established. Soon after, the former wildlife reserve became a nuclear weapons test site.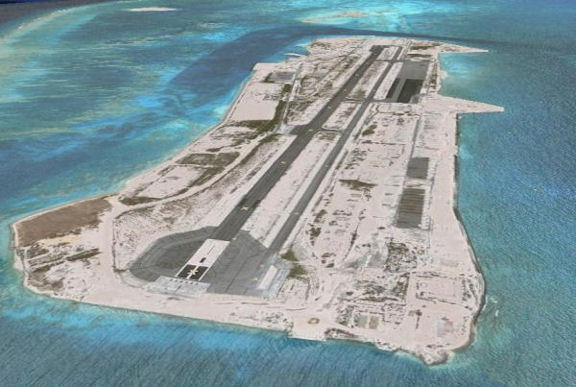 Johnston Island is one large airstrip in the Pacific!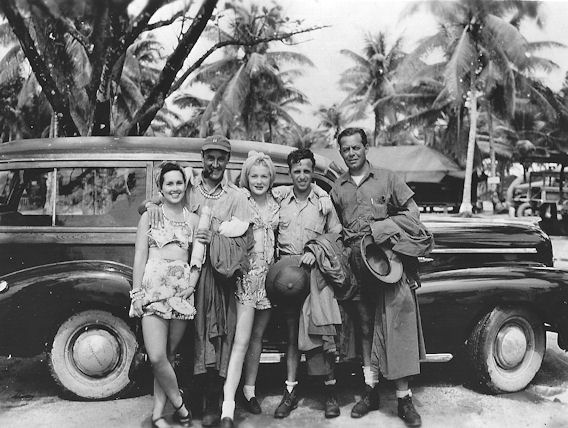 This photo and the following two are of Betty and troupe on an unidentified island in the Pacific. Anyone with information as to which island this might be, please email us!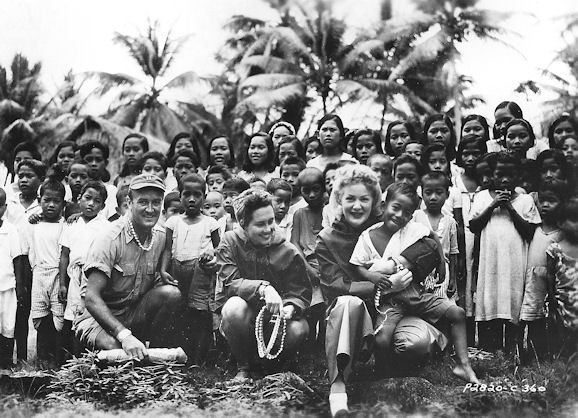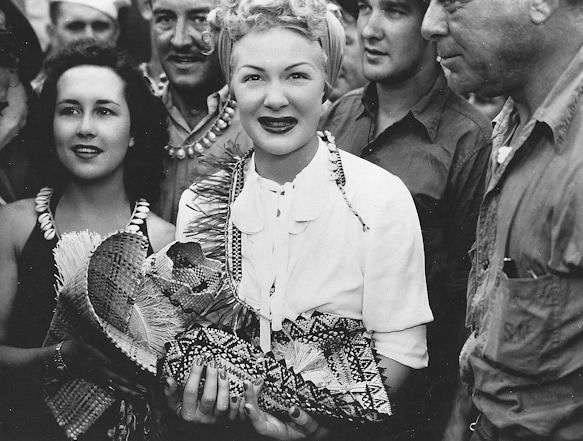 Betty receives some hand crafted gifts from the island's people.
Watch this 7 minute video segment from an interview done by Hollywood columnist Mike Connolly in Betty's Los Angeles home in 1955. The complete video is 27 minutes in length.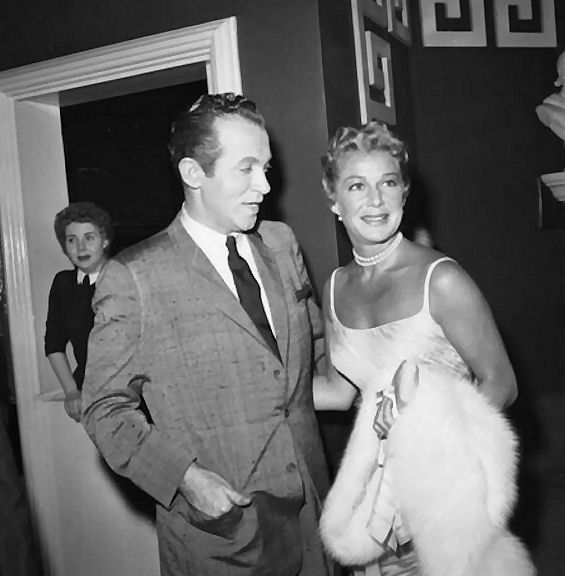 Betty Hutton with Hollywood columnist, Mike Connolly.

The following is a video clip of the Memorial Service held for Betty Hutton at St. Theresa church in Palm Springs on March 23, 2007. A.C. Lyles, long-time Hutton friend and Paramount Studio exec. gave the eulogy. This video clip is small and of less than desirable quality, but it is all here!
A wonderful video clip from It Had To Be You, A Musical Evening with Betty Hutton, starring Crystal Poppell as Betty Hutton. This was a show to benefit For The Children, a Coachella Valley non-profit organization we are members of that assists and mentors foster and adoptive children and their families in and around Palm Springs. The show was taped at the performance on May 17, 2009 at the Riviera Resort in Palm Springs, California. The show was presented by The Betty Hutton Estate.
Paramount Theater in New York City sporting a gigantic sign announcing the engagement of the 1952 movie, "Sailor Beware". Betty had an un-billed cameo in the movie as Dean Martin's girlfriend, Hetty Button!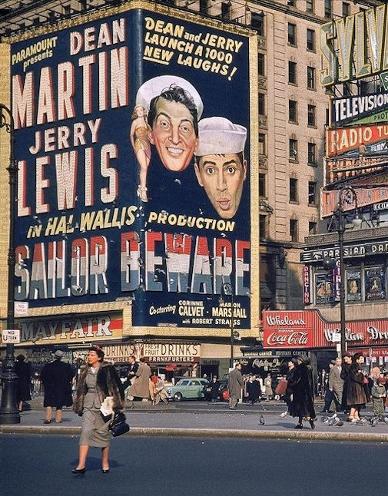 We have had wonderful response from viewers to Betty's WW2 photos! Remember to check out our Betty At War gallery (here).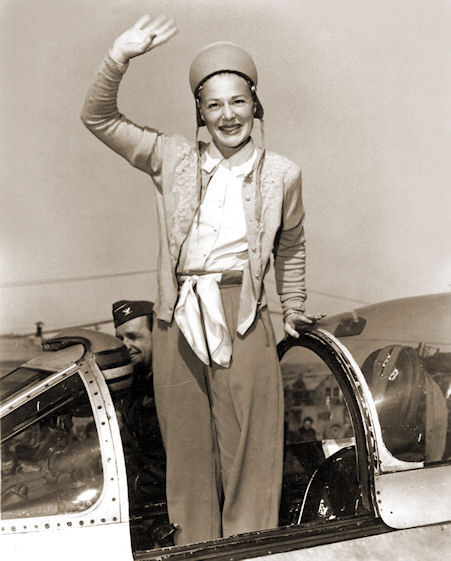 View this amateur video footage taken during the Greatest Show On Earth circus parade in Sarasota, Florida in 1952. Shots of Betty on a float are toward the end. The parade was filmed and used in the movie, The Greatest Show On Earth.


Watch our video of rare Betty Hutton performance footage!
This is a video we made a few years back with some rare footage that was sent to us over the years by various Hutton fans who shot the actual clips as Betty was performing! Some of the video is from the Palace Theater in NYC. There is also footage of Betty with then husband, Alan Livingston, in Las Vegas. We believe the video with her husband to be the evening of November 9, 1954 when she announced her "retirement" from show business at the Desert Inn in Las Vegas. The look on her face is all telling...

When February rolls around, it's time once again to celebrate Betty's Birthday! Watch our video made in honor of Betty's Birthday. Betty sang us her now famous opening number at home in Palm Springs on February 26, 2005 (the day of her actual Birthday). That is followed by Betty performing the same song in front of an audience on "Jukebox Saturday Night", 1983.
Hope you all enjoy...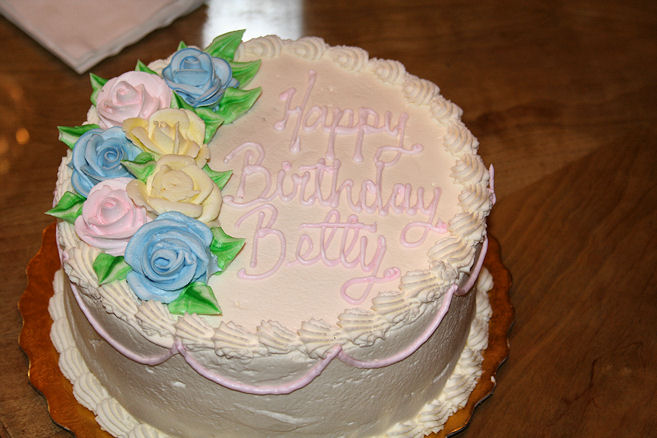 Cake we had made for Betty on her 84th Birthday, February 26, 2005.
Betty's Star Being Installed on the
Palm Springs Walk of Stars,
February 25, 2013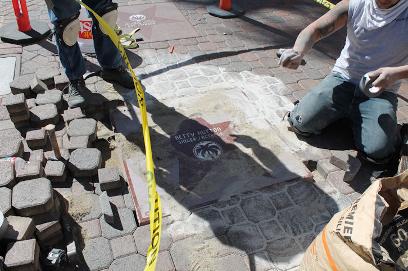 A first look at Betty's new star on the Palm Springs Walk of Stars on Palm Canyon Dr. in Downtown Palm Springs as it is being installed on the sidewalk on Monday, February 25, 2013.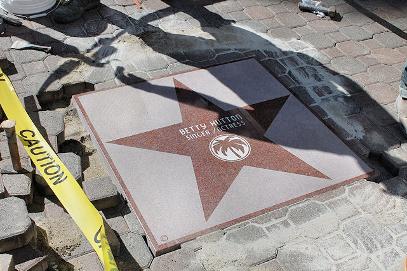 A closer look at Betty's new star on the Palm Springs Walk of Stars on Palm Canyon Dr. in Downtown Palm Springs as it is being installed.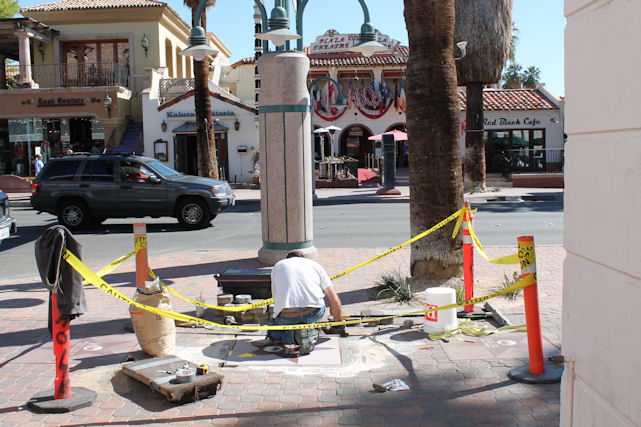 The star is located directly across the street from the historic Plaza Theater on Palm Canyon Dr. Betty's star is located right next to Loretta Young's star.


Betty's Star Installation Ceremony on the Palm Springs Walk of Stars took place at 11:00am on February 26, 2013. The star dedication was coordinated with Betty's 92nd birthday. It started out as a cool morning, but temperatures quickly climbed into the mid 70s under a bright Southern California sun. Everyone in attendance was able to
fully enjoy the ceremony

as they relaxed in the warm sun on the sidewalk where the star was unveiled. For additional pictures from the event, please see the Betty Star Ceremony page.
It was indeed a special day for all who attended!


Betty's new star on the Palm Springs Walk of Stars on Palm Canyon Dr. in Downtown Palm Springs at is looked immediately after being unveiled on Monday, February 26, 2013.


Watch the wonderful and talented Broadway actress Audra McDonald sing Betty's song, "Can't Stop Talkin' About Him" for the President and Mrs. Obama at the White House. We have had the pleasure to see her perform several times in New York and are so happy that she is taking on one of Betty's novelty tunes. She does one extraordinary job in our opinion!!


Listen to Betty speak on the occasion of her 84th Birthday
in 2005! Betty talks casually with friends
Carl Bruno and Mike Mayer.
(NOTE: At the time, Betty was in an assisted living facility due to a broken arm from a fall. Betty makes reference to a man from the front desk who wants cake. He is from the main office in the care facility.)
"No You Can't, Yes I Can"

Have a look at this Charter Communications commercial that was completed in August of 2012, using a clip of Betty Hutton in Annie Get Your Gun. We think it is a fun ad because it is fits right in with Betty's sense of humor!

The Betty Hutton Estate has been gifted with a very special scrapbook that was compiled for Betty following her USO camp tour to Japan and Korea in February and March of 1952. The book was compiled by artist, Ted Sally. The scrapbook includes certificates, letters, photos, and additional memorabilia, all in 27 jam-packed pages. The book is a whopping two feet high, by 20 inches wide (see below). There are several photos missing, but not enough to be detrimental to the entire book. This is in relatively good condition for being 60+ years old.
If you would like to see all the pages from the scrapbook, click here.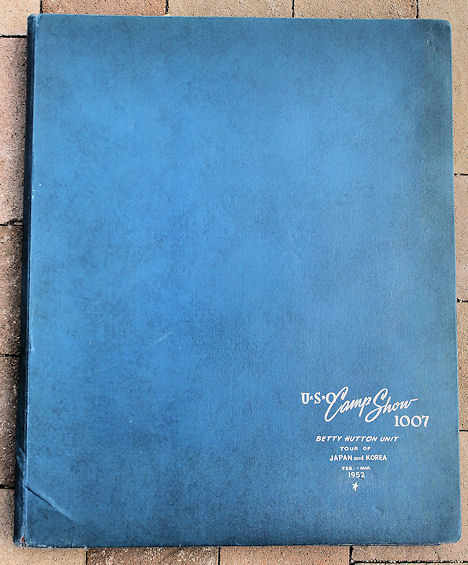 We are extremely sad to report the passing of Betty's dear friend and mentor, Mr. A. C. Lyles from Paramount Studios. A. C. worked at Paramount for three-quarters of a century, rising from mail boy to producer. Most recently he acted as goodwill ambassador at the studio. Mr. Lyles died at home in Los Angeles on Sept. 27, 2013. He was 95.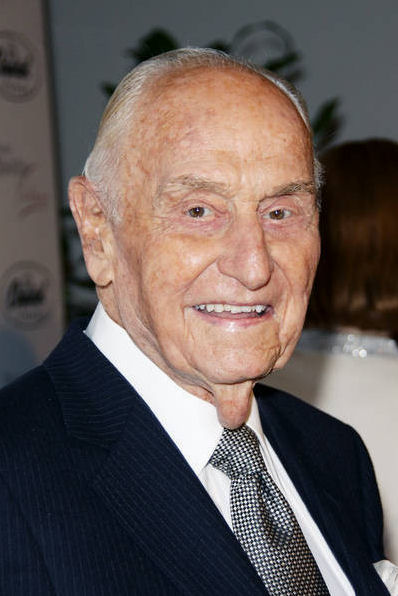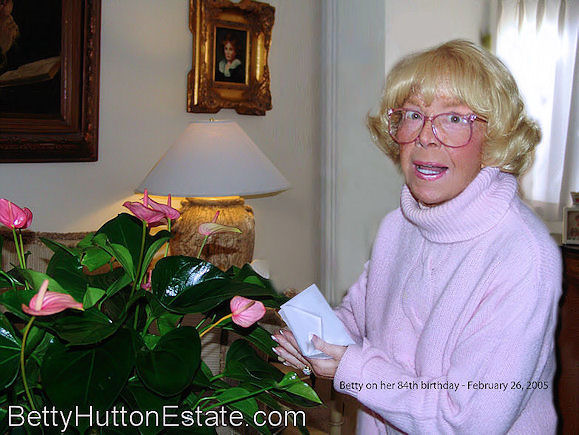 B
etty is seen here on the occasion of her 84th Birthday in Palm Springs, 2005.
It can probably be said that Bett
y Hutton was truly discovered at Billy Rose's Casa Manana in Manhattan. Lopez's orchestra was playing there in 1938, and Betty Hutton was Vincent Lopez's girl singer at that time. Betty "accidentally" brought the house down when performing as a fill-in for an act that was a no-show. Billy Rose agreed to put Betty on the stage by herself that evening, and all evenings after that. That was the beginning of Betty's notoriety in New York City. Her appearances at the Casa Manana led directly to a part in the Broadway show, Panama Hattie!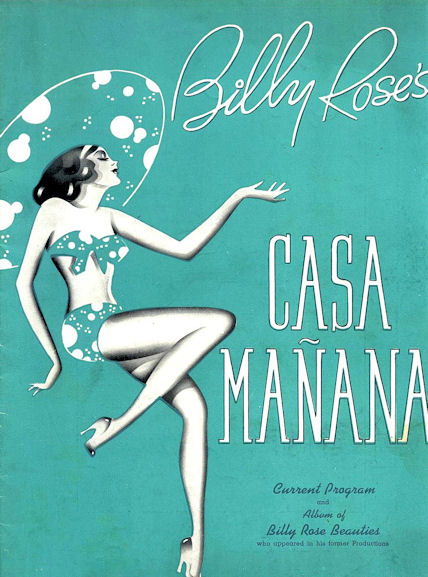 Program cover from Billy Rose's Casa Manana - 1938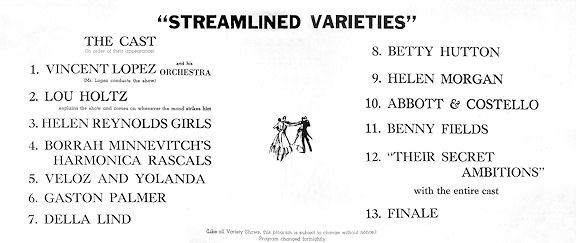 From within the pages of the Casa Manana program - showing Betty Hutton as one of the headliner performers.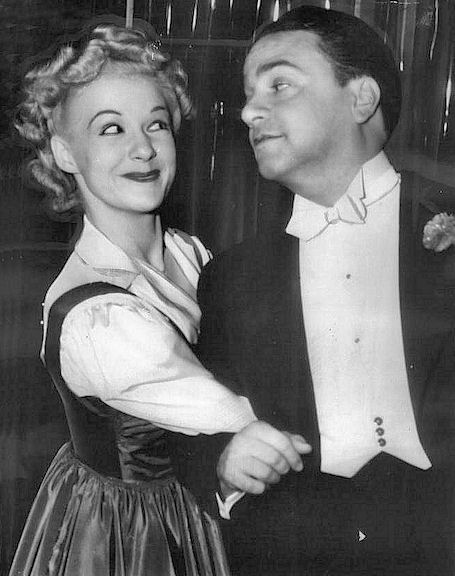 Betty Hutton and Vincent Lopez at Billy Rose's Casa Manana.

Really fun 2014 Travelodge, UK commercial using Betty's "It's Oh So Quiet" song in a new advertising campaign!


A really fine color photo showing Betty Hutton arriving at the Chicago Theater for the Chicago, IL premiere of Somebody Loves Me. Betty arrived in Chicago from the West Coast on Thursday, Sept. 4, 1952. The next day, on Friday, Sept. 5, 1952, a parade was held thru the downtown loop, and the entourage arrived at the theater for the premiere showing. For more information, see the Chicago newspaper article below, dated Sept. 6, 1952.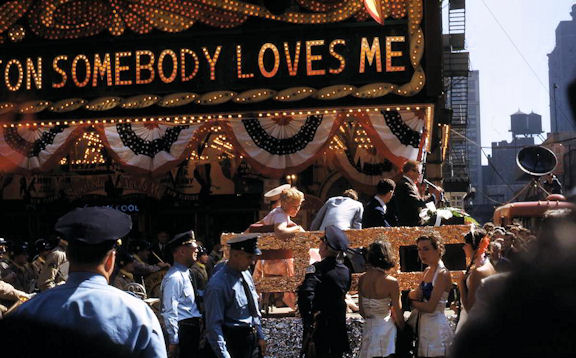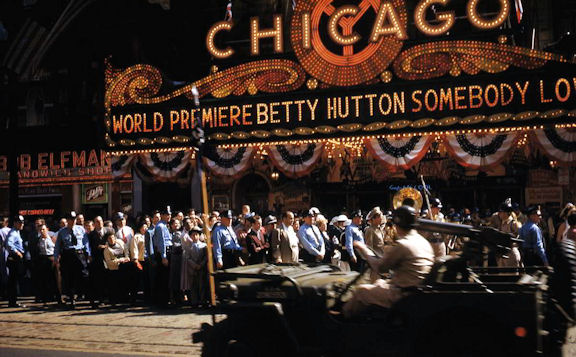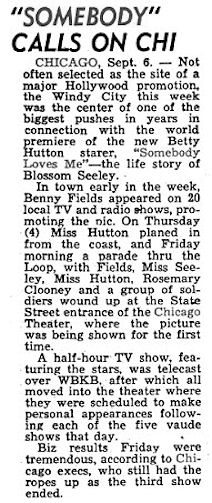 Watch this new video that we now add to the increasingly long list of international TV commercials using a Betty Hutton song in their content. This one was done recently for Ikea Canada! Enjoy...
Betty with Bob Hope in a hilarious scene from the 1943 movie, "Let's Face It". It was a brassy comedy in which a rather loud Betty Hutton competed with Bob Hope for laughs in this wartime comedy of soldiers hired as male companions.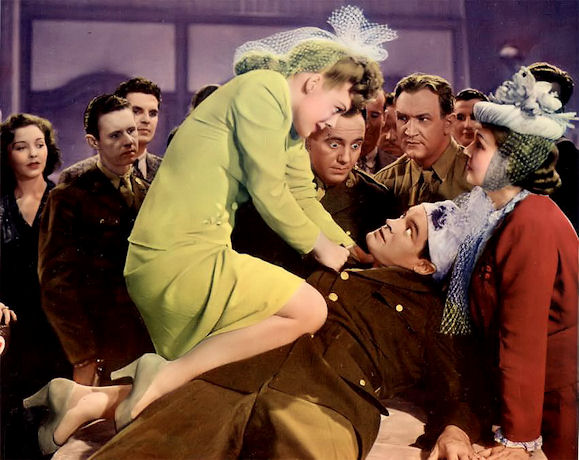 Betty Hutton is seen here in a candid shot, probably shot by a fan, as she was leaving Lucy's El Adobe Cafe in Hollywood, ca: late 1940's. Lucy's is located right across the street from Paramount Studios on Melrose.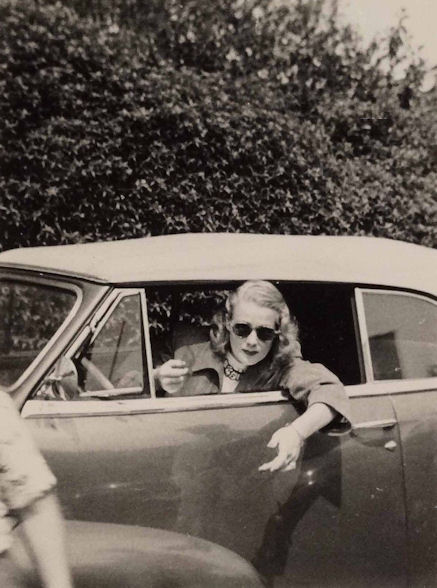 In the photo below,

Bett
y is seen relaxing in her dressing room at Paramount during a lull in filming of the movie, The Stork Club. The photo was taken on May 23, 1945.
NOTE: The book she is reading is entitled, Picasso.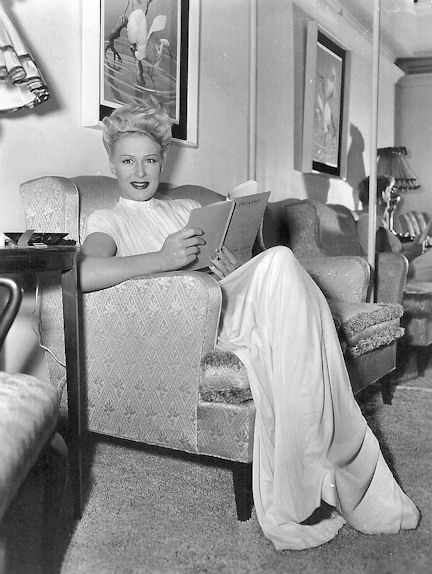 Bett
y Hutton causes a near riot at the London Palladium in September of 1949, much to the delight of the Skyrockets dance orchestra and their conductor, Woolf Phillips!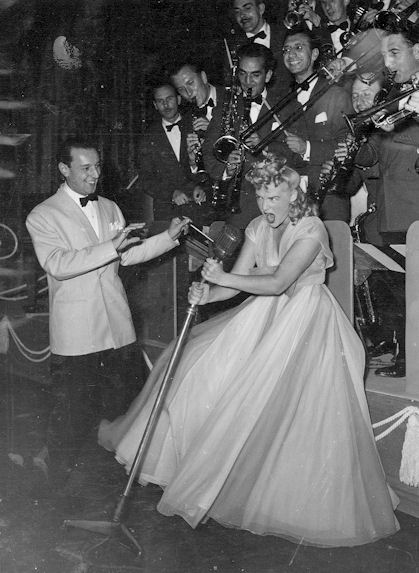 A really fine photo of Betty, taken in 1938 at Billy Rose's Casa Manana in Manhattan. The caption on the Associated Press photo states, New York, Oct. 29 - Flat feet? Phooey, says jitterbug queen! Miss Betty Hutton, 17, of Detroit, who's been singing and doing jitterbug dances every night since last January in a Manhattan nightclub, took exception last night to statements of Dr. Edward Ward of Saginaw, Mich., that the modern dance hysteria will pay its adherents in broken down feet and thick ankles.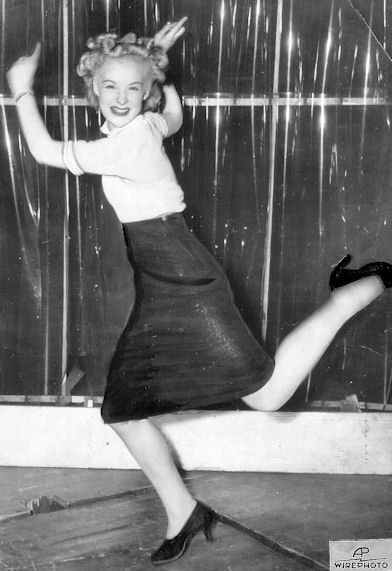 We received a wonderful letter and photos from a woman by the name of Barbara Edwardy in Texas. Barbara's late father-in-law, Bill Edwardy, was a photographer while serving in the military during WW2. In fact, he took numerous photographs of Betty when she visited Kimpo, Korea to entertain the troops in 1952. Barbara was kind enough to share with us some of the photos which were taken by Bill Edwardy while he served as the base photographer during Betty's visit to Korea in 1952. Thanks, Barbara, for the great addition to our collection!

The first two photos show photographer , Bill Edwardy (see red circles), as he photographed Betty while she performed on stage.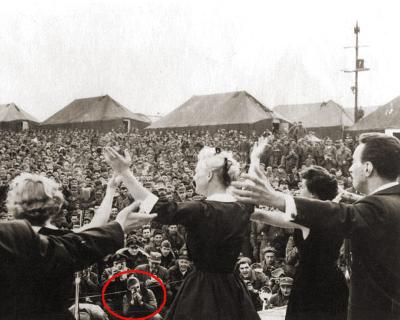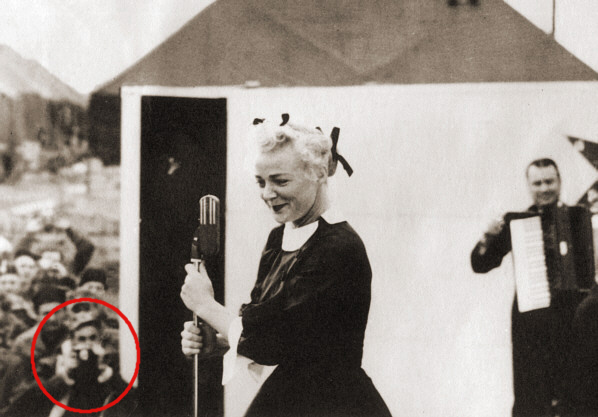 The following 8 photos of Betty were taken by photographer, Bill Edwardy, in Korea in 1952.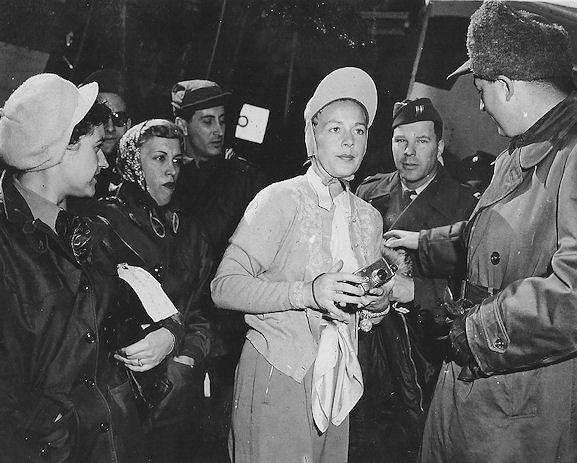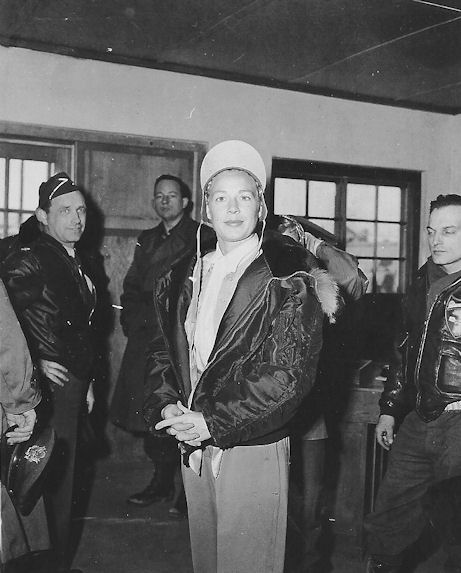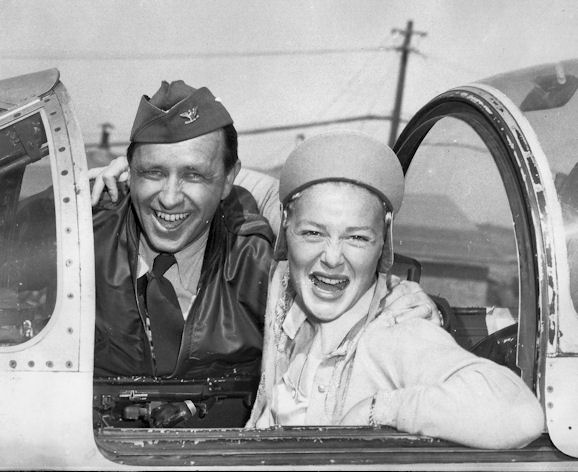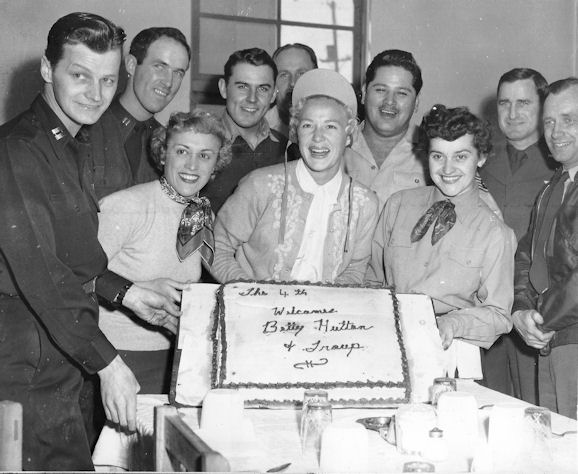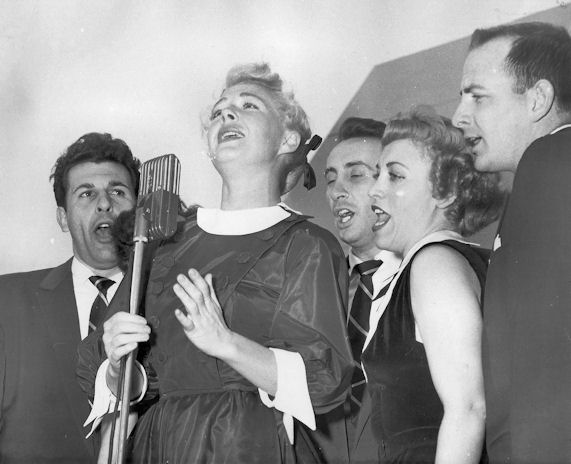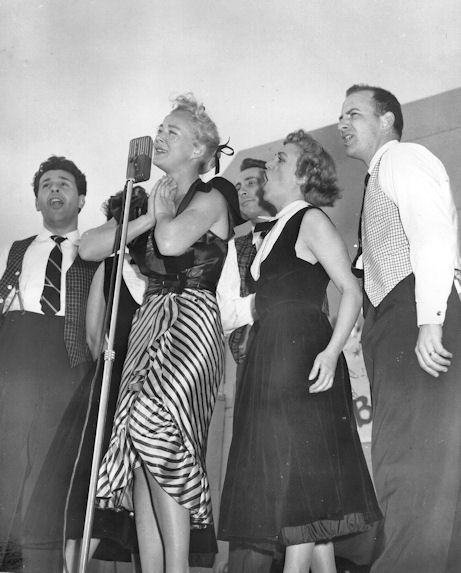 Betty Hutton's visit to Britain, and her first ever appearance at the London Palladium in 1948, corresponded with the premiere of her film, Dream Girl. Upon appearing at the Palladium, critics described Betty as "a big strong, lively girl, always eager to please" but complained that her voice was so loud "she deafened the first two rows of the auditorium".
The Palladium show contained much of the "lively horseplay" of her American appearances. The London Orchestra, however, was less enthusiastic about Hutton's clowning. One critic described how, after Hutton had leapt on to the back of the conductor, kissing him and sweeping him off his feet, "a look of alarm swept across the faces of the more accessible bandsmen".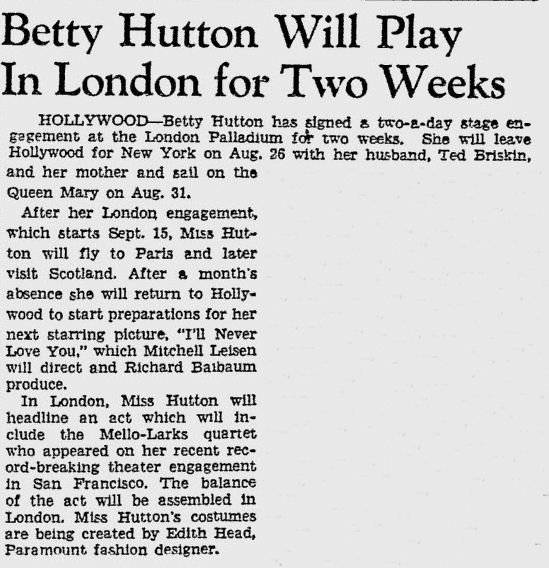 Newspaper article from August 22, 1948.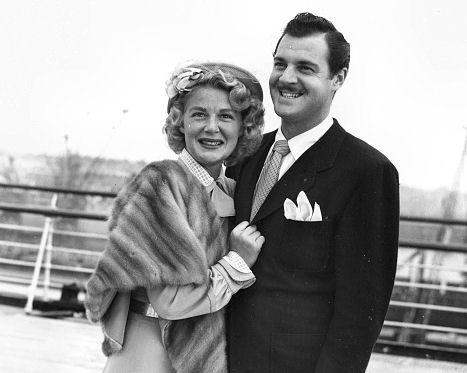 Betty Hutton and husband, Ted Briskin together on the deck of the Queen Mary as the great ocean liner prepares to dock at Southampton, England on Sept. 6, 1948.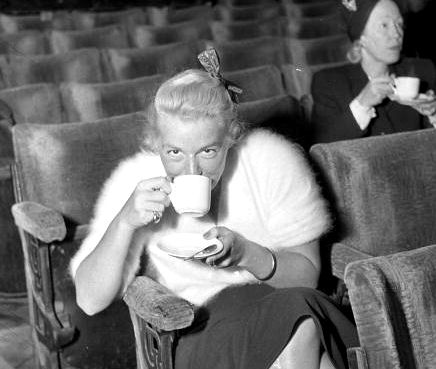 Betty Hutton is pictured drinking a cup of tea during
rehearsals at the Palladium in London.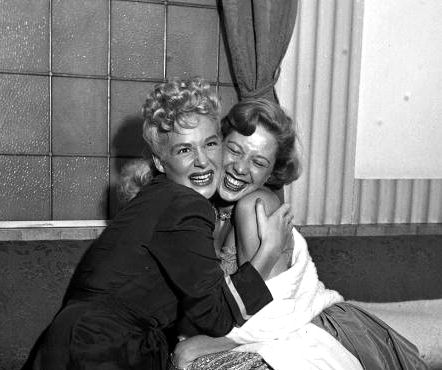 Betty Hutton receives a congratulatory hug from friend,
Dinah Shore following her first night at the Palladium.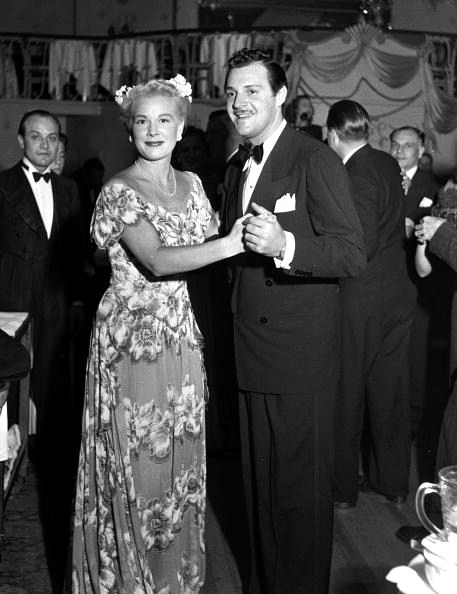 Betty Hutton is pictured dancing with her husband
Ted Briskin, a Chicago businessman, at a night club

supper after her first show at the Palladium.
We received a letter from the proud son of a Marine who was stationed in Korea when Betty was there to entertain the troops. SSgt Allen J. Repashy was with the 1st Marines when he snapped these photos of a joyful Betty Hutton, doing what she did best for our guys overseas. A big thank you to Allen Repashy for thinking of The Betty Hutton Estate when deciding to share his Dad's wonderful photos! See all the new photos posted from
SSgt Allen J. Repashy on our
Betty At War
page
here
!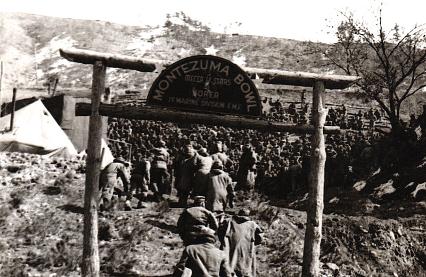 The troops of the First Marine Division file into The Montezuma Bowl, a naturally formed outdoor amphitheater, to await the arrival of La Hutton.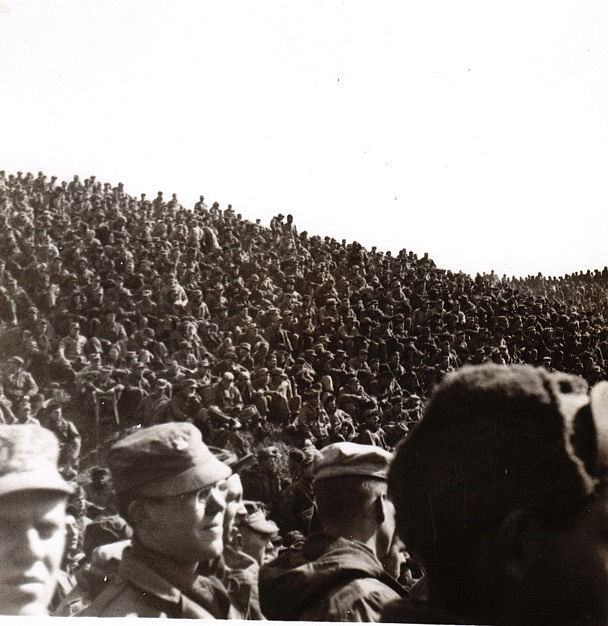 Look at the turn out! We know for sure that it made Betty proud to be able to do her part to bring a bit of home to our troops on foreign soil...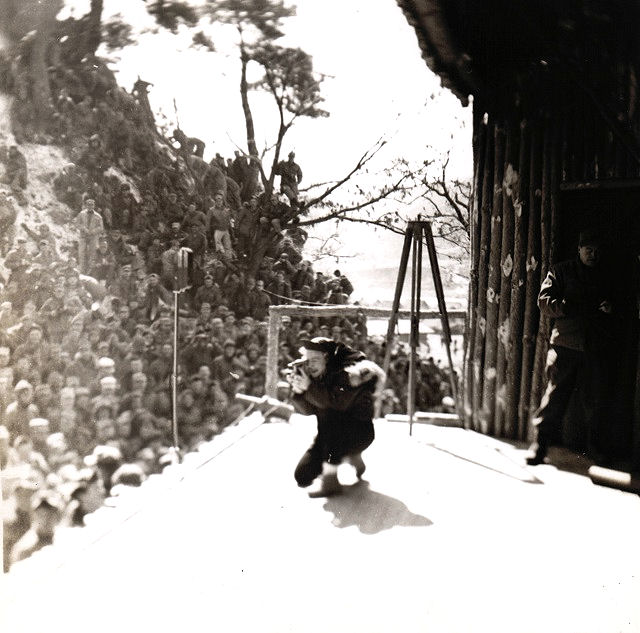 There she is! Betty Hutton arrives on stage and, as usual, she has the service men hanging in the trees!
This is a rare look at an episode of The Betty Hutton Show in which Betty's Mother (Mabel), her Sister (Marion), and two daughters participate. There was a nasty writers strike on at the time in Hollywood, so Betty took it upon herself to write this episode, which is semi-autobiographical in nature. Unfortunately, it comes as no real surprise that The Betty Hutton Show lasted only one season... This is the episode entitled, "The Flashback Story" that originally aired on April 14, 1960.
This is a video that we, the Betty Hutton Estate, put together in 2009 to use during Book Signing events (Betty's autobiography). The purpose was to refresh the memory of Betty fans as well as to inform potential new fans about the life and career of Betty. The video, although rather basic in quality and content, was very well received by those who saw it. We guess Betty had a lot to do with that!
Betty Hutton was always larger than life! A photo from The Greatest Show On Earth and Betty's graduation from Salve Regina in Rhode Island. Years apart, but still the same wonderful spirit...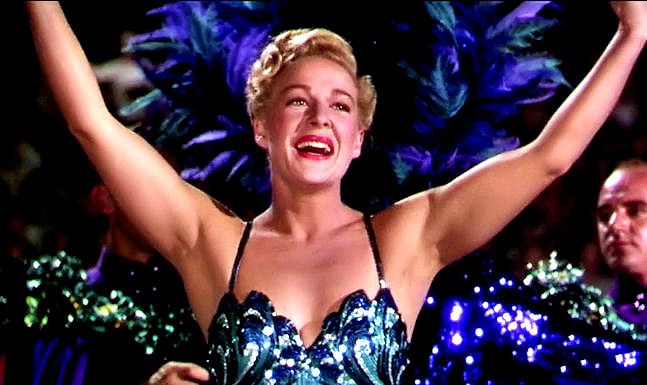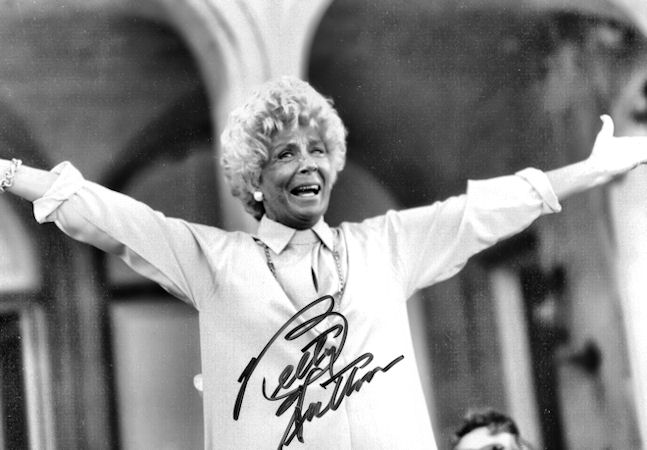 Have a look at Betty's appearance on The Nat 'King' Cole Show. The episode originally aired on December 3, 1957. Such great fun!
The Betty Hutton Estate is pleased to share with you the video of Betty's Memorial Service, held 12 days after her death, on March 23, 2007. The video has been reworked to eliminate much of the religious content and to leave the tribute parts of the program intact. The video opens with Betty's own music playing in the background. Carl Bruno, Executor of the Betty Hutton Estate reads several letters sent to Betty Hutton from WW2 servicemen long after the War that were precious to her. A.C. Lyles (since deceased), Paramount Studio Executive from Hollywood remembers Betty Hutton with candor and humor. And finally, Southern California's iconic gay cabaret entertainer, Rudy de la Mor (since deceased) gets the "congregation" together to sing, "There's No Business, Like Show Business", with one last standing ovation for Betty Hutton!

Listen to Carl Bruno, executor of The Betty Hutton Estate, speak on a local Palm Springs TV talk program about the life and career of Betty Hutton shortly after her death.The program was Conversations With Gloria Greer. She got her start as an interviewer in Los Angeles. She began covering Coachella Valley events for the trade publication, Variety, in 1961. For more than 50 years, Greer was a reporter, editor, talk show hostess and publisher in multiple desert media. She became an iconic Coachella Valley figure by covering the celebrities of the desert. Before her death served as society editor for Palm Springs Life magazine. This program about Betty Hutton originally aired on April 4, 2007.
Hollywood Victory Caravan was a short subject produced by Paramount and released in 1945. It was basically a 20 minute piece of WWII propaganda designed to sell war bonds. DON'T WORRY - If you just want to see the part with Betty Hutton, it shows very early in the video. The views of Paramount Studio's main gate (Bronson Gate from way back then are also well worth the watch! See the original poster below for a list of all the Stars in the production!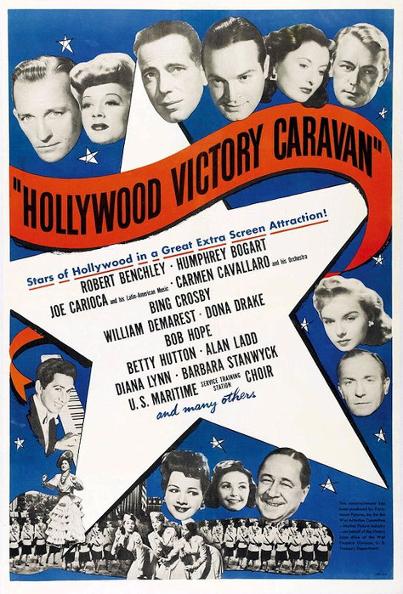 What a wonderful candid photo of Betty Hutton! If we had to pick just one photo that showed Betty just as she was at the height of her fame; not Betty Hutton the movie star, but Betty as she most likely saw herself and others close to her saw her, it would have to be this one, freckles and all! Date and location unknown, most likely late 1940s - early 1950s.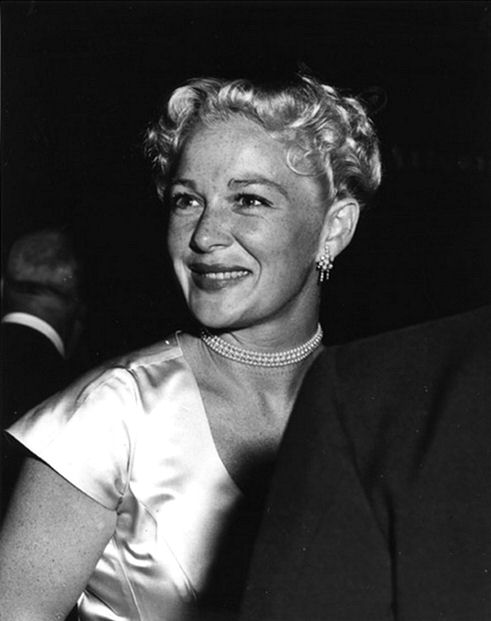 Two really fine photos of Betty Hutton from the mid 1950s taken during a performance at The Riviera Hotel in Las Vegas, NV. After Betty's movie career at Paramount came to an abrupt end, she took to playing various nightclubs and theater engagements throughout the United States and Europe, where she managed to packed the houses! Later, Betty tried her hand in television.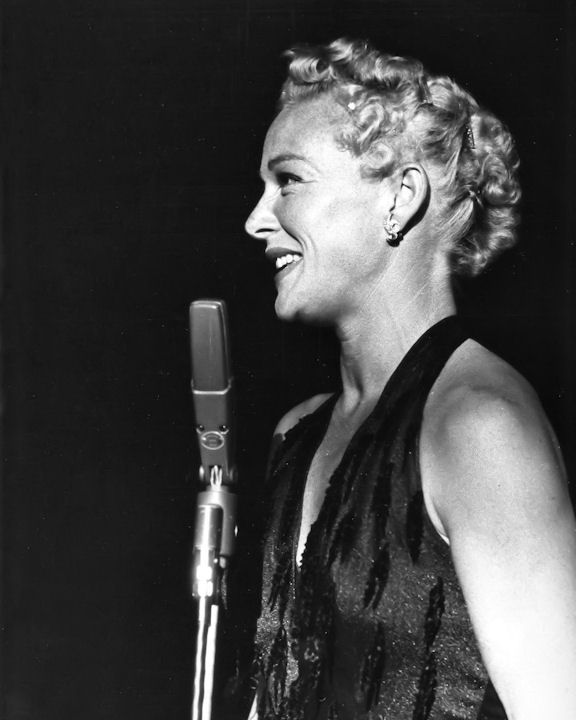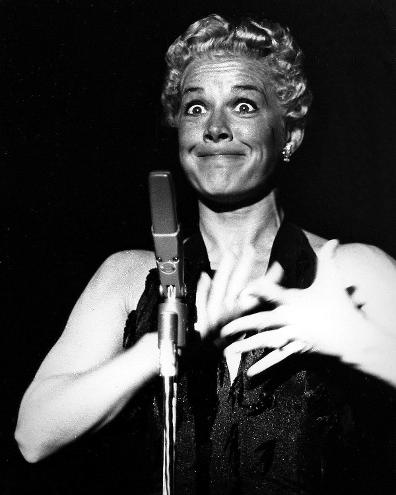 "Betty Celebrates Summer" Publicity Photos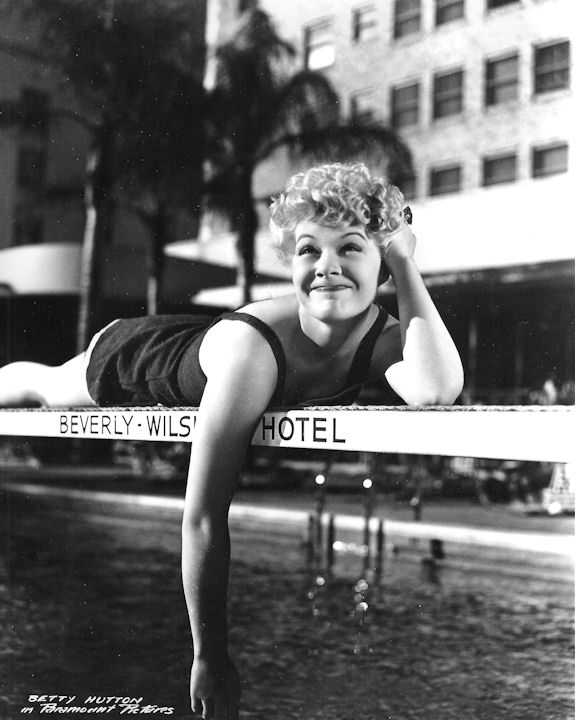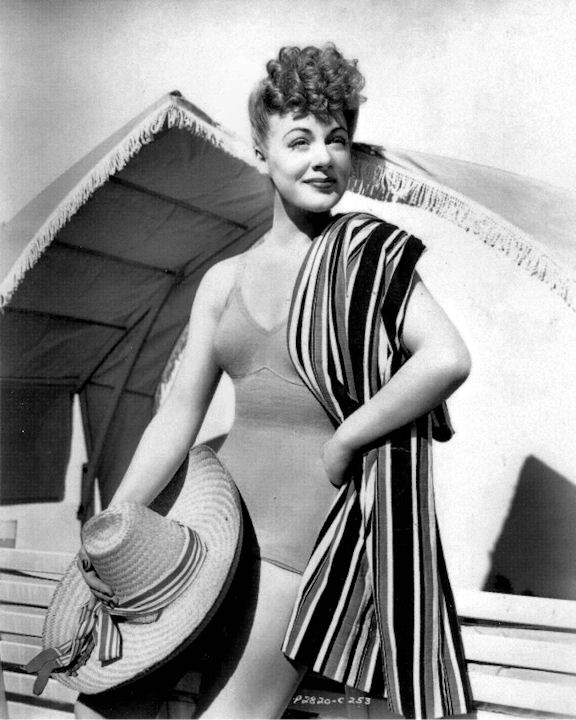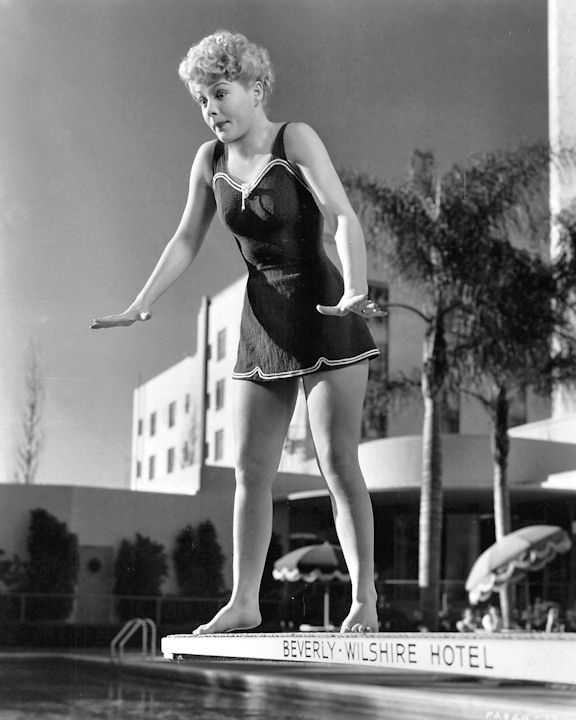 Several beautiful photographs of Betty Hutton that we recently transferred from original negatives. The transfer revealed original vivid color that no one has seen in these same photos in many, many years!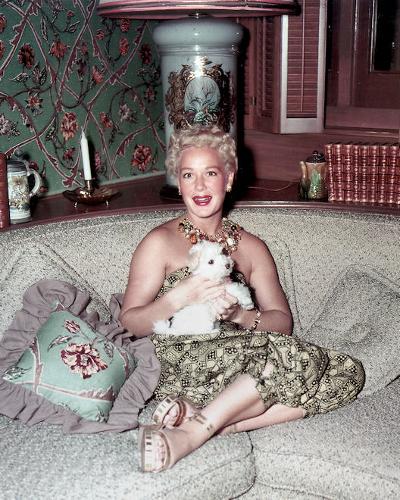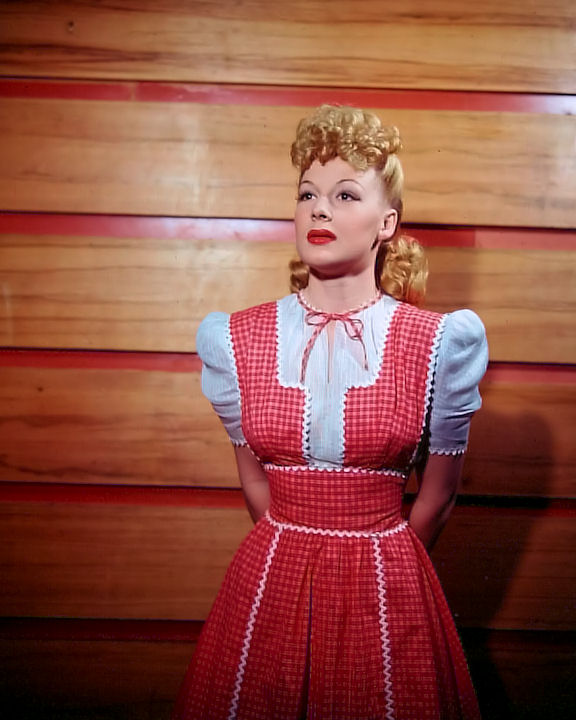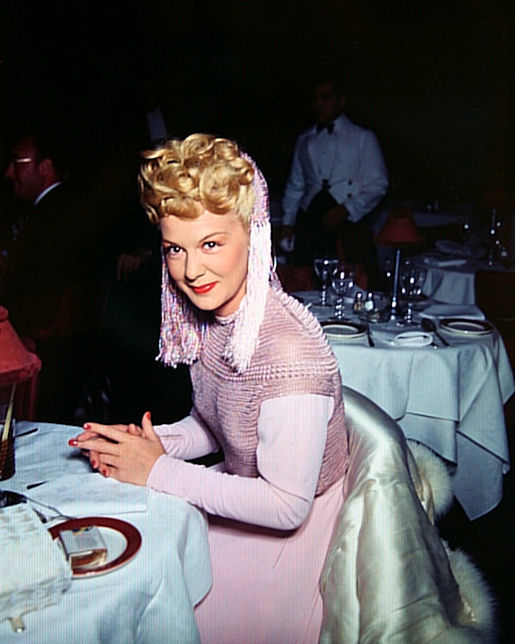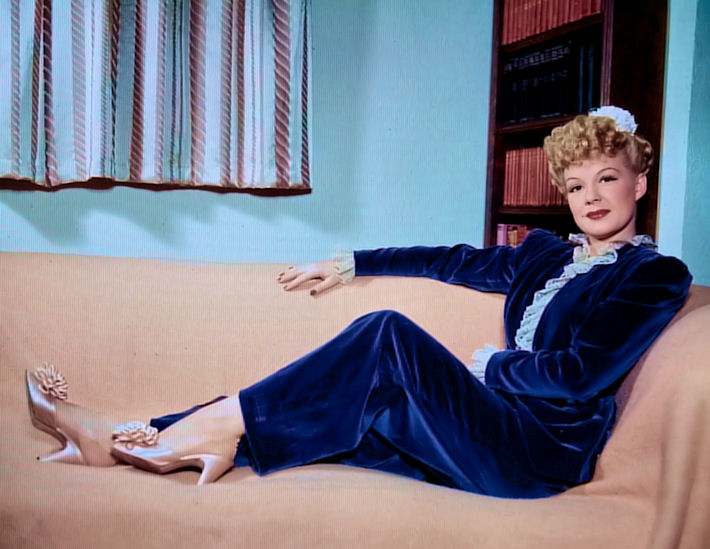 Betty and her Mother, Mabel in a beautiful color photo that was part of a session taken for a story on Betty and her family life that appeared in Modern Screen Magazine, May 1947.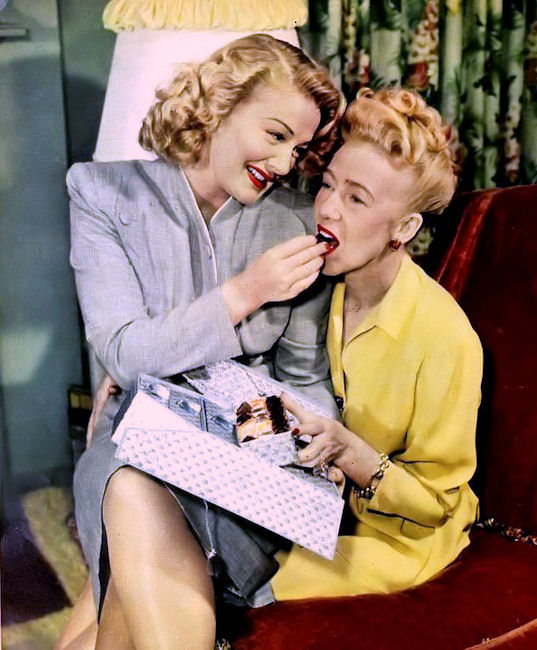 We have added this NEW Betty Hutton tribute video, using all color images of Betty from her movie career at Paramount in Hollywood. Enjoy!
Cover of Life, featuring Betty Hutton along with other famous Hollywood actresses in a story about movie nostalgia,
February 19, 1971 issue.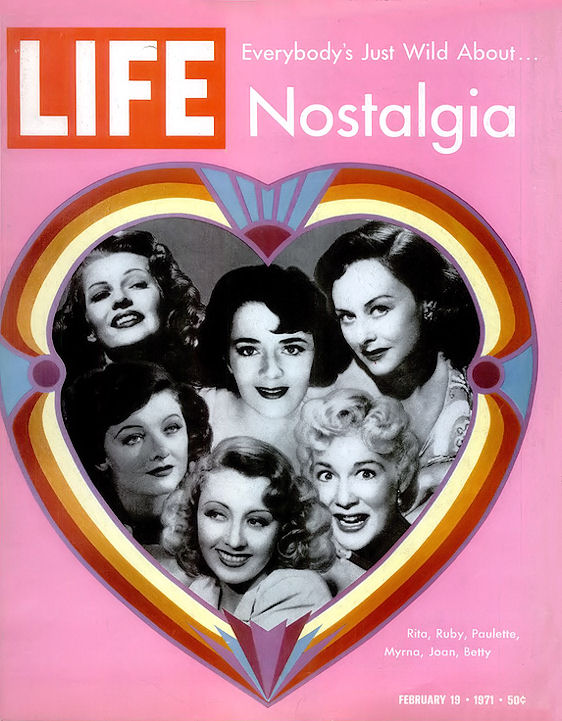 The following two production photos of Betty Hutton were taken during the filming of The Perils Of Pauline, 1947.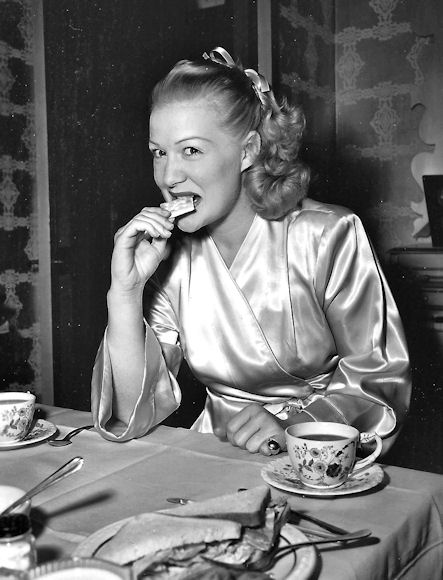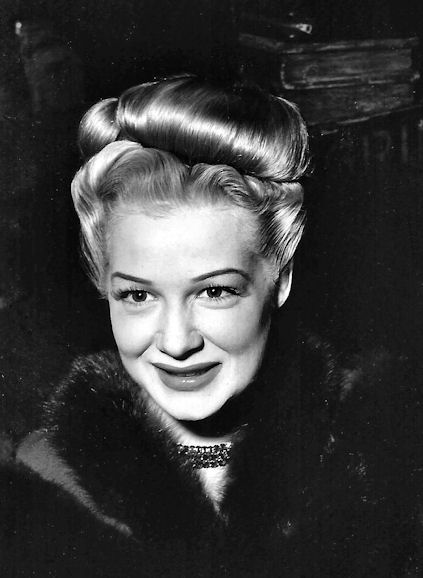 Two really nice snapshots of Betty, taken backstage at the studio between filming of scenes.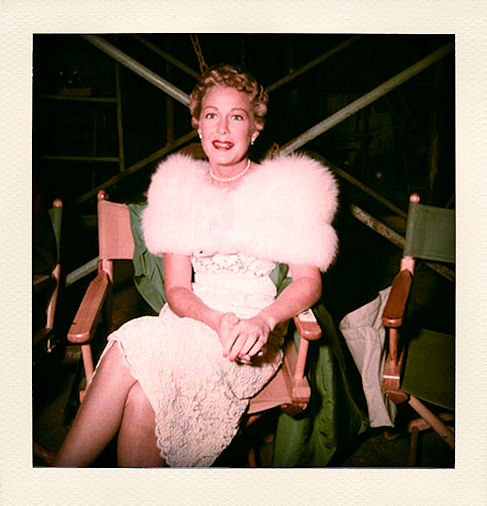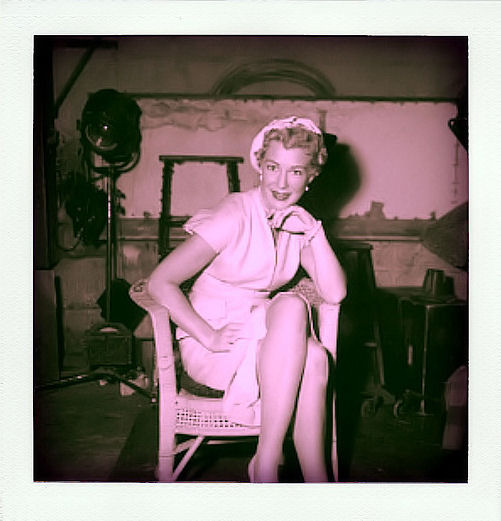 Betty Hutton seen here in a nice 1977 photo taken during an interview at the Hollywood Hills home of the Executor of her Estate, Carl Bruno.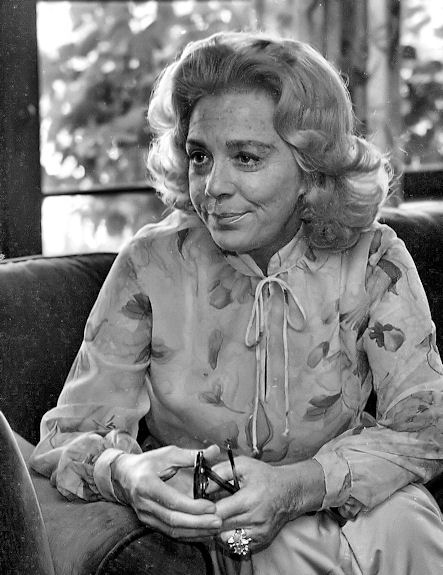 The first time we have seen this beautiful Betty Hutton photo in its original and brilliant color! Having the original negative is a good thing... Betty gets a manicure, location and date unknown, but probably early 1950s.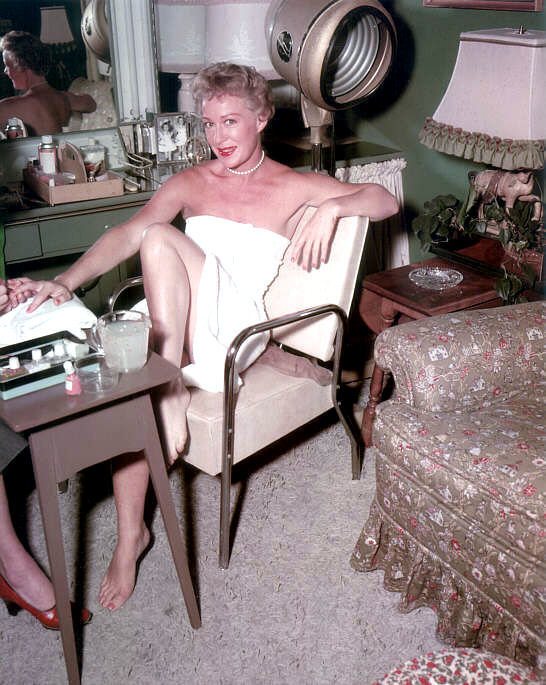 Private Screenings: Betty Hutton

In this landmark interview from 2000, Betty talked with TCM network host, Robert Osborne, about the best and worst moments of her career, including her experiences on the set of Annie Get Your Gun, and the personal off-camera troubles that led her to leave the limelight.
Betty candidly discussed her failed marriages, her children and her choice to live in seclusion for 25 years. She also spoke of the deep relationship she developed with Father Maguire at the Rhode Island rectory and the personal discoveries she made with his guidance.
This Private Screenings interview marked Betty's first television appearance in 20 years. Of all the Private Screenings interviews that Robert Osborne did over the years, Betty's interview was reportedly his favorite due to her complete honesty and her willingness to be totally transparent!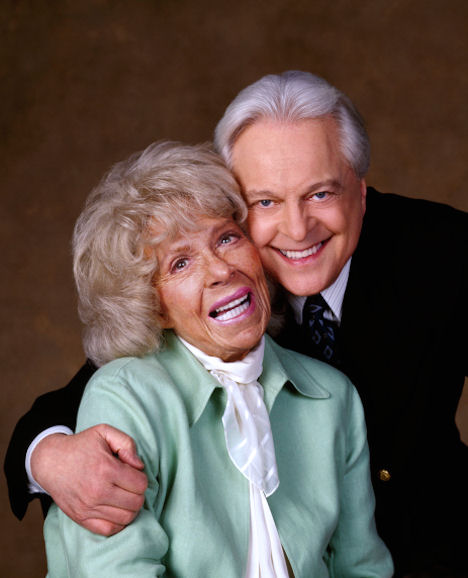 Robert speaks on Betty's book, Backstage You Can Have, after the Nov. 4, 2009 showing of "The Fleet's In" on TCM.
Beautiful screen shots of Betty Hutton from The Greatest Show On Earth, 1952. The movie won the Best Picture Oscar for that year, the only Best Picture Oscar ever for Cecil B. DeMille!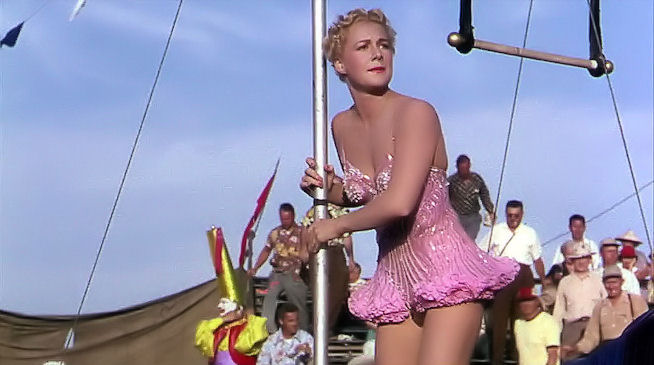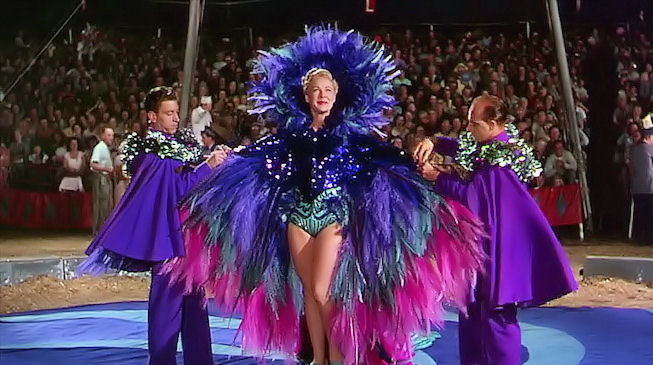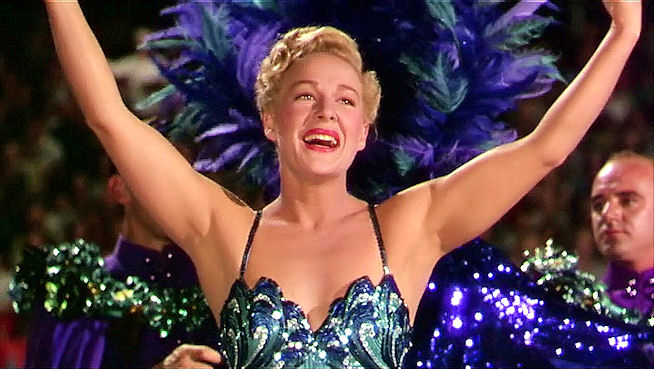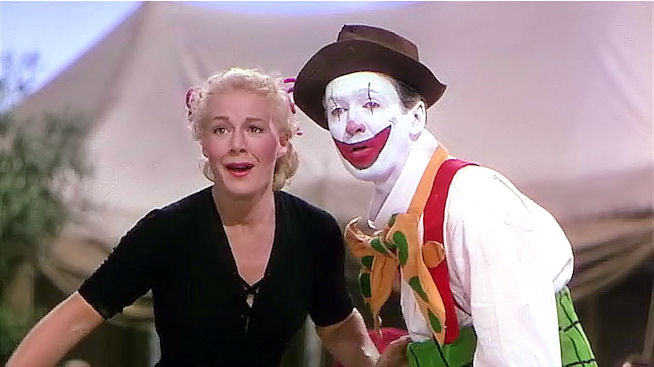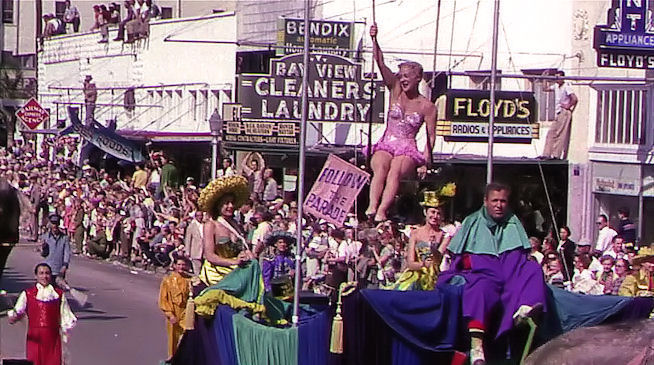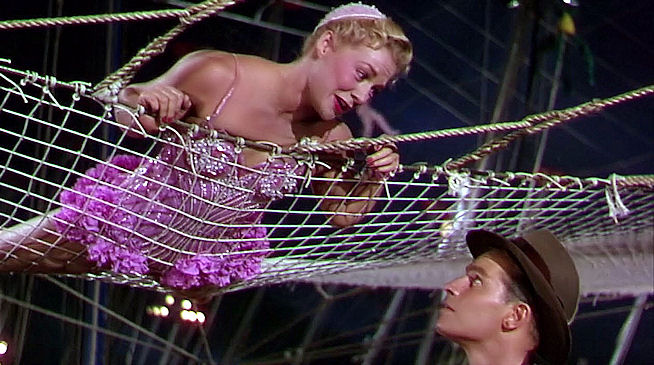 We have managed to put together this small collection of candid Betty Hutton photos. These are about as candid as any photo can get of someone with the camera savvy of Betty! Although they are both informal and impromptu, it is somehow difficult to believe that someone as professional as Betty could ever really have a photo taken without their knowledge! Enjoy...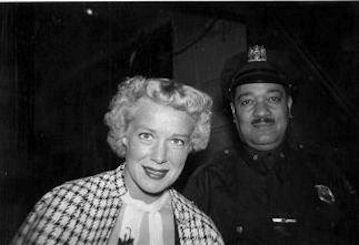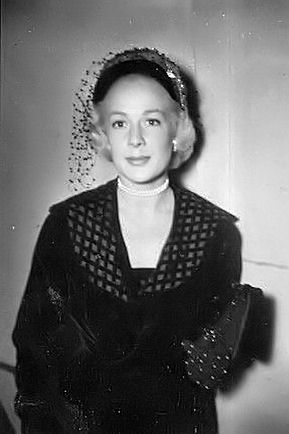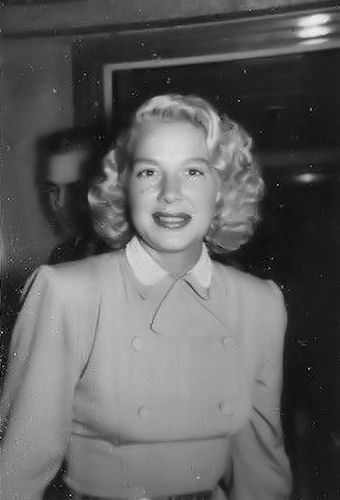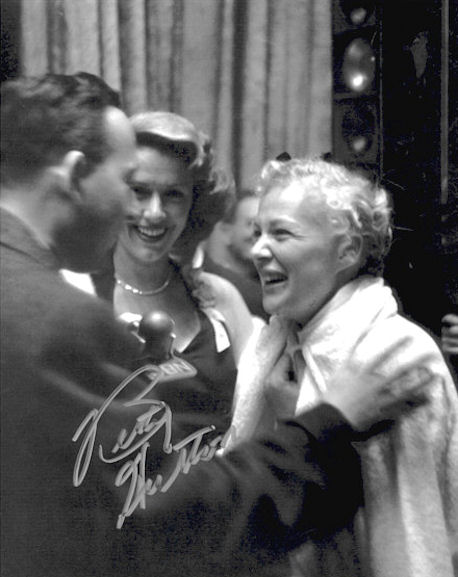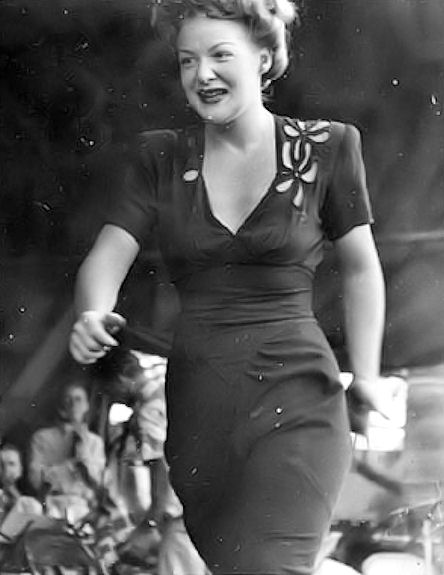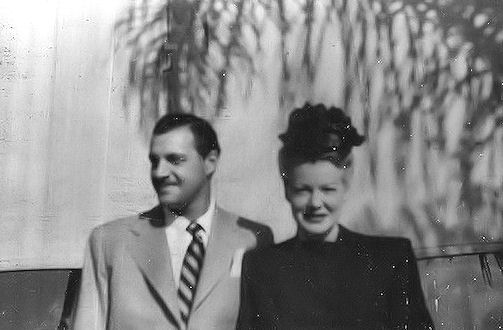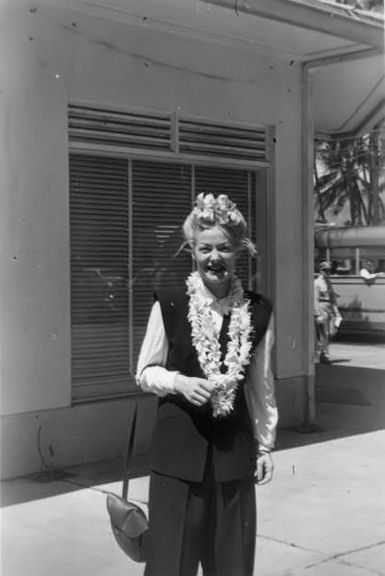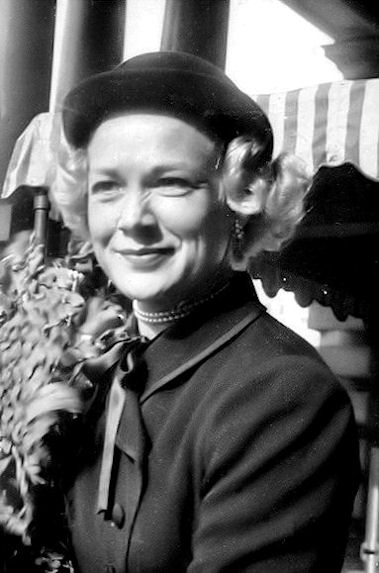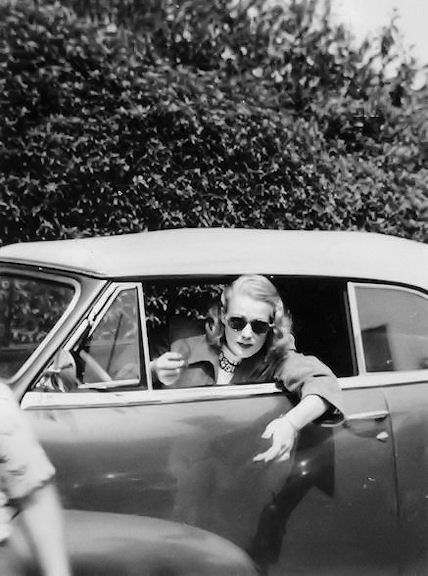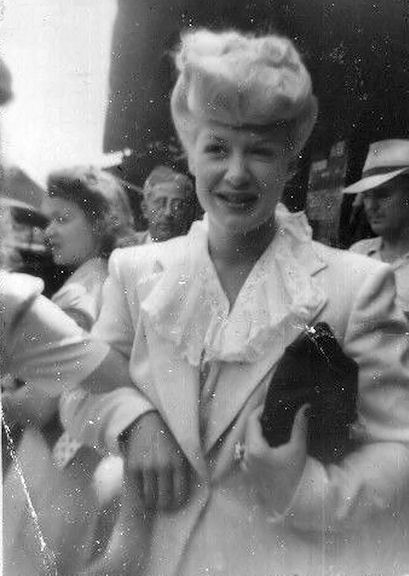 On July 14, 2002, Paramount celebrated their 90th Anniversary at the studio in Hollywood. Betty Hutton was invited, but declined that invitation. A few weeks later, friend and mentor, A. C. Lyles sent Betty this touching note and photo of the flower arrangement that Betty sent to the studio for their festivities. The note reads as follows:

August 1, 2002

Dear Betty -

I've called you several times - but no answer. I talked to Carl and told him how much we missed you at our 90th. Your flowers were beautiful. I had them at the front of the commissary so everyone at the studio could see and enjoy. I had the enclosed picture made so you can see, too. I've been out of town - I'll try to reach you again tomorrow - and tell you how many of your friends asked about you at the party. Chuck Heston sends his warmest regards - and said lovely words about you. - Betty, you would have been Queen of the Evening! I missed you most of all! -

Much love - xxx - A.C.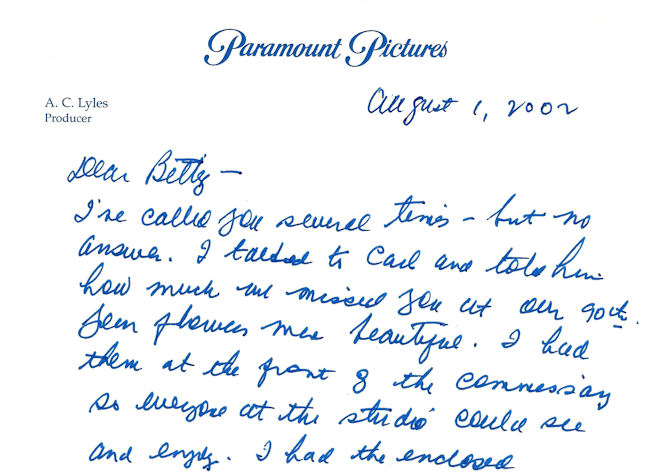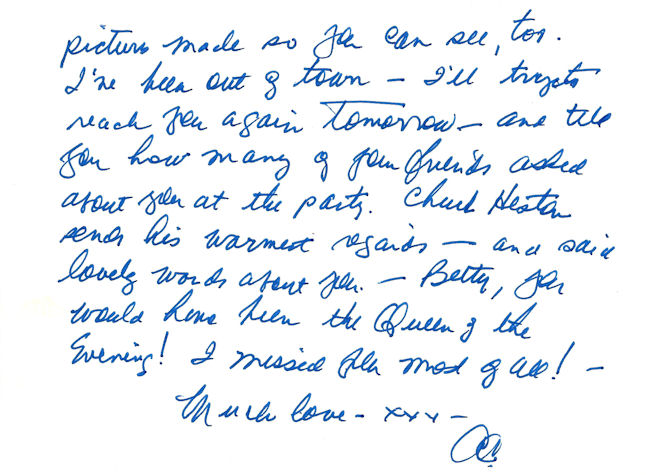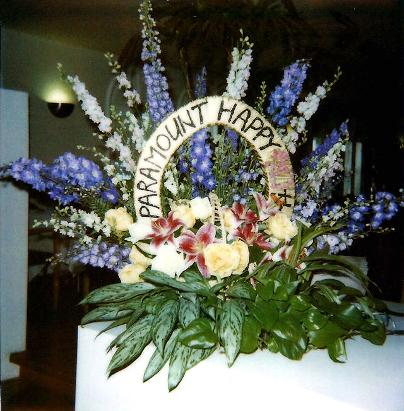 we always manage a good chuckle when we see this photo taken during the filming of an intimate kitchen table scene being "spied" upon by voyeuristic director, Preston Sturges and his film crew peeking out from behind a disappearing wall panel. Welcome to the sometimes not so magical magic of Hollywood film making! Photo of Betty Hutton, along with Diana Lynn, Eddie Bracken, and William Demarest in the 1944 Paramount movie, The Miracle Of Morgan's Creek. Director Sturges is at the far right in the wall opening.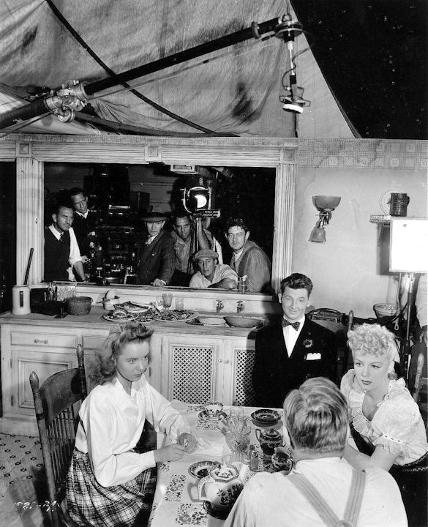 Wonderful photo of a youthful Betty Hutton from her 1939 appearance in the "Old Man Moses" Vitaphone short film with Vincent Lopez and his Orchestra. Betty got her first big break as girl singer with the Lopez Orchestra. Betty was 18 years of age in 1939! The complete short film shows directly below the photo...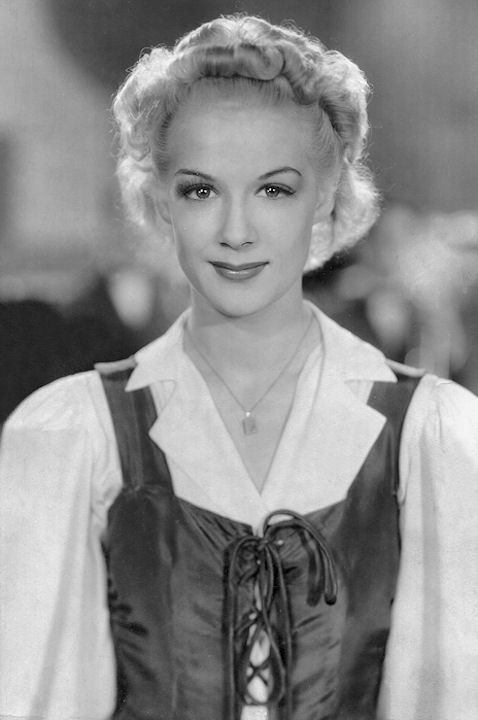 Betty Hutton at 18 years of age, in 1939.
Yes, here is a photograph of Betty Hutton and her sister Marion from the 1920s at Park Lake in Bath, Michigan. For those of you familiar with the story, Betty's mother thought that the two girls would benefit from some time in the country. That's when Mother Mable rented a cottage at Park Lake. Shown here are many of the friends the two girls made while living at the lake and going to school there. For more information, you might enjoy reading Chapter 2 of Betty's autobiography, "Backstage You Can Have: My Own Story". Marion Hutton is top row, second from left. Betty is to the right of Marion! Betty wrote "you" on Marion's picture and a difficult to see "me" on her own...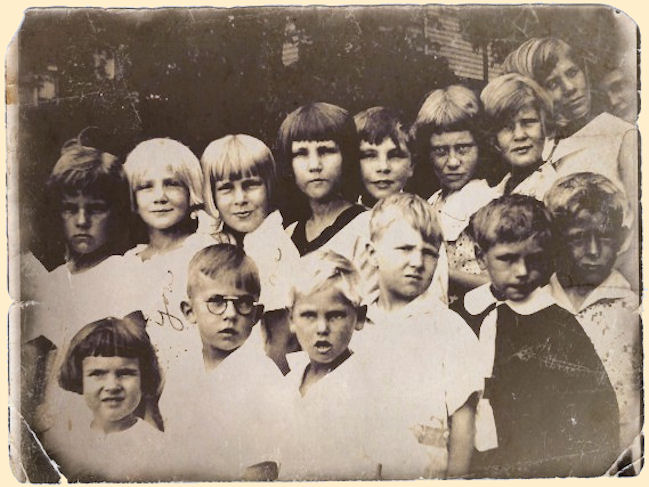 H
ere's a bit of fun! It's something that we are calling,
Betty's "Mugshots"
. So far we have 12 of them. If anyone has any more from the series, please let us know! Check them out
here
...
(As of 9/6/2017, we now have 13
!
)