the official website of the
Betty Hutton Estate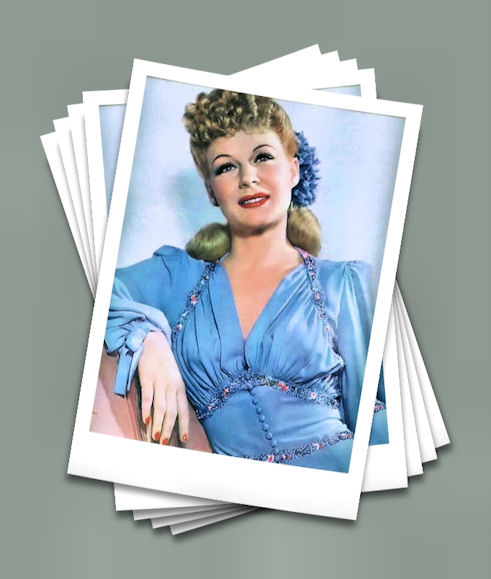 This is the web destination authorized and maintained by Miss Hutton's estate. It is the site where you can find some very unique items pertaining to Betty and her career. It is also the site where individuals, organizations, and businesses can make inquiries into the use of Miss Hutton's name and/or likeness for special projects and in advertising. For instance, her estate is the place where you will need to secure final permission to use her songs in movie and ad projects after having checked first with the applicable record company for song availability.
Please direct all E-mail inquiries to:
BettyHuttonEstate@dc.rr.com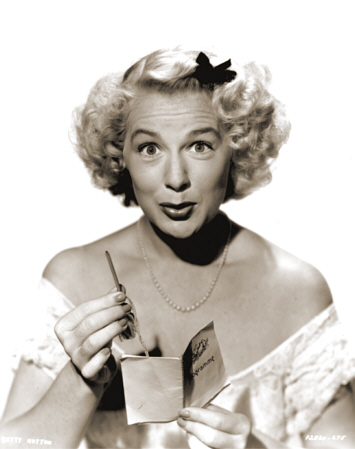 This site was first published to the internet on March 1, 2010. We wanted the site up and ready on Betty's birthday, Feb. 26, but we were unable to meet that symbolic deadline. As time goes on, we will be adding much more information about the woman, her life, and her career, so you will want to check back often. In addition, if anyone has anything unique pertaining to Betty and her career that you would personally like to share with our viewers, please E-mail us and tell us about it. As always, we always welcome your questions and comments. We hope you enjoy this, the official site, of actress, Betty Hutton!


You can also always send mail to us at our physical mailing address:
The Betty Hutton Estate
P.O. Box 3124 - Palm Springs, CA 92263
A really nice double page Post ceral magazine ad featuring Ann Sothern, Danny Thomas, and Betty Hutton. All three celebrities had television shows running on CBS at the time of this advertisement, late 1950s.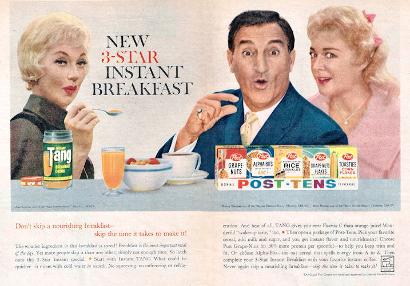 We just received a nice letter in today's mail from a man who lives in Brookville, PA by the name of, Mark Lussky. Mark's father, Louis L. Lussky, served in the Pacific from 1944-45 in the 310th Bombardment Wing (Medium). Mark was nice enough to forward this photo to us that he came across while going through some of his late father's WW2 souvenirs. Mark was curious to discover if one of the beautiful women in the photo surrounded by the admiring servicemen was our very own, Betty Hutton. Unfortunately Mark, none of the women seen in the photo are our Betty. Nevertheless, what a great looking group of people; no wonder we won the war! Now we are left with the question as to the actual identities of the women in the photo who were obviously sent in to entertain the troops. Anyone with any knowledge of their identities, please email us! And thanks to Mark Lussky for thinking of The Betty Hutton Estate!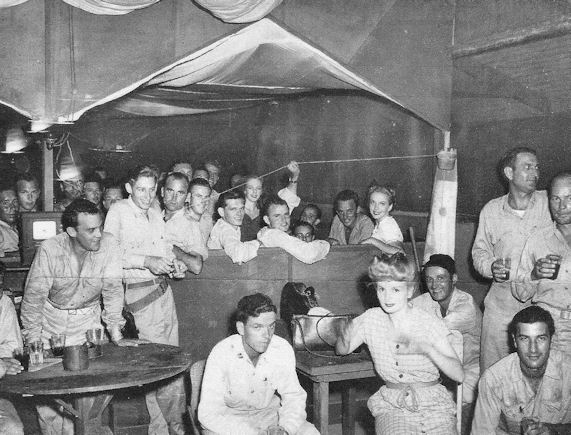 Betty Hutton is seen here in a candid shot, probably shot by a fan, as she was leaving Lucy's El Adobe Cafe in Hollywood, ca: late 1940's. Lucy's is located right across the street from Paramount Studios on Melrose.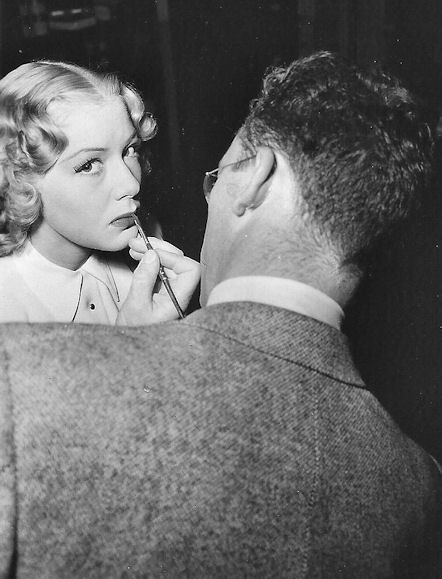 Betty Hutton gets a makeup touch-up while on the set of Cross My Heart, 1945.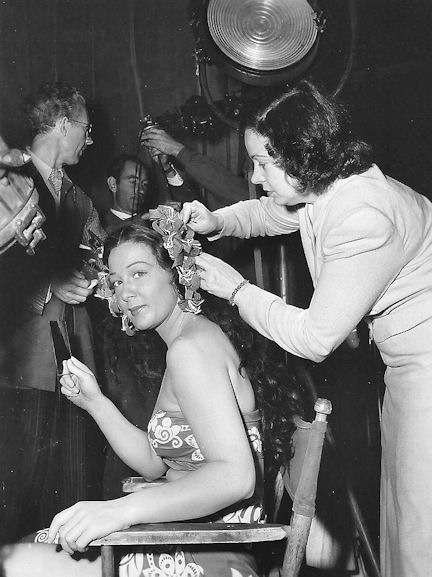 Betty receives an adjustment of the flowers in her hair during the filming of
The Perils of Pauline
, 1947.
Remembering Betty today, in particular, on the occasion of her 94th Birthday. We love and miss you, Dear Betty!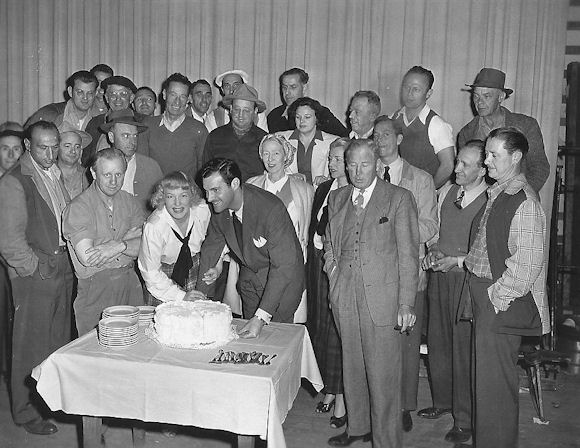 Betty celebrates her 25th birthday on the set of The Perils of Pauline on Feb. 26, 1946, with husband, Ted Briskin, her mother, Mable Hutton, and the members of the crew.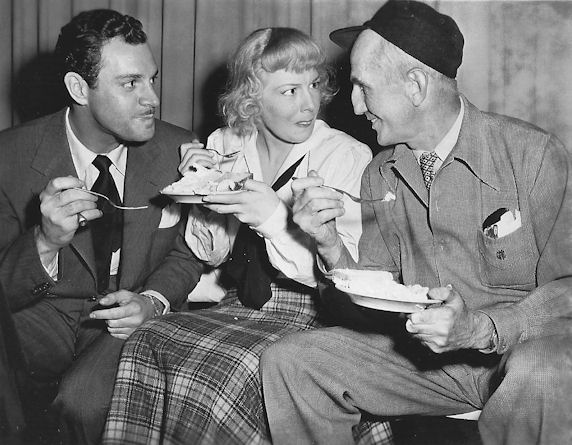 Betty has her cake and eats it too! Celebrating on the set of The Perils of Pauline with husband, Ted Briskin and the film's director, George Marshall.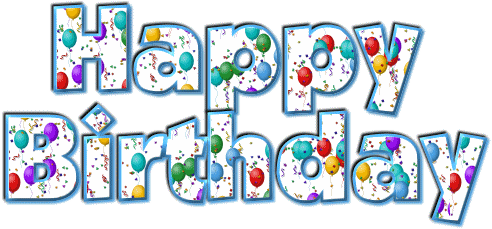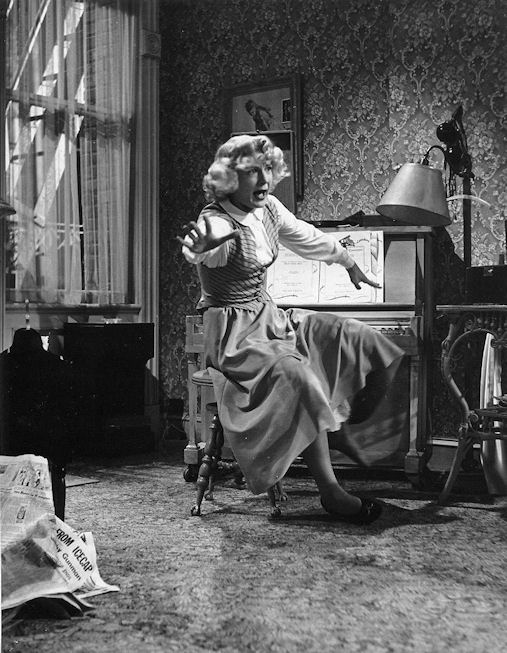 A classic comedy scene from Betty as Yum-Yum Collier in Red, Hot and Blue, 1949.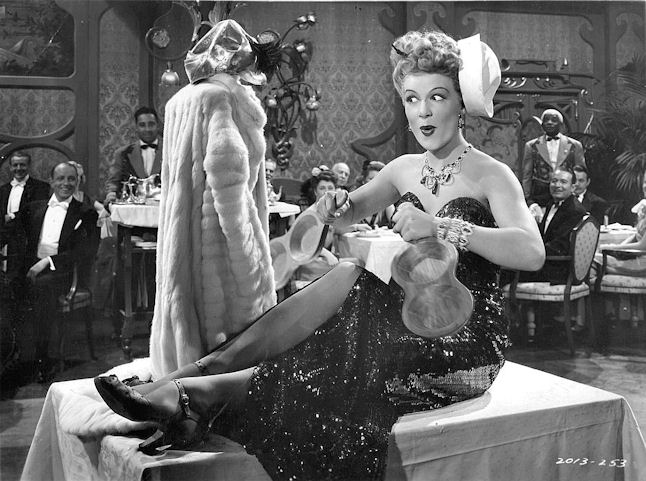 Betty in her famous "Row, Row, Row" number from the 1945 movie, "Incendiary Blonde".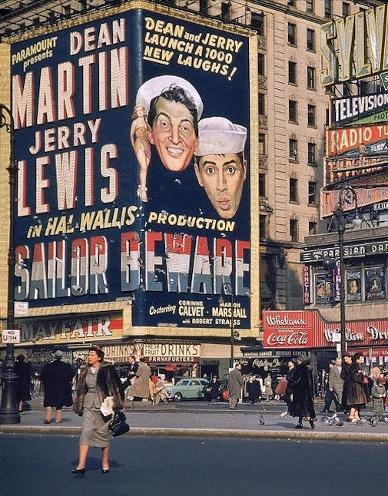 Paramount Theater in New York City sporting a gigantic sign announcing the engagement of the 1952 movie, "Sailor Beware". Betty had an unbilled cameo in the movie as Dean Martin's girlfriend, Hetty Button!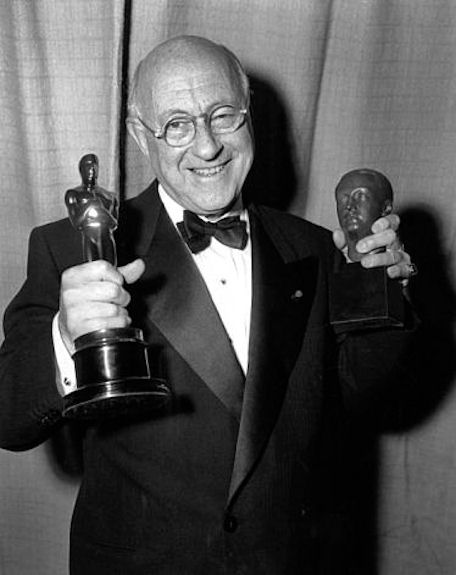 Cecil B. De Mille poses of the camera in Los Angeles on March 19, 1953 at the 25th annual Academy Awards. He holds his Oscar for best picture, "The Greatest Show on Earth," and the Irving G. Thalberg Memorial Award for consistently high production achievement. The 1953 Academy Awards were the very first televised Oscars ceremony.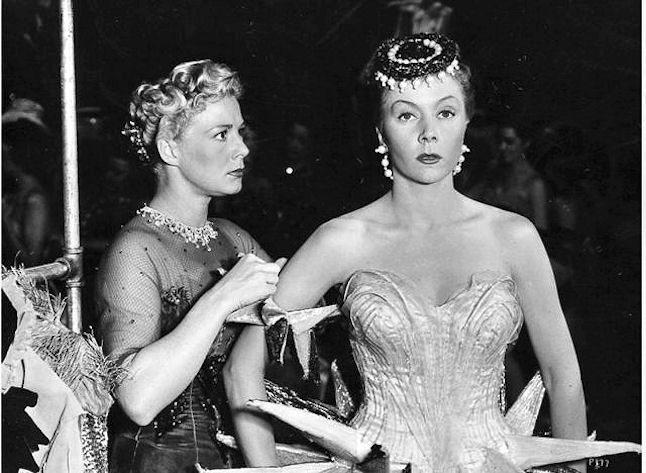 If looks could kill... Betty Hutton and Gloria Grahame seen here together in "The Greatest Show on Earth" (1952)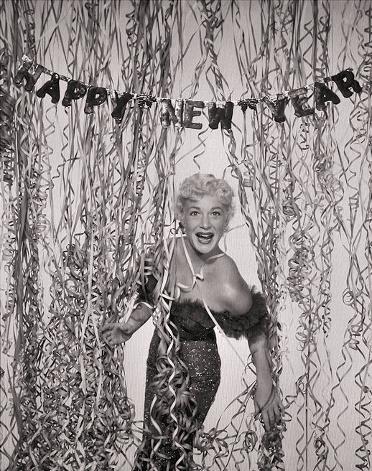 Wishing everyone a healthy, happy, and prosperous 2015!


We recently received a wonderful letter and photos from a woman named Barbara Edwardy in Texas. Barbara's late father-in-law, Bill Edwardy, was a photographer while serving in the military during WW2. In fact, he took numerous photographs of Betty when she visited Kimpo, Korea to entertain the troops in 1952. Barbara was kind enough to share with us some of the photos which were taken by Bill Edwardy while he served as the base photographer during Betty's visit to Korea in 1952. Thanks, Barbara, for the great addition to our collection!

The first two photos show photographer , Bill Edwardy (see red circles), as he photographed Betty while she performed on stage.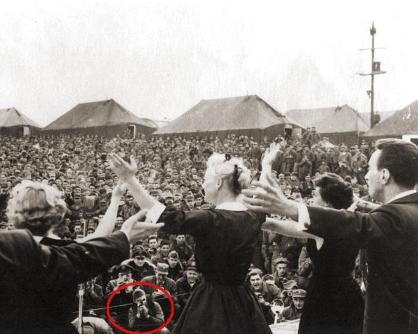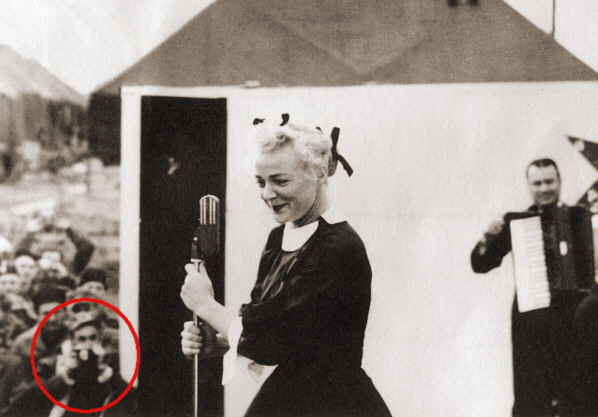 The following 8 photos of Betty were taken by photographer, Bill Edwardy, in Korea in 1952.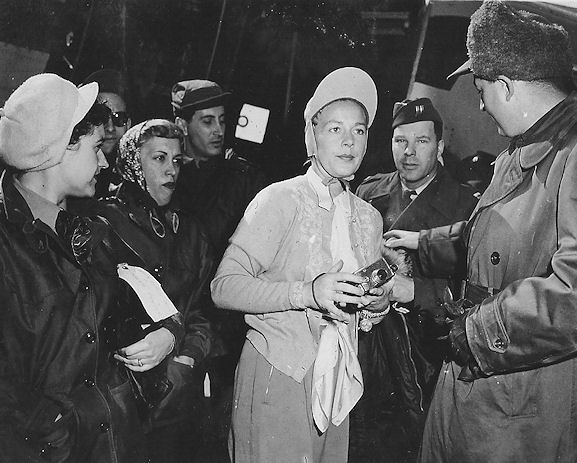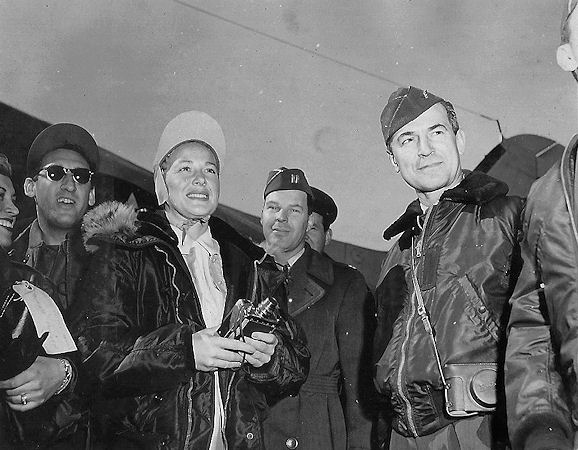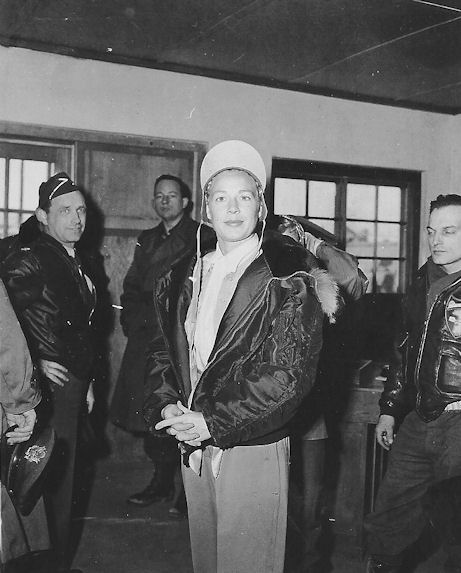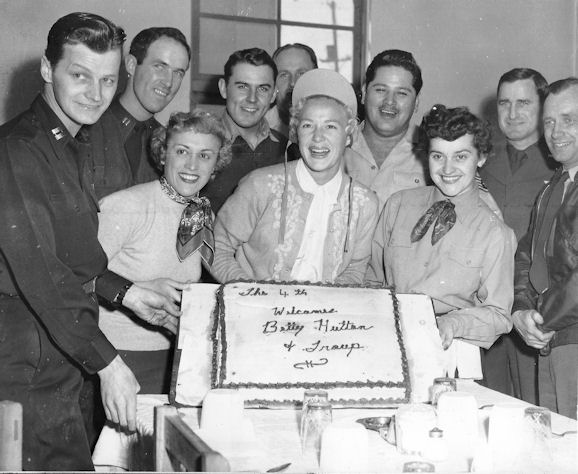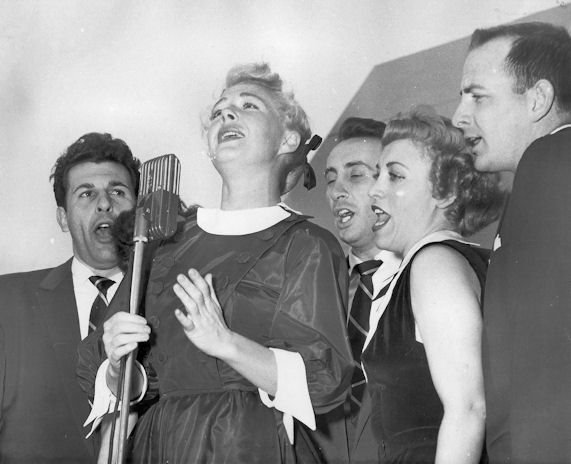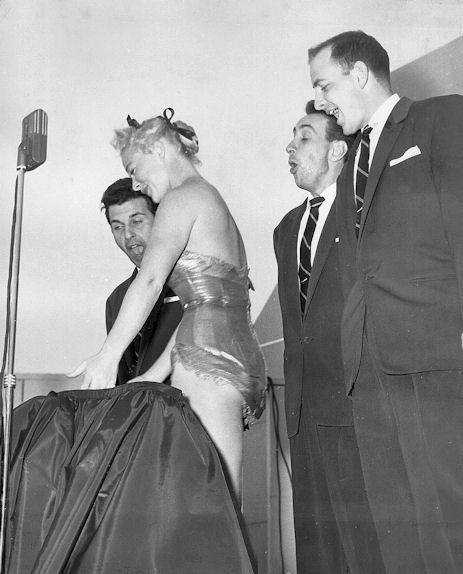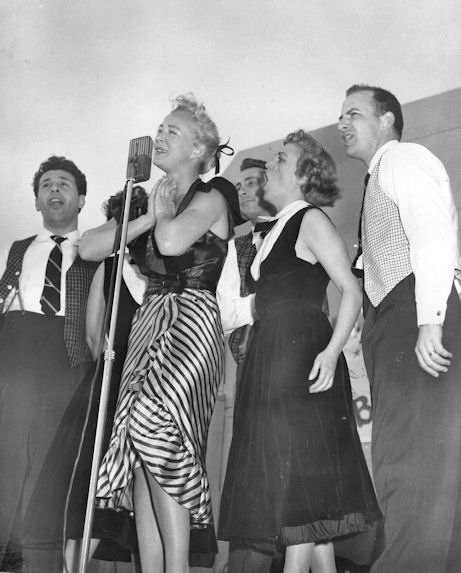 A really fun photo that we happened across... A woman is having a photo taken of her and her little girl feeding the pigeons on the street in New York. While, in the background, we see Betty's name on a theatre marquee. The theatre is the RKO Palace on Broadway at 47th. This was Betty's second Palace show, her All-Star International Revue which opened on October 14, 1953. We can tell it was indeed her second show because Trio Charlivel performed at that show, but not the first, and their name is seen on the marquee along with Betty's name.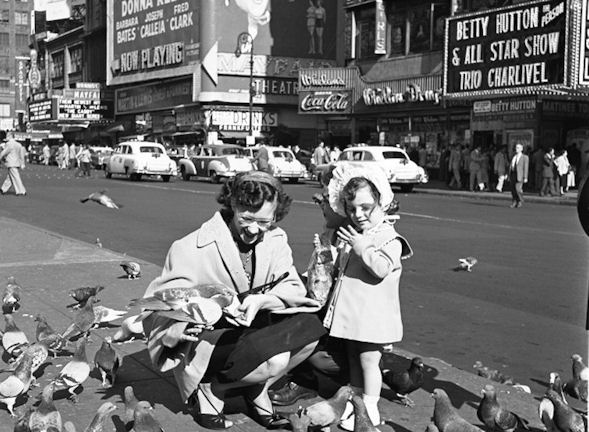 A really fine photo of Betty, taken in 1938 at Billy Rose's Casa Manana in Manhattan. The caption on the Associated Press photo states, New York, Oct. 29 - Flat feet? Fooey, says jitterbug queen! Miss Betty Hutton, 17, of Detroit, who's been singing and doing jitterbug dances every night since last January in a Manhattan nightclub, took exception last night to statements of Dr. Edward Ward of Saginaw, Mich., that the modern dance hysteria will pay its adherents in broken down feet and thick ankles.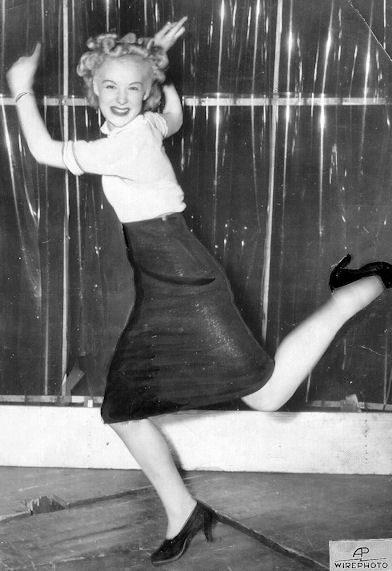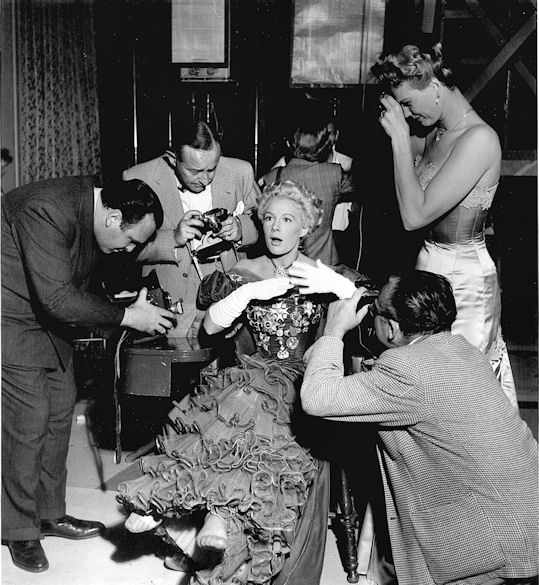 Betty Hutton causes a near riot at the London Palladium in September of 1949, much to the delight of the Skyrockets dance orchestra and their conductor, Woolf Phillips!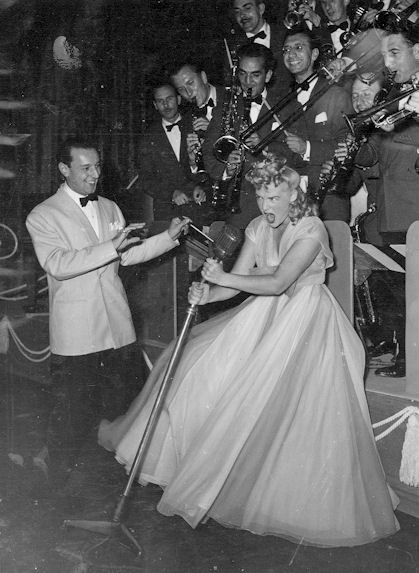 In the photo below, Betty is seen relaxing in her dressing room at Paramount during a lull in filming of the movie, The Stork Club. The photo was taken on May 23, 1945. NOTE: The book she is reading is entitled, Picasso.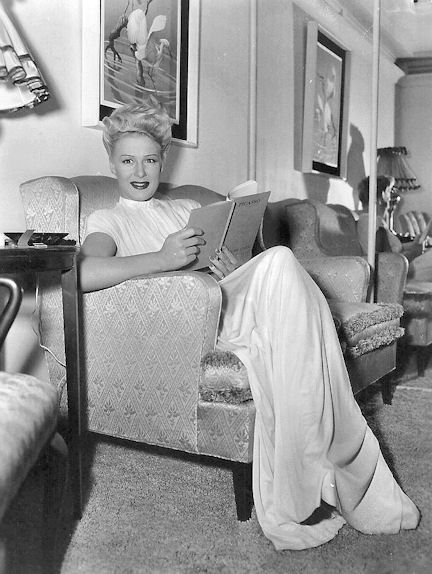 It can probably be said that Betty Hutton was truly discovered at Billy Rose's Casa Manana in Manhattan. Lopez's orchestra was playing there in 1938, and Betty Hutton was Vincent Lopez's girl singer at that time. Betty "accidently" brought the house down when performing as a fill-in for an act that was a no-show. Billy Rose agreed to put Betty on the stage by herself that evening, and all evenings after that. That was the beginning of Betty's notoriety in New York City. Her appearances at the Casa Manana led directly to a part in the Broadway show, Panama Hattie!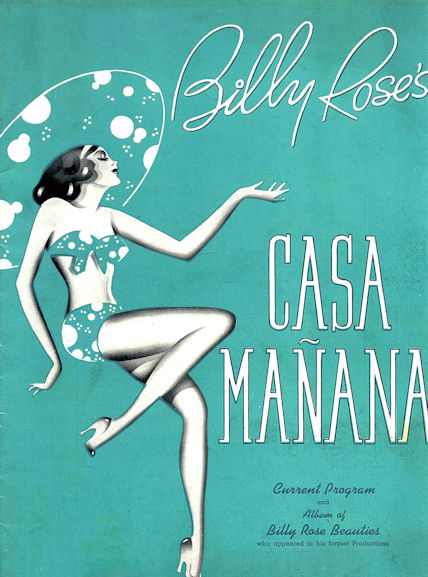 Program cover from Billy Rose's Casa Manana - 1938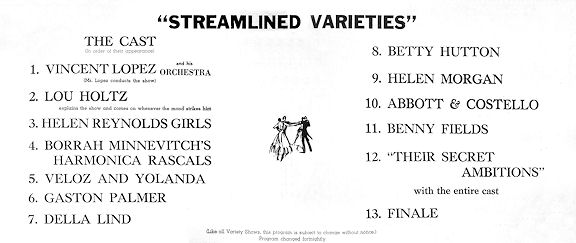 From within the pages of the Casa Manana program - showing Betty Hutton as one of the headliner preformers.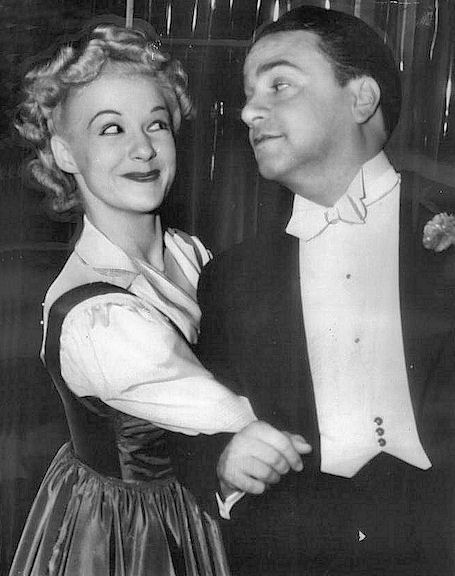 Betty Hutton and Vincent Lopez at Billy Rose's Casa Manana.




A really fine color photo showing Betty Hutton arriving at the Chicago Theater for the Chicago, IL premiere of Somebody Loves Me. Betty arrived in Chicago from the West Coast on Thursday, Sept. 4, 1952. The next day, on Friday, Sept. 5, 1952, a parade was held thru the downtown loop, and the entourage arrived at the theater for the premiere showing. For more information, see the Chicago newspaper article below, dated Sept. 6, 1952.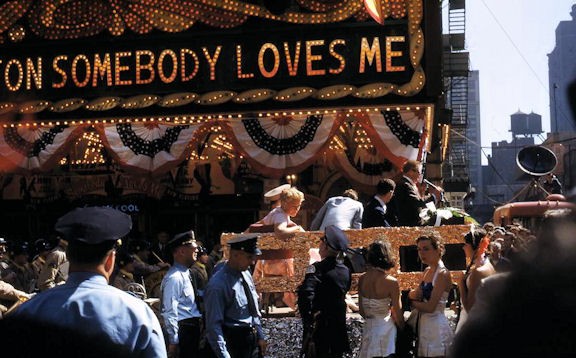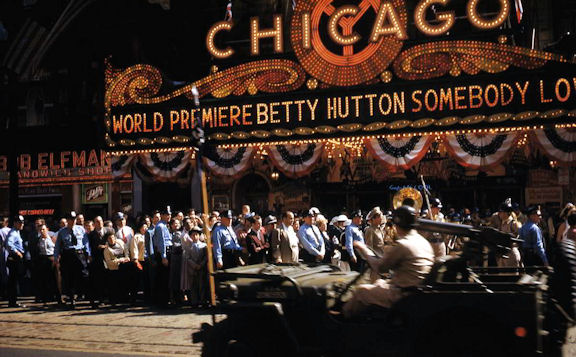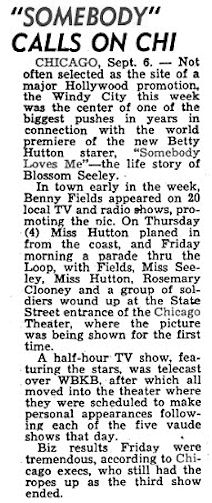 Really fun new Travelodge UK commercial using Betty's "It's Oh So Quiet" song! We just got word from Sony Music today that they are using the song in their new ad campaign. Thanks, Betty!


We can't even describe the fun we had watching Betty this evening in her very first movie role, The Fleet's In on TCM. If you watched it, we hope you enjoyed it as much as we did!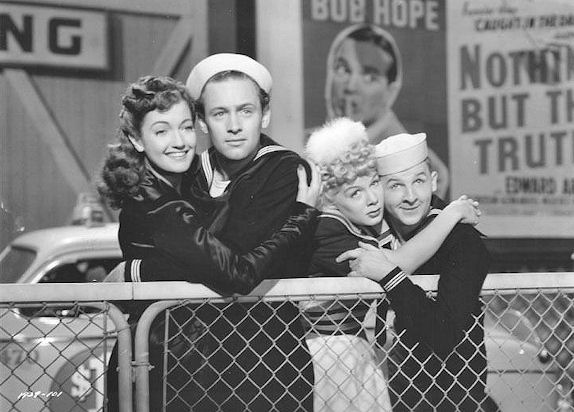 Dorothy Lamour, William Holden, Betty Hutton, and Eddie Bracken in a publicity photo for The Fleet's In, 1942. The Fleet's In marked Betty Hutton's feature film debut.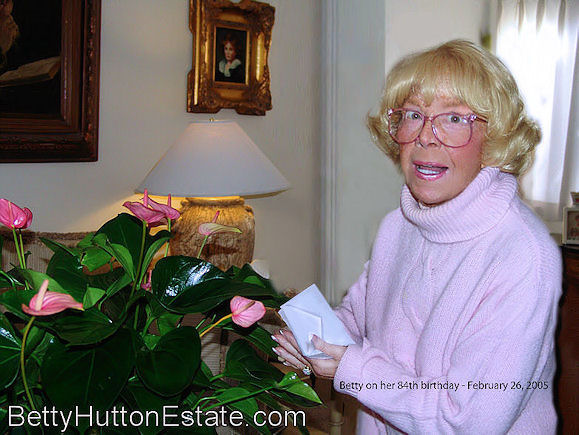 Remembering Betty today, more than most - today is the 93rd anniversary of her birth. (Betty is seen in the photo above on the occasion of her 84th birthday in 2005.)

We truly miss you, Betty!



The Betty Hutton Estate has been gifted with a very special scrapbook that was compiled for Betty following her USO camp tour to Japan and Korea in February and March of 1952. The book was compiled by artist, Ted Sally. The scrapbook includes certificates, letters, photos, and additional memorabilia, all in 27 jam-packed pages. The book is a whopping two feet high, by 20 inches wide (see below). There are several photos missing, but not enough to be detrimental to the entire book. This is in relatively good condition for being 60+ years old.
If you would like to see all the pages from the scrapbook, click here.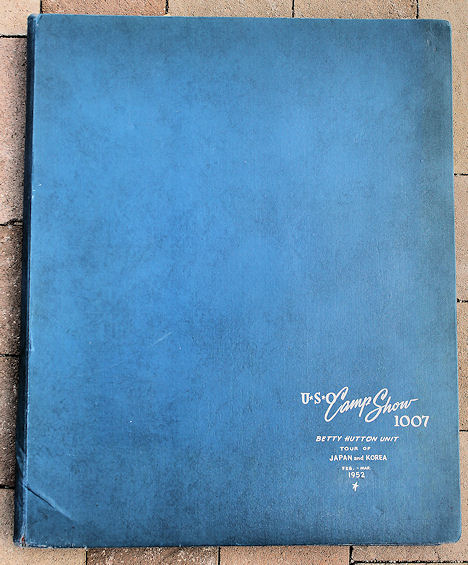 Watch the wonderful and talented Broadway actress Audra McDonald sing Betty's song, "Can't Stop Talkin' About Him" for the President and Mrs. Obama at the White House. We have had the pleasure to see her perform several times in New York and are so happy that she is taking on one of Betty's novelty tunes. She does one extraordinary job in our opinion!!




We wish everyone a wonderful Holiday Season!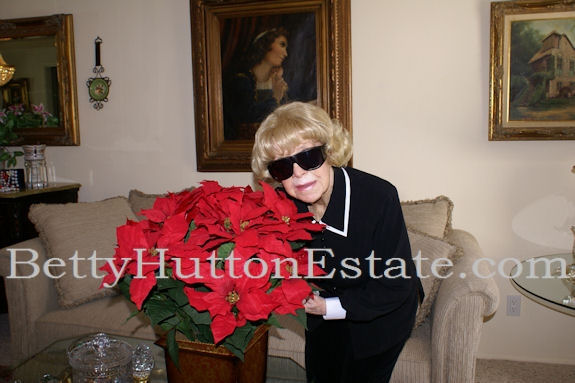 Betty poses with her beautiful Christmas Poinsettia plant, December 2006.
Today, the Betty Hutton Estate received one of the finest gifts that anyone could send us! Two boxes, (probably 75 lbs.), of Betty's personal papers, pictures, writings, and other materials pertaining to her career. This gift was made to the estate by a woman who had been a very dear friend and teacher to Betty during her days in Rhode Island. The woman, Sister Sheila Megley, was a professor at Salve Regina who was instrumental in assisting Betty in the early stages of putting together her book, "Backstage You Can Have". Although the book was never finished by Betty and Sister, they made some very good progress in organizing some of Betty's personal materials and cataloging many of her thoughts. For all these years, Sister has been caring for these boxes of materials that Betty left with her. Sister took us completely by surprise by informing us that she was sending the materials with a simple e-mail a few days before the packages actually arrived here in Palm Springs. We can not thank Sister enough, nor can we relay exactly how important it is for us to have this priceless collection.

THANK YOU, SISTER SHEILA!!
We are extremely sad to report the passing of Betty's dear friend and mentor, Mr. A. C. Lyles from Paramount Studios. A. C. worked at Paramount for three-quarters of a century, rising from mail boy to producer. Most recently he acted as goodwill ambassador at the studio. Mr. Lyles died at home in Los Angeles on Sept. 27, 2013. He was 95.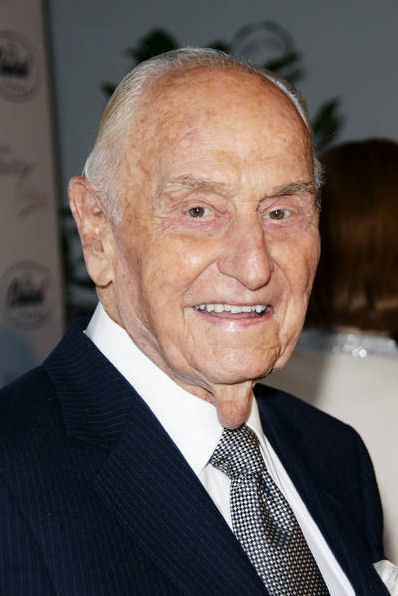 February 26, 2013
Betty's Star Ceremony
Betty's Star Installation Ceremony on the Palm Springs Walk of Stars took place at 11:00am on February 26, 2013. The star dedication was coordinated with Betty's 92nd birthday. It started out as a cool morning, but temperatures quickly climbed into the mid 70s under a bright Southern California sun. Everyone in attendance was able to
fully enjoy the ceremony

as they relaxed in the warm sun on the sidewalk where the star was unveiled. For additional pictures from the event, please see the Betty Star Ceremony page.
It was indeed a special day for all who attended!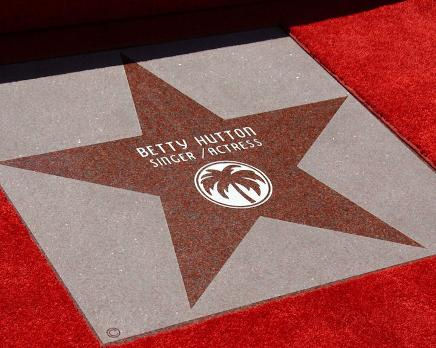 Betty's new star on the Palm Springs Walk of Stars on Palm Canyon Dr. in Downtown Palm Springs at is looked immediately after being unveiled on Monday, February 26, 2013.



February 25, 2013
Betty's Star Being Installed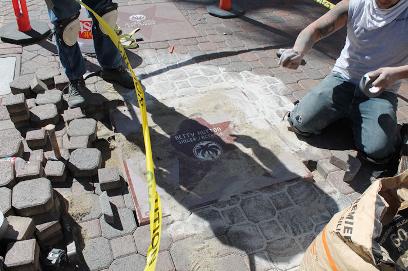 A first look at Betty's new star on the Palm Springs Walk of Stars on Palm Canyon Dr. in Downtown Palm Springs as it is being installed on the sidewalk on Monday, February 25, 2013.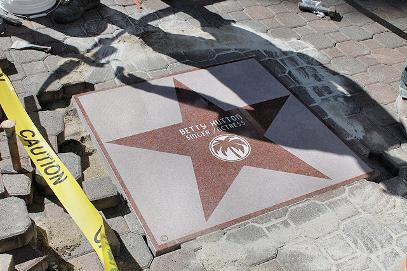 A closer look at Betty's new star on the Palm Springs Walk of Stars on Palm Canyon Dr. in Downtown Palm Springs as it is being installed.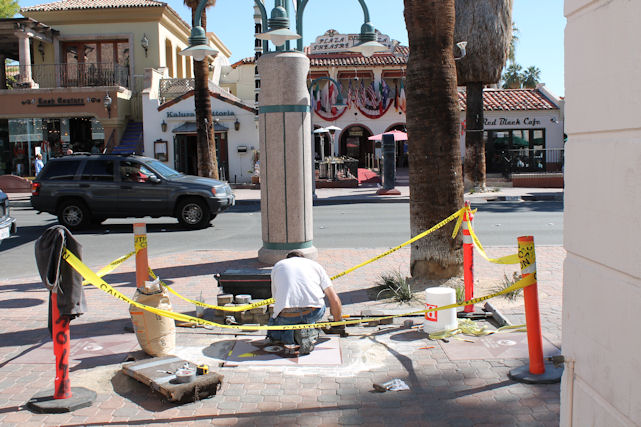 February 20, 2013
Betty's Star Ceremony

We want to update all of you on the status of the Betty Star Project on the Palm Springs Walk of Stars. Thankfully we managed to raise the necessary $10,000 for the star installation! A sincere thank you to those people who assisted us in reaching our goal! Everything is now definite, and the installation ceremony will happen on Betty's Birthday, February 26, 2013. The event will start promptly at 11:00am in the morning. We are anticipating a large turnout for Betty's Star, so if you plan on coming, please arrive early.

So far, we have scheduled MGM, Academy Award winning child actress, Miss Margaret O'Brien to appear.
Arguably,
Miss Margaret O'Brien's

most memorable role was as "Tootie" in Meet Me in St. Louis (1944), opposite Judy Garland. Miss O'Brien had, by this time, added singing and dancing to her achievements and was rewarded with an Academy Juvenile Award the following year as the "outstanding child actress of 1944."

Also speaking will be Judy Rector, Betty's dear friend from Newport, RI. Mrs. Rector will fly in with her husband Peter to speak and help us celebrate.
In addition, Charlene Helm, Betty's long-time care giver from here in Palm Springs will address the audience.

PLEASE: Anyone who takes photos or video during the ceremony is invited to submit these to us for posting on this site. We would really appreciate your assistance. Send photos along with your name, etc. to: BettyHuttonEstate@dc.rr.com


Thank you...


We will post photos on a special Star Ceremony page here on BettyHuttonEstate.com after the event!
The star is located directly across the street from the historic Plaza Theater on Palm Canyon Dr. Betty's star is located next to that of Loretta Young.




Have a look at the new Charter Communications commercial that was recently completed using a clip of Betty Hutton from Annie Get Your Gun. We think it is a fun ad because it is along the lines of Betty's sense of humor!


Starting today, Betty's autobiography will be available as an E-Book on Amazon.com
Yes, we have finally joined the digital book age by releasing Betty's autobiography as a Kindle E-book! Starting today the digital form of Backstage You Can Have: My Own Story is available on Amazon for $12.99. This is a big savings from the print edition. The E-book is exactly the same as the print edition; including the same 70 photos.
We have been asked many times in the past if we would be releasing the book in digital form at some point. We have been a bit reluctant, but hey, we too have a Kindle, a Nook, and an iPad in our own home, and are guessing that many other people are fast making the digital transition. I admit, I still prefer to read a book on paper pages, but am quite sure that "habit" can be changed with a bit of practice! Press the gold Amazon.com above - it will take you directly to the Backstage You Can Have Kindle page at Amazon... You can also download a free Kindle app from Amazon for use on your computer (PC or Mac) or tablet, making it totally unnecessary to own a Kindle and still able to access and read thousands and thousands of E-books!
February was time once again to celebrate Betty's Birthday! Watch our NEW video (below) made specifically in honor of Betty's Birthday. Betty sang us her now famous opening number at home in Palm Springs on February 26, 2005 (the day of her actual Birthday). That is followed by Betty performing the same song in front of an audience on "Jukebox Saturday Night", 1983.
Hope you all enjoy...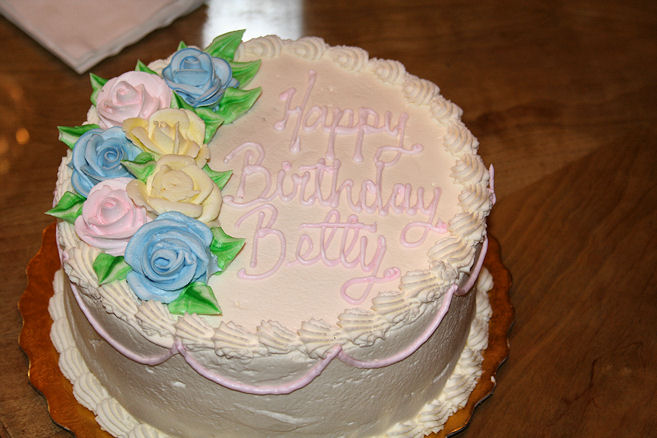 Cake we had made for Betty on her 84th Birthday, February 26, 2005.
Watch our Betty Hutton tribute video!
View this amateur video footage taken during the Greatest Show On Earth circus parade in Sarasota, Florida in 1952. Shots of Betty on a float are toward the end. The parade was filmed and used in the movie, The Greatest Show On Earth.


We have had wonderful response from viewers to Betty's WW2 photos! Remember to check out our Betty At War gallery (here).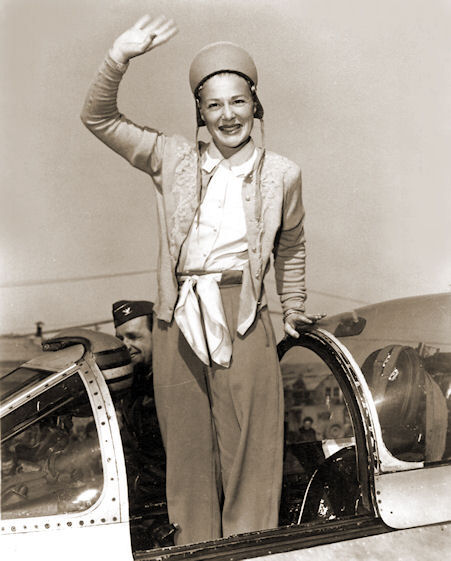 Watch our video of rare Betty Hutton performance footage!



This is a video we made a few years back with some rare footage that was sent to us over the years by various Hutton fans who shot the actual clips as Betty was performing! Some of the video is from the Palace Theatre in NYC. There is also footage of Betty with then husband, Alan Livingston, in Las Vegas. We believe the video with her husband to be the evening of November 9, 1954 when she announced her "retirement" from show business at the Desert Inn in Las Vegas. The look on her face is all telling...

W
e hope you all had the opportunity to tune in to the BBC2 radio documentary of Betty Hutton yesterday! It was a great show - as we have come to expect from the BBC. If you didn't get the chance to hear the program, it is available for listening for the next 6 days ONLY. Follow this link, click here, which will take you directly to the program on the BBC2 Radio website! Cheers - and why not enjoy a good cuppa tea while you listen in to some wonderful British Radio...

Feb. 26th, 2012 would have been Betty's 91st Birthday!
Listen to Betty speak on the occasion of her 84th Birthday in 2005! Betty talks casually with friends Carl Bruno and Mike Mayer.

(NOTE: Betty was in an assisted living facility at the time due to a fall in which she broke her arm. She makes reference to a man from the front desk wanting cake - the man is from the main office in the care facility.)
NEW: January 1, 2011
Impromptu:
Chats With Betty Hutton
CD containing 68 minutes of previously unpublished chats with Betty
(see below for details)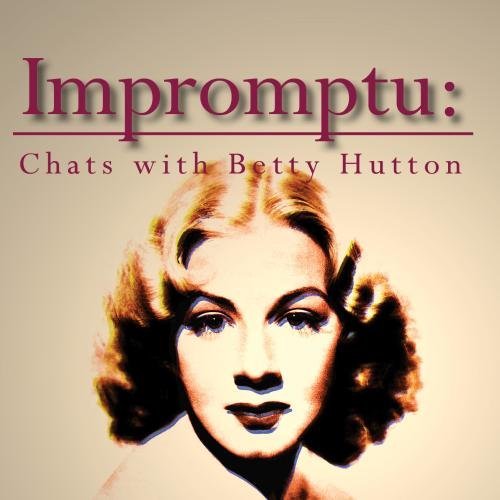 Impromptu: Chats With Betty Hutton is available at a discounted price for BettyHuttonEstate.com visitors from Createspace; an Amazon.com Company.
Click here to go to the our Createspace electronic store. When checking out, apply the following discount code to the discount box - 3WEXFNKX
It's just that simple! Your CD will be discounted by 20% - that's Impromptu: Chats With Betty Hutton for $28, the least expensive price you will find the CD at, ANYWHERE!
CD is also available on Amazon.com at the regular retail price of $34.99
List Price: $34.99
68 minutes, 7 tracks
Betty Hutton Estate
During the last several years of her life, actress Betty Hutton loved to sit in a rocking chair on the back porch of her Palm Springs, California home. There she would chat away the hours with friend Carl Bruno. Often times these talks would lead to revelations about her life and career. Many of these impromptu talks were taped at Betty's insistence so that a permanent record was able to be made of how she saw things during her days in the Hollywood limelight.

Here then are segments from these previously unreleased talks where Betty Hutton gets to speak her mind on a variety of subjects in a candid and often revealing way. Although these audio segments have been professionally enhanced, please keep in mind, they were originally recorded on portable audio equipment. We believe you will agree, these audio segments are invaluable in understanding the true woman behind the legendary Hollywood screen name of, Betty Hutton.

1. All I Want For Christmas... Recorded on
December 23, 2004 - 6:02
2. What A Great Film... Recorded on Dec. 28, 2004-
8:17
3. A Miracle... Recorded on January 11, 2005 - 10:06
4. Stars, Stars, Stars... Recorded on January 29, 2005 -
10:18
5. You Are Never Too Old or Too Rich... Recorded on
February 24, 2005 - 10:45
6. Palm Springs Heyday... Recorded on March 8, 2005 -
15:00
7. I Remember... Recorded on April 11, 2006 - 7:47



Betty's Autobiography Is Finally Here!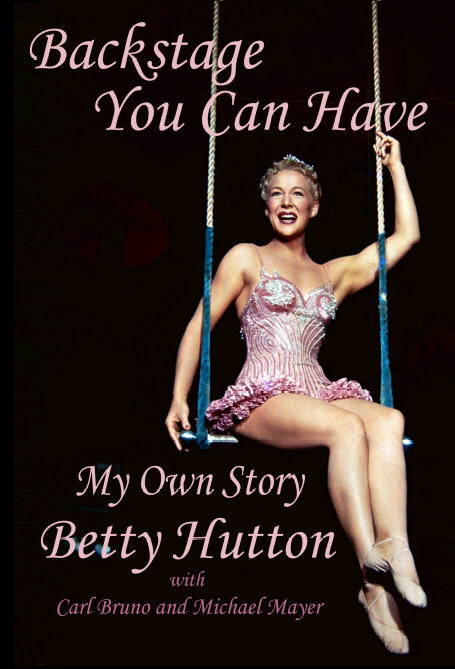 Cover of "Backstage You Can Have: My Own Story" by Betty Hutton


B
etty Hutton was the top
grossing female star at Paramount during much of the 1940s. At the top of her career, she was one of the most celebrated actresses in Hollywood, starring in such movies as "Annie Get Your Gun" and "The Greatest Show On Earth". Without warning, her career and world collapsed virtually overnight. Betty's tumultuous childhood came back to haunt her, and along with it, an addiction to prescription pills that almost ended her life. Betty disappeared from the public eye, until in 1974, when she was discovered living with and caring for priests in a Catholic rectory in Rhode Island. Interest in her and her life returned to the forefront. She began writing this book in 1970, as a means to explain the chain of events
that led to her downfall. Sadly, she never finished writing it. After her death in 2007, the Betty Hutton Estate picked up where she left off, and has finally completed her book. Almost 40 years after it was first started, Betty's real story is ready to be told! Includes 70 photos... The book is for sale exclusively online at Amazon.com.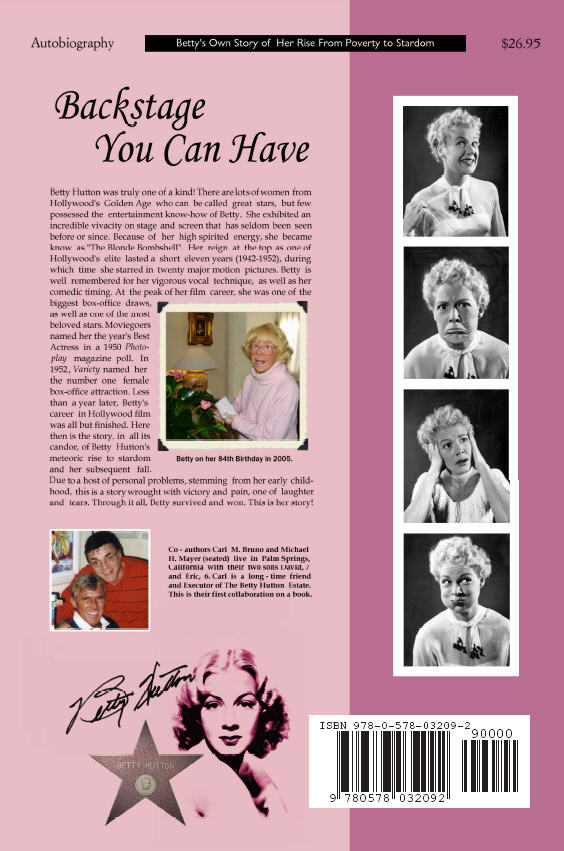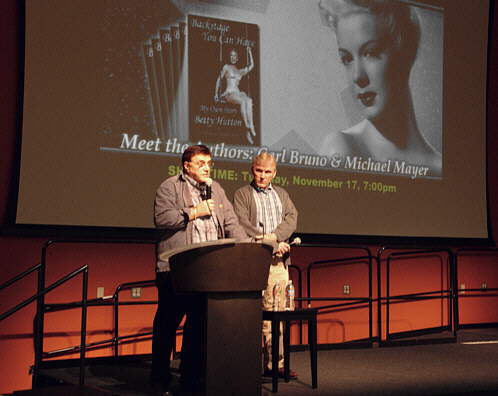 Executor, Carl Bruno (left), of the Betty Hutton Estate and co-author of "Backstage You Can Have" and co-author Michael Mayer speak at a book signing held at the Rancho Mirage, Ca. library on November 17, 2009.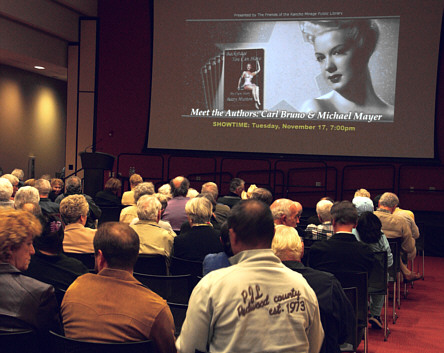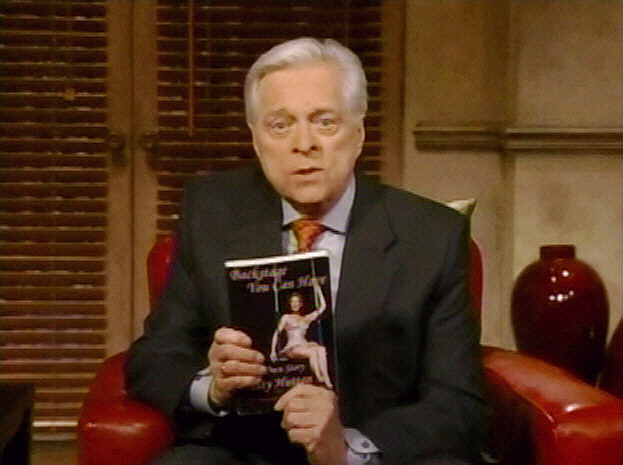 Turner Classic Movie's Robert Osborne introduces Betty's book on TCM after the showing of The Fleet's In.
A Rise To Stardom

The Making of Hollywood's
"Blonde Bombshell"

There are plenty female stars from Hollywood's Golden Age who can be given top rankings for being superb beauties and memorable actresses; but there were only a few great entertainers who were in the same league with Betty Hutton. Betty had a dynamic energy that transferred well onto stage and screen and did much to calm and entertain war-weary audiences during the 1940's. Betty is well remembered today for her assertive and humorous novelty tunes that showcased her explosive energy, still, her film roles endure as her most permanent legacy. Because of her high spirits, she became known as the "Blonde Bombshell". Her reign at the top of the film world was a brief 11 years (1942-1952). During that time, she made 20 major feature films. At her peak, she was viewed as a national treasure; one of the most beloved stars and biggest box office attractions on the silver screen. Moviegoers in 1950 named her the year's Best Actress in a Photoplay magazine poll. Variety even named her 1952's number one female box office attraction. Yet, one year later, her career in film was all but over. Due to a dispute with studio bosses over not allowing her second husband to direct her next film, Betty and Paramount abruptly ended their long and extremely prosperous relationship. Hutton continued to work in radio, appeared several times a year in Las Vegas nightclubs, and eventually tried her luck on the new medium of television; still her career never regained its momentum.
An original musical TV spectacular written especially for Betty, Satins and Spurs (1954), was not well received; despite being one of the first television programs televised nationally by NBC in color. In 1959, Betty took a chance by financially backing her own television sitcom, The Betty Hutton Show. The show lasted for only one season. Fortunately, her greatest performances are forever captured on film and continue to delight movie buffs throughout the world today.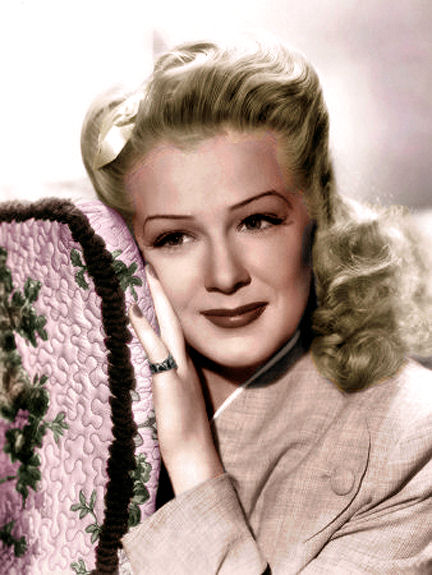 Betty was known as the "Blonde Bombshell" because of her bombastic style and personality. Betty Hutton died at home in Palm Springs, Ca. on March 11, 2007 at the age of 86.



Betty was born Betty June Thornburg on February 26, 1921, in Battle Creek Michigan. Her father, a railroad worker, abandoned the family shortly after Betty was born. In order to support her two daughters, mother Mabel began to bootleg; running several successful speakeasies during the Prohibition Era. When she was only three, Betty and her older sister, Marion, began singing for the patrons. Their family situation was made even worse by the Great Depression and by Mabel's growing dependence on alcohol. Trouble with police kept the family on the move. Eventually they ended up in Detroit, virtually penniless, before Mrs. Thornburg became employed for a brief time at an auto assembly plant.
Hutton continued singing wherever she could to assist her family financially. By the age of 15, she decided it was time to go to New York and give the big city a try. Told that she'd never make it on the stage, she headed home. After returning to Detroit, at age 16, Betty finally got her big break. It appeared she was on her way to a successful career as a band vocalist when orchestra leader Vincent Lopez spotted the teenager singing in a Detroit nightclub and signed her for $65 a week.
Betty soon began making a name for herself in the entertainment world. During 1939, she appeared in several movie musical shorts and in 1940 she left Lopez for a role in the Broadway musical revue, Two For The Show. Soon after, producer B.G. DeSylva signed her for a part in his Broadway musical, Panama Hattie. When DeSylva took over the production reins at Paramount studios in late 1941, he promised to take Betty along to Hollywood. There she got her first featured role in the movie musical, The Fleet's In (1942), along with Dorothy Lamour, William Holden, and Eddie Bracken. With guidance from Buddy DeSylva, Betty was instantly on her way to a successful film career in Hollywood.
From the early 1940's to the mid 1950's, Betty Hutton was a true Hollywood movie star. Nevertheless, four failed marriages, an inability to manage money, and a reputation for being difficult to work with all eventually took their toll. The final straw for Betty's short but illustrious career in Hollywood was her disagreement with studio execs that led to walking out on her contract. An unfortunate addiction to prescription drugs quickly descended upon the fallen star.
In the 1970's, with the help of a Rhode Island priest, Betty managed to turn her unhappy personal life around. She went on to earn a college degree from Salve Regina, a Catholic college for women in Newport, Rhode Island. By the late 1980's she was teaching acting to students at Boston's Emerson College.
In 2000, Betty did an hour-long interview for Turner Classic Movies (TCM). Private Screenings: Betty Hutton was an intimate portrait, and marked Betty's first television interview in 20 years. The show seemed to have a magical effect on everyone who saw it; from her loyal fans to people who had never ever heard of Betty Hutton before. Until the time of her death in 2007, whenever Turner reran Betty's Private Screenings episode, fan mail poured in from around the country with notes of love and respect for the "Blonde Bombshell". Betty continued to live in quiet retirement in Palm Springs, California until her death on March 11, 2007 at the age of 86.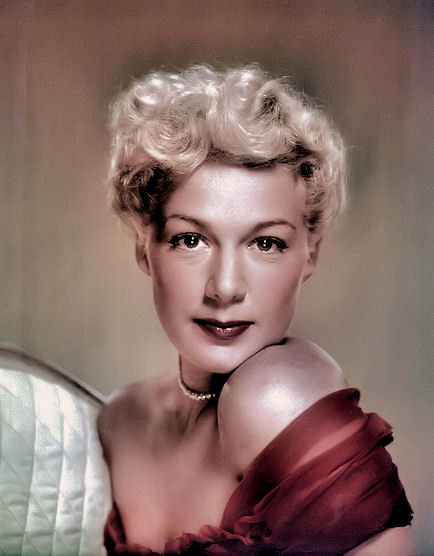 Betty Hutton is shown here in an MGM studio photo for Annie Get Your Gun, 1950. She was 29 years old.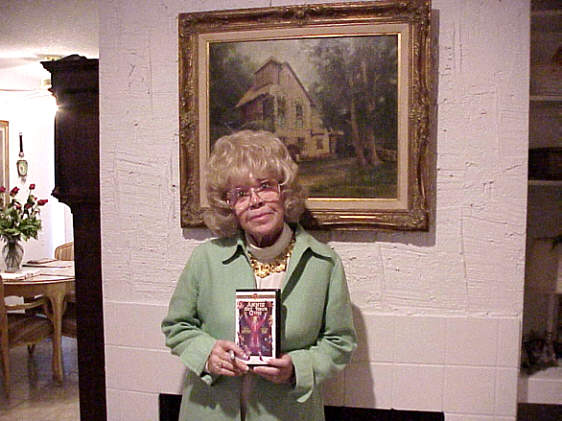 Betty shows off the newly released video tape of her movie, "Annie Get Your Gun" - April 4, 2001 at home in Palm Springs.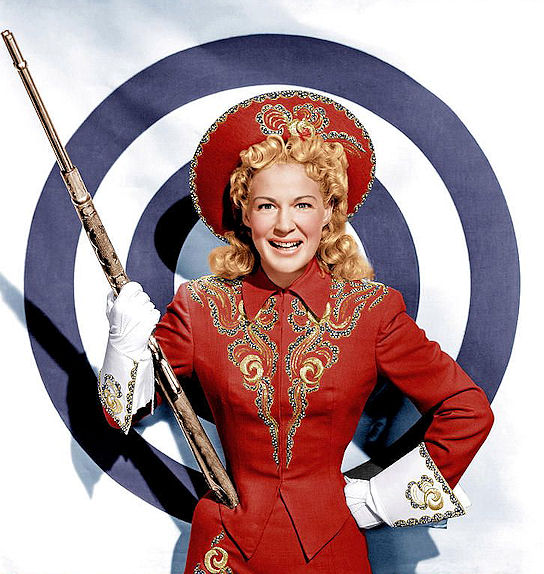 Betty seen here in a publicity photo for "Annie Get You Gun". 1950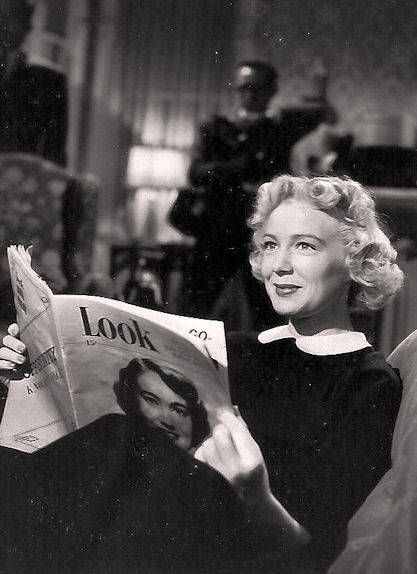 Betty's smile had a way of lighting up her entire face; something that transfered well onto film and made a theater audience instantly adore her.
Photo from on the set of
Red, Hot and Blue
, 1949.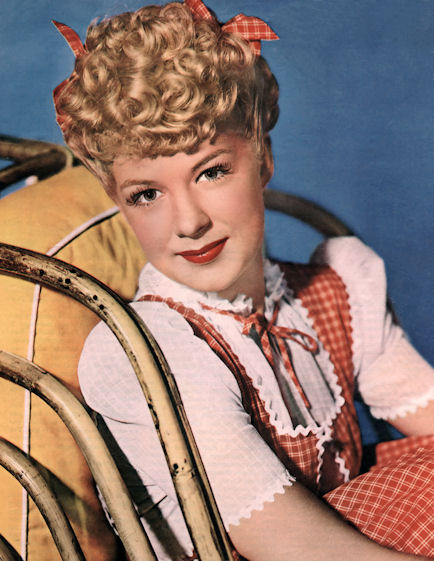 The lovely Betty we all remember!



Betty's Triumphant Return to Michigan in
"Let's Dance"
One of the most interesting periods during Betty's Hollywood days has to be her return to Michigan in 1950 for the opening of her film,
"Let's Dance"
, with Fred Astaire. Why so interesting? Well, since Betty
grew up in poverty in several cities within Michigan during the depression, her recollections of the place were not all that good. At one point, with two small children in tow, Betty's mother, a bootlegger, was chased out of Lansing with the police hot on her trail. Now, in 1950, Betty and her mother were arriving in Lansing as local heroes and celebrities! Kind of a Cinderella story... don't you think? For the full story, you will want to read Chapter 13 in Betty's autobiography,
"Backstage, You Can Have"
.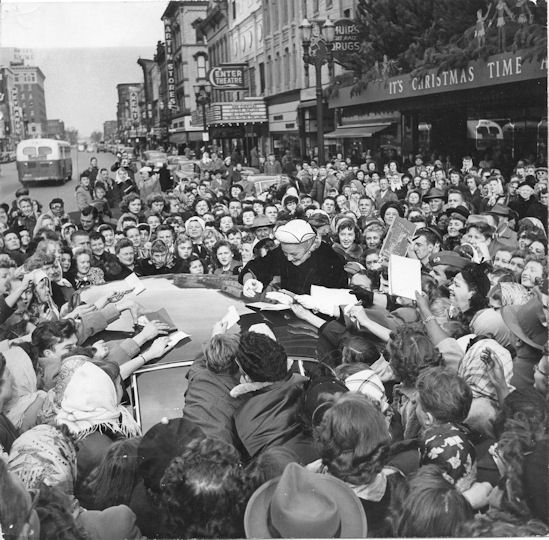 Amazing! Photos from Betty's career just don't get much better than this... We believe this is Detroit, first stop on the Michigan tour.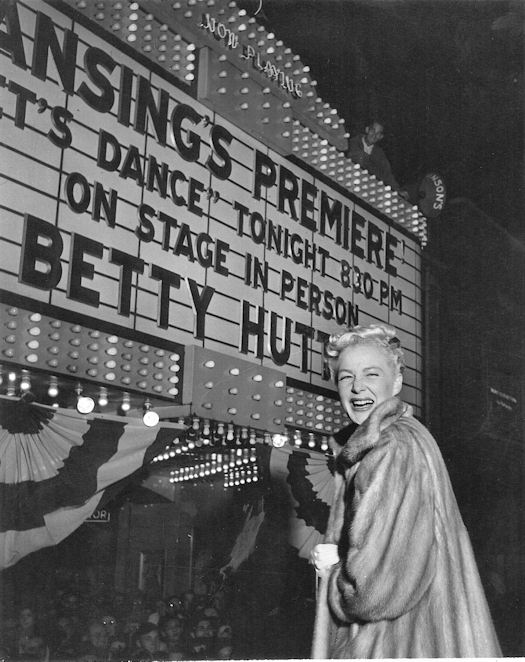 Betty is shown here in front of the theater in Lansing, Michigan where "Let's Dance" had its world premiere!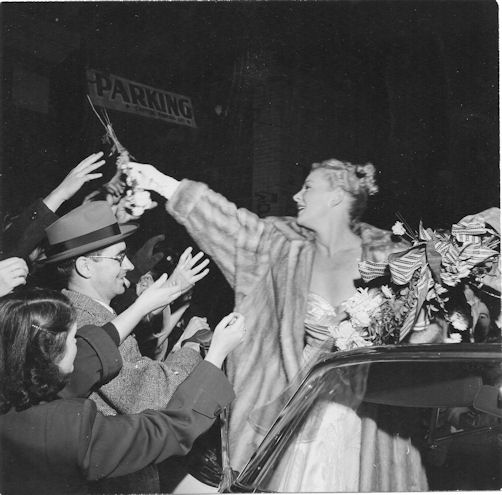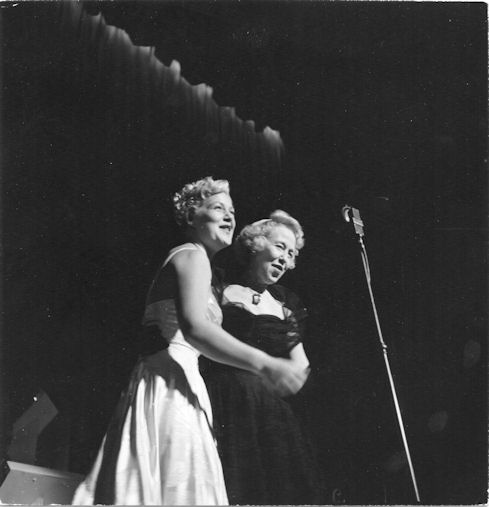 Warming up the audience... Betty and her mother, Mabel, on-stage in Lansing prior to the very first public screening of, "Let's Dance".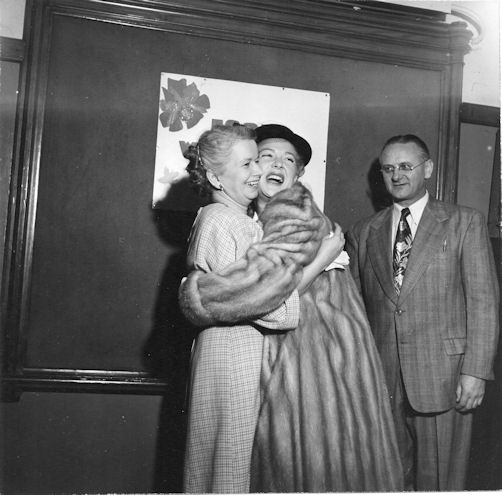 Betty saying hello to her Foch Intermediate school, (Detroit) math teacher, Mrs. Deborah Jones (Nov. 24, 1950).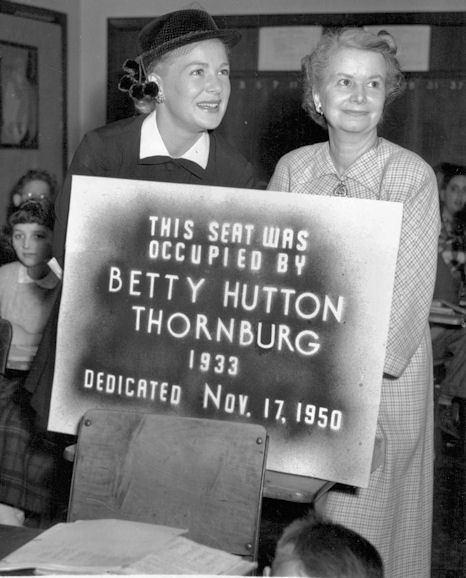 Betty's seat in the classroom of Mrs. Deborah Jones.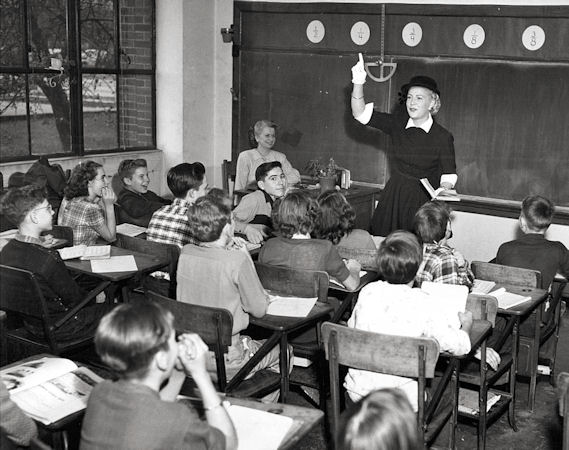 Betty giving some humerous words of wisdom, no doubt, to Mrs. Deborah Jone's class!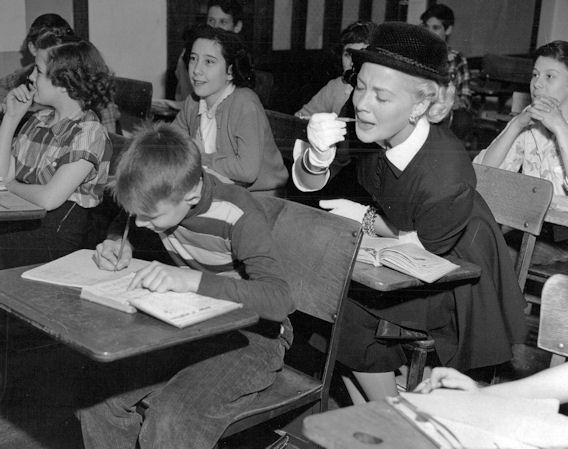 OK, Betty, cheating from the smart kid is NOT ALLOWED!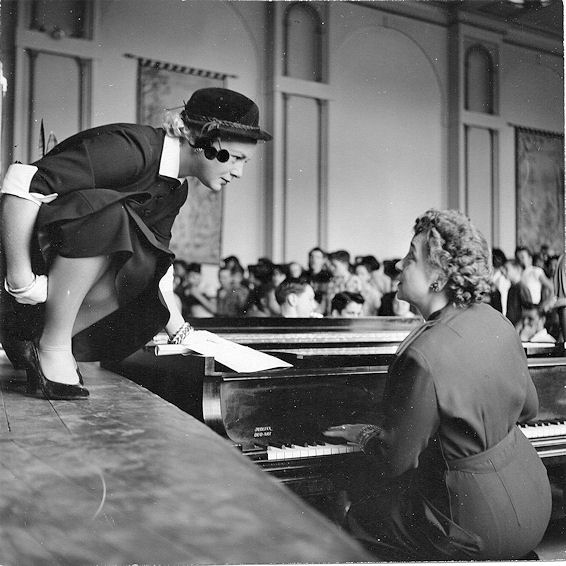 Betty getting ready to entertain the students at her Detroit school.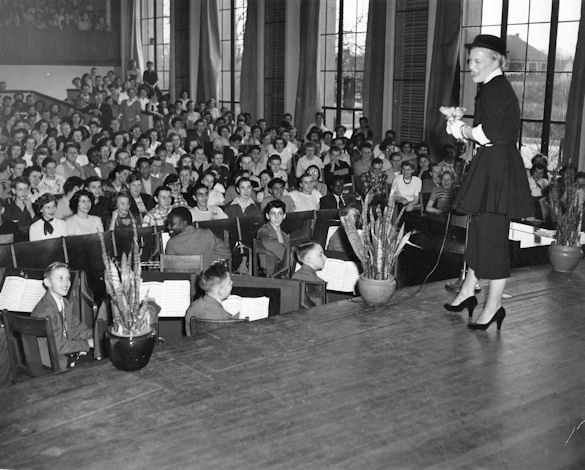 One of our very favorite photos of Betty here at BettyHuttonEstate.com
Betty doing what she loved best for the students!


Have a peek at one woman's nod to Betty Hutton in her NYC tribute in song!

This video clip (click here) simply can't be missed! We watched it, and to be perfectly honest, we're, well... speechless! It just goes to show you, New York City has it all; everything from soup to nuts. Drop us a line and let us know what you think.
His Rocking Horse is Solid Gold! (naturally!)

Betty's song His Rocking Horse Ran Away was so successful, musical team Johnny Burke and Jimmy Van Heusen had a special jewelry pin created and presented it to Betty in appreciation. It is a rocking horse. From it a chain leads to a little boy who appears to be flying off of his horse. Both rocking horse and boy are pinned separately from each other to appear as if the boy is in flight after having been thrown from the horse. The pin is solid gold and both the horse and boy have diamond eyes.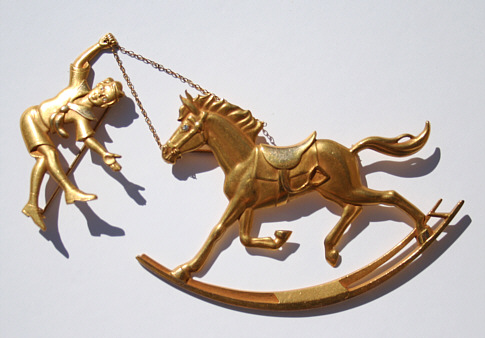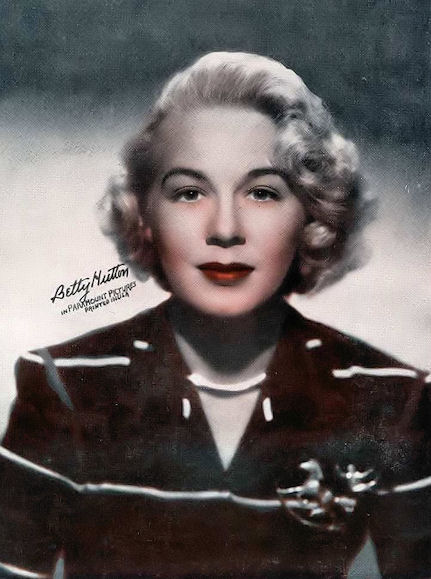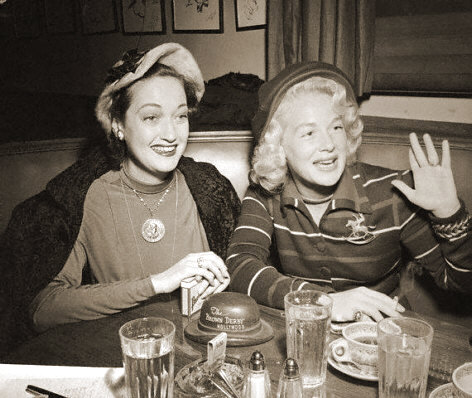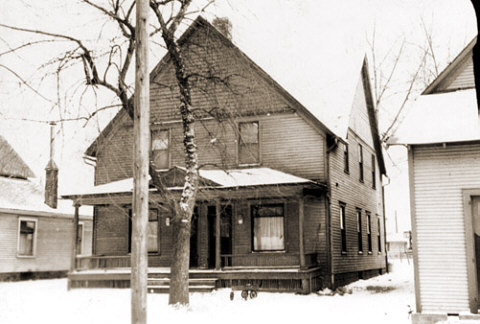 The house Betty Hutton was born in, No.12 Stone Avenue Battle Creek, MI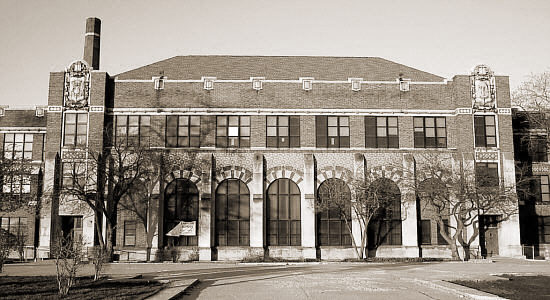 Foch Intermediate School in Detroit, Michigan where Betty went to school.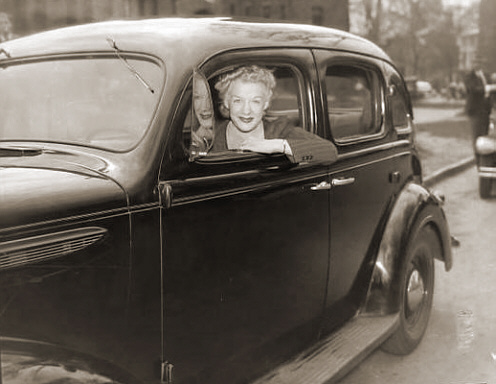 Betty in New York City, around 1939. (Vincent Lopez era)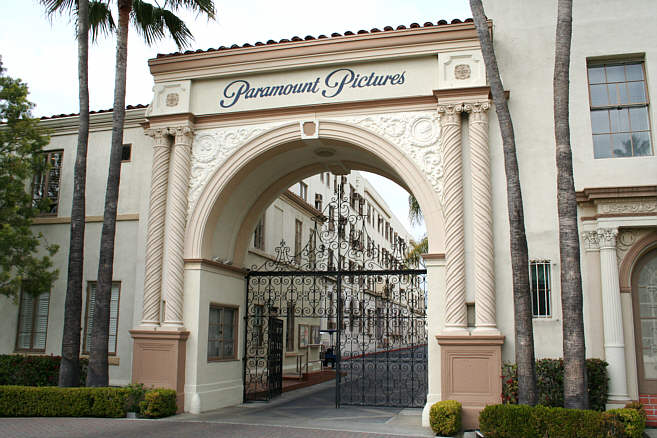 Where Betty's meteoric rise to fame all began... Paramount!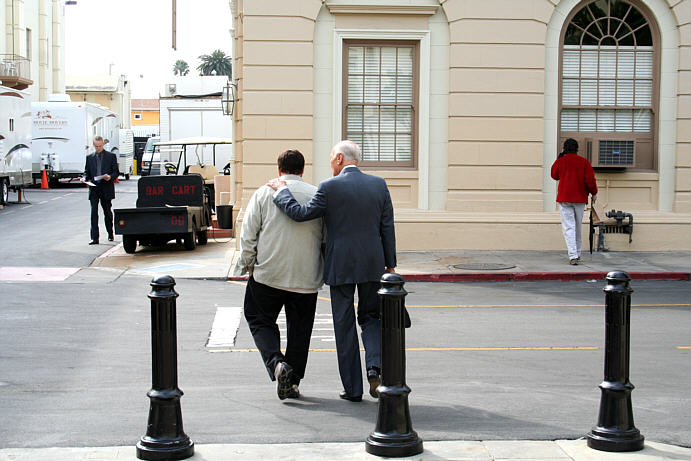 Carl Bruno, Executor of the Betty Hutton Estate, and A.C. Lyles of Paramount take a walk on the studio lot after enjoying lunch at the commissary.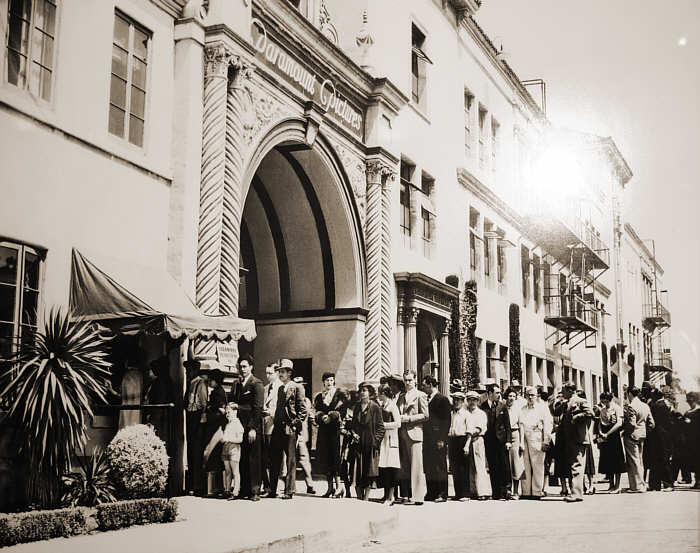 People lined up and waiting to be discovered at Paramount's main gate in the good old days of Hollywood's studio system.


Official Betty Hutton
Commemorative Poster -
created by her estate after her death in 2007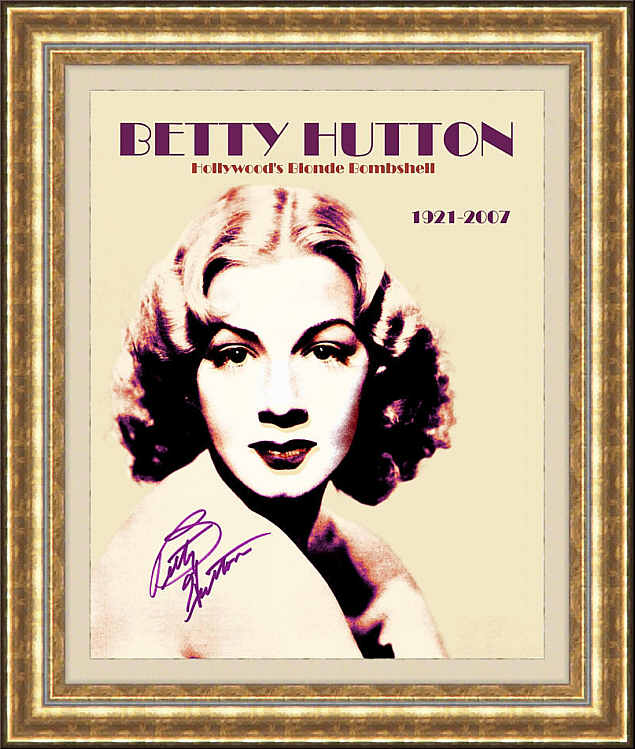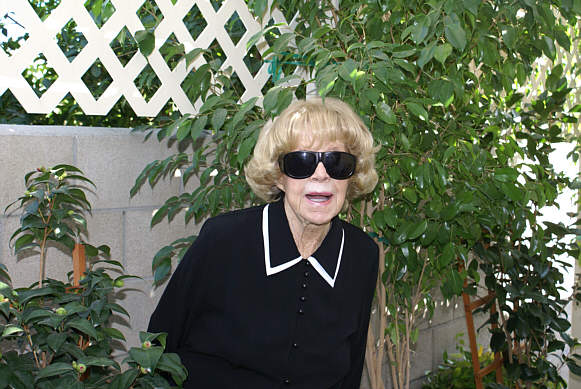 This is the last photo ever taken of Betty Hutton, January 2007.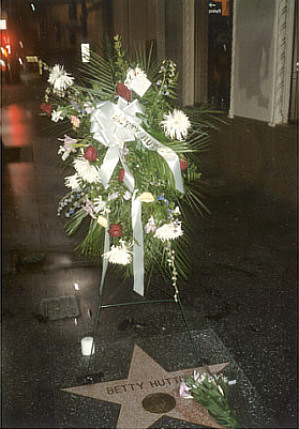 Flowers adorned Betty's Hollywood star hours after her death was officially announced by her estate.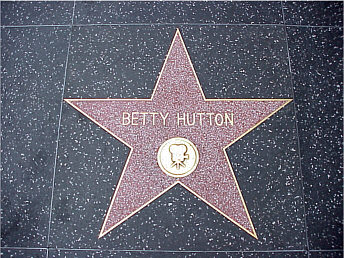 Betty's star, as it appears today on Hollywood Blvd. in LA.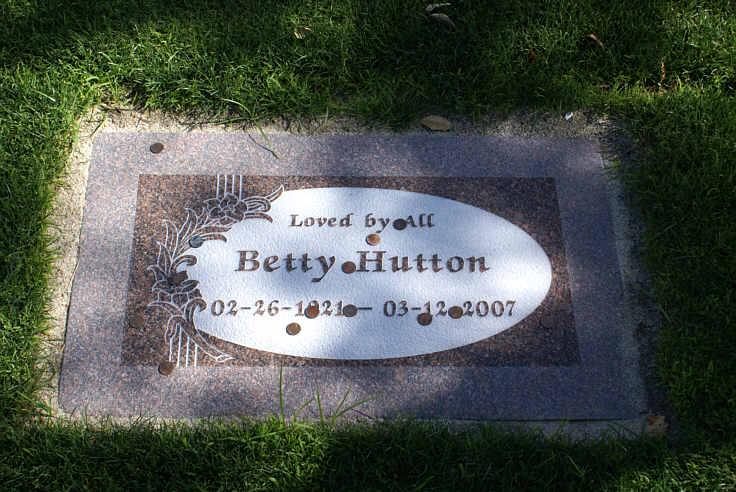 Headstone at Betty's grave-site, adorned with "pennies from heaven" left by
adoring fans - Cathedral City, California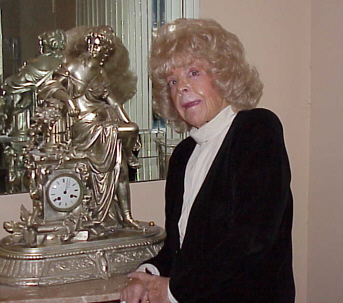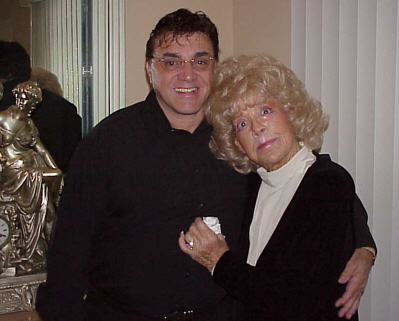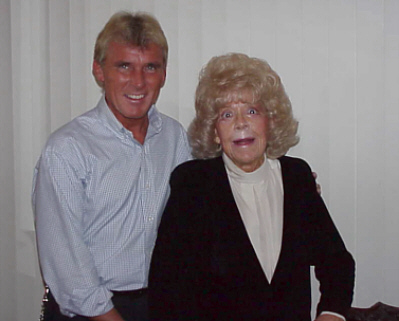 Betty at home in Palm Springs (early 2002) with Estate Executor, Carl Bruno (middle photo) and Michael Mayer.



Rare Betty Images

from the 1949 movie,
Red, Hot and Blue!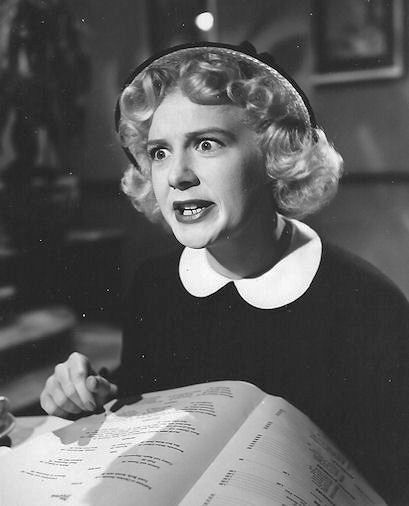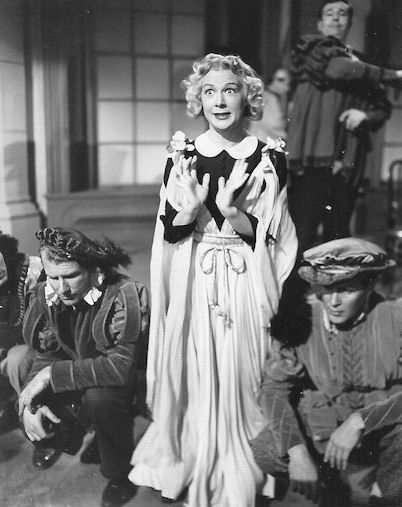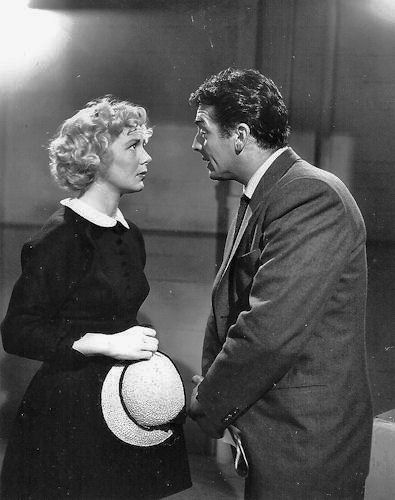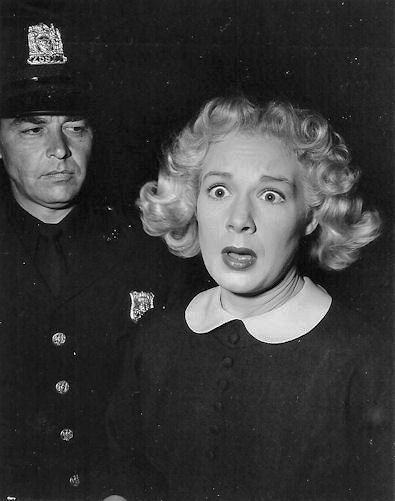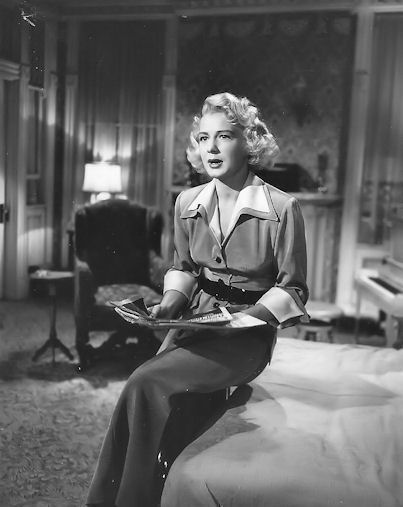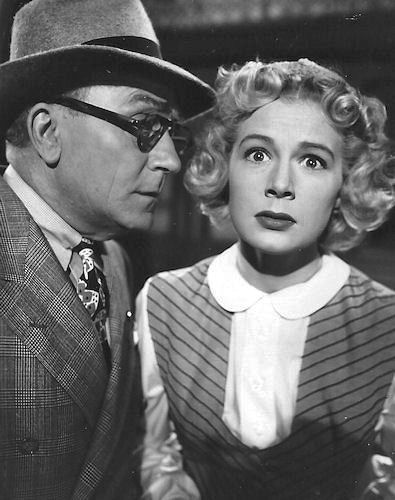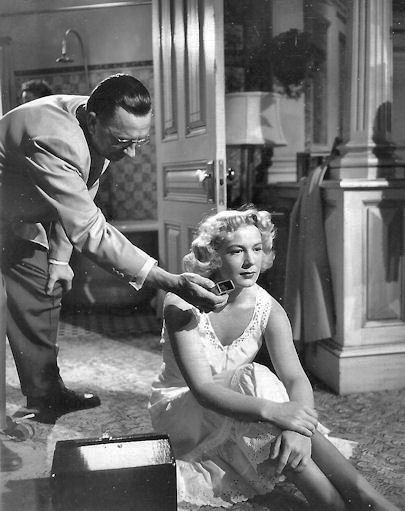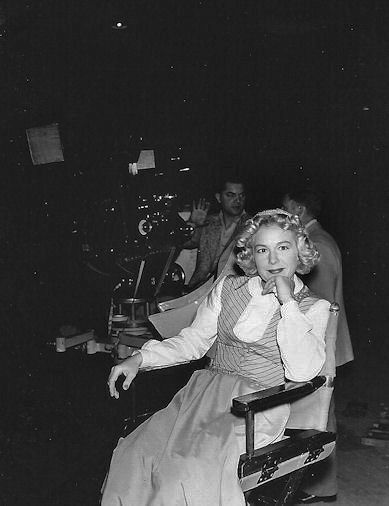 SOLD at auction
in Beverly Hills

THE FOLLOWING WAS SOLD AT AUCTION IN BEVERLY HILLS, CA on June 18, 2011 as part of the Debbie Reynolds costume collection :
One, Betty Hutton "Annie Oakley" complete 10-piece Wild West Show costume from Annie Get Your Gun. (MGM, 1950) Judy Garland was scheduled to play "Annie Oakley" in Annie Get Your Gun, and a number of costumes were made for her, but a few weeks into production it was necessary to replace her with Betty Hutton. Complete outfit of cream suede jacket and two skirts adorned with pink and green floral sequins with matching gloves, hat, boots, belt, and green blouse with scarf. Worn by Betty Hutton as "Annie Oakley" in the Wild West show scene in Annie Get Your Gun. Handwritten label "1450.6433 Betty Hutton." Costumes designed by Helen Rose.
The outfit sold for $11,000.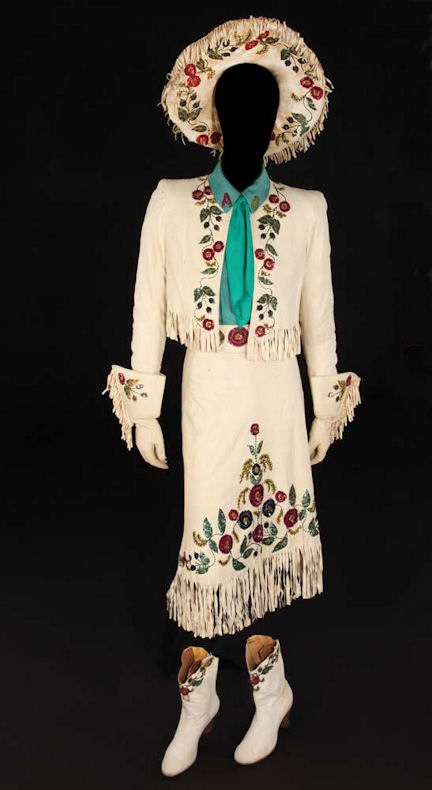 Betty is seen here in the recently sold outfit from "Annie Get Your Gun". It had been part of the Debbie Reynolds costume collection.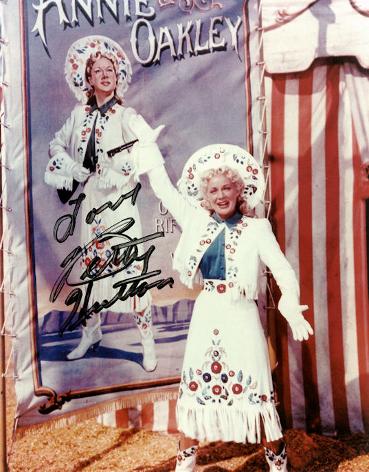 Oil Painting by Silent Film Star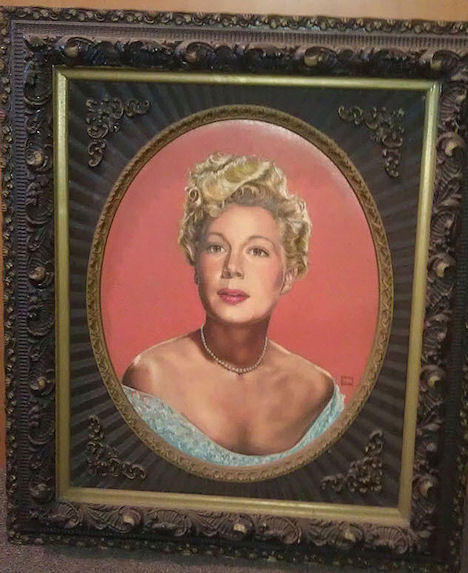 R
emember the beautiful oil painting of Betty that The Betty Hutton Estate acquired?
Well, we had to cleaned (it was quite dirty from years of exposure to the elements) and had it re-framed to freshen and update the look! The new version is shown below. We are really pleased with the final results, and know Betty would be too...
The work of art was created by silent film actress, Mary Brian (1906 - 2002), who spent her later years painting. After Mary Brian's death in 2002, the painting was donated to the Hollywood Heritage Museum where it had been on display for several years.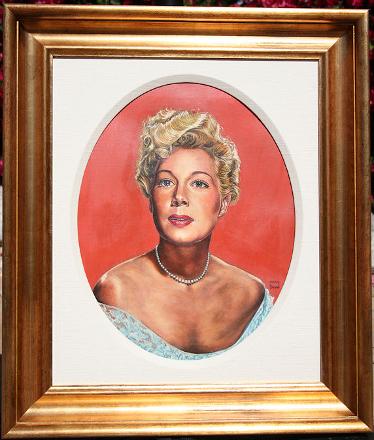 Check out these great behind-the-scenes photos taken during filming of
The Greatest Show
On Earth!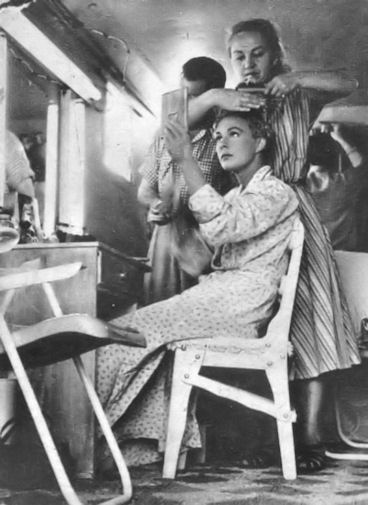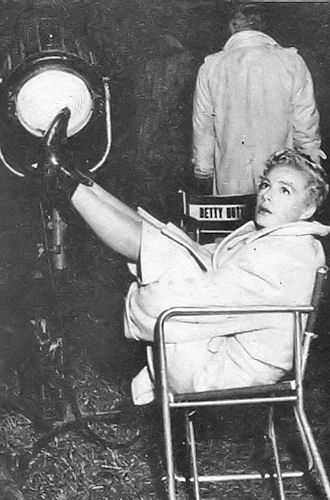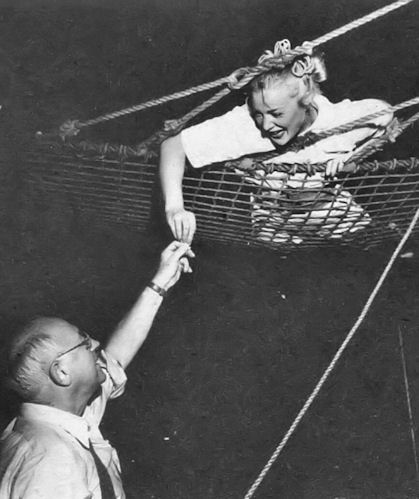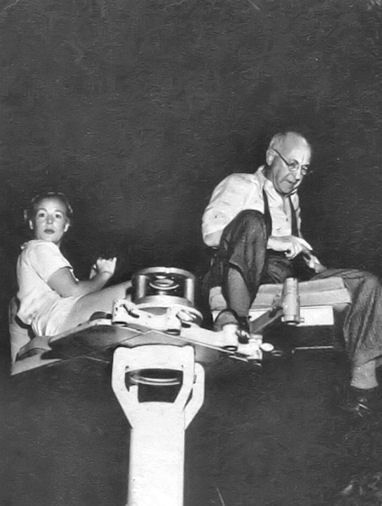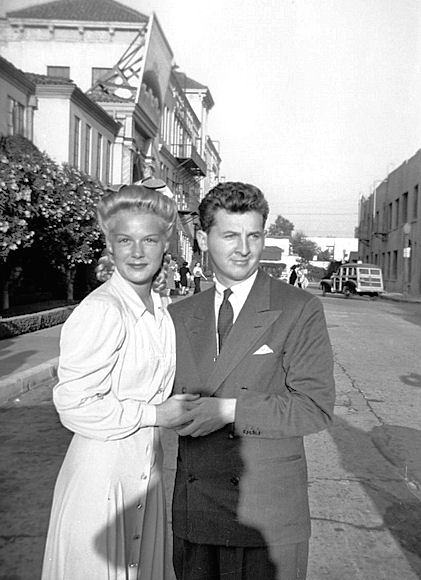 Betty Hutton and Eddie Bracken are shown here together in an early photo taken on the Paramount lot. Were they comedic friends or foes? Read about their relationship in Betty's autobiography, Backstage You Can Have!
The following Betty Hutton images are all from the 1947 film,
The Perils of Pauline
! Betty is seen in these photos with actor, John Lund, film director, George Marshall, and comic genius, Billy DeWolfe.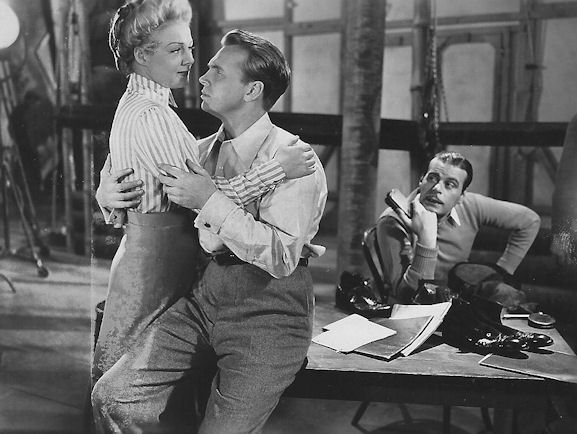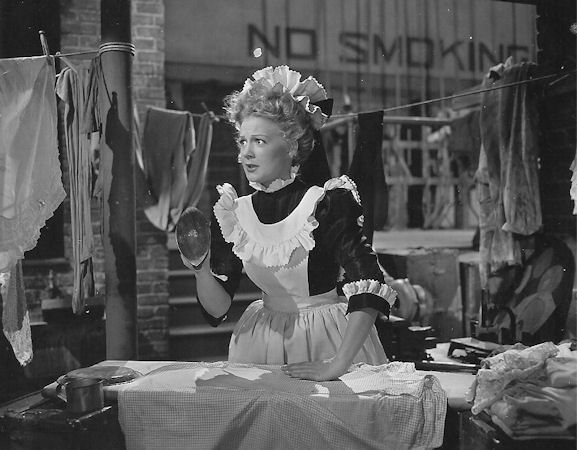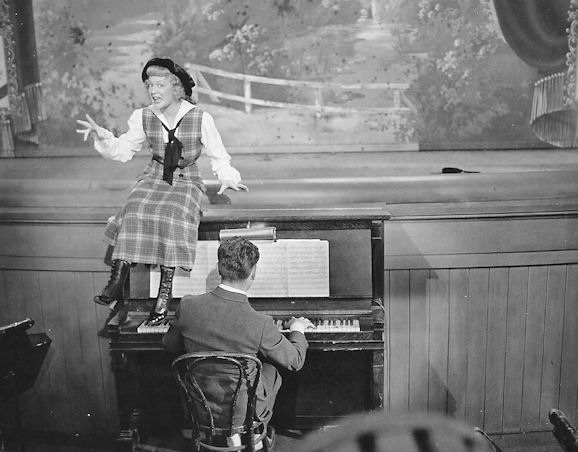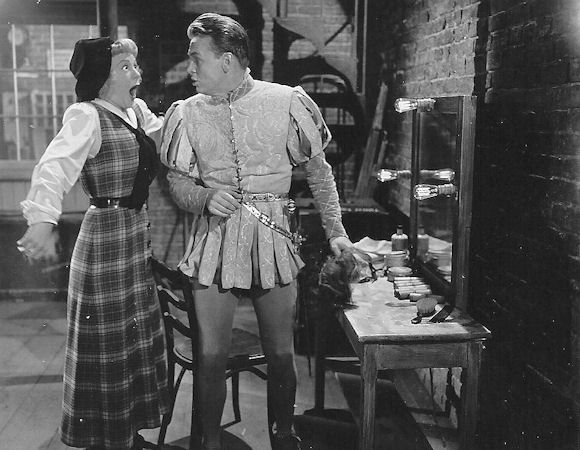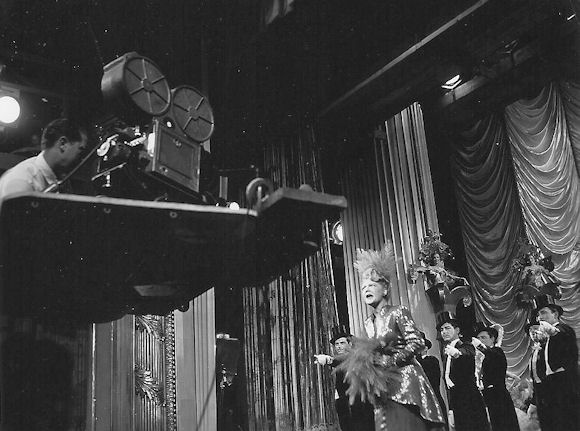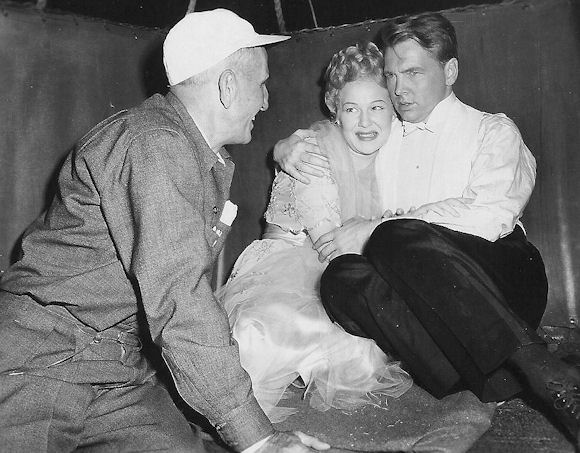 A few of the many faces of Betty Hutton during her career in Hollywood - her highs were always up at the top, while her lows gave her a tendancy to hit the bottom fast and hard; a recurring problem throughout her career.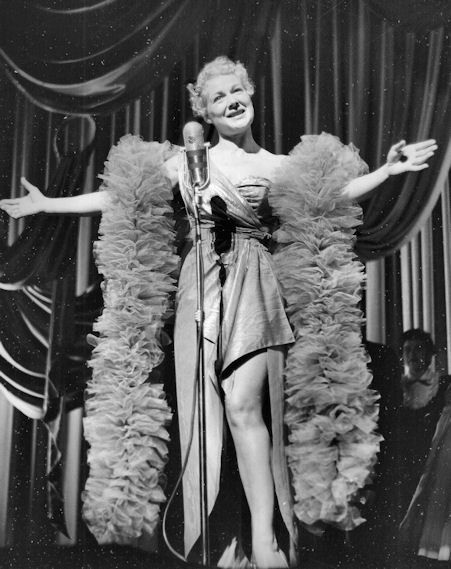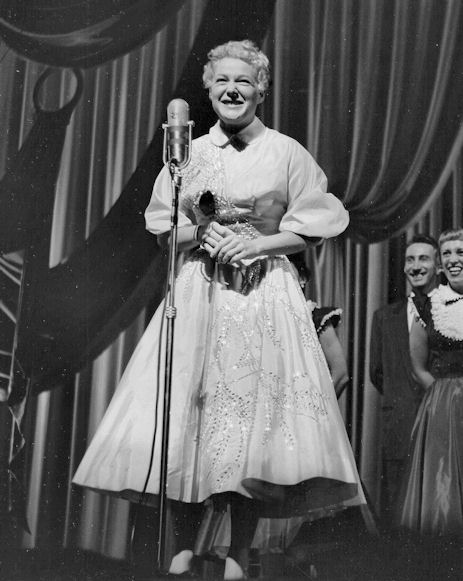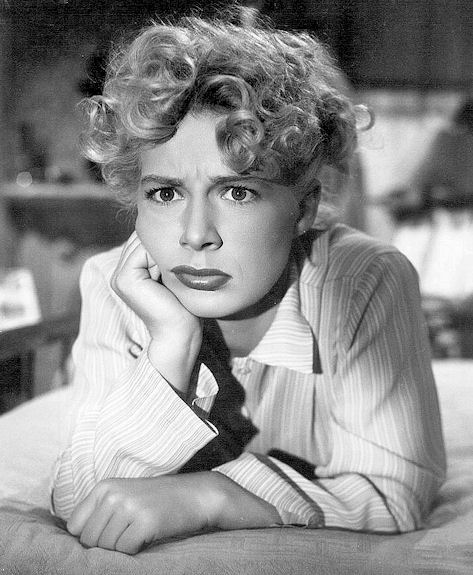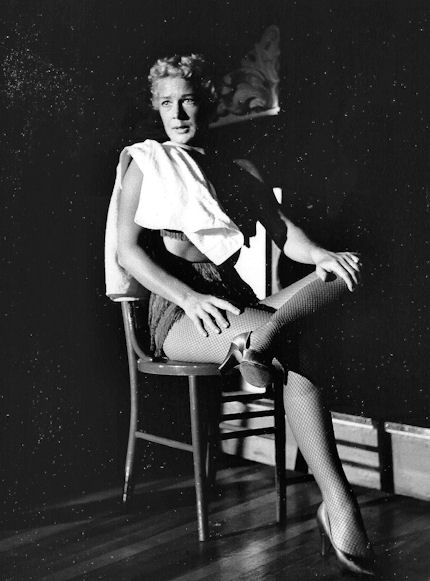 Betty at The Stage Door Canteen

The following photos are of Betty and service men at the Stage Door Canteen. We are assuming it is the New York establishment, due to the fact that the photos say "Stage Door" Canteen. The Canteen in Hollywood was called simply "Hollywood Canteen". All the photos are from 1944. If anyone has any identifying information so we can clarify the location, please write to us!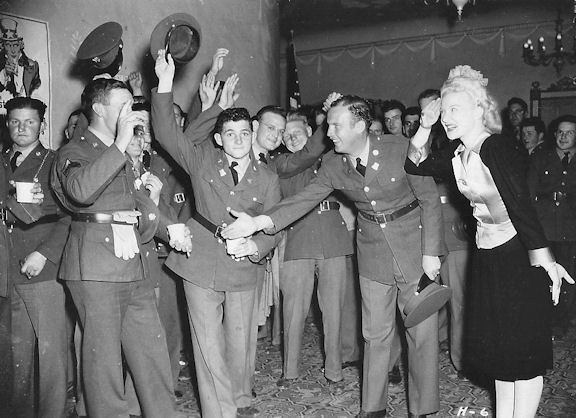 On March 2, 1942 the New York Stage Door Canteen opened its doors in the basement of the 44th Street Theater. Founded by the American Theatre Wing, the organization that hosts Broadway's Tony Awards, Stage Door Canteen was open nightly from 6 p.m. to midnight. Admission was free to all servicemen.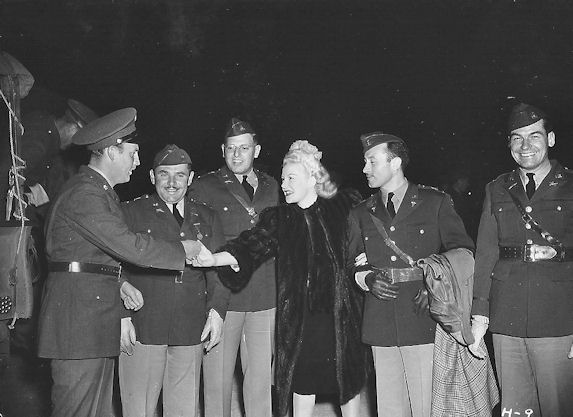 Two thousand men filled the tiny 40-foot by 80-foot room each night. The Stage Door Canteen provided a space for millions of Allied servicemen to receive star-treatment―top-notch entertainment, dinner and dancing.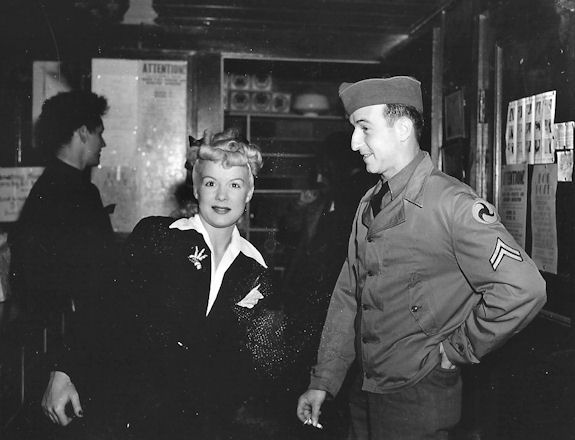 No alcohol was permitted, but on an average night the Canteen served: 2000 sandwiches, 3000 slices of cake or doughnuts, 1000 half pints of milk, 80 gallons of fruit juice and cider, 25 lbs. of candy, 6 crates of fruit and a whopping 5,000 cigarettes.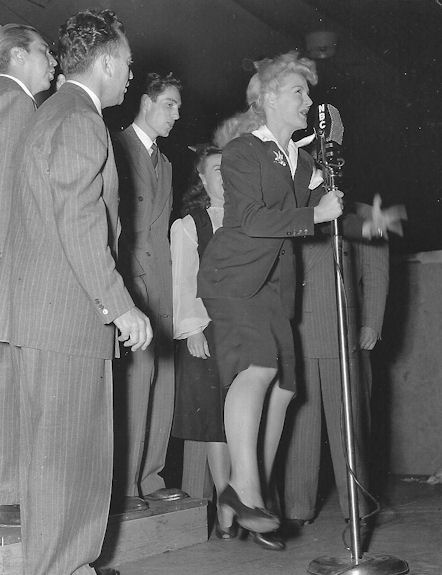 New York's Stage Door Canteen was followed by the opening of Stage Door Canteens in Boston, Newark, Philadelphia, Cleveland, San Francisco, and Washington, DC. The Hollywood Canteen opened as an American Theatre Wing affiliate on October 3, 1942.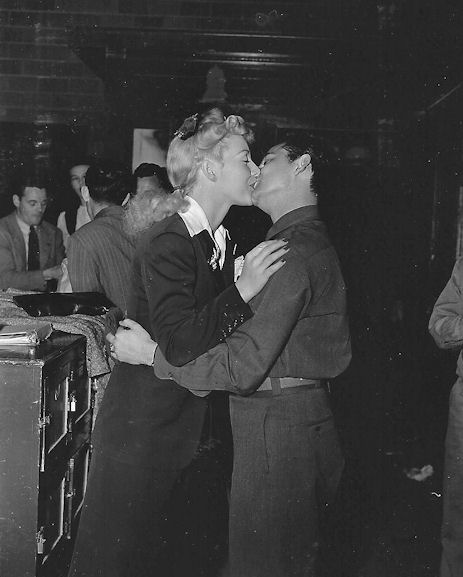 OK, we now understand the reason you went to the Stage Door Canteen, Betty! I guess you were just doing your job; entertaining the troops...
More Of Betty At War
In The Pacific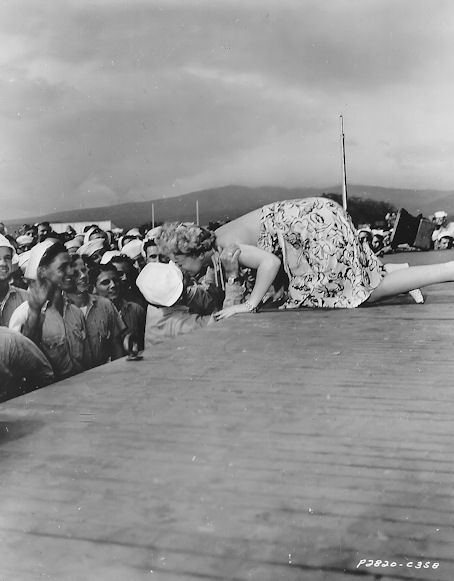 Betty loved being with and entertaining the troops!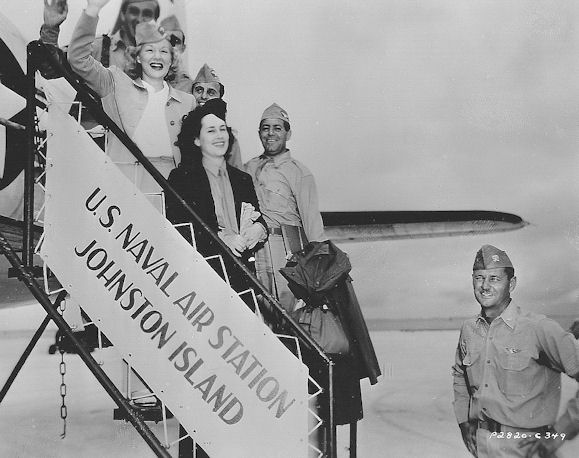 Johnston Atoll, a United States territory, is a remote group of islands covering 50 square miles. Chief among them is Johnston Island, with its now abandoned military base. In 1926, an executive order established Johnston Atoll as a federal bird refuge, but control was transferred to the U.S. Navy in 1934 and the impressive runway still seen today was established. Soon after, the former wildlife reserve became a nuclear weapons test site.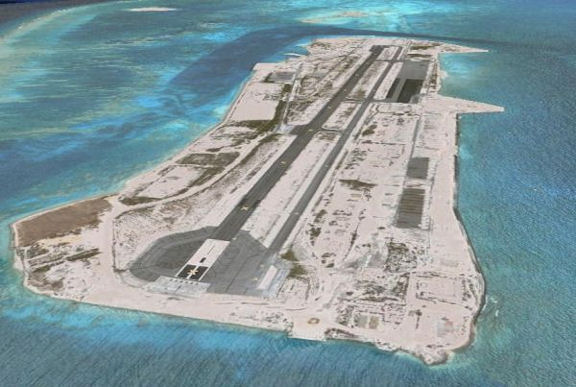 Johnston Island is one large airstrip in the Pacific!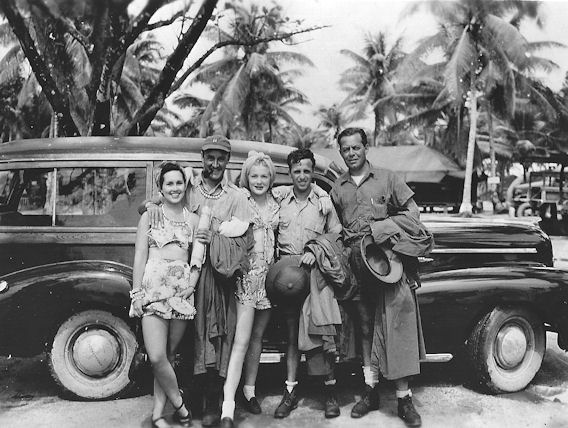 This photo and the following two are of Betty and troup on an unidentified island in the Pacific. Anyone with information as to which island this might be, please email us!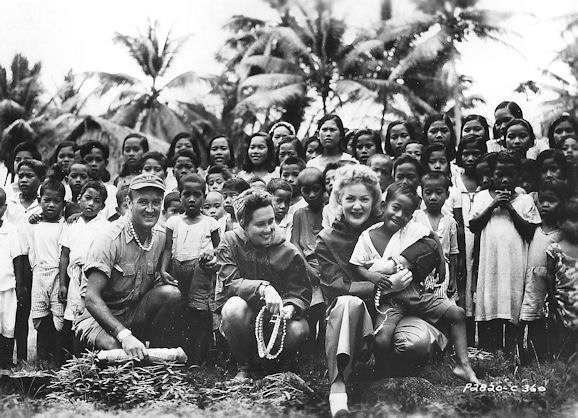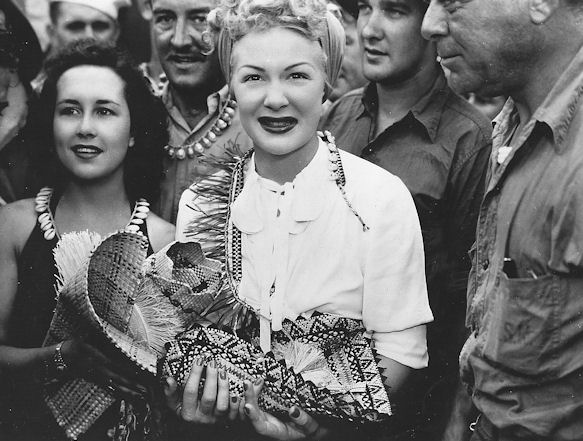 Betty receives some hand crafted gifts from the island's people.
Watch this 7 minute video segment from an interview done by Hollywood columnist Mike Connolly in Betty's Los Angeles home in 1955.
The complete video is 27 minutes in length.
Here's Lookin' Back
At You Kid!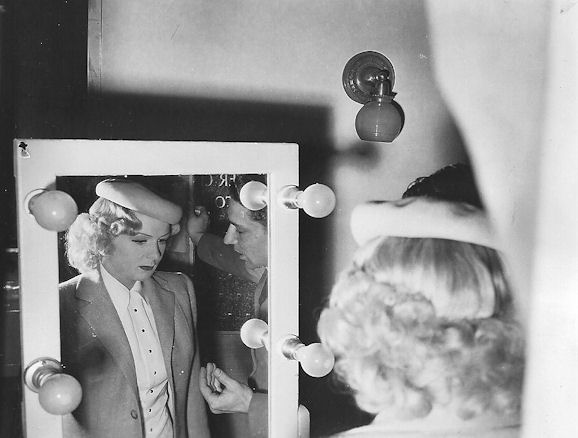 Betty discusses a scene with one of the production crew during filming of, Cross My Heart, 1945.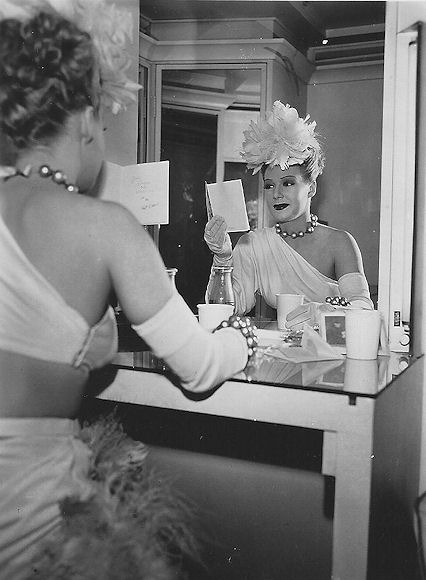 Betty takes time out to read a note left for her in her dressing room during the filming of Cross My Heart, 1945.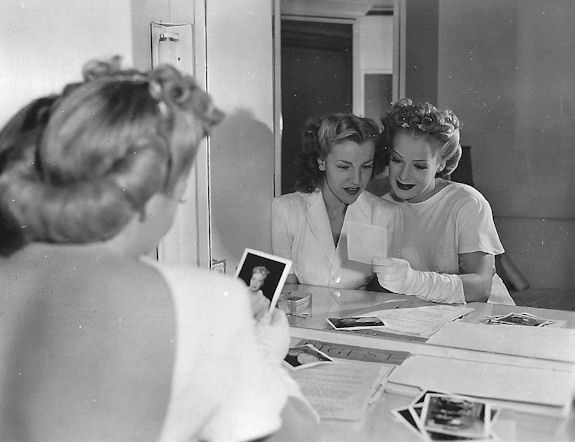 Betty looks at production photos with an assistant during the filming of Cross My Heart, 1945.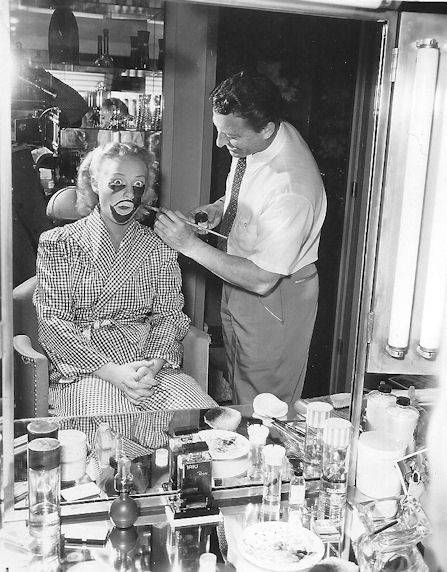 Betty looks at herself during the early stages of her makeup session for the plantation scene in The Perils Of Pauline, 1947.
Video Clip of Memorial Service...
held for Betty Hutton at St. Theresa church in Palm Springs on March 23, 2007. A.C. Lyles, long-time Hutton friend and Paramount Studio exec. gave the eulogy. This video clip is small and of less than desirable quality, but it is all here!
Watch this video clip...
from It Had To Be You, A Musical Evening with Betty Hutton, starring Crystal Poppell as Betty Hutton. This was a show to benefit For The Children, a Coachella Valley non-profit organization we are members of that assists and mentors foster and adoptive children and their families in and around Palm Springs. The show was taped at the performance on May 17, 2009 at the Riviera Resort in Palm Springs, California. The show was presented by The Betty Hutton Estate.